The beautiful, cosmopolitan capital of Portugal has long bewitched expats, with its intricate architecture, balmy climate, and stunning river views. The high quality of life and friendly locals are constantly referred to as major factors when it comes to relocating to Lisbon. However, what is the cost of living in Lisbon? Well, compared to most other capital cities in Europe, Lisbon is a pretty affordable city. In this article, we'll provide you with a detailed rundown of all the major costs relating to the cost of living in the Portuguese capital.
In this article, we'll run over the following:
Lisbon property prices and rental prices
Food prices
Restaurants and eating out
Education and healthcare expenses
Plus much more!
Property Prices in Lisbon
So, how much is an apartment in Lisbon? In the city of Lisbon, the average asking price for an apartment in 2020 was €5139/m2. When broadening your search to look at the entire metropolitan area of Lisbon, this falls significantly to €3225/m2, highlighting the high demand in the city itself. Note that these are the average asking prices and the transaction price can be either higher or lower than this. Lisbon has many different neighborhoods that each have their unique vibe and characteristics, with housing options for both families and single residents.
Prices will vary considerably depending on the neighborhood. To see more about the prices in different neighborhoods, you can consult our article on where to buy property in Lisbon.
Rent Prices in Lisbon
According to data from Idealista, published in April 2022, the average rent for a Lisbon apartment is €16.85 per m². To give you some indication, we'll provide you with some price brackets below:
A one-bedroom apartment in the city center – €855
A three-bedroom apartment in the city center – €1,700
A one-bedroom apartment outside the city center – €650
A three-bedroom apartment outside the city center – €1,100
Again, the rent prices will vary depending on which neighborhood you opt for, plus the size of the apartment, the age of the apartment, and other factors. Some apartments will include utilities, while for others you will be required to pay extra for them.
The Cost of Food in Lisbon
Daily essentials are very good indicators of the affordability of a city, and what better place to start than by checking out the food prices to get a better understanding of the cost of living in Lisbon.
You'll be happy to know that food is, in general, pretty affordable in Lisbon. If you factor into your budget between €300-€400 per month, you should be well within your limits as meat, fish, vegetables, and fresh fruit are all relatively inexpensive and of very good quality. You'll find much of the produce here is grown in the country. Try the oranges from the Algarve, the local cheeses, or the dourada fish and you'll see firsthand the excellence of Portuguese produce. It is worth noting that shopping local is usually cheaper.
Prices for daily essentials are shown below, with data from Numbeo:
| | |
| --- | --- |
| Milk (regular), (1 liter) | |
| Loaf of white bread (500g) | |
| | |
| | |
| | |
| | |
| | |
| | |
| | |
| | |
| | |
| Bottle of wine (mid-range) | |
| Domestic beer (0.5-liter bottle) | |
| Imported Beer (0.33-liter bottle) | |
Cost of Utilities
It is important to understand the average cost of utilities per month. To give you an indication, basic utilities (electricity, heating, cooling, water, and garbage) for an 85m2 apartment will cost you around 115€ per month. One minute of a prepaid mobile local tariff, without any discount or plan, will cost you 0.15€. Internet (60 Mbps or more) will cost you €33.
Note that with utilities, this will depend greatly on your usage. One good thing about living in Lisbon is that the climate is very favorable, and for much of the year, you will not need to spend much on heating. However, the winters can be cold inside, so be prepared in advance.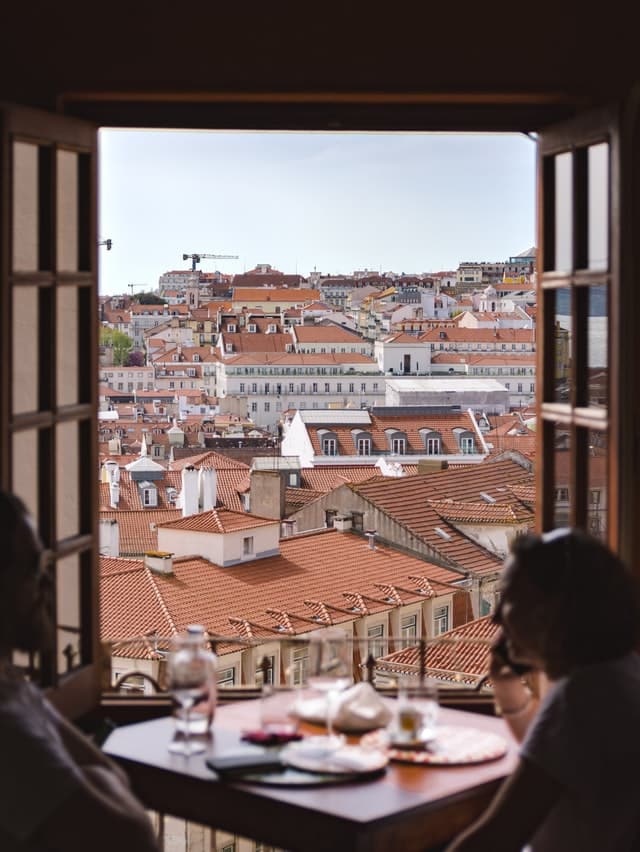 Restaurants and Eating Out
The best thing about eating out in Lisbon is that you'll find all sorts of restaurants. From small, traditional, family-owned restaurants called tascas that serve typical Portuguese foods, such as Bacalhau, grilled sardines, or an assortment of meat dishes, to higher-end luxury places. What's more, the city now boasts a vibrant brunch scene and there are hoards of international restaurants springing up all over town. Whatever you are looking for, you are pretty sure to find it in Lisbon.
Meals can generally be as cheap, or as expensive, as you want. According to Numbeo, you can have a meal in an inexpensive restaurant for €10. However, we are pretty sure that you'll be able to find a tasca where you can get a good lunch, coffee, and dessert included, for around €7 or €8.
Note that for luxury restaurants you can expect to pay international prices. You will find several Michelin-starred restaurants in Lisbon, that are worth visiting if you are in the city.
Indeed, whether you are looking to find a relaxing coffee to head to start the day, a convenient lunch stop, or fancy trying some new cuisine, Lisbon will be able to cater to your wishes. Plus, new innovative restaurants are constantly springing up across the city.
Transportation Costs
When looking into the cost of living in Lisbon, getting around is very important. Is it going to break the bank going to work each day? Well, you'll be pleased to know that transportation is generally very affordable.
Buses and the Metro are both inexpensive and the most popular ways to get around. The Metro, in particular, is much more convenient, and quicker in a lot of ways, than getting around by car, particularly during rush hour. A one-way ticket on local transport will cost you €1.50 and a monthly pass will cost you €40 at a regular price. You also have the iconic yellow Lisbon trams to get from place to place.
You can also get from city to city cheaply and within cities, taxis are quite affordable. However, for even cheaper prices, Uber and Bolt will usually give you better deals.
If you have a car in Portugal, gasoline will cost you €2.03 per liter.
Educational Costs
Public education is free for Portuguese citizens and legal residents of the country. However, if you opt for private education then this will cost you between €800 and €1,500 per month for primary through to high school, not including book fees and enrollment fees.
You will also have the option to choose an international school in Lisbon. The capital has many outstanding options to choose from, which you can see in our article on International Schools in Portugal. The average fee is almost €1,500 a month but this will vary from school to school. Again enrollment feeds, books, and so on, will be extra costs that you will need to factor in.
When it comes to universities, private universities are more expensive than public universities. Public universities have a fee limit that can change on an annual basis. In recent times, the maximum fee is almost €900. The fees are not the same as for private universities, however, whereby they will cost, on average, €3,000 per year. You will also find that the cost of living for students in Lisbon is often cheaper than in other countries.
Healthcare costs
Healthcare in Portugal is almost completely free for Portuguese residents and citizens, with only small costs applicable. Only a couple of procedures will require fees, and these will generally be affordable. This will include paying a visit to the emergency room, taking a diagnostics exam, or getting a particular doctor's appointment. Routine checkups will also need to be included in the cost of living in Lisbon, with a medical exam typically costing around €40, while medical procedures begin at €5.
It goes without saying that public healthcare is cheaper than private healthcare. You will have to pay an average of €40 to €50 for a doctor's appointment in a private healthcare facility. On average, private instances cost a yearly fee of €400, with comprehensive healthcare cover costing around €1,000.
You can see our guide on healthcare in Portugal.
Portugal Golden Visa
If you are considering moving to Portugal, then the Portugal Golden Visa could be a good option for you. The Portugal Golden Visa allows you to reside in Portugal, with the possibility to secure Portuguese citizenship within five years through naturalization. While changes to the regulations unfolded on 1 January 2022, whereby it is not possible to invest in residential real estate in Lisbon or other hotspot locations of the country, there are still other options for you to consider.
Here are the investment options available for the Portugal Golden Visa:
Residential Real Estate: Buy residential real estate in designated interior areas of Portugal worth at least €500,000 or €350,000 if investing in a rehabilitation project. If the residential property is located in a designated 'low-density' area, then a 20% discount applies.
Commercial Real Estate: Buy commercial real estate anywhere in the country worth at least €500,000 or €350,000 if investing in a rehabilitation project. If the commercial property is located in a designated 'low-density' area, then a 20% discount applies.
Buy Real Estate on Madeira or Azores: Buy residential and commercial real estate anywhere in Portugal's autonomous islands of Madeira and Azores, worth at least €500,000 or €350,000 if investing in a rehabilitation project.
Fund Subscription: Make a contribution to an investment qualified Fund worth at least €500,000
Capital Transfer: Make a capital transfer of at least €1.5 million
Scientific Research: Science or Technology research contribution of at least €500,000
Job Creation: Company incorporation and creation of ten jobs amounting to a minimum value of €500,000
Donation: Support the arts or reconstruction of national heritage with a donation of at least €250,000.
Portugal D7 Visa
The D7 Visa is an affordable and attractive visa that allows non-EU citizens to obtain Portuguese residency as long as they have sufficient funds to sustain themselves during their stay in Portugal.
Retirees, entrepreneurs, or other expats who are living off a recognized stable income can apply for the D7 Visa. A recognized stable income includes movable property, real estate, intellectual property, pensions, or financial investments. To qualify you'll need to earn a minimum wage, which is dictated by the Portuguese Government.
For more information, you can see our article on the Portugal D7 Visa.
Lisbon Life Cost: Conclusion
There's no getting around the fact that Lisbon is the most expensive part of Portugal to live in. However, compared to most other Western European countries, you will find that it is relatively inexpensive. While property prices have been increasing steadily over the last few years, if you do some digging, you should be able to find an affordable property. It is worth having some inside knowledge of the market, which is where having a buyers agent can do wonders. Our real estate division, Goldcrest, will be more than happy to discuss your options for you, to determine which neighborhoods in Lisbon to consider and help you find top properties on the market.
You can book a call with one of our consultants by contacting us.
Global Citizen Solutions: How We Can Help You
Global Citizen Solutions is a boutique residency and citizenship by investment consultancy, focused on finding the perfect investment, citizenship, or residency program for individuals across the world. We work solely on behalf of our clients throughout the process for an easy and hassle-free journey to your desired route.
With offices worldwide and an experienced, hands-on team, get in touch today to see how we can understand your objectives and help you move towards becoming a global citizen.
The following articles may be useful to you:
Also, Portugal ranks in 12th position in Global Citizen Solutions' pioneering Quality of Life Index, part of our innovative way to uncover to the true value of a passport. This index factors in the cost of living, alongside the Sustainable Development Goals, levels of freedom, happiness levels, migrant acceptance, and environmental performance.
Frequently Asked Questions about the Cost of Living in Lisbon
How much money do you need to live comfortably in Lisbon?
A family of four can live in Lisbon for approximately 2,152$ (2,045€) without rent. A single person's estimated monthly cost is 612$ (582€) without rent. The cost of living in Lisbon for couple will be something in between. Note that the cost of living in Lisbon per month will vary depending on your lifestyle.
Is it expensive to live in Lisbon?
While Lisbon is the most expensive city to live in in Portugal, it is quite affordable when compared to other Western European Countries. Indeed, the cost of living in Lisbon for international students and expats is usually very affordable.
Is Lisbon a good place to live?
Lisbon is one of the best cities to live as an expat, with a relatively low cost of living, high quality of life, excellent weather, and welcoming locals. The city also has many excellent international schools and good healthcare.
---