Spain's Golden Visa is one of Europe's most successful citizenship by investment programs.
Spain's world-class beaches, mouth-watering cuisine, rich culture and high living standards are attractive prospects for relocation. Thanks to the Spain Golden Visa program, investors and their families who are not part of the European Union (EU), European Economic Area (EE) or Switzerland, can make a qualifying investment in Spain and be granted a Spanish residency permit. Why not call this beautiful Mediterranean country your second home?
This guide will take you through:
Your guide to the Golden Visa program in Spain
In this ultimate guide, we aim to provide you with practical and up-to-date information on the Golden Visa Spain procedure, including the program's benefits, requirements, and application process. We hope you find it useful.
With almost a decade of experience, we at Global Citizen Solutions have a 100% success rate in Golden Visa applications.
Get in touch with our specialists for more information.
What is the Spain Golden Visa?
The Spain investment visa, also officially known as the Spanish Residence Permit Program or the Spain Golden Visa, was established in 2013 by the Spanish government to encourage foreign investors outside the EU to invest in the country's economic prosperity.
Under the program, investors and their families who meet the requirements and invest at least €500.000 in either real estate, business, government bonds or a bank deposit, are offered an easy and quick way to obtain a Spanish residence permit.
A key advantage of the Spain Golden Visa program is that the government legislation does not impose a minimum period of residence. An initial residency card is granted for one year (or two years if you visit Spain), which can then be renewed every five years, and then again for another five years. Permanent residency can be applied for after you've actually lived in the country for a period of five years. Please note that applicants will be required to visit Spain to collect their biometric data.
While it is not necessary to live in Spain in order to obtain and renew the residency visa permit, the pathway to citizenship does require the investor or qualified family members to live at least 6 months per year in Spain for ten consecutive years. Investors must also travel to Spain twice a year, leaving no more than 5.5.-6 months between each visit. This will then allow eligible investors and/or their families to apply for Spanish citizenship. Some nationalities, including former Spanish colonies, can benefit from a reduced length of full-time residency in order to be able to apply for nationality.
Why apply for the Spain Golden Visa?
Similar to Portugal's Golden Visa program, Spain's own Golden Visa program has proven particularly popular among applicants from China, Russia, Venezuela, Ecuador, Brazil and India. Between January to June 2019 alone, 848 residency applications were approved. What's behind the program's popularity?
It's simple, really. The visa application process is known for its speed and clarity, with applicants being able to enjoy key golden visa benefits.
Main Golden Visa Spain benefits
Fast processing times. It is possible to acquire the Spanish residence permit within 60 days from the time the Golden Visa application is submitted.
Travel visa-free. Since Spain is an EU member, when obtaining the golden visa, you can travel visa-free to 26 countries as part of the Schengen zone.
EU rights. Obtaining a Spanish residency permit means you can live, work and study in Spain.
Family residency plans. Your spouse and children under the age of 18 are guaranteed residency permits. Other family members can also obtain residency, provided paperwork is presented, showing they are your legal dependents.
Family security guarantee. Having  a 'plan B' puts your mind at ease in times of economic or political instability.
Easy renewal. The temporary residence permit can be easily renewed and you only have to visit Spain once a year in order to maintain the permit.
Donation-free. No donation is required as it is an investment-only program that provides many different investment options.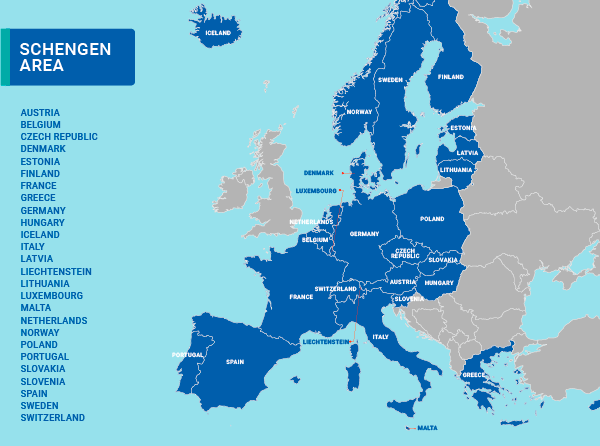 Spanish citizenship and passport
Obtaining the Spanish passport is an ultimate dream for many people since it allows visa-free travel to 187 countries and in turn, earns the person's right to study, work and live in any EU-member state.
After five years of living in Spain, investors can apply for permanent residency. Citizenship in Spain can be obtained after ten years, however, applicants must have resided at least six months per year throughout that period in Spain to qualify.
Once applicants have either permanent residency or citizenship, they are free to disband their investment as further golden visa renewals are not required.
Who is eligible for the Golden Visa in Spain?
Any non-EU, non-EEA or non-Swiss citizen who makes a qualifying financial investment in Spain is eligible for a Golden Visa and residency in Spain, along with dependent family members.
The Spanish Golden Visa program has proven to be one of the most popular citizenship-by-investment programs in Europe. Getting the Golden Visa in Spain is easy, straightforward, fast and cheaper than other EU citizenship programs.
Spain Golden Visa requirements
If you or your family decide to live in Spain, then you are eligible for permanent residency after five years. However, you have to demonstrate that you did not spend more than a total of eleven months outside of Spain within the past five years.
Golden Visa Spain rules
The applicant must be over 18 years old.
The applicant must possess a clear criminal record.
The applicant must not be on the nation's list of undesirable people.
The applicant must hold valid medical insurance and an official health certificate
The applicant must not have previously been refused visas or entry into the Schengen zone.
The applicant must have enough funds to reside in Spain.
The applicant must make a qualifying investment (as stipulated in this guide) and provide proof of the respective financial investment.
What family members qualify for the Spain Golden Visa?
At the same time as your own application, you may submit the application for Golden Visa Spain family members that are either:
Your spouse
Your children under the age of 18
Your dependent family members (upon financial proof that they are dependent or have a health condition that makes them unable to provide for themselves)
Spain Golden Visa investment options
The Spain Golden Visa program provides flexible investment by real estate or capital options.
What are the investment options for a Golden Visa in Spain?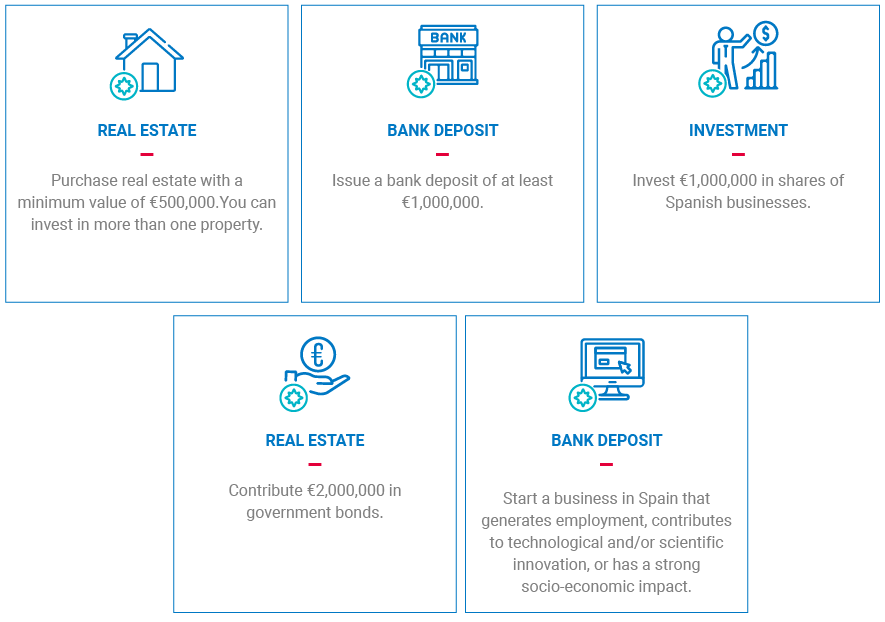 Most investors choose the real estate investment option in Spain, since it provides easy access to the EU, giving investors and their families a residential home in the Mediterranean to enjoy. In order to maintain your residence permit, you need to maintain your investment for a minimum period of five years.
Spain Golden Visa tax considerations
Investors will only be taxed on their worldwide income if they are resident in Spain for over 183 days in any year.
For non-resident individuals, tax is charged at 24.75% on income derived in the country, like rental income. This can be reduced with expenses.
Capital Gains Tax (CGT) applies to any profit made from the sale of a property.
CGT starts at 24%, increasing to 27% for gains exceeding €50,000. Allowances and deductions can be made.
Annual property taxes are payable to the local authority, around €200 – €400 per year for an apartment.
The application process for the Spain Golden Visa program
After purchasing property equal to or over €500,000, you will automatically receive a multiple entry Spanish Golden visa which is valid for one year.
Within that year, the investor must go to Spain in person to apply for the two-year residence permit, provided that the investment made is still in place.
While you do not need to live in Spain to maintain the residency permit, you must come to Spain each time to renew the permit in person as well as to maintain your investment.
Fast-track to citizenship option for nationals from former Spanish colonies
Thanks to recent Spanish legislative changes, nationals from a select few countries could qualify for Spain's two-year fast track citizenship process. Specifically, applicants from former Spanish colonies can fast track to citizenship in two short years, providing they meet the minimum stay requirement. These requirements include the need to travel every 2 and a half months to 3 months or 8 times in total to Spain within the two-year period. These residency requirements for citizenship are made possible with a multiple exits Golden Visa, as long as none of the trips last longer than 3 consecutive months.
Countries that enjoy fast-track to citizenship privileges include: 
Mexico
Peru
Argentina
Philippines
Cuba
Bolivia
Chile
Colombia
Costa Rica
Dominican Republic
Ecuador
El Salvador
Guatemala
Honduras
Venezuala
Panama
Paraguay
Who can submit the application for the Golden Visa in Spain?
The application can be made in your name or through an EU company fully owned by you.
Get in touch with our specialists at Global Citizen Solutions for more information on how we can take care of the whole application process for you.
Step-by-step guide for the Golden Visa Spain application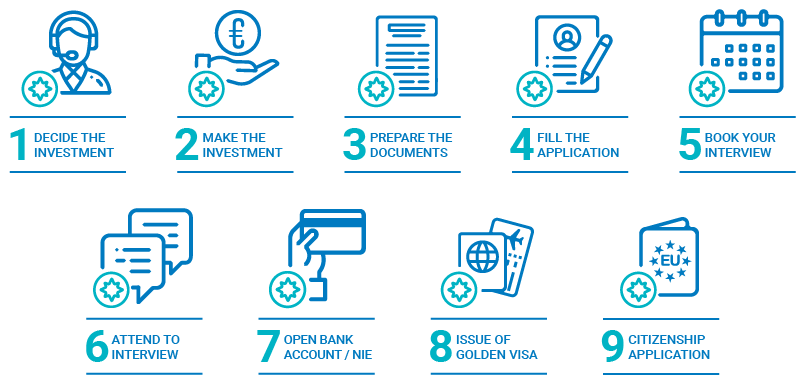 1. Decide on your investment route 
Choose whether you want to invest in real estate property or make a capital investment.
2. Make the qualifying financial investment
Have all documentation translated into Spanish or English and legalised according to the Spanish government's standards.
3. Prepare the documents 
Property Registry Filing (certificate) OR notarised deeds and proof that the deeds have been submitted to the Property Registry.
All other required documents as stated further down in this guide.
Notarise and translate documents.
4. File the initial application with the Spanish Consulate 
You will need to pay the government application fee and provide all the required documentation.
5. Book your interview 
6. Attend a biometric collections session in Spain 
Wait for final approval.
Upon approval of your Golden Visa, pay the government permit issue fee.
7. Open a bank account and NIE 
A bank account and NIE (Foreigner's Identification Number/ tax identification number) make it easier to conduct business and personal affairs in Spain.
8. Your residence certificate will be issued and it will be valid for one year 
Renew your residence certificate at the end of year two.
Become a permanent resident in year five.
9. Apply for Spain Golden Visa citizenship 
You will receive your Spanish passport after ten years in Spain.
Spain Golden Visa processing time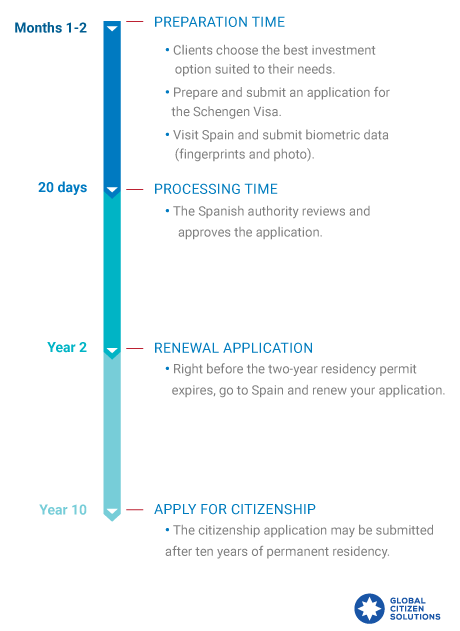 Golden Visa Spain documents
* Important information about your documentation: The following documents must be submitted by Golden Visa applicants both for the initial application and for each renewal. Additional documents also may be required. Check with your nearest Spanish Consulate or embassy for further clarification.
Common requirements:
Original passport, valid for at least one year, and two blank pages for the visa.
Two passport-sized photographs with a white background.
Proof of valid medical insurance: public health insurance and private contracted with an insurance company licensed to operate in Spain.
Medical certificate: (Original and photocopy, original translation and photocopy of translation if required): This document must be issued no more than 90 days before your appointment date, must include letterhead and original signature and/or stamp from a doctor (only M.D. or D.O's will be accepted).
Certified copy of the criminal record certificate for the past five years, from your country of origin. The certificate must have been issued no more than 90 days before submitting your application and must be valid for a period of three months after the date of issue. If the country is not Singapore, the certificate must be legalised by the Spanish Consulate/Embassy in that country.
Financial guarantee:
The applicant must show for the next two years an amount of €2.130 monthly for the main applicant, plus an extra €532 for each dependent person under the applicant's charge (each applicant's family member applying for residence visa).
To provide financial guarantee, the applicant must produce the original and photocopy of: savings accounts/current account bank statements (up to at least 12 months) / bank deposits/ Your name as the account holder has to be stated in each document.
Golden Visa Spain for applicant's family members:
This visa applies to the applicant's spouse, children under 18 years old and children over 18 who are objectively unable to provide their own needs because of their state of health.
Documents 1-7 apply for family members.
 In addition: If your spouse applies, a marriage certificate. If the country is not UAE, the certificate must be legalised by the Spanish Consulate in the country of issuance. If the certificate is in a language other than English or Spanish, it must be officially translated into Spanish or English and the translation must be certified by the Spanish Consulate in the country of issuance.
If your dependent children apply, birth certificates are needed with the same certification requirements.
Golden Visa for buyers of real estate:
The property must have been purchased a maximum of 90 days before the visa application is submitted.
A Property Registry Filing (certificate) OR notarised deeds and proof that the deeds have been submitted to the Property Registry.
Golden Visa for capital investors:
These visas require a capital investment of at least two million euros in Spanish bonds or at least one million euros in the acquisition of shares of Spanish companies or deposits of at least one million euros in Spanish banks.
The investment has to be carried a maximum of 60 days before the application is submitted.
The investments are justified: 1) In the case of acquisition of shares of non publicly traded companies, a certificate issued by the "Registro de Inversiones Exteriores del Ministerio de Economía y Competitividad". 2) In the case of acquisitions of publicly traded companies, certificate of a registered broker. 3) In case of acquisition of Spanish bonds, a certificate of a bank or of the Bank of Spain accrediting the investment for a period of at least five years. 4) In case of a bank deposit, a bank certificate.
Legalizing documents
Any document issued by a government authority needs to be legalized with the Apostille of the Hague, in order to be used in the Golden Visa application.
These documents include but are not limited to: 
Criminal record background checks
Marriage certificates
Birth certificates.
Your document must be Apostilled through the country or state where it was issued. In the United States, the Secretary of State of each state is able to issue an Apostille.
Once your background check is Apostilled, you should have a two-page document. The first page will be the Apostille and the second page will be the official letter from your background check. Do not detach the documents for any reason.
Translating documents
All documents/certificates that are not originally in Spanish must be translated by a Sworn Spanish translator certified by the Government of Spain. A translation is not needed if the document is available in English or Spanish.
Opening a bank account and the NIE Number
After submitting your Golden Visa application, non-EU citizens typically receive their NIE application along with their Spanish residency permit.
NIE, or Número de Identificación de Extranjero, is referred to in English as the Foreigner's Identification Number, or the tax identification number. The number is mostly used when paying taxes, making official purchases, and going through other legal or official activities. It is used in all fiscal transactions that involve the Spanish tax office.
A NIE number is mandatory for all foreigners with financial, professional or social affairs in Spain. It is best to have an NIE number as soon as possible even if you are not seeking to obtain permanent residency.
What are the government fees and legal costs for a Golden Visa in Spain?
The Spanish government charges the following fees in respect to the Golden Visa:
Visa fee:
For United States nationals: €249.65 (tax inclusive)
For Canadian nationals: €179.79 (tax inclusive)
Other nationalities: €133.92
Legal costs are normally around €9,000 for a family of four for the initial application and €2,500 for each renewal.
WE WORK FOR THE BUYER
It is well known that real estate agents work exclusively for the vendor of the property and are incentivized to achieve the highest price for their clients. Without seeking a source of impartial advice elsewhere, buyers have little way of knowing whether they are getting a good deal or are making a sound investment.
At Global Citizen Solutions, we work for the buyer and aim to change the imbalance that exists in many property transactions. You can contact us for more information on how we can help you with your Golden Visa Spain needs.