The Dominica Citizenship by Investment Program welcomes individuals and their respective family members to obtain citizenship in exchange for making an economic contribution to the country. As a mountainous Caribbean island nation, Dominica is a popular country of choice for citizenship, with the cost of a Dominica passport starting from a $100,000 investment.
In this guide, you can find out more about Dominica economic citizenship including the:
Your guide to Dominica citizenship
Citizenship by investment programs offer individuals the unique ability to obtain citizenship by investing in the country, usually in the form of real estate or government donation. With its tranquil scenery, breathtaking national parks and world class beaches, Dominica's citizenship program is one of the most popular ways to obtain a second passport. You can acquire a Dominica passport by investment by either investing in real estate or donating to the Government's Economic Diversification Fund (EDF).
Dominica citizenship benefits
There are many reasons to choose the commonwealth of dominica citizenship. From its booming trade and bustling tourism industry, to its paradise beaches and private lifestyle, Dominica's passport benefits include:
1. Quick application process 
One of the fastest turnarounds from the date of application submission. Get your application processed in as little as 3 months.
2. Entire family are eligible
Inclusion of spouse, children, parents and grandparents.
3. Cheapest second passport
Dominica passport can be obtained for just a $100,000 financial contribution. Dominica passport ranking is 37th in terms of travel freedom.
4. Dual citizenship
Dominica recognises dual citizenship which lasts a lifetime for the main applicant and qualified family members.  
5. Flexible requirements
No residence requirements. Plus no managerial experience or interview necessary.
6. Visa-free travel
Dominica's passport power is undeniable. Enjoy Dominica visa-free travel to over 120 countries, including Europe's Schengen zone, the UK, Hong Kong, Singapore, Malaysia, Turkey and more.
7. Tax freedoms
No wealth, gift, inheritance or capital gains tax.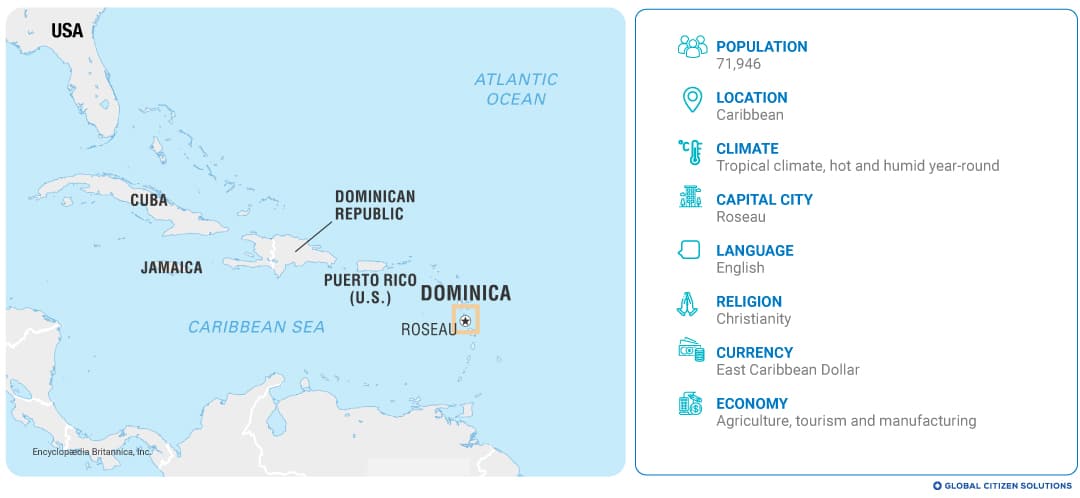 Dominica citizenship requirements
In order to obtain Dominica second citizenship, a series of Dominica passport requirements must be met first. 
The applicant must:
Be over 18 years old.

Have an outstanding character.

Have excellent health.

Hold no criminal record.

Pass a detailed background check.

Have a basic knowledge of English.
What family members qualify for Dominica economic citizenship?
A key citizenship by investment benefit is that it extends to the applicant's family members, meaning they are also eligible for Dominica citizenship.
The following family members apply:
Spouse

Inclusion of children under 18 years old

Inclusion of dependent children aged between 18-30, who must be in full-time attendance at an institution of higher learning and fully supported by the main applicant.

Inclusion of mentally or physically challenged dependent children, who must be fully supported..

Inclusion of dependent parents and/or grandparents of the main applicant or of the spouse, aged 55 or above, and living with and fully supported by the applicant.

Spouses of eligible parents or grandparents of the main applicant or of the spouse
Dominica citizenship by investment options
There are two investment options to choose from when considering Dominica dual citizenship.
1. Economic Diversification Fund
The Economic Diversification Fund (EDF) is a special fund established by the government to receive financial contributions for funding special socio-economic projects, with the aim of driving national development.
To qualify for Dominican citizenship, applicants must make a non-refundable contribution to the EDF. The cost of the contribution is determined by the number of dependents included in the application, along with qualified family members. 

*Additional processing and due diligence fees apply. See below.*
2. Pre-approved real estate 
Dominica real estate investment option requires main applicants to invest at least US$200,000 in pre-approved property. The real estate must be held for at least 3 years, which increases to 5 years if the buyer is also an applicant for citizenship by investment. Most real estate options available are shares in high-end tourist accommodation. The real estate government fee is fixed, but subject to change.

Dominica application processing fees:

Tax considerations
Dominica is a tax-free country if you choose not to reside there throughout your citizenship by investment initiative. 
If you decide to set up base for six months or more in your new country of citizenship, taxes on worldwide income are required. 
In addition, Dominica has double taxation treaties with the US and CARICOM. Meaning, there are no restrictions on the repatriation of profits or imported capital. There are also several corporate tax incentives, a full waiver from import duties, as well as tax relief benefits and export allowance. Dominica also offers generous tax holidays and other import duty and tax waivers.
Dominica citizenship by investment application processing time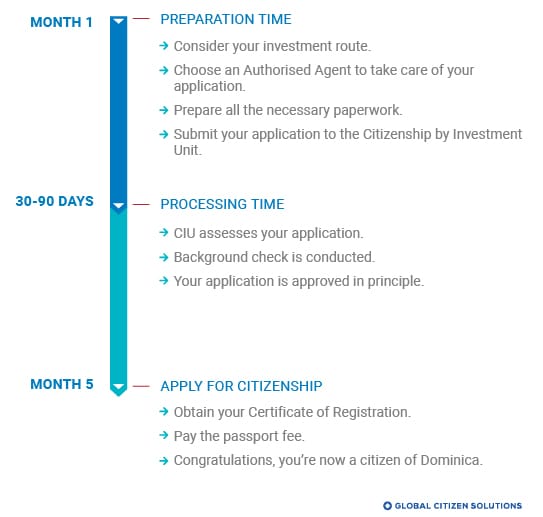 All applications are prepared by Authorised Agents on the behalf of the applicant and are assessed by the Citizenship by Investment Unit (CIU).
The average processing time from submitting the application to receiving an application outcome is three months. 
All supporting documents must be attached to applications along with the necessary fees before they can be processed by the Unit.
Where an application for citizenship by investment has been granted, the Unit will notify the authorised agent that the qualifying investment and required government administration fees must be paid before the Certificate of Registration can be granted. 
Once proof of the investment has been submitted, applicants are granted citizenship and can apply for a passport.
Who can submit the application for the Dominica citizenship by investment program? 
All applications are processed by an Authorised Agent.
Get in touch with our specialists at Global Citizen Solutions for more information on how we can support you throughout your application.
Step-by-step guide for your Dominica citizenship by investment application

To get a  Dominica passport, follow these simple steps to achieving dual citizenship.
1. Choose an Authorised Agent to process your application
Your Authorised Agent will walk you through all the necessary paperwork and requirements for a successful citizenship application.
2. Complete all Dominica citizenship application forms 
Complete all the required documentation and application forms as provided by your Authorised  Agent. Make sure all the documents are legalised according to the CIU's standards (more information on document requirements below).
3. CIU assesses application and conducts background checks
Your application is vetted in a detailed due diligence background check. The CIU will then recommend you to the government. 
4. Application approved
Within 60-90 days of applying, your application should be approved in principle and a letter will be issued to your Authorised Agent, with detailed instructions on making your investment. 
5. Decide on your investment route & invest
Choose your preferred investment and make the investment. Submit proof of purchase of your qualifying investment, as well as the government application fees. 
6. Become a citizen
Upon receiving proof of payment, the CIU  issues the certificate of registration.  Applicants must then submit the passport documents and passport application. You are then granted citizenship of Dominica and can get a Dominican passport. 
Dominica document requirements:
Important information: Applications for citizenship are only handled by registered Authorised Persons. Furthermore, the list of required documents are not exhaustive. The CIU may request additional supporting documentation from the applicant.
General Dominica citizenship document requirements:
Disclosure Form

Fingerprint and Photograph Verification Form (to be completed in front of a fingerprinting officer)

Medical Questionnaire and Certificate (to be completed by a licensed medical practitioner)

 Investment Agreement (EDF option only; to be completed by the main applicant only)

Sales and Purchase Agreement – (real estate option only)

Application Form, completed and notarised copies

Colour copies of all passports held

Birth Certificate

Marriage Certificate/Dissolution of Marriage Certificate, if applicable

Police Record from country of birth, country of citizenship, country of residence (if different), and any country in which the applicant has resided for more than 6 months in the past 10 years, for each applicant 16 years and over. For children aged 12-15, a sworn affidavit by the parent that a child does not have criminal record is required

Colour copy of driver's licence

Colour copies of all identity documents/books or cards

Colour copies of all military service and discharge documents, if applicable

Colour copies of all documents evidencing a name change (other than through marriage), if applicable

8 passport-size photos

Proof of residential address (lease agreement or utility bill)

Colour copies of university/college diplomas

Letter of recommendation from the head of the school/university for children between 12 and 18 years old

Notarised affidavit of support for each dependant aged 18 or over included in the application, with the exception of the spouse

HIV test results (for all applicants aged 12 or above)

Routine blood and urine test results
Supporting documentation
Professional reference

Letter of employment/financial statements

12 months bank statements

Notarised affidavit of source of funds

Detailed business background reports/resume/CV

Letter to the Minister

Proof of payment of relevant fees
Important note: Any colour copies of documents must be notarised and legalised before they're submitted. If any documents are not in English, they must be translated, notarised, and legalised prior to submission. Agents must inform applicants that their bank reference and audited financial reports for the two most recent years are required by the bank in order to process the funds.
Certification of documents
Where a document is required to be produced in support of the application for citizenship by investment, it must be certified and authenticated in accordance with the law of the jurisdiction from where the document originates.
Dominica citizenship cost
When thinking about the Dominica citizenship cost, there are a number of fees to consider. 
Note that the government-set fees are subject to change at the government's discretion.
Dominica donation fees for a family of four:
EDF investment option: $100,000 for main applicant or $200,000 for a family of up to 4 people.
Real estate option fee: $200,000 for pre-approved real estate. 
Real estate government fees: $25,000 for main applicant, $35,000 for a family of up to 4 people.
Due diligence fees: $11,500 ($7500 – Main Applicant , $4000 – Spouse &  any Dependent aged 16 & above)
Processing fees: $1,000 (Per Application)
Passport fees: $900 ($300 Per Applicant)
Certificate of registration fee: $750 ($250 Per Applicant)
Bank due diligence fees: $300 (Per transaction)
Authorised Agent fees: (subject to individual agent)
 Total estimated cost : $231,950 USD
OUR COMMITMENT TO OUR CLIENTS
We work first and foremost for our clients, providing unique tailor-made solutions to each individual.
Making an investment and moving abroad may seem daunting, we know this from first-hand experience. At Global Citizen Solutions, we guide our clients through each step of the citizenship process, with 100% success rates.
Contact us to learn more about the Dominica citizenship program, or to learn more about other residency and citizenship programs we work with.
Frequently Asked Questions about Dominica citizenship
How to get Dominica citizenship?
To qualify for citizenship, you must either donate to the Economic Diversification Fund or purchase real estate at a predetermined value. You must also be over 18 years old, have an outstanding character, be in excellent health and hold no criminal record. You must pass a detailed background check and have a basic knowledge of English.
Does Dominica allow dual citizenship?
Yes, Dominica recognizes dual citizenship.
What is the cost for Dominica citizenship?
A Dominica citizenship can be purchased starting from $100,000 for a single applicant, and it racks up to $200,000 for a family of four. This excluded processing fees, due diligence fees, passport application cost and legal fees.
How to get a Dominica passport?
To acquire a Republic of Dominica passport, you must make a financial contribution to the country in the form of a government donation or real estate purchase. An Authorised Agent can take care of your application for a fee, and once you pay the processing fees and pass the due diligence check, the Citizenship Investment Unit issues you a Certificate of Registration. You can then pay the passport fee and obtain a passport.
Is a Dominica passport good?
A Dominica passport is an excellent passport to own. It holds numerous benefits like access to visa-free travel in over 130 countries, with a global passport ranking of 37th for its travel freedoms.
How much does it cost to get a Dominican Republic passport?
A Dominican passport cost starts from $100,000.
What is the Dominica citizenship application process?
The application process is straightforward and easy. From the time of application submission, your documentation is usually assessed within 3 months by the CIU. Once a detailed background check has been conducted and the CIU is satisfied you've met all the requirements, your application is approved in principle. You are then issued a Certificate of Registration and can apply for a passport.
Can my friend or family member handle my citizenship application for me?
No. Only a licenced Authorised Agent can act on your behalf and handle your citizenship application for you.
Can my family obtain Dominica citizenship too?
Yes, children under 18 and spouses are automatically included, along with dependent children aged between 18-30, mentally and physically challenged dependent children,, plus dependent parents and/or grandparents above 55 who are living with the applicant.
How do I apply for Dominica citizenship?
Your Authorised Agent will help you with the necessary paperwork as per the legislation and document guidelines issued by the Citizenship by Investment Unit.
What language should by supporting documents be in?
All supporting documents must be submitted in the original language. Where the original language of the supporting document is NOT English, then you MUST also submit an authenticated English translation of the original.