Officially called "ARI" ("Autorização de Residência para Actividade de Investimento"), the Golden Visa in Portugal is Europe's most successful residency-by-investment program.
Under this program, a person not from the European Union (EU), European Economic Area (EEA) or Switzerland, can make a qualifying investment in Portugal and be granted a Portuguese residence permit for themselves and immediate family members.
This guide will take you through:
Your guide to the Golden Visa program in Portugal
In this ultimate guide, we aim to provide you with practical and up-to-date information on the program's benefits, requirements, and application process. We hope you find it useful.
The SEF spokesperson in Portugal has recently stated that:
About 1,300 requests from investors at a national level are pending, many of which are due to a lack of essential documents or the need to clarify or update them.
With almost a decade of experience, we at Global Citizen Solutions have a 100% success rate in Golden Visa applications.
Get in touch with our specialists for more information.
What is the Golden Visa Portugal and what benefits does it hold?
The Golden Visa Portugal is a form of a citizenship by investment program. If the potential investor fulfills a set of requirements he may gain residency in Portugal through the means of investing in Portugal.
Here are the Golden Visa program's main benefits:
You have permanent free entry and movement throughout the Schengen Area (26 European countries)
After five years, you can apply for Portuguese citizenship
Your dependent children and dependent parents will also qualify for the same benefits as you
You only need to spend seven days in the first year and 14 days in the subsequent years in Portugal (consecutively or non-consecutively)
The program is not blacklisted by the Organisation for Economic Co-operation and Development (OECD), unlike many other Golden Visa programs
You have the option to become a non-habitual resident of Portugal and pay little or no tax for 10 years
You can choose from a range of relatively affordable investment options
You have the security of a second residence in a safe and stable country
You have freedom of opportunities for you and your family
The Golden Visa program in Portugal was first created in 2012 to attract foreign investment to the country and, as of today, it has brought over €4.7 billion in direct investment into Portugal until July 2019. Since the introduction of the program, more than 7,700 investors have benefited from the program along with more than 13,000 family members.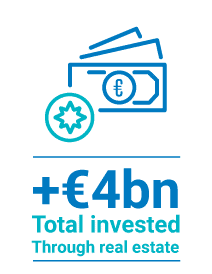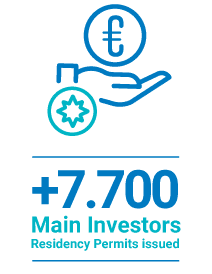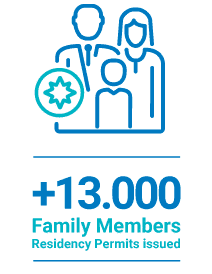 2020 UPDATE: According to the Portuguese Border Service (SEF), 2019 has seen almost €500 million invested in just seven months. Investment by Brazilian nationals under the same scheme was up by almost 42% in 2019. Applications from Chinese investors have fallen over the past year, in comparison to 2018. Countries with most investors for the programme include China, Brazil, South Africa, Russia and Turkey. 2019 is looking to be the most successful year ever for the programme. At Global Citizen Solutions, we have recently received an influx of Hong Kong Golden Visa inquiries, with many Hong Kong residents looking for a second citizenship in Europe to provide security against the ongoing unrest.

Access to Schengen Area and Portuguese passport
With your Golden Visa permit, you will be registered with the Schengen Area central system which will enable you to enter all European countries without the need for an additional visa.
With your application, your dependent children and dependent parents will also qualify for the same benefits as you.
After five years, you can apply for permanent residency and citizenship. The Portuguese passport is a top-notch travel document allowing visa-free travel to 182 countries.
Who is eligible for the Golden Visa in Portugal?
Any non-EU, EEA or Swiss citizen who makes a qualifying investment in Portugal is eligible for a Golden Visa and residency in Portugal.
The Portuguese Golden Visa program has proven to be one of the most popular citizenship by investment programs in Europe. Getting the Golden Visa in Portugal is easy, fast and cheaper than other EU citizenship programs.
Golden Visa minimum investment
The program requires a minimum investment of €250,000 and you can choose from a range of investment routes. Most investors choose the Real Estate investment option (we will list the options below).
One key advantage of the Golden Visa in Portugal is its very low 'stay requirement'. In order for you to maintain your Golden Visa residency, you will only need to spend seven days in the first year and 14 days in the subsequent years (consecutively or non-consecutively) in Portugal. This makes the program particularly suitable if you do not intend to live permanently in Portugal, but wish to access the benefits of having EU residency and, eventually, citizenship.
Which nationalities apply for the Portuguese Golden Visa?
Currently, the top five nationalities of investors are from:
China
Brazil
Turkey
South Africa
Russia
Americans applications for the Portugal Golden Visa
Global Citizen Solutions assists many US citizens looking to apply for the Portugal Golden Visa. The Portuguese Golden Visa is a particularly good option for American citizens looking to invest, as foreign-owned real estate is not a reportable financial asset in the US.
American business owners can also qualify for the Portugal Golden Visa program by expanding their existing businesses to Portugal.
Furthermore, the Portugal Golden Visa program can be a good option for Americans who are looking to renounce their US citizenship, owing to the country's generous tax incentives.
If you are a US citizen looking to relocate to Portugal, take a look at our article on what Americans should know before they move.
Is the Golden Visa Portugal extendable to family members?
At the same time as your own application, you may apply for the Golden Visa for the following family members:
Spouse or legal partner
Children under 18 years of age
Dependent children under 26 as long as they are unmarried and enrolled as full-time students
Parents of either spouse if over the age of 66 years old (or 55 and dependent)
Siblings under the age of 18 years from either spouse or partner if legally responsible
If you are looking to relocate to Portugal with your children, there are a number of excellent international schools in Portugal to choose from.
What are the Golden Visa Portugal requirements?
1. Make and maintain the qualifying investment for a minimum of five years
2. Spend a minimum of seven days in Portugal for the first year, then no less than 14 days each subsequent two-year period (this is called the stay requirement)
3. Have a clean criminal record
What is 'Stay Requirement'?
As previously mentioned, 'Stay Requirement' is one of the main benefits of your Portuguese residency visa.
With your Portuguese residency visa, you will need to renew your card in years one and three as well as spend a few days in Portugal each year in the following order:
In year one, you must spend at least seven days in Portugal; and
In years two through to five, you must spend at least 14 days in Portugal (whether or not they are consecutive) during each two-year period.
What are the Portuguese Golden Visa Tax considerations?
As a Golden Visa Portugal holder, you will not need to pay any additional taxes on your income produced outside of Portugal.
You may, however, wish to benefit from the generous Non-Habitual Tax Regime by setting up your fiscal residence in Portugal. This may help you maximize fiscal efficiency pertaining to your global income.
What is the Non-Habitual Tax Regime?
In summary, the Portuguese Non-Habitual Tax Regime grants qualifying individuals the possibility of becoming tax residents of a white-listed jurisdiction whilst legally minimizing income tax on certain categories of non-Portugal income for a period of 10 years.
Golden Visa holders automatically qualify for the Portuguese Non-Habitual Tax Regime (NHR).
Here is the list of types of income that may qualify for tax exemption:
Dividends
Interest
Real estate income
Capital gains from the disposal of real estate
Occupational pensions
Royalties
Business and self-employment profits derived from eligible occupations (but be mindful of relevant double taxation agreements in this respect)
Additionally, any Portuguese-sourced income would be taxed at a flat rate of 20% during the first 10 years and there is also the ability to pass on your wealth to a spouse or dependent without incurring inheritance or gift taxes.
You can find out more in our complete guide about Portugal's Non-Habitual Resident Tax Regime
Who can make the application for the Golden Visa in Portugal?
The application can be made in your name or through an EU company fully owned by you.
Get in touch with our specialists at Global Citizen Solutions for more information on how we can take care of the whole application process for you.
What are the investment options for a Golden Visa in Portugal?
An investment must be made before the Golden Visa application can be filed.
Here is the full list of qualifying investments:
Capital Transfer
The transfer of at least €1 million to Portugal
Create 10 full-time jobs
Creation of 10 new full-time jobs within a Portuguese business in the format of a single-member limited company. (Reduced to eight positions if in a low-density area);
Invest in €500,000 in Real Estate
Real Estate investment of at least €500,000 of any type of real estate and anywhere in Portugal. (Reduced to €400,000 if it is located in a low-density area);
Invest in Real Estate Rehabilitation
Real Estate and its rehabilitation, investment in eligible properties that are over 30 years of age or are located in designated areas of urban rehabilitation AND (ii) the property purchase price plus the ex-VAT value of the rehabilitation work contract of at least €350,000. (Reduced to €280,000 if located in a low-density area).
Investment into preserving national heritage
Investment into the conservation of national heritage, arts and culture of at least €250,000;
Investment in research
Investment in research conducted by accredited institutions that are part of the national scientific and technological system of at least €350,000;
Investment into an existing business
Investment into an existing Portugal-registered business, or at least €350,000 to either incorporate or increase the share capital AND create at least 5 full-time permanent jobs for a minimum period of three years; or
Investment into private equity funds
A Golden Visa €350,000 minimum investment can be made to a private equity fund. This can be a more convenient option for some as it avoids the hassle of looking for property and subsequent management.
---
2020 UPDATE: The Portuguese government has recently voted on changes to Golden Visa investment options. These changes will come into effect in the second half of 2020 and mean that real estate in the centers of Lisbon and Porto will no longer be eligible for Golden Visa investments.
Find out more about changes to the Portugal Golden Visa in 2020.
To find out more about obtaining a Golden Visa through investment funds, take a look at this article.
Timeline of the process for the Golden Visa in Portugal
The first major step is to decide which investment route you will take and to gather all your documents.
The second step is to make the investment that must be made before your Golden Visa application is filed. This timing is up to you.
After filling your application, you will receive your preliminary approval by the "Serviço de Estrangeiros e Fronteiras" (SEF) and you will have to book an appointment and appear for an interview. Due to popular demand in districts like Lisbon and Faro, scheduling an interview slot can take up to three months. You may be able to reduce this waiting time by scheduling your interview in quieter districts.
When you attend the appointment, bring your family members along so that their application can be submitted simultaneously, this can save you months on your application.
After you submit your application, it takes anywhere from three to six months for approval and issuance of your residence card.
Once your Golden Visa is issued,  your residence card is valid for 2 years. It must then be renewed every 2 years.
After the fifth year of holding your qualifying investment and residence permit respectively, you may apply for permanent residency or citizenship. If you do not want to apply for PR or a Portuguese passport, you must again, renew your residence permit in year six.
Find out more about SEF Portugal here.
Step-by-step guide for the Golden Visa application

Onboarding and document preparation

Start preparing and compiling your documents
Get a Portuguese NIF and open a Portuguese Bank Account (which can be done remotely)

Decide and make the investment

Transfer the required investment amount to your Portuguese bank account
Have all documentation translated into Portuguese and legalized according to SEF's requirements

File the initial application with SEF

You will be required to pay the Government application fee and provide a copy of all the required documentation

Book your interview
Attend a biometrics collection session

Wait for final approval
Upon approval of your Golden Visa, pay the Government permit issue fee

Your residence certificate will be issued and it will be valid for two years

Renew your residence certificate at the end of year two and four
Become a permanent resident at the end year five

Path to Portuguese citizenship

You may apply for Portuguese Permanent residency or citizenship
Most common investment route for Golden Visa Portugal
Your investment must be made before the Golden Visa Portugal application can be filed. Most investors decide on the Real Estate route.
There a few things to consider when going through this route:
Understanding the property market
Property search and selection
Types of investments
Property rehabilitation
Process of buying a property
What to look for
How to save on tax
Urban Rehabilitation Area (called an "Area de Reabilitação Urbana" or ARU)
Taxes for short-term rentals

Golden Visa Portugal documents
* Important information about your documentation
The following documents must be submitted by Golden Visa applicants both for the initial application and for each renewal:
Copy of a valid passport and travel documents
Deed or contract of the purchased property or signed promissory contract with proof of the deposit payment
Declaration from your bank in Portugal confirming the transfer of funds
Proof of Health Insurance in Portugal
Certified copy of the criminal certificate or a Police clearance letter from your country of origin
A completed form authorizing SEF to get an extract of your Portuguese criminal records
Declaration from you confirming compliance with the investment requirements
Documents showing a good standing with the Portuguese Tax and Customs Authority and Social Security system. These can be issued 45 days prior to your online application
A receipt showing that you already paid the application processing fee
Note that the certificates of criminal records or Police clearance letters must have been issued no more than 90 days before submitting your application. For all other certificates, it is 180 days.
Legalizing documents
Documents must be legalized and translated into Portuguese by means of a certified translator.
Documents can be legalized in one of the two ways:
By the Portuguese Consulate
By the Apostille of The Hague Convention
Translating documents
Original documents must be accompanied by a certified translation into Portuguese, which may be done in one of three ways:
By a translator who is accredited by the Portuguese Consulate
By anyone, if the translation is certified by a Portuguese lawyer
By the issuing country's Consulate in Portugal
Getting a Portuguese NIF and opening a Portuguese bank account
These are relatively straightforward processes in Portugal and can both be done remotely.
Get your Portuguese NIF
The NIF ("Número de Identificação Fiscal"), also known as "Número de Contribuinte" is your tax identification number, distributed by the Portuguese fiscal authorities (Finanças) used for tax purposes that are needed to carry out various transactions including opening a Portuguese bank account and buying the property. For more information, check out this article from bePortugal on NIF number in Portugal.
Open a Portuguese bank account
We can introduce you to a competent English speaking banker in Portugal that can open a bank account even before you go to Portugal. Get in touch with our specialists at Global Citizen Solutions.
What are the Government fees and legal costs for a Golden Visa in Portugal?
| | | | | |
| --- | --- | --- | --- | --- |
| SEF fees in € | Single applicant | Two applicants | Three applicants | Four applicants |
| Initial government application fee | €527.60 | €609,90 | €692.20 | €774.5 |
| 1st approval fee per Golden Visa | €5,857 | €5,940 | €8,686 | €11,431 |
| 2nd approval fee per Golden Visa | €3,195 | €5,940 | €8,686 | €11,431 |
| 3rd approval fee per Golden Visa | €3,195 | €5,940 | €8,686 | €11,43 |
Legal costs are normally around €5,000 per family for the initial application and €1,500 for each renewal.
Disclaimer: Fees can be subject to change, depending on the Portuguese government.
Portugal vs Spain Golden Visa
With golden beaches, enticing foods, and excellent weather, both Spain and Portugal offer safe and stable lifestyles in the heart of Europe and straightforward ways to obtain temporary residence permits. However, key differences between the two programs exist and it's important to know what these differences are.
The main benefits of the Portuguese Golden Visa program in comparison to the Spanish one is that investments can be made for a lower amount, starting from €280,000  Investors in the Portugal Golden Visa can also obtain a European passport in just 5 years, whereas investors in the Spanish Golden Visa must wait 10 years.
Another key difference is that the Spanish Golden Visa has no "stay requirement" (number of days required to spend in the country) to maintain residence whereas the Portuguese Golden Visa requires that applicants spend 7 days per year in the country for 5 years.

How can Global Citizen Solutions help me?
Our specialist team at Global Citizen Solutions can help you by giving you access to an extensive network of connections in the industry and providing suitable investment opportunities ahead of the competition.
The Lisbon area property market is becoming increasingly competitive, so having early access is crucial.
We find property from many sources, including off-market, pre-market, direct from developers, and in certain cases, private approaches. Our team can provide you with expert advice on the locations most appropriate for your investment requirements, guiding you on how rental yields and capital values vary from area to area.
Get in touch with our specialists at Global Citizen Solutions. We are confident that our comprehensive range of services and our unequaled experience will give you that crucial advantage and deliver a successful investment property for you and a clear path to European citizenship.
WE WORK FOR THE BUYER
It is well known that real estate agents work exclusively for the vendor of the property and are incentivized to achieve the highest price for their clients. Without seeking a source of impartial advice elsewhere, buyers have little way of knowing whether they are getting a good deal or are making a sound investment.
At Global Citizen Solutions, we work for the buyer and aim to change the imbalance that exists in many property transactions. You can contact us for more information on how we can help you with your Golden Visa Portugal needs.