Portugal's Golden Visa Program —  also known as the Residence Permit Program —  is a five-year residency-by-investment scheme for non-EU nationals. The scheme grants qualifying investors and their family members the right to live, work, and study in Portugal and permits free movement in Europe's Schengen Area. To date, Portugal Golden Visa statistics show the program to be extremely popular among investors.
This article provides a comprehensive overview of the Portugal Golden Visa statistics, showcasing just how international and renowned the scheme is among non-EU citizens.
Portugal Golden Visa Program: Recent Developments and Future Projections
Despite the announcement made by the Portuguese Government, the Portuguese Golden Visa Program is not coming to an end.
On 19 July 2023, the Portuguese parliament voted to restructure the Golden Visa program. The new legislation, which came into force on 7 October 2023, brings about significant changes to the types of investments that qualify for the scheme.
Notably, real estate investments are no longer eligible for the program. In addition, the capital transfer option also no longer qualifies as a viable option.
However, other investment options will remain available for those interested in the Golden Visa program.
You can check out the latest changes to the program in our article: Portugal Golden Visa Changes, Updates, and New Rules for 2023.
Portugal Golden Visa Numbers for September 2023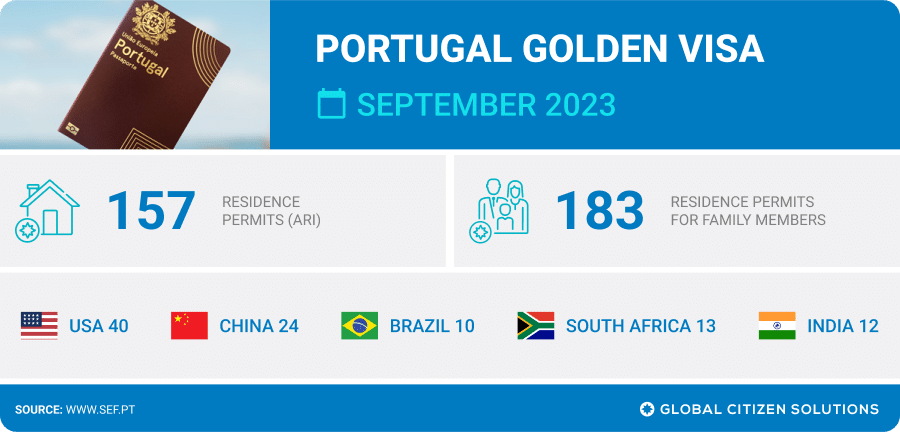 In September 2023
157 residence permits

for investment activity were authorized by SEF (Portugal Immigration and Borders Service). A total of

183 families

were rewarded with residence permits.

99 Golden Visas

issued were for the real estate investment type

57 permits

were issued for the capital transfer option

One permit

was issued for the job creation category
Nationality Breakdown
40 permits

were issued to people of

American

nationality

24 permits

were issued to people of

Chinese

nationality

13 permits

were issued to people of

South African

nationality

12 permits

were issued to people of

Indian

nationality

10 permits

were issued to people of

Brazilian

nationality
Investment Breakdown
Portugal's Golden Visa Program saw a whopping € 70, 895, 742.39 in September 2023, with investments
The total investment in real estate property purchasing was € 50,076,668.39
The total investment in capital transfer was € 20,819,074.00
The Portugal Golden Visa venture capital/investment fund option is also proving popular, particularly in the face of Portugal Golden Visa changes, which blocked investors from buying a property in urban cities like Lisbon and Porto from January 2022, along with other investment route changes. Now, as mentioned, real estate investments are no longer a viable pathway to the Golden Visa.
Interested to know more about the investment routes the Portugal Golden Visa offers? Check out our guide on how to invest in Portugal for citizenship.
Portugal Golden Visa All-Time Facts and Statistics: 2012-2023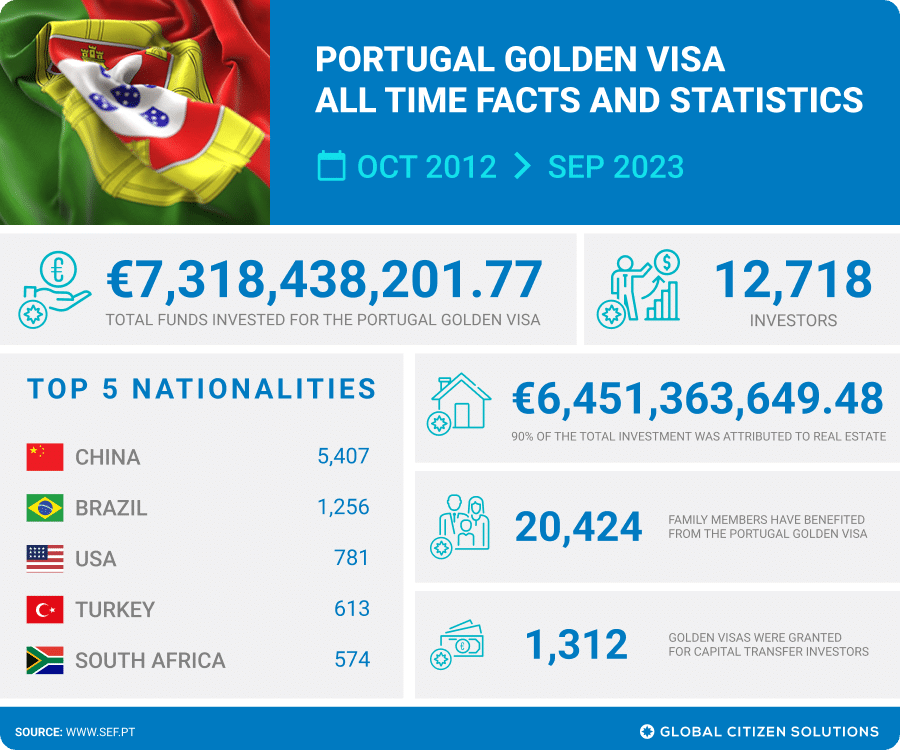 Golden Visa Approval Rates
Until the present day, Portugal issued Golden Visas for 12 718 main applicants
20 424 residence permits were issued for family members that accompanied the main applicants as their dependents
Top Nationalities
Over the years, the Portuguese Golden Visa investment program has attracted investors from various corners of the globe.
While the Chinese applicants are still the majority, their share of the program is decreasing as investors from other nationalities, such as Brazil and the United States, have been applying for the program, too.
The table below provides a clear representation of the highest number of applicants for the Portugal Golden Visa Program.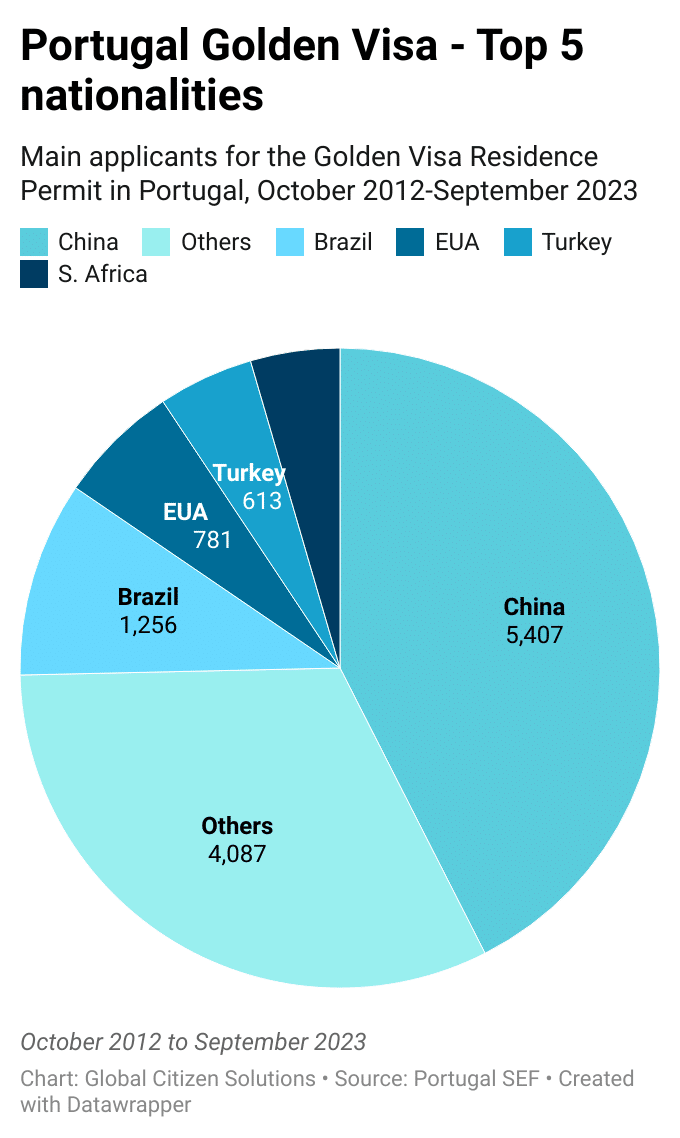 Main Investment Types
Since its inception in October 2012, the Portugal Golden Visa program has attracted significant investments, totaling €7,318,438,201.77.
While real estate still represents a substantial portion of these investments, other options, such as capital transfer to a Portuguese bank, Portuguese venture capital, job creation, cultural heritage contribution, and contributions to scientific research projects, are on the rise.
Since October 2012, 11 3834 residence permits have been issued for real estate investment
1 312 Golden Visas were granted for Capital Transfer investors
23 residence permits were issued for people who created ten or more jobs
The chart below displays the breakdown of investment types that applicants have been pursuing from 2012 to the present.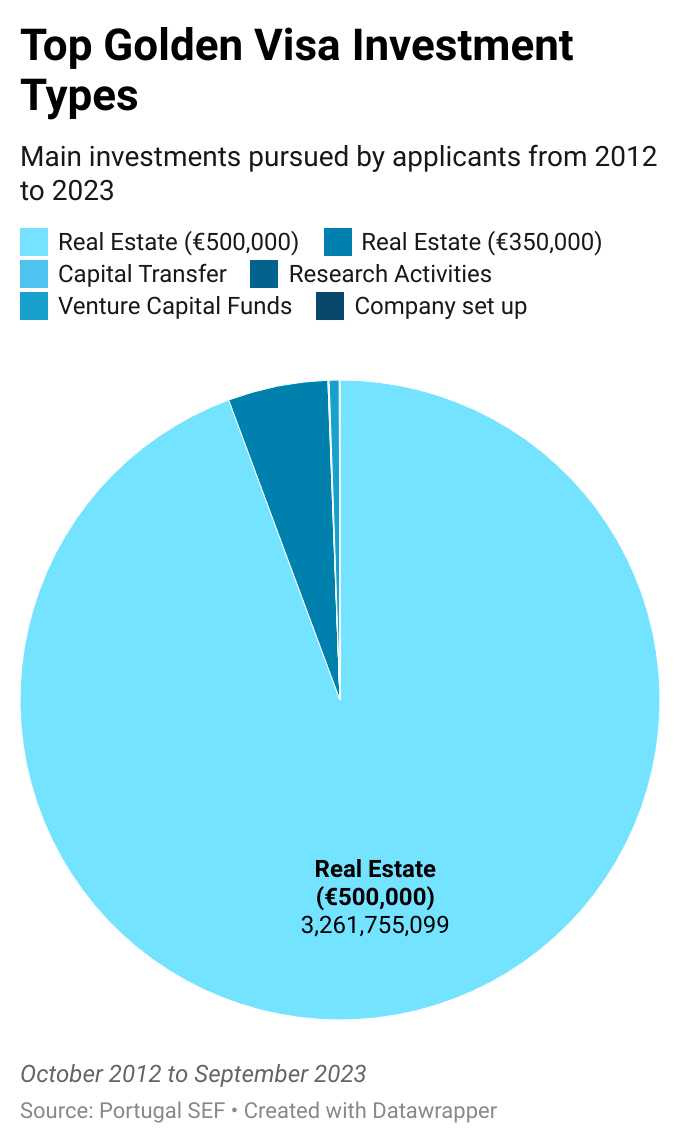 More Data About The Golden Visa Program
The minimum age to apply for the Golden Visa is 18 years old
To apply for Portuguese citizenship via the Golden Visa, the person must hold their investment for five years at least
A Portuguese passport granted through the Golden Visa gives you visa-free access to 174 countries
Seven days on average are the minimum stay that the applicant must spend in Portugal to maintain the Golden Visa in the first year, followed by 14 days in the subsequent years (consecutively or non-consecutively) in Portugal.
20 percent is the value of the reduced tax rate for those who participate in the Non-Habitual Resident Tax Regime.
27 is the number of European countries belonging to the Schengen Zone to which the Golden Visa holder receives free access
90 days is the maximum processing time for the Portugal Golden Visa
In 2022, in terms of top residency-by-investment programs, Portugal was recognized for offering the best program in the world
Portugal Statistics
Portugal ranking statistics
Portugal is ranked first as the best country in Europe for expats
7th safest country in the world, according to the 2023 Global Peace Index.
Ranked number one in the world for its best master's degree in information management
Ranked number one as the best travel destination in Europe
Ranked 5th as the safest country in Europe
Portugal ranks 4th in terms of its passport benefits for nomads and global citizens
Portugal is in fifth place as the world's most powerful passport, alongside Austria and the Netherlands
Portugal is ranked 6th in terms of being one of the cheapest countries in Europe
Portugal is ranked 9th in terms of the country with the lowest organized crimes
Portugal comes in 10th place in the ranking of the world's best democracies
Portugal is ranked 11th in terms of being one of the largest exclusive economic zones in the world
Ranked as 12th for having the best healthcare system in the world
Ranked 17th in terms of the quality of life it provides to its residents
Ranked 21st in terms of its infrastructure quality
Portugal ranks in 21st place for its life expectancy standards
Portugal comes in 27th place for its quality of education
Portugal comes in 28th place for its institutional transparency
Portugal socio-economic facts
Population of 10.31 million people as of 2021
Active population of 5.2 million based in Portugal
There are 1.4 million youths in Portugal (under 15 years old)
There are 6.6 million people in Portugal between the ages of 15 and 64 years old
Over 2.2 million  people in Portugal are elderly (over 64 years)
The number of companies that opened in Portugal in 2021 was more than 34,466, an 8.2 percent increase from the previous year
In 2021, Portugal's GDP per capita stands at USD 249.9
Portugal has an unemployment rate of 6.6 percent as of August 2022
€822.50 is the minimum wage in Portugal
The demographic density of Portugal is 115.4 inhabitants/km²
Portugal geographical facts
92212 km² is the total extension of Portugal
6.3 million kilometers is the length of the coast of Portugal
+3 hours is the time zone in relation to Brasília
276 is the number of sunny days in Portugal, considered one of the sunniest countries in the world
7 is the number of regions in Portugal
18 is the number of districts in Portugal, in addition to 2 autonomous regions
308 is the number of municipalities in Portugal
3092 is the number of parishes in Portugal.
Portugal structure statistics
3100 kilometers is the length of the highways in Portugal
2600 kilometers is the length of the railways in Portugal
10 is the number of airports in Portugal
14 is the number of ports in Portugal
5735 is the number of educational establishments in Portugal
225 is the number of hospitals in Portugal.
3 percent is the mortality rate in Portugal during the coronavirus pandemic. As a result, it was the first country to receive a safe travel status, a seal that guarantees security for tourists visiting the country.
How Global Citizen Solutions Can Assist
Global Citizen Solutions is a boutique consultancy firm with years of experience delivering bespoke residence and citizenship-by-investment solutions for international families.
With offices worldwide and an experienced, hands-on team, we help clients from around the world acquire Portugal Golden Visas or homes while diversifying their portfolio with robust investments.
If you have a question related to Portugal Golden Visa facts, speak to one of our consultants so we can understand your objectives and help you move forward onto a path of success.
Why choose Global Citizen Solutions for your Portugal Golden Visa?
Global approach by local experts: A team of experienced local case executives, immigration lawyers, and investment specialists based in Portugal.
Independent service: We are not a marketing agency for any projects. You will access all eligible routes for the Golden Visa so you can decide on the best option, and your investment will benefit from the legal due diligence services of a reputable Portuguese Law Firm.
100% approval rate: We have the unique distinction of never having had a Golden Visa case rejected and have helped hundreds of clients from more than 35 countries.
All-encompassing solution: Our dedicated onboarding and immigration teams will assist you throughout the process and beyond with a single channel of communication. 
Transparency: Our fees are clear and detailed, covering the entire process with no hidden costs. 
Privacy: Your personal data is stored within a GDPR-compliant database on a secure SSL-encrypted server.
To see the full list of reasons why to work with Global Citizen Solutions for your Portugal Golden Visa, you can find out more here: Why Work with Global Citizen Solutions for Your Golden Visa Portugal Application?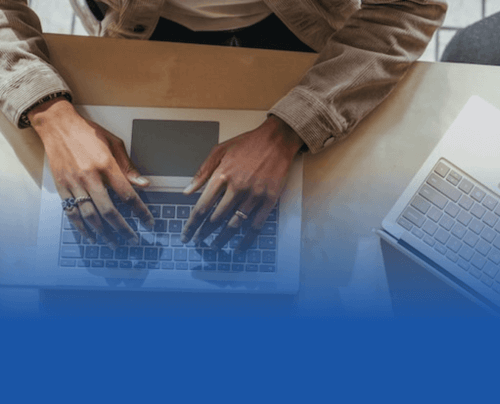 Golden Visa 2023 Statistics Sources
Frequently Asked Questions About Portugal Golden Visa Statistics
How many people have applied for the Portugal Golden Visa since the program started?
Since 2012, over 12,396 residence permits have been awarded to foreign investors, with 20,000 family members enjoying Golden Visa family benefits.
What country has invested the most in the Portugal Golden Visa?
According to Portugal Golden Visa statistics obtained from Portugal SEF, China remains the main country in which residence permits are granted.  As of June 2021, China is the leading force behind Portugal's Golden Visa investments, with 44 percent being attributed to contributions already. This is supported by data published by changes to the Portugal Golden Visa program.
According to Portugal Golden Visa data, what's the most popular investment option?
Buying a €500,000 property was the main investment route applicants took for the Portugal Golden Visa, with roughly 90 percent of all investments originating from the real estate investment option, as of August 2023. Note that it is no longer possible to invest in real estate to qualify for the program.
More About Portugal Golden Visa