Antigua and Barbuda Citizenship by Investment provides an opportunity for qualifying investors to gain dual citizenship in a West Indies island paradise with some of the most beautiful beaches in the world. An oasis of quiet and calm, Antigua and Barbuda is the perfect Caribbean country to enjoy visa-free travel as a citizen in over 130 countries. 
In this guide, you can find out more about Antigua and Barbuda Citizenship by Investment including the:
Your guide to gaining citizenship in Antigua and Barbuda
Citizenship by investment programs offers individuals the unique ability to obtain citizenship by investing in the country, usually in real estate or government donations. Antigua and Barbuda established their own citizenship by investment initiative in 2012 as a means to promote economic growth sustainably, attract developments and increase foreign direct investment to the nation. You can acquire an Antigua citizenship as a single applicant or a family by either making a charitable contribution, investing in real estate or establishing an approved business. 
There are many reasons to choose the Antigua and Barbuda citizenship program. From its booming trade and bustling tourism industry to its paradise beaches and private lifestyle, the program's unique benefits include:
Quick application process:

Get your citizenship application processed in as little as three to four months.

Passports for family members: Inclusion of spouse or future spouse, dependent children under 28 and dependent parents or grandparents over 58, providing a pathway to Antigua and Barbuda passport and citizenship.
Dual citizenship lasting generations: Antigua and Barbuda dual citizenship is recognized in the country. Your lifetime citizenship can even be passed down to future generations. You can enjoy the right, but not the obligation, to live and work on the island.
No travel requirement: There is no need for citizenship applicants to travel to Antigua and Barbuda during the application process.
Flexible requirements: No interview, education, or English-language requirements.
Visa-free travel: Antigua and Barbuda's passport power is undeniable. Enjoy visa free access to over 130 destinations, including the Schengen zone, the United Kingdom, Hong Kong, Singapore, and more.
Tax freedoms: No Antigua tax on worldwide income.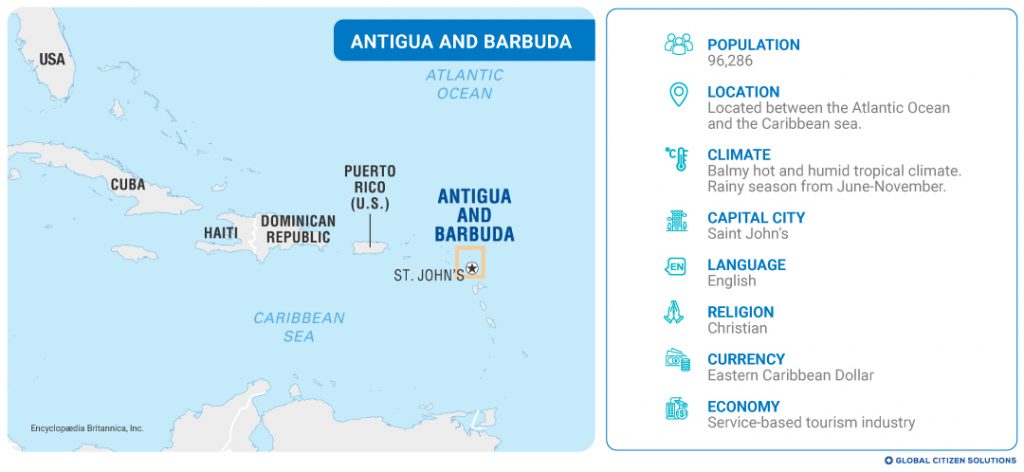 Antigua and Barbuda citizenship requirements
In order to obtain Antigua and Barbuda economic citizenship, a series of requirements must be met first. 
The applicant must:
Be over 18 years old.

Have an outstanding character.

Hold no criminal record.

Have excellent health.

Have a high personal net worth.

Residence requirement of five days in Antigua and Barbuda within five calendar years of registering as a citizen.

Be willing to take the oath of allegiance in Antigua and Barbuda itself, or in any Embassy, High Commission, or Consulate of Antigua and Barbuda. 
Antigua and Barbuda's restricted countries list include:
Afghanistan

Iran

Iraq

North Korea

Somalia

Yemen

Sudan
However, if the applicant has migrated before 18 years old and/or has maintained permanent residence in: Canada, the United Kingdom, the United States of America, Australia, New Zealand, Saudi Arabia and The United Arab Emirates for a period of not less than ten years and maintains no economic ties to any such restricted country may qualify for the application.
The following family members are also eligible for the program:
Spouse or future spouse

Children under the age of 18
Children aged 18 to 28, enrolled full time at a university or college in an educational course, having at the time of the application, more than six months remaining of the course.
Dependent children, aged 18 or over that are physically/ mentally challenged.

Parents or grandparents of the main applicant or of the spouse if aged 58 or above, and depend financially on the main applicant. 
Antigua and Barbuda investment options
There are three main investment options to choose from for the Antigua Citizenship Program. 
1. National Development Fund contribution or charitable donation: High net worth individuals may choose to make a monetary contribution of US$100,000 to the Antigua National Development Fund or an approved charity. This amount extends to a family of up to four people, which increases to $125,000 for a family of five or more.
2. Real estate investment: Applicants may purchase property valued at a minimum of $400,000 in a pre-approved real estate area. The investment must be maintained for at least five years. In addition, the property must be selected from the government's approved real estate project list. Property registration, processing fees, and taxes may be paid in addition to the property purchase [See citizenship costs below].
3. Business establishment: Applicants can invest $1.5 million to establish an approved business. Two or more applicants may make a joint business investment with an individual minimum of at least $400,000 and a total investment of at least $5 million. Any potential applicant(s) under this investment option is advised to make contact with the ABIA to discuss their business proposal.
Tax considerations
Residents and citizens of Antigua and Barbuda enjoy relatively relaxed tax conditions. There are no capital gains, inheritance tax, income tax, or wealth tax on worldwide income or assets.
For individuals in the country temporarily, will only be taxed on income derived from Antigua and Barbuda. However, proposed amendments to Part III, section 5 of the Income Tax Act will change taxation on worldwide income to taxation limited to locally sourced income.
Key tax considerations include:
Business and corporate tax rate is 25% of net profits, although attractive concessions are available to qualifying companies, such as a tax holiday on profits up to a 20-year period and an import or export customs duty waiver.

A sales tax similar to VAT is applicable at a standard rate of 15%, which is levied on local consumption.

Property tax is levied on all properties. The taxable value is based on the property's current market value construction replacement cost with the applicable tax rate dependent on the classification of the property (residential or commercial).
For more information, check out our Antigua and Barbuda tax guide.
The application process for Antigua citizenship by investment
The Citizenship-by-Investment Unit (CIU) is the government authority responsible for processing all applications.
The CIU assesses each application carefully and may occasionally request the applicant to attend an interview. The CIU further goes through strict due diligence checks and will decline an application if the applicant makes a false statement or excludes any relevant information in the application. 
The application process takes between three to four months, from the time the application is submitted. 
When your application is 'Approved in Principle' and a letter of 'Approval in Principle' is issued, this means that the CIU has granted your request for citizenship, provided that you submit all necessary documentation, pay government fees and make your qualifying investments.  
Note that under the real estate option, the time frame may vary depending on the project. 
The applicable real estate investment or NDF contribution is payable after the applicant has been approved in principle. Once the investment is consolidated, a certificate of registration will be issued for both the primary applicant and additional dependent which will be submitted to the passport office.
Your authorized agent/representative will advise you of dates available to either:
Visit Antigua and Barbuda to collect your passport and to take the oath or affirmation of allegiance

Visit an Embassy, High Commission, or Consular Office of Antigua and Barbuda to collect your passport and to take the oath or affirmation of allegiance. 
There is a requirement to reside in Antigua and Barbuda for a minimum of five days during the first five years of obtaining citizenship.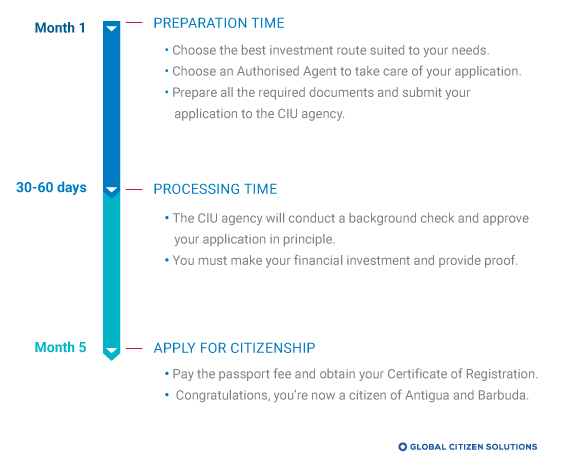 The application process is fairly straightforward and application forms can be obtained from a local authorized agent, who has been licensed by the Citizenship by Investment Unit (CIU), or an authorized representative. Get in touch with our specialists at Global Citizen Solutions for more information on how we can support you throughout your application.
Step-by-step guide for the Antigua and Barbuda citizenship by investment application
To apply to the Antigua Citizenship Program, follow these simple steps to directly acquire citizenship.

1. Select a licensed authorised agent to process your application
2. Complete all the application forms and necessary documents as provided by your authorised agent. Make sure all the documents are legalised according to Antigua and Barbuda government standards (more information on document requirements below).
3. Government authority performs its due diligence and background checks on each applicant. 
4. Within three to four months of applying, your application should be 'Approved in Principle' and a letter will be issued. This means citizenship has been approved, subject to the applicant's submission of all necessary documentation and confirmation of either the real estate/business establishment investment or contribution to the NDF.
5. Choose whether you want to invest in the NDF, real estate or business investment route then make the qualifying investment. 
6. Pay your passport fees and can get your Antigua passport.
Antigua and Barbuda document requirements
Important information: Applications for citizenship are only handled by registered Authorised Persons.
Application forms:
Citizenship by Investment Application Form AB1 

Photograph and Signature Certificate Form AB2 

Medical Certificate Form AB3 

Investment Confirmation Form AB4 

Agent Form Form AB5
Passport application forms:
Antigua & Barbuda Passport L Form (16 and older)

Antigua & Barbuda Passport M Form (Under 16)
Citizenship by investment- Investment options 
Real Estate Developer Application Form AB8 

Business Investment Application Form AB9 
Forms for Agents & Representatives:
Representatives and Service Providers Form AB6 

Agent's License Form Form AB7
Required documents for submission:
Completed AB1-5 application forms

Completed citizenship by investment forms, according to which investment option is made, AB8-AB9.

Original

Police Certificate

from the country of citizenship or residence. This document is required for each country in which the person lived for 6 consecutive months or longer since reaching the age of 18.

Original excerpt of full birth record or certified copy of the birth certificate.

Certified copy of proof of name change [if applicable].

Certified copy of current passport(s) showing name, photo citizenship/nationality, date and place of issue, expiry date, passport number, and issuing country.

8 original passport-sized photos of each applicant taken within the last 6 months. One of the photos in each set of 8 must be certified. 

Medical Certificate including original results of an HIV test (an HIV test is required for all persons twelve (12) years and older applying for citizenship. The HIV test results must be not older than 3 months.
Other supporting documents required from the main applicant:
At least 1 original bank reference letter issued by an internationally recognized bank, not older than 6 months.

At least 1 original professional reference (e.g. from an attorney, notary public, official accountant or other professional of similar standing) not older than 6 months.

1 original document of evidence of residential address (e.g. certified copy of a recent utility bill or bank statement showing full name and address, or written confirmation from a bank, attorney, chartered accountant or notary public).

Original excerpt of marriage record or certified copy of marriage certificate(s) if applicable (i.e. if married persons apply together).

Certified copy of divorce documents (if applicable).

Statement of the source of funds to be invested in Antigua and Barbuda.

A sworn affidavit of support for each dependent (excluding spouse) over 18 years of age.

Written confirmation from an accredited university or college of further education confirming the applicant's enrolment where a dependent aged 18-25 years is in full-time education and applying with the main applicant.

Certified copy of Military Records or exemption from military service (if applicable)
Other documents required for the real estate investment route:
Copy of duly executed real estate contract (Purchase and Sale Agreement) to be submitted with the application forms.

Evidence of title transfer to be submitted after the applicant receives approval in principle.
Certification of documents
Where a document is required to be produced in support of the application for citizenship by investment, it must be certified and authenticated in accordance with the law of the jurisdiction from where the document originates.
The person certifying the document must provide the following information; full name in capitals, the capacity in which the person is acting, residential or business address, telephone number and e-mail address.
Where a notary public certifies a document to be a true copy of the original, that document must be authenticated by:
a)       An apostille in accordance with the provisions of the Hague Convention abolishing the requirement for legislation for foreign public documents, in the case of a jurisdiction that is a party to that convention.
b)      Validation of the certificate of the notary public by the appropriate government department in the case of a jurisdiction that is not a party to that convention.
Antigua citizenship cost
When thinking about the Antigua and Barbuda citizenship exact costs, there are a number of separate fees to consider. These fees are outlined below in the respective table charts.
National Development Fund application processing fee: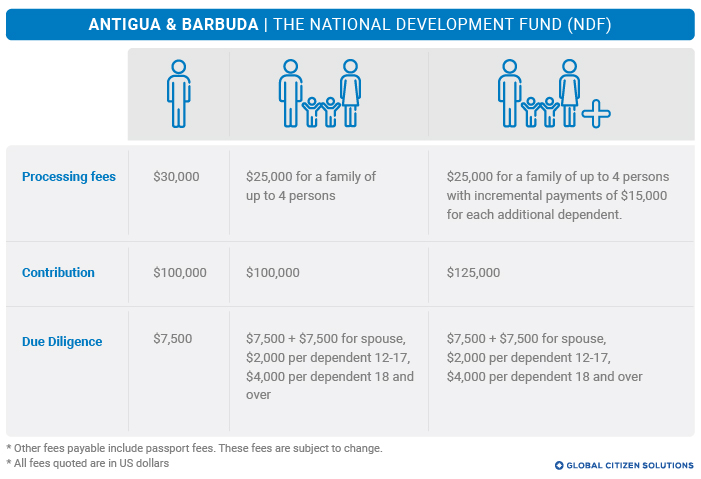 Real estate and business investment application processing fee: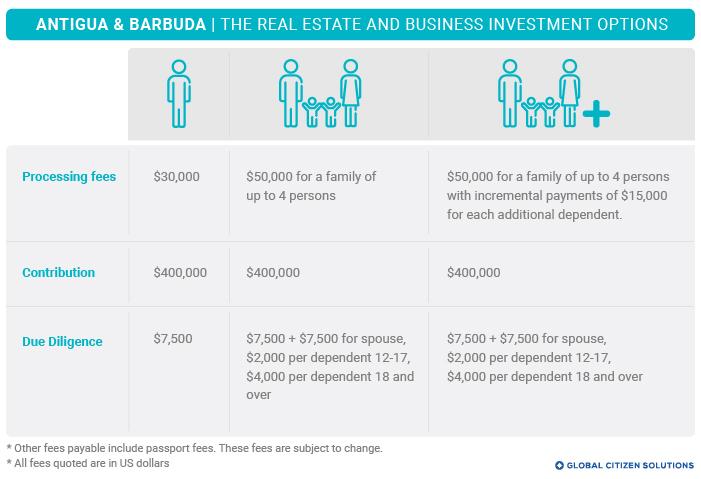 Application processing government fee: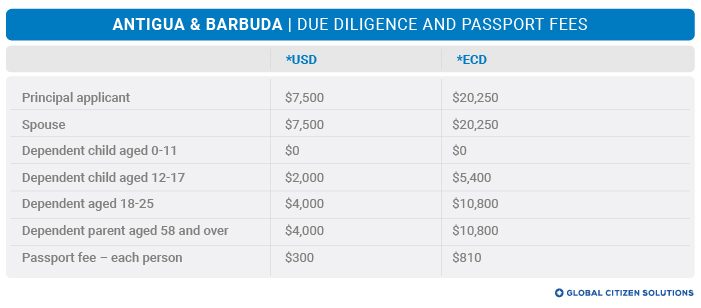 Family application processing fee:

2020 UPDATES:  Two applications from related parties can make a joint investment, with each applicant investing a minimum of $200,000 in order to qualify. All processing and due diligence fees remain unchanged.
Important note: Government processing fees may be subject to change by the Antigua and Barbuda government. Check their website for fee schedule updates.
Additional agent fees must be taken into account.
At Global Citizen Solutions, we work first and foremost for our clients, providing unique tailor-made solutions to each individual.
Making an investment and moving abroad may seem daunting, we know this from first-hand experience. At Global Citizen Solutions, we guide and advise clients through each step of the citizenship process, with 100% success rates.
Contact us to learn more about Antigua and Barbuda's Citizenship By Investment Program, or to learn more about other residency and citizenship programs we work with.