Launched in May 2020, the Antigua and Barbuda University of the West Indies Fund (or UWI Fund) is a fantastic option for those with larger families who are interested in pursuing Caribbean citizenship by investment. The most affordable route for families of six or more members, the UWI Fund requires a contribution of $150,000 and entitles one member of the family to benefit from a one-year scholarship to the UWI. If this sounds like the right option for you and your family, keep reading to learn more.
University of West Indies (UWI) Fund: The Most Affordable CIP Route for Large Families
The University of the West Indies (UWI) offers the most cost-effective option under the Antigua and Barbuda CBI program for families of six or more members. By comparing the UWI Fund with the National Development Fund (NDF), it becomes evident that the UWI Fund can save families significant amounts, up to $25,000, compared to the NDF Donation. This holds true for families consisting of a couple with three children and a dependent parent, for instance.
For families of more than six members, the cost of each additional dependent only increases by $4,000 whilst the contribution amount remains at $150,000, which is great for larger family structures. The table below provides more information regarding the cost of the UWI Fund, from due diligence fees to government processing fees.
Family of 6 applicants (US$)

Family of 7 or more applicants (US$)

Required contribution amount

Government processing fee

Included in required contribution amount

$15,000 for each additional dependent

Government due diligence fee

Dependent 0-11: No fee



Dependent child 12-18: $2,000 each





Dependent aged 18 and over: $4,000 each

Dependent 0-11: No fee



Dependent child 12-18: $2,000 each



Depended aged 18 and over: $4,000 each
Invest in Quality Education for Your Children with the UWI Fund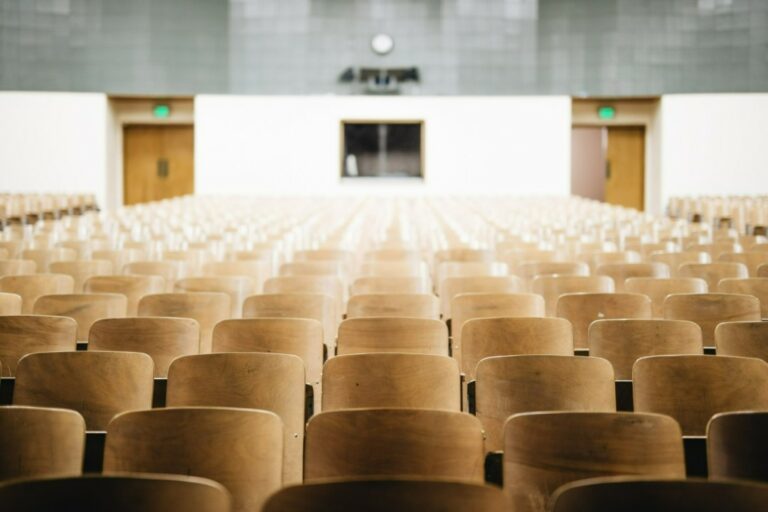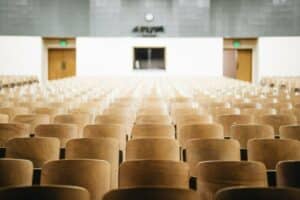 The University of the West Indies Fund (UWI) option is a means for financing the university's fourth landed campus. As mentioned above, applying for citizenship in Antigua and Barbuda through the UWI Fund entitles one member of your family to receive one year of free tuition at the University of the West Indies. This family member must be included in your citizenship application to be eligible for this scholarship.
This is an excellent benefit that makes the UWI Fund an even more attractive option for families with children educated in English, which is Antigua and Barbuda's official language. However, attending the university is not required for you or your family members to maintain citizenship.
Application Process and Timeline
The process of applying for citizenship by making a contribution to the UWI Fund is fairly straightforward and generally takes about 90 days from the submission of your application to your passport being issued.
1: Discussion with our success team and obtain proposal
Obtain a proposal that details all costs and fees associated with your UWI investment application submission.
2: Start onboarding
The team at Global Citizen Solutions will help you prepare your application forms and gather all the necessary supporting documents. Make sure to notarize and certify documents as needed.
3: Application review
Ensure that your citizenship application and supporting documents are reviewed by your licensed CIP agent, such as Global Citizen Solutions. We will review your citizenship application and supporting documents to ensure everything is in order to officially submit your application.
4: Due diligence
Submit your documents required for due diligence.
5: Application submission
Submit your application to the Citizenship by Investment Unit and pay the necessary due diligence fees.
6: Approval
Antigua and Barbuda's Citizenship by Investment Unit will decide on the success of your application. It generally takes about three months (90 days) from the date of submission to the issuing of your passport.
7: Final invoice
Your final invoice will be issued. You will be required to pay your contribution, the passport fees, and the remainder of the government processing fees.
8: Issuing of passport
The Investment Unit will issue your passport and Certificate of Registration (COR). This generally occurs within one month of you making your investment payment.
9: Receive documents
Your passports and COR will be couriered to you.
About The University of West Indies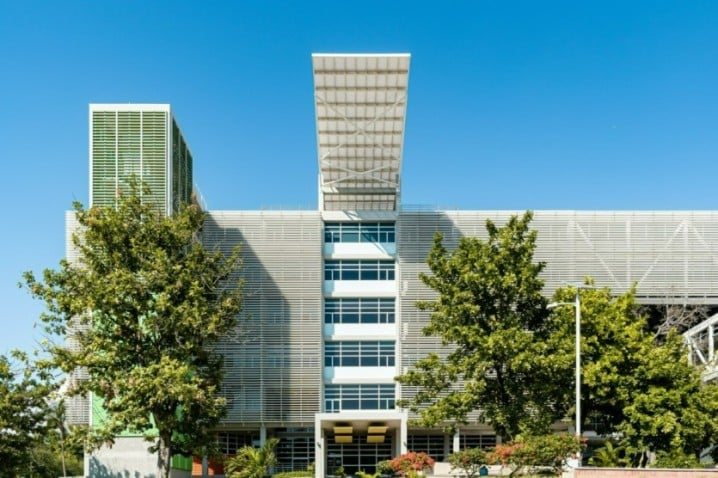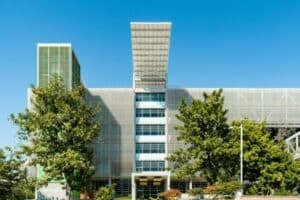 Established in 1948 in Jamaica, the University of the West Indies (UWI) is the largest and longest-standing education provider in the Caribbean and is ranked among the best universities in the world. Offering high-quality research and excellent educational facilities across the Caribbean region, the UWI remains the only Caribbean university to make the prestigious Times Higher Education Rankings list.
The UWI now has five campuses with around 36,000 students and 1,2000 members of staff. It may interest you to know that several Nobel Prize winners and former prime ministers or heads of governments are alumni of the University of the West Indies. Courses and degrees from the university are accepted by universities and employers across the globe. The proceeds generated from the UWI fund investment option are used to advance and develop the university.
Benefits of Antigua and Barbuda Citizenship
Antigua and Barbuda is one of only five nations in the Caribbean that offer a Citizenship by Investment Program. These programs offer foreign investors the opportunity to contribute to the nation's economic growth and receive citizenship in return. Antigua and Barbuda, however, offers the best value for large families looking to obtain Caribbean citizenship.
Under the Antigua and Barbuda citizenship program, you have three investment options in addition to the UWI fund option: A contribution to the National Development Fund (NDF), a real estate investment, or a business investment.
To learn more about citizenship by investment in the Caribbean, check out our Caribbean Citizenship by Investment Comparison Guide.
There are a number of benefits to obtaining Caribbean citizenship: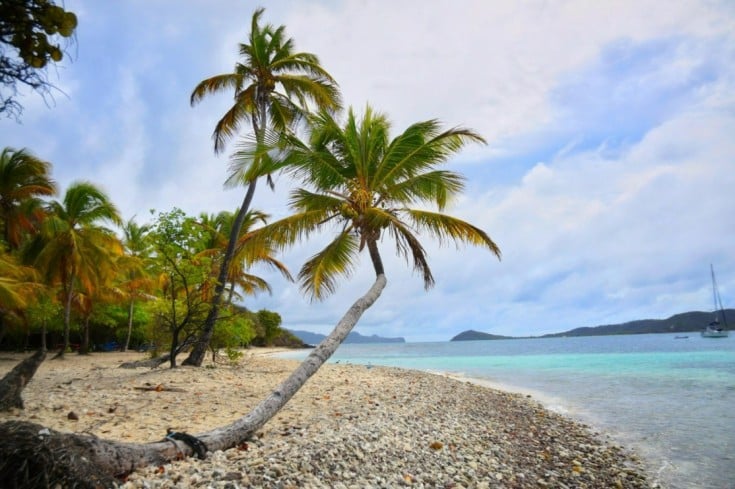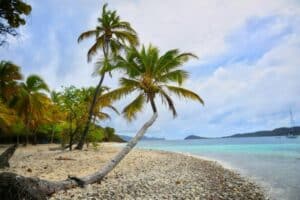 • No taxation on international income and no wealth tax, inheritance tax, gift tax, or capital gains tax.
• Minimum stay requirement of five days total during the first five years.
• Attractive investment opportunities in the tourism sector.
• Opportunity to enjoy an idyllic lifestyle.
• Visa-free travel to more than 140 destinations.
Additionally, the cost of living in Antigua and Barbuda is quite affordable, particularly when compared to the US. For example, the cost of rent in St John's – the capital of this beautiful nation – is 62.6 percent lower than in Washington, DC, according to Numbeo.
You can learn more in our article: The Cost of Living in Antigua and Barbuda.
Why use Global Citizen Solutions?
Global Citizen Solutions is a multidisciplinary firm offering bespoke residence and citizenship solutions in Europe and the Caribbean. In a world where the economy and politics are unpredictable, having a second citizenship opens up opportunities and creates flexibility for you and your family.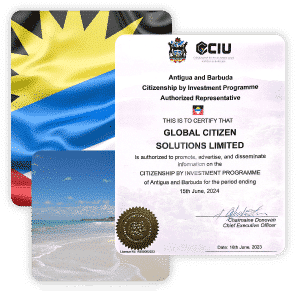 So, why work with Global Citizen Solutions to obtain Antigua and Barbuda citizenship?
Authorized International Marketing Agent. Global Citizen Solutions have official certification by the Government of Antigua and Barbuda to promote and market their Citizenship by Investment program. You can find a copy of our certificate by clicking the image on the right
Global approach by local experts. We are corporate members of the Investment Migration Council, with local expertise in all five Caribbean CBI programs.
100 percent approval rate. We have never had a case rejected and will offer you an initial, free-of-charge, due diligence assessment before signing any contract.
Independent service and full transparency. We will present to you all the investment options available, and all expenses will be discussed in advance, with no hidden fees.
An all-encompassing solution. A multidisciplinary team of immigration lawyers, investment specialists, and tax experts will take into consideration all your and your family's mobility, tax, and lifestyle needs.
Confidential service and secure data management. All private data is stored within a GDPR-compliant database on a secure SSL-encrypted server.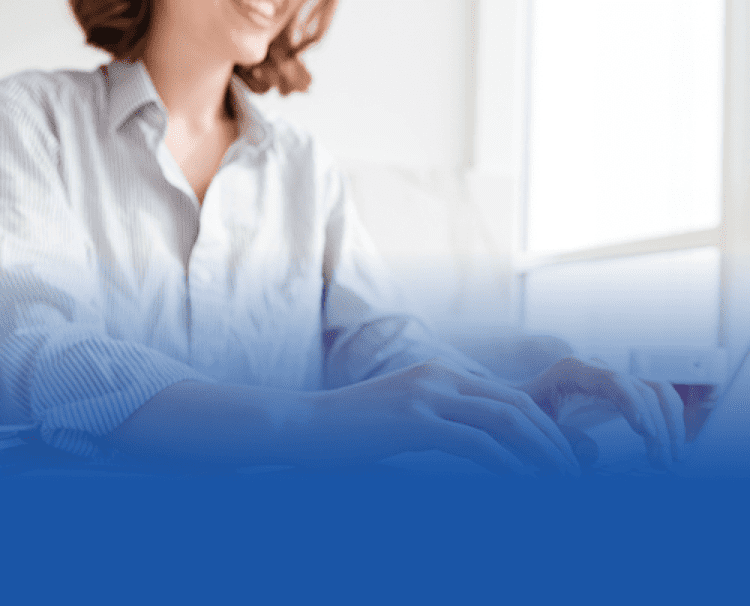 Keep reading
You may be interested in the following articles:
Frequently Asked Questions About the Antigua and Barbuda University of West Indies Fund
What is the University of the West Indies (UWI) Fund?
The Antigua and Barbuda University of the West Indies Fund is an affordable investment option for families with a minimum number of six members looking to obtain citizenship in the Caribbean. Application to the fund includes due diligence fees and processing fees. A benefit of contributing to the University of West Indies fund option is obtaining a one-year scholarship for one of your family members included in your application to study at the UWI, as well as visa-free travel to over 140 countries.
Is Global Citizen Solutions a Registered Agent with the Antigua and Barbuda government for the citizenship program?
Yes, Global Citizen Solutions is a Registered Agent with Antigua and Barbuda's government for the citizenship program. 
More About Antigua and Barbuda