The Antigua and Barbuda Citizenship by Investment Unit (CIU) is a government authority that oversees applications to the country's Citizenship by Investment Program. In this article, we explore the role of the CIU in processing and approving these applications, the different investment options available to foreigners looking to obtain citizenship, and more.
What is the Citizenship by Investment Unit?
Also known as the Antigua and Barbuda Official Unit, the CIU was established by the Honorable Prime Minister of Antigua and Barbuda. As mentioned above, the CIU is responsible for processing all applications made through the Citizenship by Investment (CBI) Program and making the final decision on their approval. The CIU creates the framework for the CBI program, determining the eligible routes for investment, approving projects for real estate investment, conducting due diligence for each application, and updating information for the public.
In addition to this important role, the CIU also processes all applications for Agent Licenses. You may wonder, What is an Agent License? Well, the law in Antigua and Barbuda requires applicants to the Citizenship by Investment Program to submit their applications through an Authorized Agent. An Authorized Agent is licensed by Antigua and Barbuda's Official Unit to promote and market the country's CBI Program. In addition to this, they have exclusive rights to act as a CIP International Marketing Agent for Antigua and Barbuda.
Who is the President of the CIU?
Charmaine Quinland-Donovan is the CEO of Antigua and Barbuda's Official Unit and is the first female and national of Antigua and Barbuda to head the country's Citizenship by Investment Unit.
On the left: Charmaine Quinland-Donovan and Joe Rice, Head of Strategy & Business Development at Global Citizen Solutions
Citizenship by investment program
Antigua and Barbuda's Citizenship by Investment Program was established in 2013 as a way for investors to obtain citizenship in exchange for investing in the economy. Money from the program is used to help the government support important social programs and boost the economy. There are four routes that investors can choose to obtain Antigua citizenship: The National Development Fund, real estate investment, contributing to the University of the West Indies (UWI) Fund, or making a business investment.
National Development Fund
Investors make a non-refundable contribution to the National Development Fund. A single applicant or family of up to four must contribute $100,000. A family of five or more must contribute $125,000.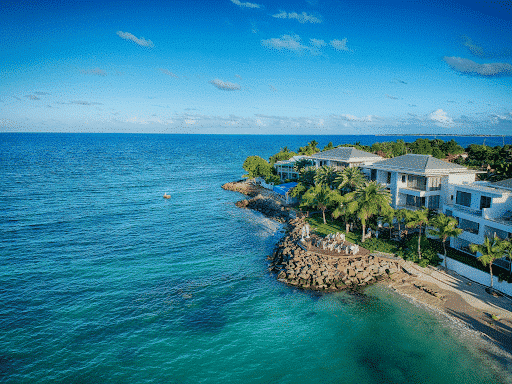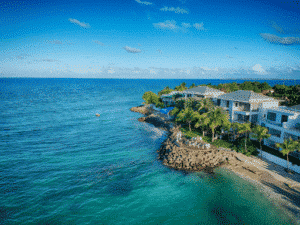 Real estate
Applicants invest a minimum of $200,000 in pre-approved real estate projects. The investment property must be held for five years, after which it can be resold.
University of the West Indies Fund
Families of six or more can make a non-refundable contribution of $150,000 to the University of the West Indies (UWI) Fund. In return, one member of the family is entitled to a one-year, tuition-only scholarship at the University of the West Indies.
Business investment
Applicants must invest in a pre-approved local business project. A solo investor must contribute $1,500,000, while applicants investing as part of a joint $5,000,000 enterprise must contribute a minimum of $400,000.
You can learn more in our article: Antigua and Barbuda Citizenship by Investment – The Ultimate Guide by Expats.
Choosing any of these routes will enable you to obtain Antigua nationality and enjoy the benefits of having an Antigua and Barbuda passport. This includes visa-free travel to over 140 destinations, including the Schengen Zone, the UK, Hong Kong, and Singapore, and a favorable tax environment.
Read more in our article: Antigua and Barbuda Passport – Everything You Need to Know.
Antigua and Barbuda
Antigua and Barbuda is an island nation in the Caribbean and a member of the United Nations, the British Commonwealth, the Caribbean Community (CARICOM), and the Organization of American States (OAS). Tourism generates around 60 percent of the island's income, with the Citizenship by Investment Program, run by Antigua and Barbuda's Official Unit (CIU), being a popular way for foreign investors to obtain a second citizenship.
The nation has a number of attractive aspects, such as 365 magnificent beaches where you'll find crystal-clear water, a warm climate, a laidback atmosphere, vibrant culture, and a welcoming population, as well as political stability and a bustling tourism industry.
Why use Global Citizen Solutions?
Global Citizen Solutions is a multidisciplinary firm offering bespoke residence and citizenship solutions in Europe and the Caribbean. In a world where the economy and politics are unpredictable, having a second citizenship opens up opportunities and creates flexibility for you and your family.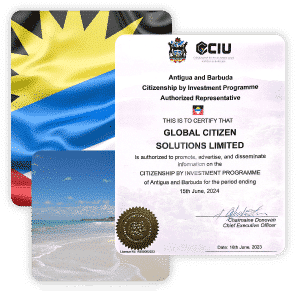 So, why work with Global Citizen Solutions to obtain Antigua and Barbuda citizenship?
Authorized International Marketing Agent. Global Citizen Solutions have official certification by the Government of Antigua and Barbuda to promote and market their Citizenship by Investment program. You can find a copy of our certificate by clicking the image on the right
Global approach by local experts. We are corporate members of the Investment Migration Council, with local expertise in all five Caribbean CBI programs.
100 percent approval rate. We have never had a case rejected and will offer you an initial, free-of-charge, due diligence assessment before signing any contract.
Independent service and full transparency. We will present to you all the investment options available, and all expenses will be discussed in advance, with no hidden fees.
An all-encompassing solution. A multidisciplinary team of immigration lawyers, investment specialists, and tax experts will take into consideration all your and your family's mobility, tax, and lifestyle needs.
Confidential service and secure data management. All private data is stored within a GDPR-compliant database on a secure SSL-encrypted server.
Contact us to start your citizenship by investment journey.