Citizenship by investment in Grenada is becoming increasingly popular amongst investors. The Grenada Citizenship by Investment (CBI) program provides investors and their family members with a relatively easy pathway to secure citizenship in exchange for direct investment into the country.
Grenada's investment program allows qualified investors to become global citizens through obtaining citizenship and being granted a second passport – all within a short turnaround period. With dual-citizenship, you can call this spectacular island nation your home country – picture beautiful beaches, a sublime climate, and the freedom to enjoy visa free travel to more than 140 countries. Citizenship by investment in Grenada clearly has its advantages.
Grenada's CBI program
Citizenship by Investment in Grenada provides individuals with a unique pathway to obtain a second nationality through making a minimum investment into the country, usually through a real estate investment or government donations. Visa free travel and significant tax benefits are significant advantages of this investment program.  
Why Grenada? If you visit Grenada in the West Indies, you will marvel at the beauty of this Caribbean island – known as the "Spice Island", with unspoiled landscapes, the perfect climate, and stunning beaches. 
To obtain Grenada citizenship (essentially the Grenada Golden Visa, but not named as such), the investment program is relatively straightforward – you can make a payment into a real estate project or to Grenada's National Transformation Fund. Indeed the government has put into play this CBI to create investment opportunities, attract high net worth investors, and improve the country's economic standing by creating substantial business, sustainable employment opportunities, and environmental security. Grenada also has many excellent teaching facilities, such as St George's University, one of the best medical universities. Alongside this, and a significant advantage of choosing Grenada for your investment act, is that Grenada is the only Caribbean country whose citizens can apply for the USA E 2 visa. 
Grenada citizenship benefits
There are an array of investment benefits to the Grenada citizenship by investment program. With a stable government, strong tourism industry, booming trade climate, alongside its lifestyle perks as an island paradise, the investment program goes a long way in allowing citizens to enjoy a wide range of perks.  
Fast citizen application process

: One of the quickest turnarounds to be granted citizenship after your investment act and investment application submission. You will be able to get your citizenship processed in as little as 60 days with this short processing time. 

Family members are covered

: Your entire family will be included – your spouse, dependent children under 29, dependent parents, dependent grandparents, qualified unmarried siblings, or an additional dependent – providing them with a route to obtain Grenadian citizenship and a second passport. The whole family can have dual citizenship and enjoy the perks of greater visa free travel and visa free access. 

Dual citizenship

: Grenada allows dual citizenship, meaning that you will not have to give up your first passport. These benefits of the

Grenadian passport

can also be passed down to future generations. 

USA visa opportunity

: Grenada is the only Caribbean country whose citizens can apply for the E2 Visa in the USA. 

No Residency requirement

: You will not be required to reside in Grenada at any stage of the application process.

Flexible requirements

: There are no interviews, education, or management experience requirements in the process. 

Visa free travel

:

The

Grenadian passport allows its citizen's visa free travel to 141 countries, including the UK, European Union countries, Europe's Schengen area, China, Singapore, and Hong Kong, for varying time periods. Visa free travel and visa free access provide you with increased global mobility. 

Attractive tax advantages

: Grenada imposes no tax on worldwide income, capital gains, or inheritance tax, and there are many tax benefits to the CBI program. No tax on worldwide income and on other taxes is a significant advantage to Grenada's CBI program.

No country restrictions:

All applicants are welcome and there are no country restrictions, although there are due diligence checks that are conducted.

Grenada citizenship requirements and eligibility
Although the application process is fast, you will need to be eligible to apply and there are certain requirements to acquire Grenadian citizenship. The citizenship requirements are as follows: 
The primary applicant must: 
Be over 18 years old. 

Have an outstanding character.

Be in good health.

Hold a clean criminal record.

Pass a detailed background check.

Provide proof of funds, which must be legal income.
There are certain general and supporting documents that you will need to complete, which we will provide you with later in the article. An important benefit of the Grenada CBI program is that it extends to the primary applicant's whole family so that they can also unlock the perks of a second passport. Indeed, the Grenada passport by investment is available to the individual's family and is one of the key benefits of the program.
For the Grenada passport by investment, the following family members may apply: 
Spouse.

Children of the main applicant, under the age of 18.

Children aged 18-29, if in full-time attendance at an institution of higher learning and supported by the main applicant or his spouse. 

Children aged 18 or over that are physically or mentally challenged.

Parents or grandparents of the main applicant or the applicant's spouse, if fully supported by the main applicant.

Unmarried siblings of the application or of the spouse, regardless of whether they are biological or adopted siblings, aged at least 18 and with no children. 
What is the total Grenada citizenship cost for an individual?
The Grenada CBI program is relatively affordable, with two clear investment options. Here, we will run over the two options and tax considerations that you should be aware of. 
The Grenada citizenship cost begins from making a $150K donation and there are two investment options that you are able to choose from, each with a different minimum investment:
Grenada National Transformation Fund (NTF)

Pre-approved real estate project route
Grenada CBI investment opportunities: 
Grenada NTF
The NTF was established when the CBI program was introduced in 2013, to assist in boosting the economy in the country, in addition to securing resilience, diversifying the market structure, and increasing prosperity. 
The primary applicant must make a minimum investment of $150K to the NTF, or $200K for a family of up to four members. An additional non refundable donation of $25K is needed for each additional family member. The NTF fees can be seen in full here:

Grenada real estate route
There are two options that you can consider if you are opting for the real estate option.
Option 1: For a single application, an independent investment into real estate in a government-approved project at a minimum value of $350K needs to be made. 
Option 2: For joint investments into a pre-approved Grenada tourism accommodation sector, a minimum donation value of $220K is needed per investor, up to a total investment value of $440K.
The condition of an investment into real estate is that the investment must be held for at least five years if the buyer wishes to acquire citizenship.
Grenada real estate government fees: 

Additional Grenada CBI fees will apply for both the NTF and real estate routes. The due diligence fee is as follows: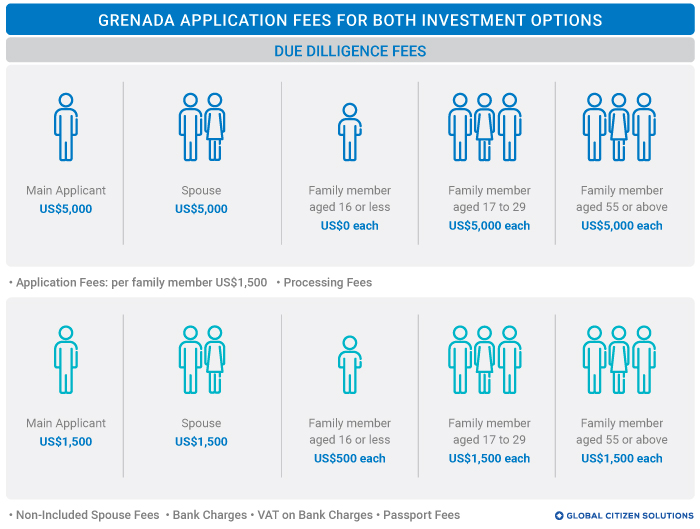 Apart from the due diligence fee, there are other fees that you will also need to consider, which are outlined below in the respective charts for an NTF investment or a real estate investment. Note that government fees can change at the discretion of Grenada's government.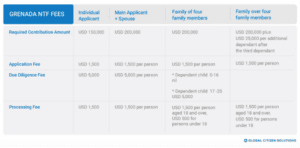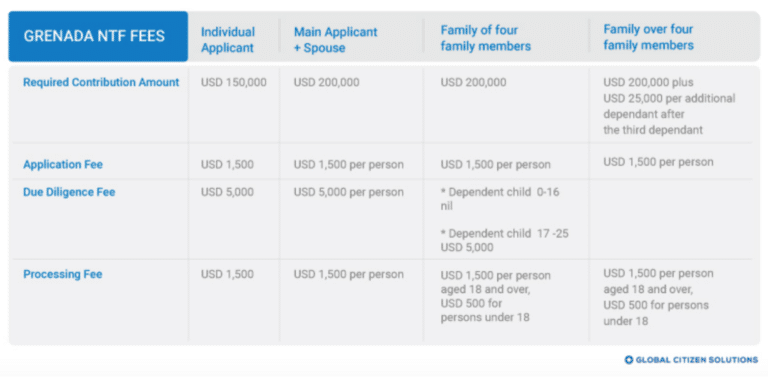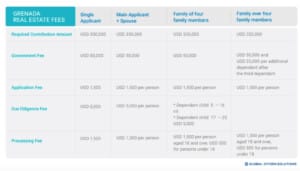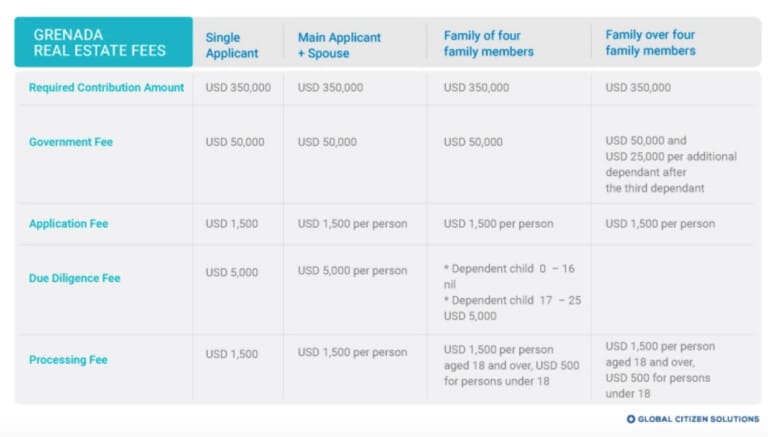 Tax considerations for Grenada's CBI program
Citizens and residents of Grenada can enjoy the attractive tax regime of the island. There are no capital gains, inheritance tax, or wealth tax on worldwide income or assets imposed by Grenada. However, it is important to note that some local taxation measures apply. 
Important tax considerations: 
The individual annual income tax rate for locally generated income for the first XCD 36,000 per annum is exempt, the next XCD 24,000 is taxed at 10%, and the excess thereof at 28%.

For companies, there is a flat tax rate of 30%. A withholding tax of 15% on payments sent to a non-resident for interest (excluding bank deposits), rental income, lease premiums, licenses, royalties, management charges, commissions, and fees is applicable. 

In Grenada, VAT is 15%. For hotels, villa-type accommodation, and dive activities this is 10%.

Property transfer tax for Grenada citizens is generally 5% and is payable by the vendor or seller. Government approved projects may be subject to a reduced rate.

Annual taxes in Grenada include property tax, which stands at 0.2% of the market value for residential property as it relates to land and 0.3% on a building. 

Stamp tax on business receipts is 0.70% if gross received is more than XCD 300,000.
Procedure / timeframe for the Grenada investment program
The Grenada citizenship by investment processing time and approval usually takes between 60 to 90 days.
The investment application is assessed by Grenada's CBI Committee (CBIC) and the application process is handled by authorized international marketing agents, alongside a local agent. 
Once the citizenship application is submitted to the CBIC, the Grenadian government will assess each application carefully. CBIC undertakes a strict routine due diligence process to secure application approval. For the due diligence process, if the applicant makes a false statement or fails to include relevant information in the citizenship application, then they will be declined. While the due diligence is being carried out, an initial deposit is required from the investor. 
Once the due diligence checks are approved, qualified foreign investors will need to provide the investment into Grenada and the proof of the respective investment. Following this foreign direct investment, citizenship documents and a Grenadian passport are issued.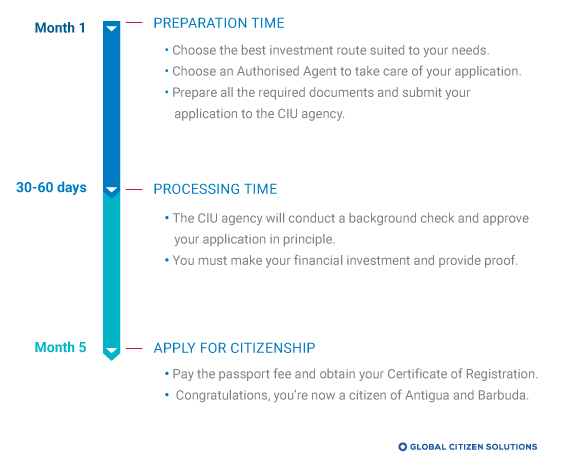 A simple guide to the Grenada CBI application process
To apply for the Grenada CBI program, follow these six steps to obtain dual citizenship:

Select a licensed authorized agent to process your application. They will assist you to prepare the required documents that you will then need to complete to be submitted to the CBIC, with the support of a government approved local agent. 

Complete all the application forms and the required documents as provided by your agent. Make sure that all the documents are legalized according to the CBIC standards.

The government assesses the application and does a background check. 

Within 60 to 90 days after you apply for citizenship, your application will be approved and a letter will be issued. This will contain information on making your investment in Grenada.

Decide on your donation route – either the Grenada NFT Fund or in real estate. Submit proof of your donation and pay the necessary fees for the investment program.

Finally, successful applicants obtain Grenadian citizenship, with an array of benefits within reach including visa free travel, and increased personal and financial security. After the CBIC has received your proof of payment – either into the NTF or real estate- they issue certificates of registration. Applications must then submit their passport documents via a local agent. Following this, you are granted Grenadian citizenship and can get a second passport – giving you dual citizenship.
Citizenship documents
The primary applicant will need to supply certain citizenship documents. Applications are only handled by a registered authorized person and you will need to obtain the application forms from authorized international marketing agents. 
The following forms are needed:
Client Facilitator Agreement.

Personal data and information (form 1).

A fingerprint, to be obtained in front of a licensed officer (form 2).

Particulars for the Office of Home Affairs (form 3).

A medical certificate (form 4).

Employment, wealth, business, and related information (form 5).

Investment confirmation (form 6).

Thomson Reuters consent form – for CBI applicants above the age of 16.

Purchase and sale documents in 4 copies (in case of the real estate investment option / Escrow agreement and letter of engagement with a local agent (in case of NTF option).

Passport Application Form.

Oath of Allegiance – required for each family member 18 years or older. 

Sworn Affidavit confirming parents' names.
These forms can be found on Grenada's government website here.
In addition, the general civil document requirements are the following: 
Original full birth record or certified copy of the birth certificate (2 copies needed).

Certified copy of proof of name change (if applicable).

Certified colored copy of current passport(s) showing the name, photo, citizenship/nationality, date, place of issue, expiry date, passport number, and issuing country. 

Original passport-sized photos of every single applicant taken within the last 6 months (12 needed). 1 photo needs to be certified by a lawyer.

Marriage or divorce certificates (2 copies).

National ID or social security color copies (required for each applicant).

Permanent residence ID or Permanent residence proof.

Copy of military service card (if applicable).

Affidavit from spouse or ex-spouse relating to children.

Affidavit of support from dependents.

Education certificates and transcripts. 
Supporting documents: 
Original documents proving the applicant's residential address (e.g utility bill).

Original professional reference letter.

Lawyer or notary practicing certificate (a copy of the license of the lawyer of notary certifying the documents).
Additional documents. 
Payslips and/or salary letters.

CV.

Original reference letter from the main applicant's banker.

Personal bank statements over the last 12 months. 

Police clearance and criminal record checks (original document).
It is important to note that all letters need to be addressed to:
Grenada Citizenship by Investment Committee, Grenada Board of Tourism Building, Floor 2, Burns Point, St George's, Grenada
Translation and certification of documents
Documents that are not written in English must be accompanied, when the application is submitted, with a certified translation into English. 
When a document needs to be produced to support the CBI application, then it must be certified and authenticated in accordance with the law of the jurisdiction from where the document originates.
Global Citizen Solutions – our commitment to you
At Global Citizen Solutions, our clients are at the heart of what we do. As a leading investment migration consultancy firm, we offer a unique service that is tailored towards your personal circumstances and requirements. 
We guide our clients through each step of the citizenship through the investment process, with a 100% success rate – enabling you to become global citizens. Global Citizen Solutions also acts as a compliance department, nullifying any potential risks to the application process and how to address them. Please contact us to learn more about the Grenada citizenship by investment program, or to learn more about a residency or citizenship program that interests you.
You can compare the Grenada passport and citizenship with St Kitts passport here if you are undecided about the best option for you. There are also other citizenship programs in the Caribbean and many countries to consider –  the list of beautiful islands is endless, such as Saint Martin, Caicos islands, and the Virgin Islands.