Are you thinking of moving to Lisbon? Here's our guide to all the most important things you need to know about living in Lisbon, the Portuguese capital.
What is the cost of living in Lisbon compared to other European capitals?
The cost of living in Lisbon is considerably cheaper than in other European capital cities such as London, Paris and Madrid. The living costs of Lisbon are considerably lower than other European capital cities, this is the case despite there being a large amount of renovation over the last two decades in Lisbon.
Price of property
The prices of properties in Lisbon have risen and but still remained low compared to other cities in the continent. For instance, when compared to London the rent prices in Lisbon are on average 57% lower.
Cost of living is increasing, but affordable
Prices have been increasing due to a rising interest in Portugal and especially Lisbon, by tourists, expats and digital nomads.
Even though the cost of property has been increasing, Lisbon still remains a cheap place to live when regarding other costs, such as day-to-day groceries, monthly bills, food in restaurants, etc.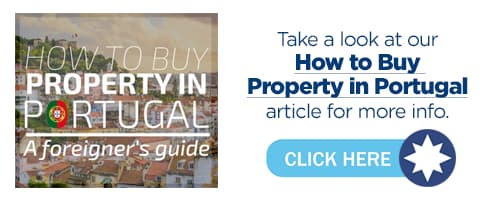 Is Lisbon a good place to live?
Living in Lisbon has many benefits including the pleasant climate and one of the lowest crime rates in Europe's capital cities.
The climate there is outstanding
Arguably the most obvious attractive aspect of life in Lisbon is the weather, with close to 300 days of sunshine throughout the year. With this climate comes the chance to live a lifestyle that simply isn't possible in other countries, the opportunity to enjoy the beach all year round and to sit outside and enjoy nature regardless of the season.
An enthusiastic culture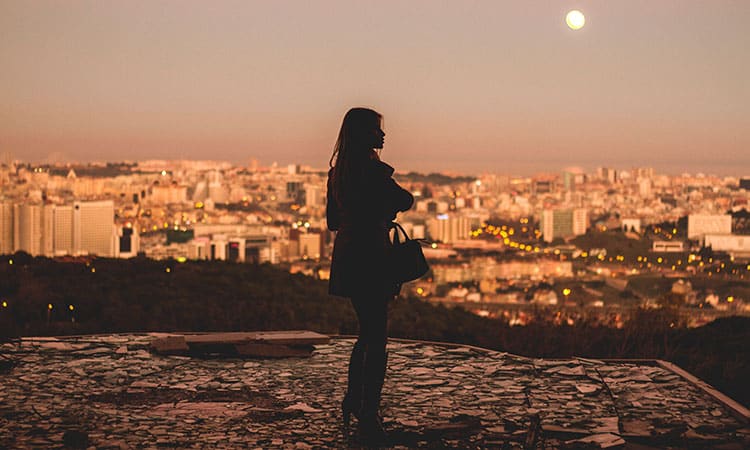 The culture of Lisbon is another attraction to many people, with many events and festivals organized throughout the year there is the opportunity to explore the culture and tradition of Lisbon and to connect with a new community.
The city has great facilities
The renovation schemes in Lisbon over the last two decades are also reasons for Lisbon being a good place to live. With significant amounts of money being spent on improving the already charming city, the facilities and city of Lisbon are arguably still improving, all while the cost of living in Lisbon remains low to almost all other European capital cities.
We've also written about why you should consider retiring in Lisbon.
Are there job opportunities in Lisbon?
You will be pleased to know that Portugal's unemployment rate fell to a 13-year low in December 2017 after peaking at more than 17% in 2013 after the country's €78bn bailout. It now stands at approximately 6.7% as of June 2018. In simple terms, this is a great time to move and work in Portugal as unemployment is plummeting.
When analyzing Q3 of 2017, this draws a clear picture of the region's profile when it comes to the biggest sectors of employment; agriculture, animal production, hunting and forestry have residual significance. Construction, power supply, utilities and water supply make up approximately 13% of employment, services represent 85% of the region's employment.
This region, in fact, has the greatest concentration of services due to being the most economically developed and tourist-driven local economy, particularly those provided in the main by the public sector, representing 27.4% of employment.
The central departments of most Portuguese national bodies are located in Lisbon. The region also has the greatest concentration of public and private higher education institutions (nearly one-third of the country's total), and a large amount of research and development institutions.
And jobs for expats in Lisbon?
In a word – yes – there are plenty of opportunities for individuals looking for employment in Lisbon, and this is not exclusive to locals. Expats from around the world have bundles of opportunity too with the help of modern technology and numerous languages being spoken in the city.
To begin your search as a newcomer to the city, you can (and should) simply search online before you even arrive to explore the local job market. With the internet, your physical location does not limit your global opportunities if you are truly intent and have the drive to succeed in your specific field of work.
You only have to search on Google to see the abundance of online job search engines, consultancies and recruitment agencies offering support and guidance on finding your dream job in the sun – all before you set foot out of your front door on route to the airport and from the comfort of your sofa. This is by far the least stressful and most organized method for planning your future in the city.
Some very useful links on finding a new job in Lisbon include:
Once in Lisbon itself, you can check both online on websites like the ones listed above and with local recruitment agencies for multi-European language jobs and specifically advertised expat jobs. This concept is not a new one now in 2018 and there are recruitment processes established in the city to cater to those who have arrived in the city from aboard and are looking to work and contribute to Lisbon's future.
Can you work remotely in Lisbon for a foreign company?
Lisbon is a never-ending puzzle of beautiful cobblestone streets and fabulous azulejo-tiled buildings. Among the ancient streets, you will find pockets of cutting edge technology and a futuristic feel to the working environment; you'll find a strong international community when you arrive and moreover lots of the locals speak excellent English.
Lisbon is slowly but surely becoming a hub for remote workers and budding startups. There are many financial incentives which make the move to Lisbon all that more attractive. One of these is the non-habitual resident tax regime, which was first implemented in 2009 in order to draw professionals and investors of high cultural and economic value to Portugal. Those who qualify can benefit from substantial tax reductions.
To find out more, take a look at our guide to the non-habitual tax regime.
Where to stay in Lisbon
Below is another quick list of useful resources for your arrival.
Finding short-term accommodation
Renting a house
What are the most attractive neighborhoods in Lisbon to live?
The experience of living in Lisbon can vary depending on the different neighborhoods that make up Lisbon. The "downtown" area of Lisbon named Baixa, is the historic center of Lisbon, with impressive buildings and architecture situated by the Praça do Comércio riverfront.
To find out more take a look at our guide to the best neighborhoods in Lisbon.
Alfama
The oldest quarter of Lisbon, Alfama, is most attractive to those searching for a place to live that has picturesque views of Lisbon.
The winding streets of Alfama lead up to the castle that overlooks the neighborhood of Alfama, it is here where the alluring charm of Alfama can be experienced best.
Avenida da Liberdade
The Avenida da Liberdade is the most commercial area of Lisbon with embassies, expensive real estate, and designer retail stores making up the majority of this neighborhood. This mile-long strip is within walking distance of most of Lisbon's most popular attractions, meaning that this area is highly attractive to those wanting to be within close proximity of the city's most popular attractions.
Bairro Alto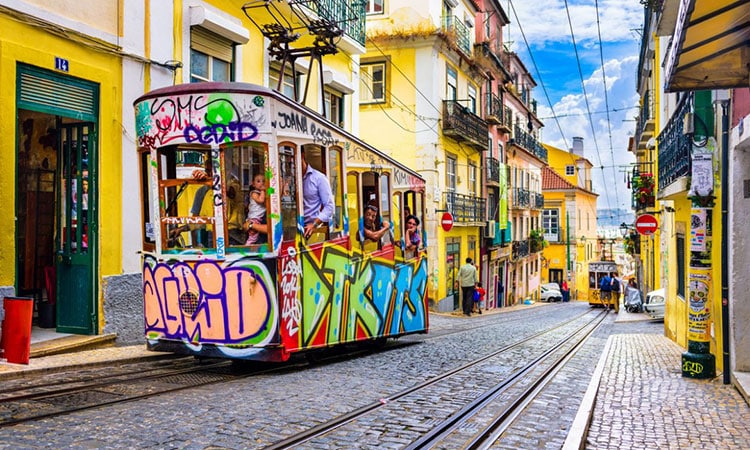 Living in Lisbon can also be suitable for those who are looking for a vibrant and outgoing lifestyle, the "high district" of Bairro Alto is known as the city's center of nightlife with a bohemian feel to the area.
Bairro Alto is made up of several bars, boutiques, restaurants and eye-catching street art that perfectly encapsulates the district's attractive qualities.
With Bairro Alto, there is the possibility for nightlife enthusiasts to truly enjoy living in Lisbon, and to feel welcomed into a new community through the shared appreciation of nightlife. Regardless of personal interests, people of all backgrounds can enjoy living in Lisbon and its diverse neighborhoods.
What are the most up and coming neighborhoods in Lisbon?
There are many areas in Lisbon that attract expatriates to invest in property, the three most popular being Misericórdia, Santa Maria Maior and Santo António.
There are however neighborhoods that are now emerging as attractive to investors, as they gain popularity due to the renovation efforts in these areas.
Arroios and Estrela
Arroios and Estrela, in particular, are districts that have gained increased popularity from foreign investors, either wanting to invest or begin living in Lisbon.
Traditionally the center of Lisbon has been the focus of investors due to its rich history, with places such as Bairro Alto and Avenida da Liberdade often capturing the attention of foreign investors. This trend has shifted however in recent years, with Arroios, Estrella and Baixa offering good value for money properties that grab the attention of investors.
What is life like in Lisbon?
Living in Lisbon can mean something different to each individual thanks to the city's richly diverse neighborhoods. Whether you're an investor searching for a good property investment deal, a young professional that enjoys the nightlife or someone who is seeking a quiet and charming area to reside in, Lisbon can provide for you.
With secluded and alluring areas such as Alfama and vibrant and bustling districts like Bairro Alto, there is a suitable lifestyle and neighborhood for people of all backgrounds and interests.
Transportation

For total freedom when traveling throughout Lisbon, the Viva Lisboa Card is a smart option. Lisboa Viva is the ideal card for frequent users of public transport. It can be topped up with money ('zapping') and passes. It is a personal card that can only be used by the respective holder.
Useful Portuguese Phrases
Obrigado/a (if you're a man you use the masculine, if you're a woman the feminine)  – Thank you
Bom dia  – Good morning
Tudo bem? – Equivalent to "How are you?"
Até já – See you later
Coworking Spaces
Cafes
For those of you that want something truly flexible with no costs apart from a drink, try some of these coffee shops instead:
Healthcare
Portugal has a good public health service. If you're really considering moving, it's also important to know how healthcare for foreigners works in Portugal.
Beaches
To get to the beach, you can jump on any train heading towards Cais de Sodre and jump off at any of the stops along the way. There are beaches at almost every stop, but some of the more popular ones are Carcavelos and Cascais. Head across the river to Caparica or take a short taxi ride to Ericeira if you are looking to catch some waves and surf.
Nightlife
Head to the bars on Pink Street and then Bairro Alto if you are looking for a cheap drink and a great atmosphere. If you're more after a dance and a craft cocktail, head to Pensão Amor.
Why choose Lisbon over other European cities?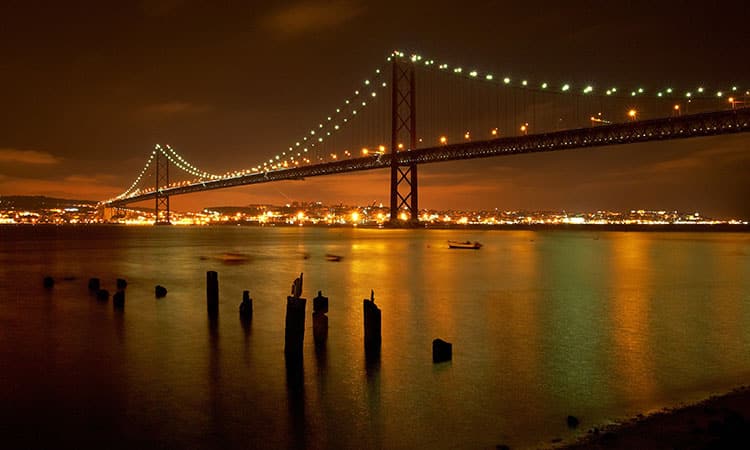 The list of attractive features are endless when it comes to Portugal, and Lisbon is near, if not top of this list, being a modern capital full of youthful energy whilst holding true to its long traditional history, being 400 years older than Rome. Portugal may sit on the edge of Europe, but it's definitely sitting centrally when regarding the global map thanks to its water trade routes.
There's plenty of things to do
Portugal has been identified as having Europe's best beach, some of the best golf courses in the world, fantastic hiking trails, glorious surfing opportunities from the Atlantic Ocean, globally recognized universities and world-renowned wines.
The weather is great
The weather offers around 300 sunny days per year in Lisbon. According to the Global Peace Index, the country is also one of the safest countries in the world.
Whilst Portugal's membership within the EU provides some great benefits for exploring the entire continent, the cost of living in Lisbon and Portugal compared to the rest of western and central Europe is unquestionable.
Golden Visa program
Asides from the rich history, culture and abundant investment opportunities, Portugal has much more to offer.
For those looking for residence in Europe, the Golden Visa program may also be of interest. Portugal's residency-by-investment program is one of the most popular in Europe, largely due to the affordable and varied investment options, as well as the short "stay requirement" (you only have to stay in Portugal for 7 days per year).
To find out more about the Golden Visa program, take a look at our guide.
If you would like more personalized information about residency and property investment in Portugal, get in touch with one of our specialists.