Remote work is becoming an increasingly popular option for many people who prefer to work independently and enjoy the freedom of life – and Portugal is constantly coming out on top as one of the best countries to work remotely from. 
Remote work has never been more attractive and possible. Working from anywhere in the world is ideal for people to work independently on their own time schedules, enjoy greater travel freedoms, improve their life quality, and even be more productive and creative. 
If you're considering being a remote worker to enjoy the perks of working from anywhere in the world, then you should know that Portugal is the perfect location for you. 
According to the Work from Wherever Index released by Kayak, the world's leading travel search engine, Portugal ranked #1 as the best country in the world for remote work, ahead of countries like Spain and Japan, thanks to its accessibility for remote workers, great weather, safety, and high English proficiency. 
Remote working in Portugal is a great choice for freelancers and remote workers, considering the low cost of living, internet connectivity, and wide range of activities. It is worth mentioning that Portugal ranked the world's best country for digital nomads in 2022. 
What's more, as of 30 October 2022,  Portugal's new Digital Nomad Visa will launch, allowing remote workers to be granted a year-long visa to work in Portugal, so long as they meet the requirements. 
In this article, we'll provide you with everything that you'll need to know about working remotely in Portugal that we deem to be crucial information for you to soak up, including:
The Digital Nomad Visa

Legal issues for remote workers

Accommodation

Coworking spaces in Portgual

Internet connectivity

Life in Portugal

Best places to be a digital nomad in Portugal

Plus much more!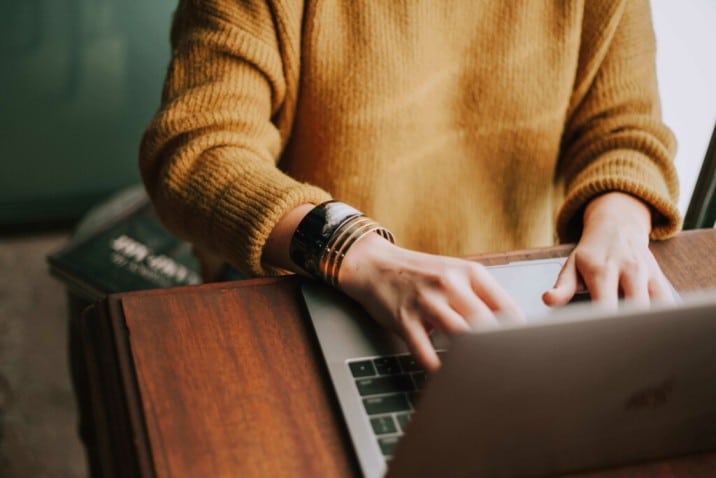 Portugal Digital Nomad Visa
The Digital Nomad Visa will launch on 30 October 2022 and will allow remote workers to live and work in Portugal. The requirements are that you will need to earn more than four times the national minimum national wage, which amounts to around  $2,750 (€2,836) per month. One significant advantage of the Portugal Digital Nomad Visa is that recipients are able to travel throughout the Schengen Area visa-free without having to deal with border control. 
Remote workers will either be able to apply for a temporary stay visa for up to one year or a residency permit that can then be renewed for up to five years. In order to apply, you will need to visit the Portuguese Consulate in your home country, or at SEF(Serviço de Estrangeiros e Fronteiras), Portugal's Immigration and Border Service. You will be required to provide proof of income for the previous three months, tax residency documents, and a contract of employment. If you are self-employed, you will need to demonstrate proof of this. 
As a remote worker, while shifting your residency to Portugal, you may need to complete some paperwork. After moving your tax residency to Portugal, you can benefit from the advantages of the NHR (Non-Habitual Residence) program. This visa scheme allows some tax exemptions and great tax returns for foreign income for a duration of ten years. Many people choose this program to receive significant tax benefits on the same income. 
Legal Issues for Remote Workers
For remote workers and digital nomads, Portugal offers some good options for different cases that might interest you. Regarding the residency procedures, once you complete a 183 stay in Portugal, you will become a taxpayer and have the right of filing a tax return in Portugal. You may be eligible for significant tax advantages under NHR Program in Portugal.
Unlike most European countries, Portugal grants you the possibility of getting citizenship after five years of residency, which is a great option for you if you are a non-EU national, as you will be granted easy access to the EU area.
Another available option for you as a remote worker in Portugal is the Entrepreneur Visa (also called the Portugal Startup Visa). This program is mainly targeting startup owners who have a business plan and are willing to move and establish their business in Portugal. To apply for this type of visa you need to have not only a complete business plan but also an original and unprecedented one. Read more about the Portugal Startup Visa. 
If you're a self-employed person and are working for a Portuguese company, you can start the process of applying for a Portugal Self-Employed Visa now. You will need some proof of the services you do for Portuguese companies, and this will grant you the right to get a Schengen Visa. 
You can check more details in this Step-By-Step Guide as a Freelancer in Portugal.
Another possible visa option is the D7 Visa – also called the Passive Income Visa, which is open to non-EU citizens, as long as they can prove that they have sufficient funds to sustain themselves in Portugal. You can find more information in our article on the Portugal D7 Visa.
For investors, we'd like to give you more information about the Portugal Golden Visa Program, also known as the Residence Permit Program with a five-year residency-by-investment scheme for non-EU nationals. After five years of residency, you will be able to get Portuguese Citizenship. The process to gain a Portuguese Golden Visa is much more straightforward in a lot of ways, compared to other visa types. 
Sounds interesting?
Check carefully our Portugal Golden Visa Complete Step-by-step Guide 2022. 
Most of the mentioned above are suitable options for non-EU citizens, but what about EU citizens? 
Well, if you're an EU citizen who is willing to move to Portugal, then you'll be pleased to know that the process is much easier for you. EU citizens have all the right to live and work in Portugal, as the country is part of the EU, and if they intend to migrate their residency to Portugal, they will just need to apply for a residence permit and register to get their tax number.
Accommodation
If you're choosing to work remotely in Portugal, you will find many different available options for your accommodation. You should consider looking for and booking your accommodation before moving to the country itself, and always make sure to book earlier in the high seasons between May and October. 
Most people who choose to work remotely in Portugal start their accommodation search on Airbnb, it's more common and offers more spaces. With the accommodation options from Airbnb, you can have your own place where you can cook, live and work independently. Try to be specified in your search and add some filters for the places that have desks and work chairs. 
There is another alternative to Airbnb, which is NomadX. This is a start-up based in Portugal, intended mainly for digital nomads. You can arrange short and long-term accommodation through this service. It is focused more on areas like Lisbon and Porto, as well as some surf and beach towns between these cities. Also, you can find prices lower than they are on Airbnb. You can be in more direct contact with renters.
You can also consider co-living spaces, which are hostels for freelancers and remote workers who can live and work together. This option is a great option for you to socialize and expand your network in the country. Check Coliving.com.
In addition to the options mentioned above, you can always go old school and book hotels or hostels, if you find any of them that suit your budget and requirements for working. You can use Booking.com for this category of accommodation search.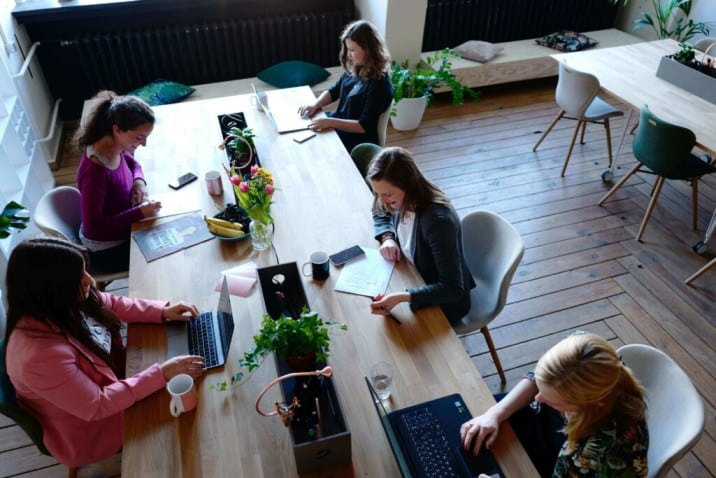 Done with the accommodation steps? Now let's move to where you will work.
One of the perks of working remotely in Portugal is the fact that major areas like Lisbon, Porto, and Algarve offer many options for co-working spaces for remote workers.
A co-working space is a kind of shared office where you pay to use the facilities. Co-working places give you the option to book your spot daily, weekly, or monthly depending on the availability. 
There you can enjoy having a desk to work on, a good internet connection, and some fresh food and drinks included in the price. Some even have workshops and social events on offer, and you can find like-minded people to get to know and socialize with.
You can also find some suitable cafés in many places in Portugal, particularly in the bigger cities, that will give you free wifi access and a comfy desk to work while ordering something to drink or eat. 
You can use some apps like Croissant to find the proper co-working space near, in which you find the real-time availability in the place you are about to book. It also allows you to buy credit that you can use at multiple co-working spaces. 
Internet Connectivity and Mobile
One major factor that you should consider when choosing a place to move to as a remote worker is internet connectivity and mobile. Or else how can you survive working remotely if you can't connect with your colleagues? 
If you already chose to work remotely in Portugal, rest assured that there are amazing connectivity services in this country. 
Recently, the internet services in Portugal gained much solid ground and they keep improving quickly. 
Wi-Fi
Coming to this part, it's worth mentioning that Portugal ranks 24th for average broadband speeds. Median peaks are now over 100 Mbps to download and around 50 Mbps to upload.
Portugal features a high-speed internet infrastructure with various WI-FI hotspots around the country. You will also find an internet connection in almost all accommodation types and hosts usually indicate their free internet connection in their listing. You may also use fast.com to test your internet connection speed in your accommodation.
4G and mobile
Speaking of the internet and connectivity, you need to know that the mobile internet in Portugal is also in good shape with the average for downloads from smartphones at 35 Mbps with pings of just 31 ms.
Big cities like Lisbon and Porto get the lion's share of the good mobile network coverage, but the network is still amazing in the rest of the country. 
For SIM cards, the main three mobile companies in Portugal are MEO, Vodafone, and NOS. You will find their booths at the airport once you arrive, and they offer different internet packages with a minimum of 3 GB.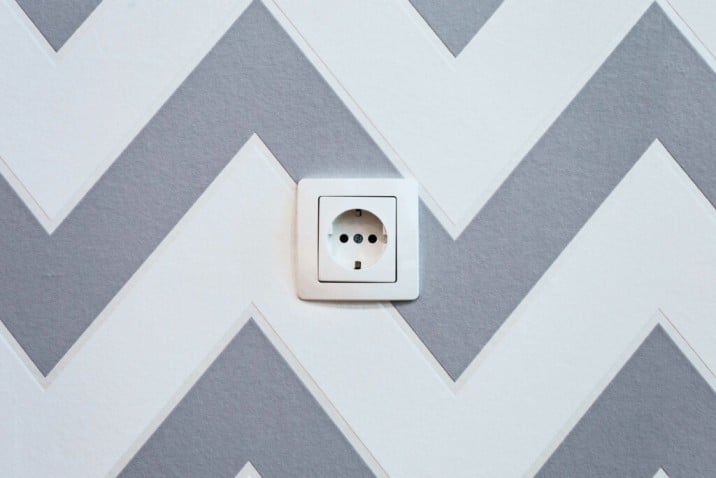 Electricity voltage & plugs
Before moving to work remotely in Portugal, be sure to pack the appropriate travel plug adapter that fits the local sockets.
In Portugal, the standard voltage in Portugal is 230 V. The standard frequency is 50 Hz. This is similar to the electricity standard in other European countries, including the UK.
AC plugs and sockets in Portugal include Type C and Type F like in almost all Continental European countries. Type F is the Schuko plug with two round pins of 4.8 mm in diameter. The pins are 19 mm long and 19 mm apart. There are two contact areas at the top and bottom of the plug. Type C is similar but without the contacts.
Accessibility and security of the internet
While living in Portugal you will enjoy internet activity freedom, as the country's constitution clearly provides freedom of speech and freedom of the press. The country also doesn't put any kind of limits or monitoring on the URLs or websites. 
Tech shops
If you're reading this too late and you already left your country, don't worry, you'll find different tech shops in Portugal where you can find the proper plugs and adapters to be able to use the Portuguese ones. There are also big Tech warehouse sellers and big Apple stores in the main cities and the shopping malls. Check Worten.pt. 
Life in Portugal
Portugal is known to offer one of the lowest costs of livings in Western Europe. Groceries, accommodation, and transportation are usually very affordable, and you will always pay less in Portugal than in any other European country and still get amazing service quality. 
The weather in Portugal is a key attraction for travelers, and people from the whole world love to travel to Portugal and spend their vacations enjoying its lovely weather, with over 300 days of sunshine a year and 830 km of coastline. 
If you are looking to visit Portugal when it is not so busy, we advise you to try not to get your first visit in the summer, because this is the high season when many tourists decide to spend the summer vacations in Portugal. 
Regarding the language, the Portuguese language is the official one in Portugal, but no need to worry, your English will do. As most Portuguese people can speak a little English, you will always find someone to help, especially in hotels and hospitals in big cities. Portugal ranked number 7 in the Global Ranking of English Proficiency, even above Sweden, Germany, and South Africa.
Even if you're in some place where no one can speak English, people are friendly, and they will try to help you as much possible as they can. 
You can use some small phrases in critical situations like:
Olá

– hello

Por favor

– please

Quanto custa?

— How much does this cost?

Sim

– yes

Não

– no
If you're a seafood lover, Portugal is your place. This country offers so many seafood varieties in coastal areas. In Portugal, you will try the salt cod, tomato stews packed with prawns and mussels, tasty salmon, and grilled sardines.
Best Locations to Work Remotely in Portugal
Let's have a quick look over some of the famous cities in Portugal, maybe this will help you decide which one to pick as your destination for remote work.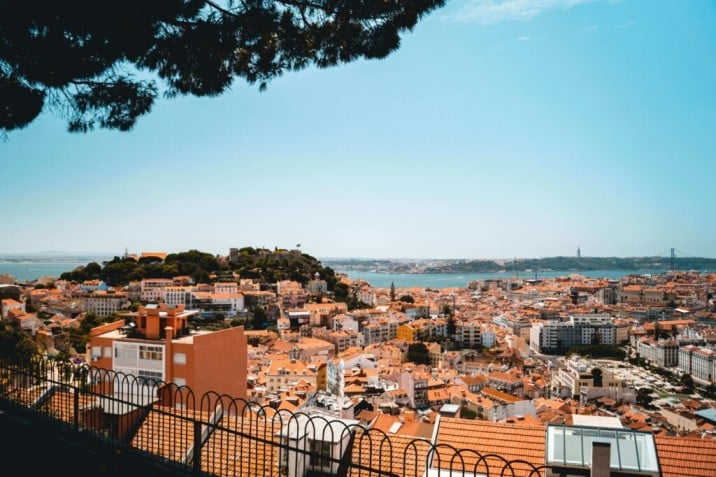 Lisbon
Lisbon is one of the most vibrant and cultural capitals in Europe. It's a perfect destination for remote workers and offers many cafes and co-working spaces. Lisbon is also the home for expat groups in Portugal which offer great ways for newcomers to meet and expand their network with people from different nationalities. Check Meetup and InterNations.
Being the capital, Lisbon provides everything you might need in your first days in Portugal, and keep in mind that there you will find all the main governmental offices where you will deal with your paperwork, visa issues, and any legal problems. 
The city is full of high-quality restaurants and cafés, as well as good accommodation options. Just for your information, since you will be located in the capital, accommodation is much more expensive in Lisbon than in many other rural areas.
Porto
The second-largest city in Portugal, Porto offers cheerful vibes and welcoming people. You will find a lot of remote workers like you in Portugal, hence there are many meetups and community groups there. 
Just like Lisbon, Porto has different co-working spaces with excellent facilities for you to start working and connecting with the whole world. The city's infrastructure is continuously growing, and this will reflect on your quality of life there and make your day-to-day life easier. 
Like much of Portugal, Porto offers a lot to lovers of history and food. It's even home to the UNESCO World Heritage Site Ribeira riverside.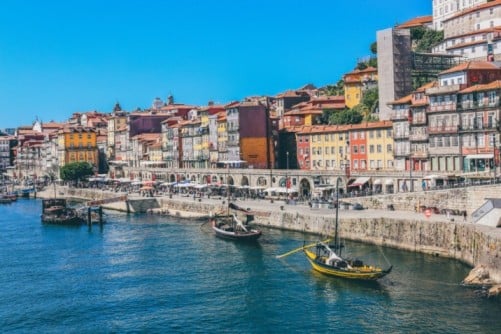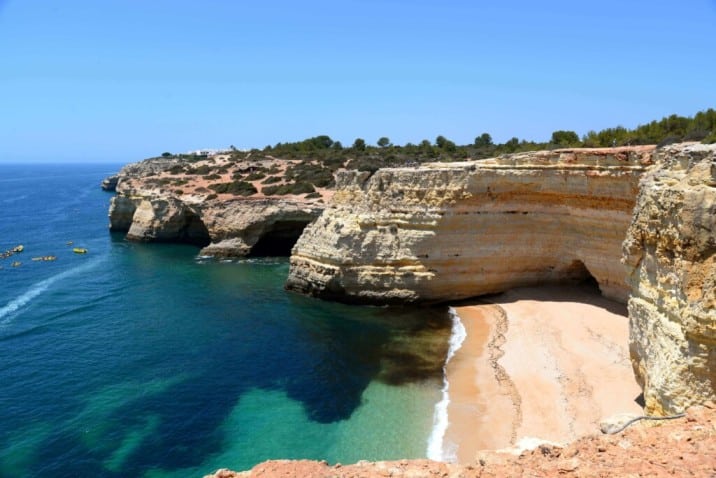 Many people think of the Algarve as just beaches for tourists and don't really realize that it contains several ideal places for remote work. The Algarve is the perfect setting for remote workers that are looking for year-round pleasant weather. The region is known for its pleasant winter temperatures and stunning ocean view. No matter where you go in the Algarve, you can find restaurants and cafes that match your unique needs.
Since many tourists in the Algarve hail from the UK, English is widely spoken among the local population, so you won't need to worry about the language barrier. Try to target some of the amazing coastal towns like Tavira, Albufeira, Lagos, or Olhão. You can also check the available co-working spaces in the Algarve.
Peniche is one of the largest traditional fishing ports in Portugal and a major Atlantic hub for maritime-tourist activities. The city is very rich with its cultural traditions and has many stunning natural wonders where you can fully immerse yourself in the region.
The Baleal village in the north also offers sea-view cafés and fishing taverns. For a more lively environment, think about Supertubos beach and Peniche town. Nightlife and coastal apartments are more available there.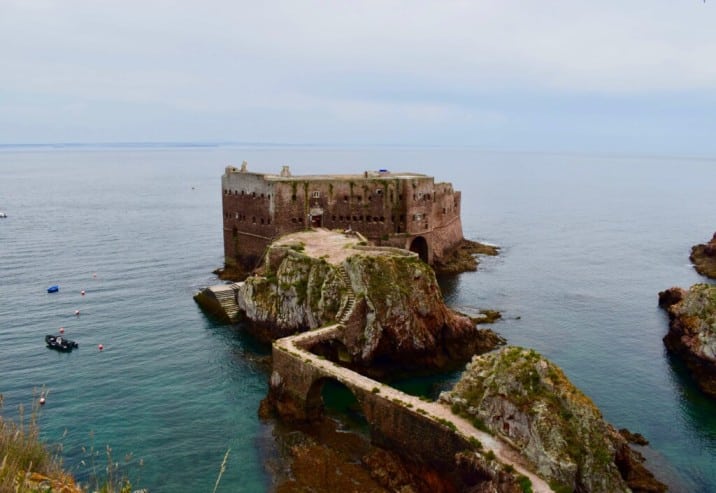 Conclusion
Living and working in Portugal as a remote worker is a very good option that you will never regret. Working remotely in Portugal provides you with all the high-quality life aspects that will help you fulfill your work and enjoy an amazing personal life full of sunshine. 
Portugal has recently been the destination of many remote workers due to its facilities, low cost of living, beautiful location, and weather. There are also different types of visas and Residency Permits which you may find a suitable option for your case. 
Check out Global Citizen Solution's Website for more details that will help you find out more about expat life in Portugal.