Where is the best place to buy property in Lisbon?
Over the past few years, buying property in Lisbon has become hugely popular with investors from all over the world, as well as those who move to the city to make it their home. As the capital city of Portugal, the municipal area is a major tourist hub for the country and also the rest of Europe. Additionally, the picturesque city has a buzzing pulse and rich cultural history. Many visitors to Lisbon are surprised just how much each neighborhood varies in terms of individuality and character, even in such a small city. If you're looking to buy property in Lisbon, it helps to know more about the different neighborhoods and what each one has to offer. In the following article, you'll find all the information about the advantages of all the different areas.
We all have different tastes and things we consider when choosing where to live. In Lisbon, you can be sure to find a neighborhood that suits you, from the artsy to chic, or from budget to upscale and luxurious. Taking all these into consideration here are some of the best neighborhoods in the capital city.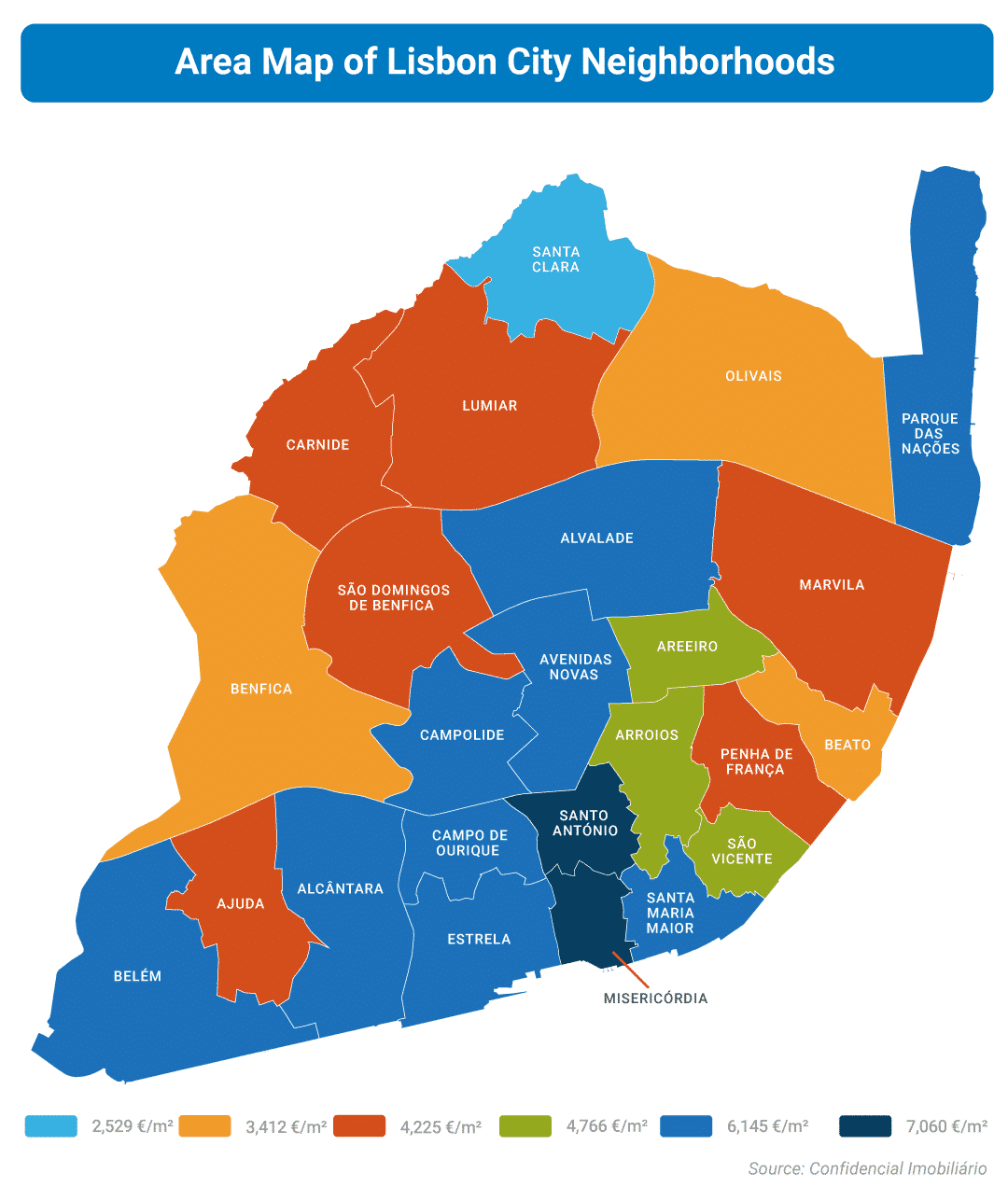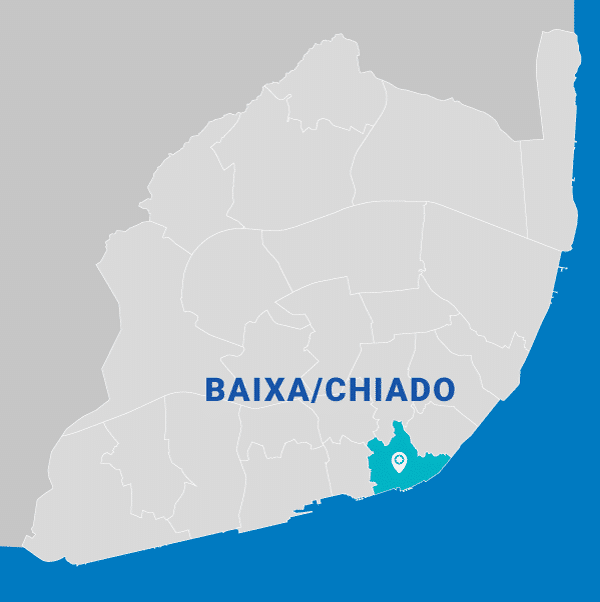 What is it like to live in the areas of Baixa and Chiado?
This area is generally referred to as downtown Lisbon. It is also one of the go-to places for tourists. It is flanked on one side by Praça do Comércio and on the other side, Avenida da Liberdade, and Baixa and its surroundings are also very pedestrian friendly. If you're looking to find somewhere that is conveniently located, but also has all the charm of the Portuguese capital's historic streets, then this is the right spot to go for. It is also close to the main shopping district and big brand stores, with good transport links to the rest of the city. It is also near
Property prices in Baixa and Chiado
The freguesia (municipal district) of Santa Maria Maior, which encompasses the neighborhoods of Baixa and Chiado, is one of the most expensive places to buy property in Lisbon. Property costs on average €6,145per m².
Advantages of living in Baixa and Chiado
Property in Baixa and Chiado is very highly valued, and prices are rising fast. Rent prices in this area are also very high, making it an ideal location for investment. Specialist advice If you are looking for expert advice on buying property in Lisbon, or buying property in Portugal, it can help to talk to a specialist. Our team at Global Citizen Solutions can provide you with a personalized plan for purchasing a home in Portugal. Get in touch to find out more about your investment options.
What is it like to live in Bairro Alto?
This neighborhood comes to life after midnight. It is filled with boutique hotels, bars, restaurants, and graffitied houses. Homes in the streets uphill from the Praça de Luís de Camões can be very noisy, due to the number of bars there. Some other quieter spots can be found around Santa Catarina and Bica, although the whole neighborhood is transformed into a massive street party for the whole of June. Most of the streets in this neighborhood are very hilly and narrow, and parking is very limited. This does also mean that it has some of the best views in the city, with many apartments having incredible views over the River Tagus.
Property prices in Bairro Alto
Property in the Lisbon neighborhood of Bairro Alto (in the Misericórdia neighborhood) costs on average €6,825 per m².
Advantages of living in Bairro Alto
Much like Baixa and Chiado, property in Bairro Alto is very highly valued and highly sought after. It is particularly popular with foreign exchange students, as it is centrally located and also close to Lisbon's best nightlife spots.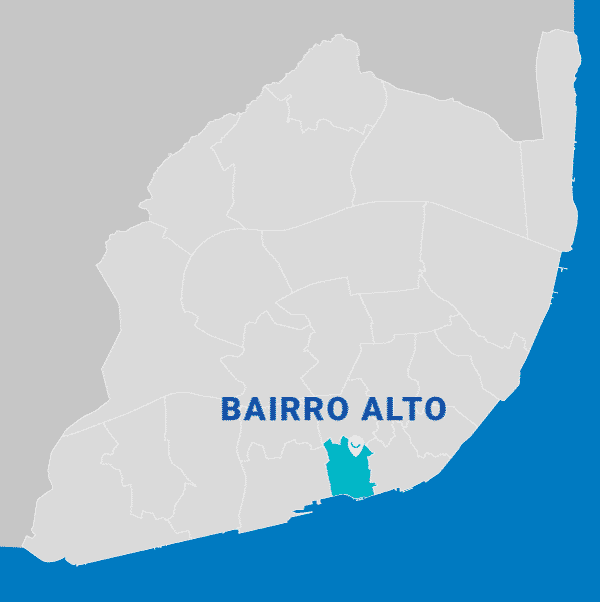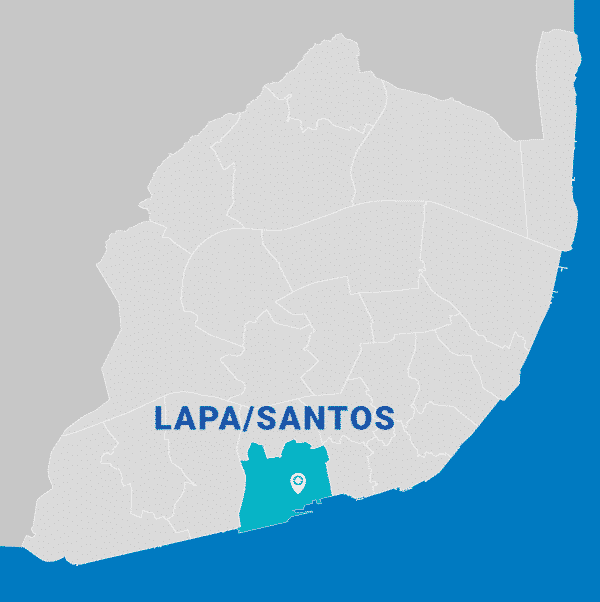 What is it like to live in Lapa and Santos?
Located to the west of the city center, the neighborhoods of Lapa and Santos are quieter and more residential than other areas in central Lisbon. This is a good spot to pick if you're looking to live in a historical neighborhood, without all the noise and bustle of Baixa or Bairro Alto. In recent years Santos has become an increasingly attractive area to live in among young, international professionals. At the same time a number of cafes and restaurants have opened up in the area, making it an even more interesting place to live.
Property prices in Lapa and Santos
Property prices in Lapa and Santos (both in the Estrela neighborhood) cost on average €5,670 per m².
Advantages of living in Lapa and Santos
This up-and-coming area has everything going for it, central, but also quiet, and prices aren't as high as places such as Bairro Alto or Baixa.
What is it like to live in Avenidas Novas?
This is an upscale district with luxury apartments, wide avenues, and aristocratic art-nouveau palaces. It is also home to the beautiful Parque Eduardo the VII as well as being in close proximity to Avenida da Liberdade, one of the priciest avenues in the world. Avenida Novas is also well connected by public transportation and quite central. However, it can be chaotic during rush hours because of the number of cars transiting through the area.
Property prices in Avenidas Novas
Property costs on average €6,046 per m².
Advantages of living in Avenidas Novas
Buildings in the area of Avenidas Novas tend to be newer than other parts of the center, as well as more spacious.
For more information check out our property guide on Avenidas Novas here.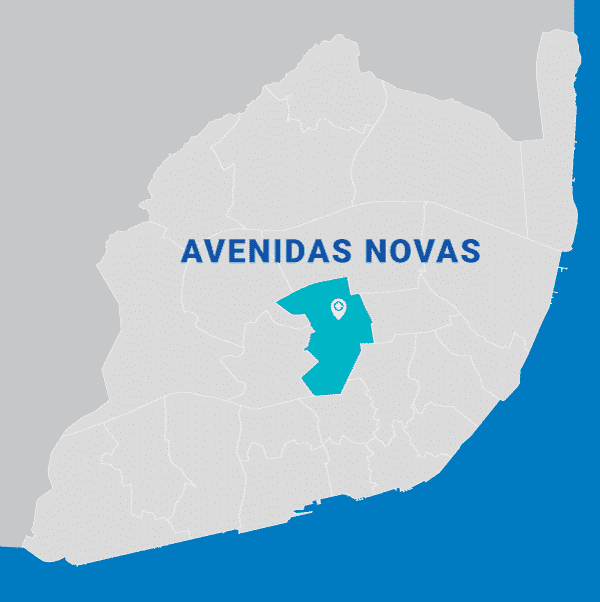 What is it like to live in Intendente and Mouraria?
This is one of the more central areas of Lisbon, which is gradually being gentrified. It is very multicultural, fast-paced, and hippy. There is also an abundance of renovation projects going on here. You will also find several Chinese and Indian supermarkets here if you are looking for some special cooking ingredients. It is also well-served by public transport.
Property prices in Intendente and Mouraria
Average prices in Intendente (in the Arroios neighborhood) are €4,766 per m², and property prices in Mouraria (in the Santa Maria Maior neighborhood) are €6,145 per m².
Advantages of living in Intendente and Mouraria
Intendente and Mouraria have been rapidly gentrified in recent years and are fast becoming one of the most attractive places in Lisbon to buy property. Despite being very close to the center, prices are still comparatively low.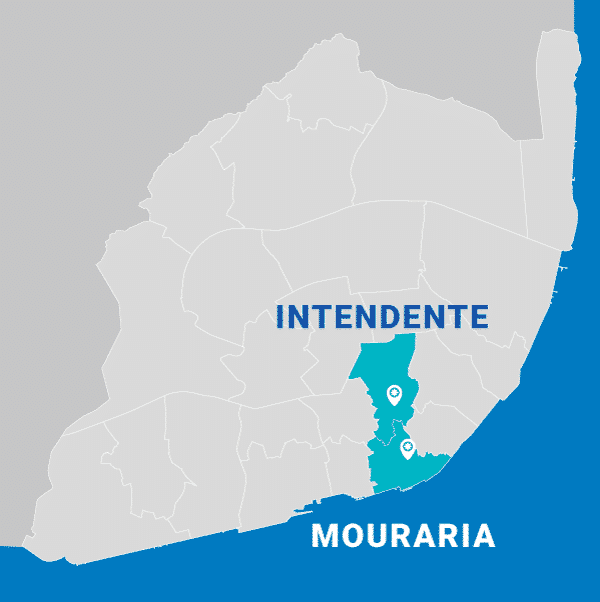 What is it like to live in Campo de Ourique?
Located to the west of the city centre, Campo de Ourique is a pleasant and residential neighborhood that is very family orientated. It is also a quiet area away from the bustling parts of the city with lovely squares and gardens. It is also well served by public transportation (mainly buses).
Property prices in Campo de Ourique
The average price of property in Campo de Ourique is €5,561 per m².
Advantages of living in Campo de Ourique
Campo de Ourique has everything you might want in a neighborhood, such as shops, transport, and green spaces, but it is a far calmer place to live those areas which are closer to the center.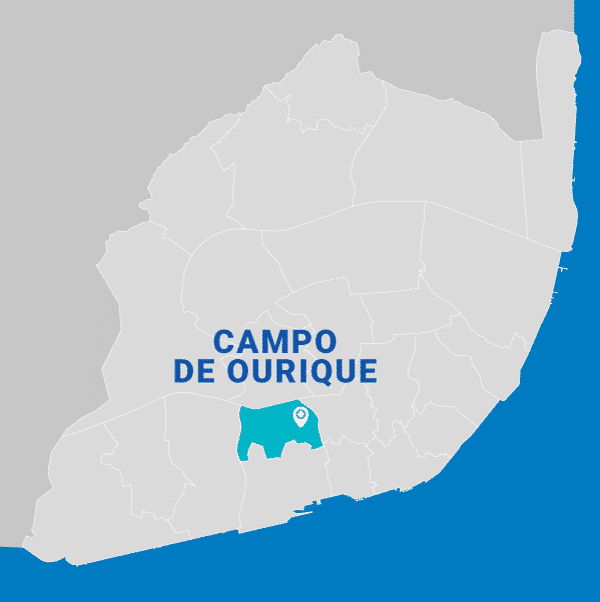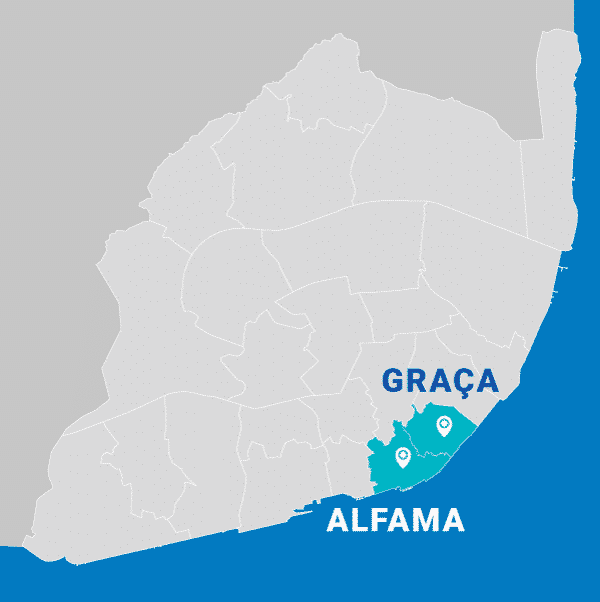 What is it like to live in Alfama and Graça?
This is Lisbon's oldest neighborhood. The most distinguishing characteristic of Alfama is its labyrinth narrow streets and alleyways. It is also home to the Castelo de São Jorge and Fado, traditional Portuguese folk music. This still retains some of the old charm that goes as far back as the 17th century, and even in some quarters, it is referred to as a village in a city. However, the Alfama neighborhood has seen development in recent years as property owners are remodeling their apartments to use them for holiday rentals.
Property prices in Alfama and Graça
Average prices for the Alfama (in the Santa Maria Maior neighborhood) are €6,145 per m² whereas property in Graça (in the São Vicente neighborhood) is slightly cheaper at €4,514 per m².
Advantages of living in Alfama and Graça
Graça and Alfama are the neighborhoods of Lisbon that feel the most authentically Portuguese. With the narrow winding streets and charming trams rattling up and down the hills, it feels almost like stepping back in time.
What is it like to live in Belém, Ajuda, and Restelo?
This is the last neighborhood within the Lisbon municipality. It is a very historic neighborhood filled with lots of museums and monuments, as well as large gardens and parks. Ajuda and Restelo are also in and around the Belém district. They are very tranquil and safe neighborhoods with houses, villas, and apartments that give good views of the Tagus River and the Ponte 25 de Abril.
Property prices in Belém, Ajuda and Restelo
In Ajuda the average price of property is €3,989 per m², while in Belém and Restelo it is a little bit more expensive at €5,395 per m².
Advantages of living in Belém, Ajuda and Restelo
The pleasant parks and quiet streets are just a few of the attractions to these historic neighborhoods.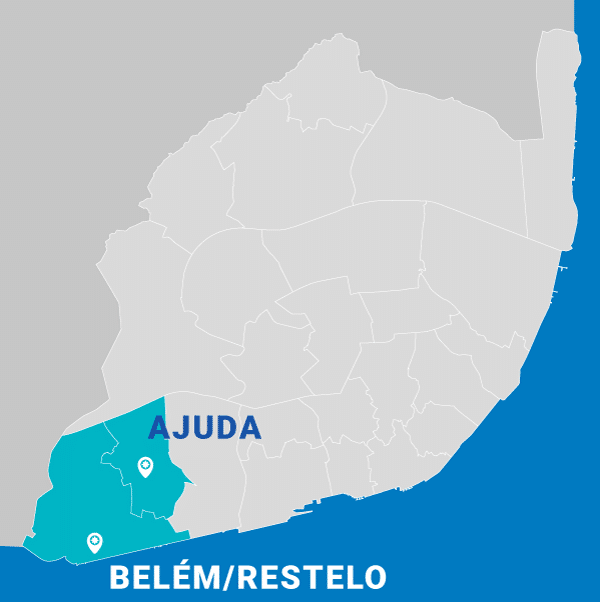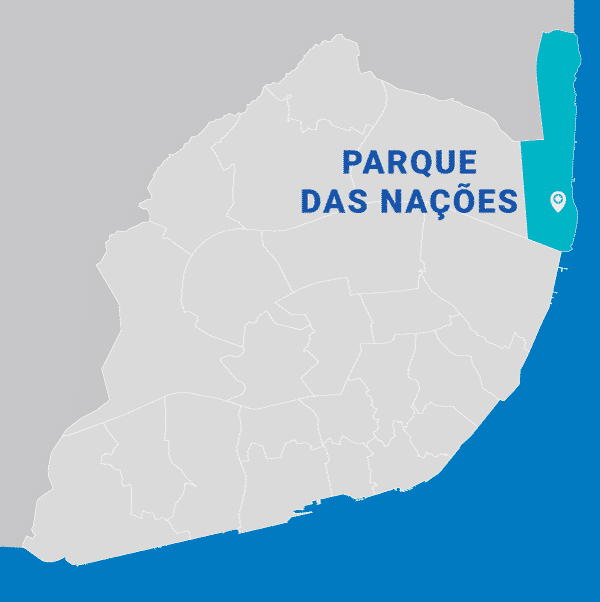 What is it like to live in Parque das Nações?
This modern neighborhood is made up of modern high-rise residential buildings and hotels. This area is generally quiet except when there is a big conference or event in Lisbon. It is also easy to forget you live in Lisbon if you stay in this area because the feeling in these parts is very much different from neighborhoods close to the center.
Property prices in Parque das Nações
In Parque das Nações the average price of property is €5,965 per m².
Advantages of living in Parque das Nações
Thought the prices are higher than many other neighborhoods in Lisbon, its architecture and housing are far more modern and futuristic than most other areas of the city.
Living on the outskirts of Lisbon vs the center?
As the price of property in Lisbon becomes increasingly more expensive, many people are looking further away from the center to find better property deals. Cheaper areas of Lisbon include neighborhoods such as Beato, Marvila, Campolide, and Benfica.
The main advantage of living in areas further from the city center is that property is cheaper and usually bigger as well. The disadvantage is obviously in their distance from the center, which can be particularly noticeable when it comes to transport. They are also significantly quieter when it comes to restaurants and nightlife.
Up-and-coming areas of Lisbon
Some other up-and-coming areas to buy property in Lisbon include Marvila and Beato. These formerly industrial areas are now home to a number of creative spaces and industries, as well as micro-breweries, and can be a good choice when it comes to investing in property in Lisbon.
How Can We Help You Find Your Dream Property?
Our mission goes beyond standard real estate services. Here's how we stand out in making your property dreams come true:
LOCAL KNOWLEDGE: We have offices throughout Portugal, ensuring a strong presence from the mainland to the Azores and Madeira. Additionally, we're recognized members of the AIPP (Association of International Property Professionals).
INDEPENDENT SERVICE: We don't represent any specific development or project, ensuring our advice remains impartial. By objectively analyzing every opportunity, we focus on maximizing your investment prospects. We partner with various agents, sellers, promoters, and developers, ensuring a broad spectrum of property options. Our goal is straightforward: to help you find the best property at the most favorable price, whether you're buying or renting.
STREAMLINED PROCESS: We provide a dedicated real estate consultant paired with a top-notch client management system for smooth information exchange. With the aid of advanced technology, like metasearch tools, we guarantee expansive market coverage. Our viewing itineraries are tailored to your needs, and we're always ready to assist, be it in-person or on your behalf. When it comes to pricing, we use data-driven analysis to ensure you get the best deal. And, to make your journey smoother, we assign a dedicated onboarding account manager for every client.
ALL-ENCOMPASSING SOLUTION: Navigating financial aspects? We're here to guide you through finance options and manage the required documentation. If you need property management solutions or connections to builders, architects, designers, and gardeners, we have you covered. Relocating? Our concierge services are designed to assist in everything, from securing accommodations to handling utility connections.
TRANSPARENCY AND PRIVACY: We operate with a commitment to GDPR compliance, ensuring your data is protected. Expect a clear and detailed pricing model from us, without any hidden surprises. Plus, we provide independent due diligence services to ensure every decision you make is informed.
How to Invest in Real Estate in Lisbon, Portugal
The real estate market in Lisbon is a great place to buy a property. While the Golden Visa program pathway to invest in residential properties is no longer viable for Lisbon properties, as of 1 January 2022, those who are not looking to apply for the scheme will find a rich property market in Portugal's sunny capital. In this section, we'll run over how to invest in real estate in Lisbon. 
When buying a property, you will need to follow the steps outlined below. 
Step 1: Obtaining a Portuguese Tax Number
Whether you are a resident or a non-resident, to invest in the real estate market in Portugal, you will need to have a tax identification number, known as the NIF (Número de Identificação Fiscal). You will need to go to one of the government finances offices to obtain your NIF, providing proof of your current address and your passport information. 
You will also need to have a NIF number to open a bank account in Portugal. We recommend opening a bank account in Portugal when buying real estate in the country, 
Step 2: Finding a Property
There are several sources where you can find property listings, such as Idealista, Imovirtual, and Trovit. Alongside having a local real estate agent, we recommended also working with a Portuguese buyers agent who will be able to give you an overview of the market and even be able to source properties that are not available on property listing sites. 
The first step is to understand your budget and what kind of property you would like to purchase. Here are some suggestions on how best to proceed:
If you want to capitalize on the bustling rental and Airbnb market and are looking to make excellent returns on your property investment, opt for an apartment in the center of town. Tourists are constantly flocking to the center of Lisbon.

If you are looking to rent to young professionals, then choose an apartment in one of the quieter neighborhoods. They will likely be looking to rent longer-term.

Visit the different neighborhoods in Lisbon to find out which part of the city you personally like. 

Once you have honed in your search, visit some properties to see firsthand the properties and if one stands out to you.
Step 3: Purchasing the Property
After you have found the perfect property and have finalized the price of the property with the owner, you will need to tick all the formalities that are required when it comes to the contract. 
We highly recommend working with an experienced lawyer who will be able to help you with the process. You will need to review the terms and conditions of the promissory contact with your lawyer, which will then be signed by yourself and the seller. At this point in time, you will need to pay a deposit. This is usually 10% of the cost and if you back out of the deal at this stage, then you will lose your deposit.
Step 4: Signing the Promissory Contract
When the promissory contract is ready, and the term has been met, the buyer and the seller, alongside their lawyers, will meet in front of a notary and finalize the sale. At this stage, the buyer will pay the remaining amount that is owed on the property, and the seller will give the buyer the keys to the property. 
Step 5: Paying Fees
In Portugal, the seller usually pays the agency fees, but the buyer also will have to pay additional costs:
IMT (Property Transfer Tax) is based on the purchase price value and your particular situation. For example, for a non-resident who a buying a second or third home, this can be as high as 10% of the purchase price. 

Stamp Duty: A fixed rate of 0.8% of the purchase price of the property

Notary and land registration fees: Usually between 0.2% and 1.2% of the value of the property.  
Exploring Visa and Immigration Options for Portugal
If you're considering making the move to Portugal, it's essential to be informed about the various visa and residency options available. The Golden Visa Portugal program is an attractive option for many, offering residency to investors and their families. For those eyeing retirement in this beautiful country, the Retirement Visa (D7) is tailored for you. Digital nomads can take advantage of both short and long stay options with the Nomad Visa (D8). Meanwhile, the NHR - Non Habitual Tax regime provides significant tax benefits for new residents. 
For the entrepreneurial spirit, Portugal offers the Entrepreneurship/startup Visa (D2) - Start-up Visa (open company) tailored for those looking to establish their businesses in the country. Those with specialized skills can explore the Work visa for highly qualified employees (D3). Additionally, if you have Portuguese ancestry, you might be eligible for Citizenship by descent. 
However, moving to a new country isn't just about visas. If you're thinking of buying property, our guide on Buying Property in Portugal can offer invaluable insights. Dive deeper into the immigration process with our comprehensive Portugal immigration guide. For Americans specifically looking to relocate, we have curated information on Americans moving to Portugal. Lastly, one can't forget the importance of the NIF (Tax Registration Number), a crucial step in any relocation process. 
Frequently asked questions about neighborhoods in Lisbon
Is it expensive to buy a house in Lisbon? 
The price of property in Lisbon and apartments have climbed up in Lisbon in the past three years. However, there are still some bargains to be gotten in upcoming areas away from the most expensive areas like Avenida, Baixa and Principe Real. 
Is it expensive to rent a house in Lisbon? 
Rent in Lisbon is a bit on the high side when compared to the salaries paid. The average rent in Lisbon for a one-bedroom apartment ranges between €800 to €1500. However, when this is compared to other major European cities it is relatively cheaper   
Why choose Lisbon over other European cities? 
Lisbon is an emblematic capital city with a rich history, buzzing nightlife, renaissance architecture, affordable cost of living with a high-quality life and also cosmopolitan.
Are there any international schools in Lisbon?
There are a number of international schools in Lisbon. The new British School of Lisbon is located in Cais do Sodre, very close to Baixa and Chiado, and there are a number of others located slightly further out of the city. Take a look at this article for more information about schools in Portugal.
Is it better to buy or rent in Lisbon?
Depending on your circumstances, it can be better to buy property in Lisbon. Rent in Lisbon is relatively expensive in comparison to average salaries, and paying a mortgage is usually less. Additionally, since the real estate market in Lisbon is currently experiencing a period of stable growth, investment in property can be a good option.
What are the most popular areas to buy property in Lisbon?
The most popular areas to buy property in Lisbon are in the center, around Baixa, Avenida, Bairro Alto and Principe Real.
Is property in Lisbon expensive?
In comparison to other capital cities in Western Europe, property in Lisbon is comparatively inexpensive. The average price of property in Lisbon City is €5,139 per square meter.
Is it a good idea to invest in property in Lisbon?
Property in Lisbon has become increasingly popular with investors over the past few years for a combination of different factors. The relatively low costs against high returns and stable growth in the real estate sector mean that now is a good time to invest in Lisbon property.
Is Lisbon property a good investment?
Yes, over the years Lisbon has become very popular with investors. Although prices are increasing, you should be able to find relatively low-cost properties with strong returns and stable growth.
Can foreigners buy property in Lisbon?
Yes, foreigners have no restrictions on buying property in Lisbon. However, if you are applying for the Portugal Golden Visa, you will not be able to buy residential real estate in Lisbon.
Is real estate expensive in Lisbon?
Compared to many other Western European cities, properties in Lisbon are very affordable. However, prices have been increasing in recent years.
Where is the best place to live in Portugal?
Lisbon is a dynamic, cosmopolitan city to live in Portugal. Elsewhere, Porto is an excellent option for history lovers, while the Algarve remains a firm favorite with expats, given its excellent weather and beautiful beaches.