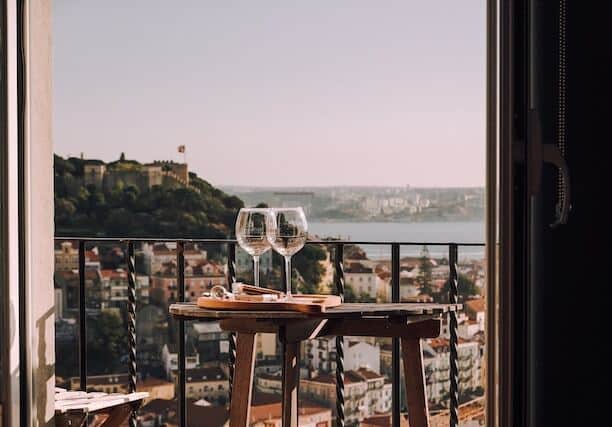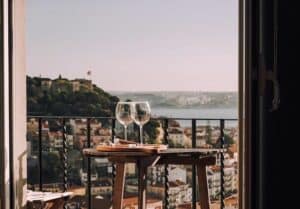 Lisbon is home to a diverse range of neighborhoods, each offering its distinct charm, features, and amenities. These neighborhoods also boast unique opportunities for investors and expatriates seeking a new home or business venture.  
Whether your preference is proximity to major attractions, the tranquility of suburban living, or the charm of coastal towns, the "City of Seven Hills" offers an array of options to suit every taste.
Graça exudes historic charm, while Alvalade is known for its calm and serenity, making it the perfect place for families. Arroios thrives with cultural richness, while Avenidas Novas offers modern comfort and access to some of the city's most high-end avenues. 
Lisbon's neighborhoods provide distinct experiences for those looking to invest or relocate.  
In this article, we will explore the 13 best neighborhoods in Lisbon, each with its own set of attractions and advantages, to help you make an informed decision in this thriving European capital.
Real Estate in Lisbon: An Overview
About Lisbon's Property Market
In recent years, Lisbon has emerged as a shining star on the global real estate investment stage.
This is due to many factors. Lisbon's intrinsic beauty, cultural richness, and unique lifestyle make it a standout destination for real estate investors seeking financial returns and an exceptional quality of life.
In addition, Portugal has achieved economic stability and growth in recent years, which has increased investor confidence in the country. Lisbon, as the capital and economic hub, benefits from this stability.
Compared to other major European cities like London, Paris, or Amsterdam, Lisbon offers relatively affordable property prices. This affordability makes it attractive for investors looking for value and potential returns.
There's also Portugal's residency by investment scheme, the Golden Visa, which allows non-EU investors to obtain residency by making a qualifying investment in the country. This program has attracted significant foreign investment in Lisbon's property market.
Please note that on 19 July 2023, the Portuguese parliament voted to restructure the Golden Visa program. The new legislation came into effect in October 2023, changing the types of investments that qualify for the scheme. Notably, real estate investments and capital transfers are no longer eligible for the program. For more information on the program's changes, please read: Portugal Golden Visa Changes, Updates & New Rules for 2023
Why buy a house in Lisbon?
Quality of life: Lisbon boasts a high quality of life with its pleasant Mediterranean climate, stunning coastline, and rich cultural heritage. Residents enjoy a relaxed and vibrant lifestyle.
Economic stability: Portugal's economic stability and growth in recent years have increased confidence in the country's real estate market, making Lisbon a safe investment destination.
Diverse neighborhoods: Lisbon's neighborhoods provide a range of options, from historic districts with UNESCO World Heritage Sites to modern and tech-focused areas, allowing buyers to find the perfect fit for their lifestyle and investment goals.
Strong rental market: The demand for long-term and short-term rentals remains robust, providing consistent rental income opportunities.
Infrastructure development: Ongoing investments in infrastructure, including transportation and amenities, enhance the city's convenience and accessibility.
Renovation opportunities: Many older properties offer renovation potential, allowing buyers to add value and customize their homes.
Positive economic outlook: Portugal's political stability and positive economic outlook contribute to the city's desirability as a safe and profitable investment location.
Average property prices in Lisbon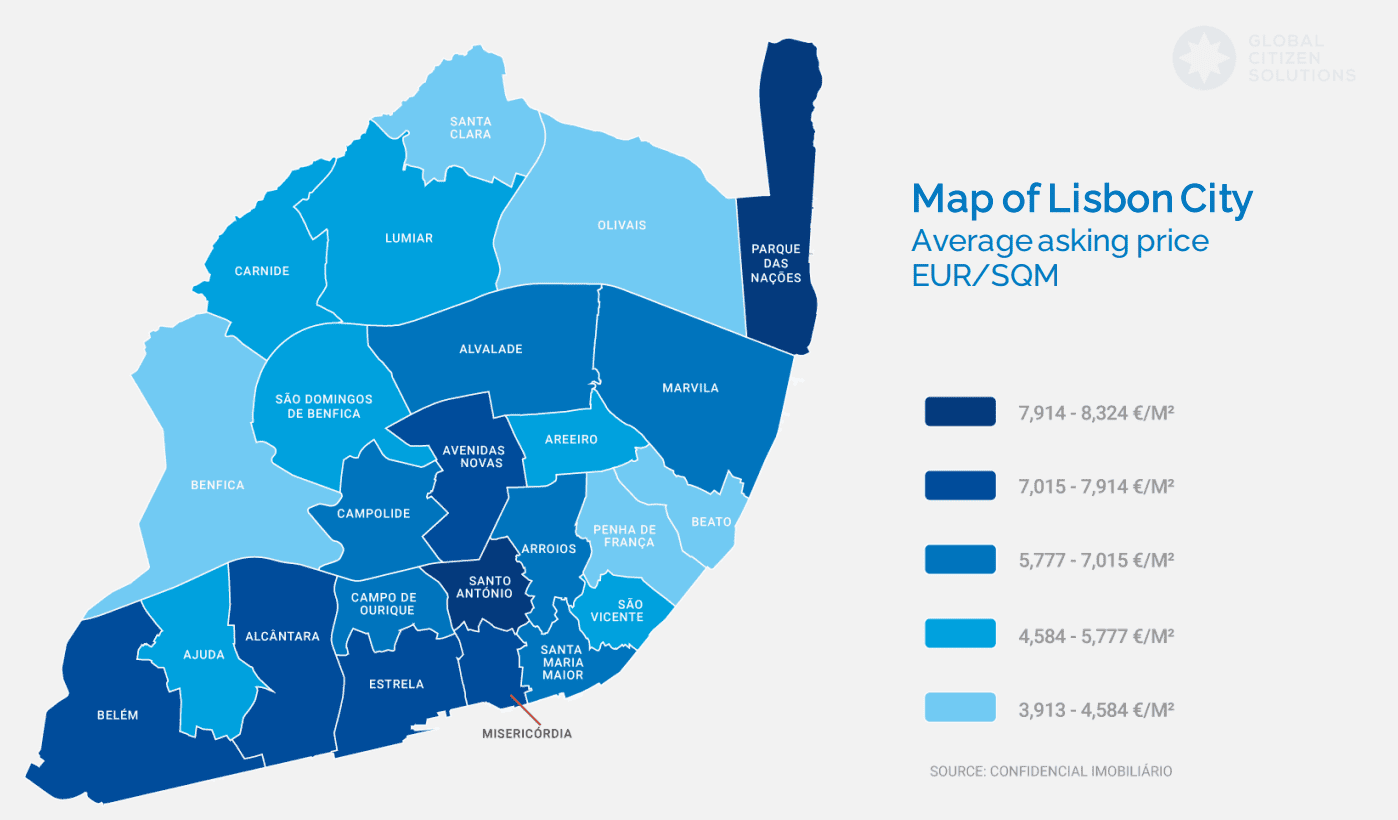 The 13 Best Lisbon Neighborhoods for Investors and Expats
Graça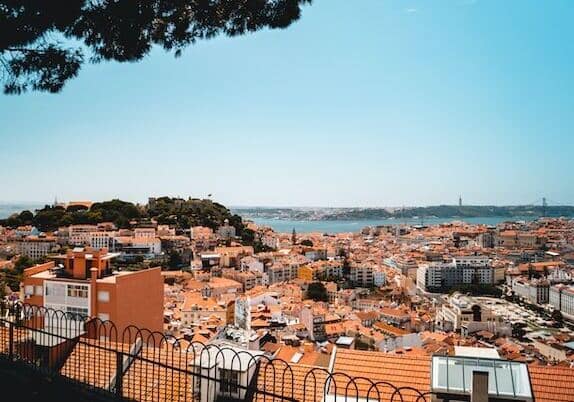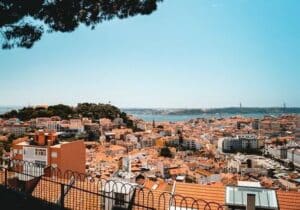 Graça is a picturesque neighborhood located close to Alfama, in the heart of Lisbon. One of the oldest neighborhoods in the city, Graça is home to charming narrow streets lined with historic Portuguese buildings covered in ceramic tiles.
The area has a historic feel, and you'll find many well-preserved houses that date back literal centuries.
Known for its historic charm and panoramic views, Graça is a popular choice for expats living in Lisbon. The neighborhood maintains a local atmosphere, and while exploring the area's cobbled streets, you'll come across traditional shops, cafes, and restaurants where you can savor Portuguese cuisine and interact with friendly locals.
Residents of Graça enjoy a relaxed and authentic Lisbon lifestyle. Graça is known for its slower pace compared to more bustling areas, making it one of the best Lisbon neighborhoods for those seeking a quieter, residential atmosphere.
One of the standout features of Graça is its stunning viewpoints, or "miradouros," that offer panoramic views of the city and the River Tagus. The most famous viewpoint in Graça is the Miradouro da Senhora do Monte, which provides breathtaking vistas of the São Jorge Castle (Castelo de São Jorge) and is a popular spot to watch the sunset.
This Lisbon neighborhood is also home to several cultural attractions, including the Graça Church and Convent, which is a beautiful example of Portuguese Baroque architecture. Additionally, the Graça district hosts various cultural events and festivals throughout the year.
In addition, Graça is conveniently located in the city center, offering easy access to other popular neighborhoods like Alfama, Mouraria, and Baixa. Public transportation options, including trams and buses, make it simple to navigate the city from Graça.
Overall, Graça is the best neighborhood in Lisbon for those seeking to be in close proximity to the city center but also enjoy the atmosphere of a serene environment.
Read: Complete Graça Real Estate Guide 2023.
Pros
A local and serene atmosphere
Privileged location in the city center
Unparalleled views of Lisbon
Cons
Limited parking spots
No metro (Graça, however, is accessible by tram and bus)
Limited commercial centers compared to other neighborhoods in Lisbon
Average property prices in Graça
Between €3,000 to €6,000 per m²
Chiado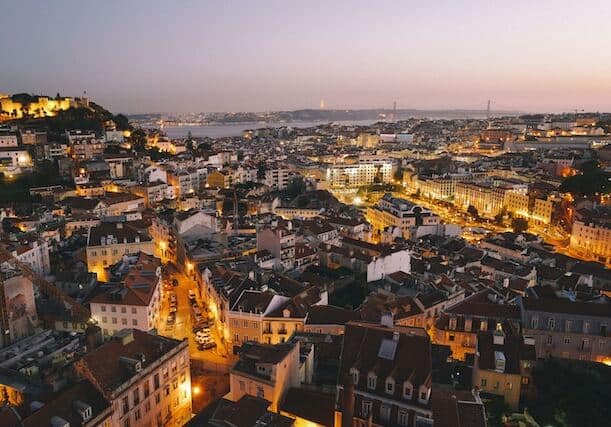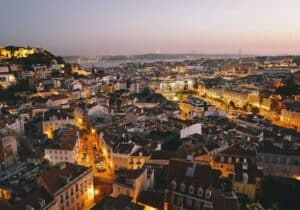 Chiado is one of the most iconic and vibrant neighborhoods in Lisbon. This centrally located area is renowned for its historical significance, having played a pivotal role in Lisbon's cultural development.
This Lisbon neighborhood was heavily impacted by the great earthquake of 1755 but was subsequently rebuilt and revitalized during the 19th century. As a result, it boasts a mix of architectural styles, blending the traditional and the contemporary.
Chiado is at the heart of Lisbon's cultural scene, making it a sought-after destination for residents and tourists alike. It's home to numerous significant attractions, including the century-old Carmo Convent (Convento do Carmo) and the São Roque Church (Igreja de São Roque), one of the few buildings in Lisbon that survived the 1755 earthquake.
Moreover, Chiado is a shopper's paradise, with an array of high-end boutiques, designer stores, and well-known international brands to choose from.
Here, you'll also find a myriad of bars and restaurants, as well as bustling cafes. A must-visit is the historic Café A Brasileira, famous for its bronze statue of the Portuguese poet Fernando Pessoa. Just across from the cafe, you'll see the iconic Livraria Bertrand – the oldest bookstore in the world.
Chiado is well-connected to other parts of Lisbon, making it easy to explore the city. It's also within walking distance of several major attractions like the historic Baixa district and the Miradouro de Santa Catarina, which offers one of the best views of Lisbon.
The neighborhood also features a mix of real estate options, including historic buildings with elegant apartments and modern developments.
Pros
Central location
Public transport (metro, buses, tram)
Plenty of things to see and do
Cons
High rental demand
Touristic
Average property prices in Chiado
€6,791 per m²
Avenidas Novas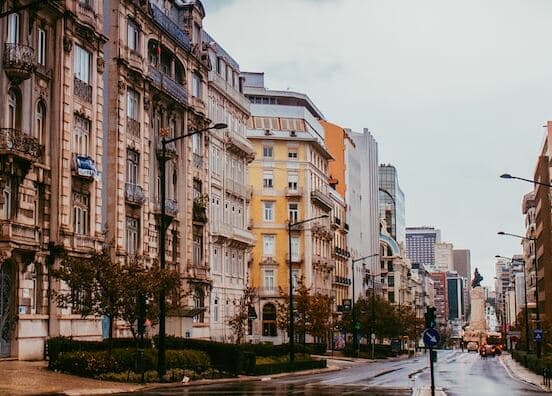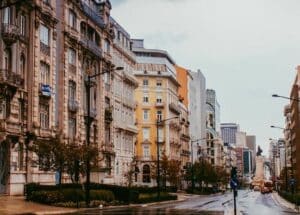 Avenidas Novas is a highly valued area known for its contemporary architecture, accessibility, and exceptional quality of life.
This neighborhood stands out for its modern urban planning and features wide, tree-lined avenues, spacious squares, and well-maintained streets. Its contemporary-style building sets it apart from some of Lisbon's older neighborhoods.
Avenidas Novas is primarily a residential neighborhood, making it an excellent choice for those seeking a peaceful and family-friendly environment. It offers a mix of apartments, townhouses, and some newer developments.
Despite its urban character, Avenidas Novas boasts several green spaces and parks, providing opportunities for leisure and relaxation. The Parque Eduardo VII, one of Lisbon's largest parks, is located nearby. With its well-maintained gardens, it's the perfect place for enjoying outdoor activities and sports.
Avenidas Novas also has plenty of cultural sites, including the renowned Calouste Gulbenkian Museum and Foundation.
There are plenty of shopping and dining options in Avenidas Novas. The El Corte Inglés shopping mall is a major retail destination in this neighborhood.
Avenida Novas is also home to the Avenida da Liberdade, a major tree-lined boulevard dotted with some of the city's most luxurious stores. It's also the most expensive street to rent or buy property on in Portugal.
In addition, Avenidas Novas benefits from excellent transportation links, including metro stations, bus routes, and main roads. This accessibility makes it easy to reach other parts of Lisbon and the surrounding areas.
Recommended Read: Avenidas Novas Real Estate: The Ultimate Guide
Pros
Avenidas Novas is considered one of the safer neighborhoods in Lisbon
Outstanding quality of life
Great location
Cons
Average property prices in Avenidas Novas
€7,073 per m²
Alcântara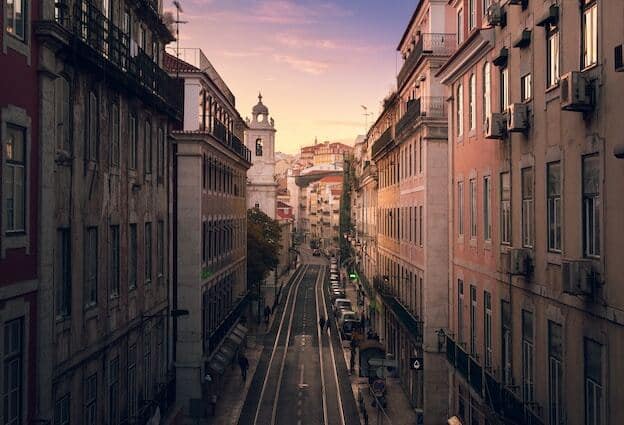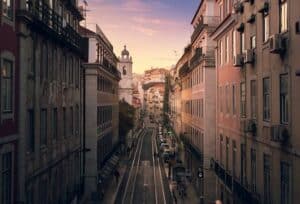 Alcântara is a charming and ever-evolving neighborhood situated along the Tagus River and just west of downtown Lisbon. The neighborhood's riverfront location offers stunning views of the water and the iconic 25 de Abril Bridge, making it the perfect place for an outdoor running session.
While Alcântara has a rich historical heritage, with some areas dating back to the 16th century, the neighborhood has seen significant development and transformation in recent years.
Now, Alcântara is home to trendy cultural institutions, including the LX Factory, a thriving creative and cultural complex that houses art galleries, design studios, restaurants, and shops.
Alcântara also has a burgeoning arts and creative scene, with numerous art studios, galleries, and street art murals to explore. This artistic vibrancy contributes to the neighborhood's unique character.
Along the Alcântara Docks and Doca de Santo Amaro, you'll find plenty of seafood restaurants, rooftops, and nightclubs.
On the other side of the train tracks, there's a mix of real estate options, including renovated apartments, modern developments, and loft-style residences.
Pros
Renovated properties
Vibrant cultural life
Cons
Far from Lisbon's city center
No metro
Average property prices in Alcântara
€7,493 per m²
Baixa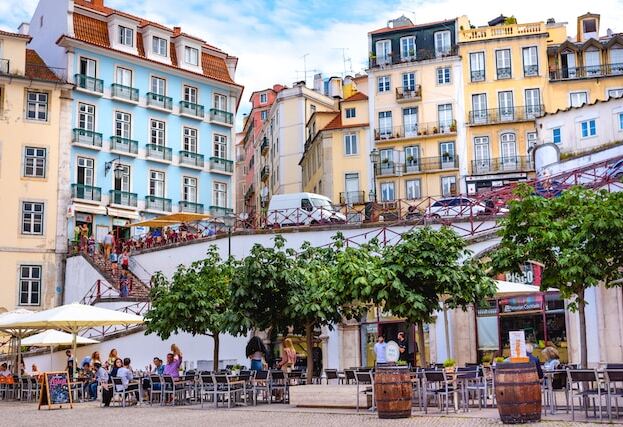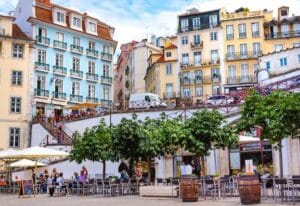 The Baixa district is an iconic and historically significant neighborhood known for its grand architecture, commercial activity, and cultural attractions. It's also the most central neighborhood in Lisbon.
One of the most famous places in Baixa is the commanding Praça do Comércio. Also known as Terreiro do Paço, this iconic square serves as the entrance to Baixa from the waterfront and offers stunning views of the Tagus River.
There are also major attractions, such as the Elevador de Santa Justa, famous for offering visitors a jaw-dropping view of Lisbon.
Baixa is a bustling commercial hub, home to numerous shops, boutiques, and department stores. In Baixa, you'll find the Rua Augusta, a lively pedestrian street lined with famous international stores, souvenir shops, outdoor cafes, and street performers.
Another advantage of Baixa is that this central neighborhood provides easy access to other areas in Lisbon. From here, you can easily reach Chiado, Bairro Alto (Lisbon's nightlife hub), and Alfama, as well as some of Lisbon's most famous squares: Rossio Square and the Rossio Train Station, Praça da Figueira, and Praça dos Restauradores.
Baixa is also a major transportation hub in Lisbon, with several tram and bus lines passing through the area. It's also home to the Baixa-Chiado metro station, making it easily accessible from other parts of the city.
The neighborhood offers a wide range of dining options, including restaurants where you can sample traditional Portuguese dishes.
Investing in Baixa is particularly advantageous because of the neighborhood's prime location in the Lisbon city center. Baixa also offers a mix of real estate options, including historic buildings with renovated apartments and commercial spaces.
Bear in mind that Baixa is a popular destination for tourists, so you'll often find visitors exploring its historic streets and attractions. While this adds vibrancy to the area, it can also result in crowds, especially during peak tourist seasons.
Baixa is the best neighborhood in Lisbon for expats seeking to stay close to the city's tourist attractions.
Pros
Central location
Plenty of public transportation
Amenities (restaurants, shops, cafes, and bars)
Cons
Overcrowded with tourists
Average property prices in Baixa
€7.500 per m²
Bairro Alto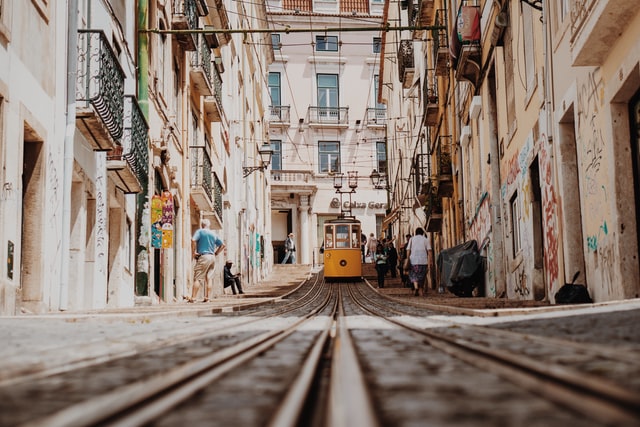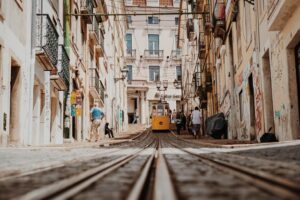 Located within a short walking distance from Baixa, Bairro Alto is one of Lisbon's most lively neighborhoods.
Today Bairro Alto is synonymous with Lisbon's nightlife scene. When the sun sets, the neighborhood's cobblestone streets come alive at night with tiny bars, clubs, and live music venues that cater to a diverse crowd. It's a popular destination for those seeking an exciting and vibrant experience.
The area's narrow and winding cobblestone streets are steeped in history, and many of its buildings date back centuries.
This Lisbon neighborhood is also home to art galleries, studios, and street art, contributing to its bohemian and creative atmosphere.
Despite its reputation for nightlife, Bairro Alto also has some quieter areas and residential properties.
Bairro Alto is located in the high part of the hilly city of Lisbon. From there, you can easily reach Miradouro de São Pedro de Alcântara, which offers a panoramic view over the city, and two of Lisbon's most impressive churches: São Roque and the ruins of Carmo Church.
Bairro Alto also provides easy access to the Cais do Sodré neighborhood. The 19th-century Mercado da Ribeira is a focal point of this area, with a vibrant food hall offering both international fare and local culinary specialties. Along the busy streets of "Cais," as locals call it, you'll also find an array of bustling bars, most of them located on the famous Pink Street.
Pros
Plenty of things to see and do
Proximity to major sights
Cons
Noisy and crowded at night
Tourist traps
Average property prices in Bairro Alto
€7,364 per m²
Alfama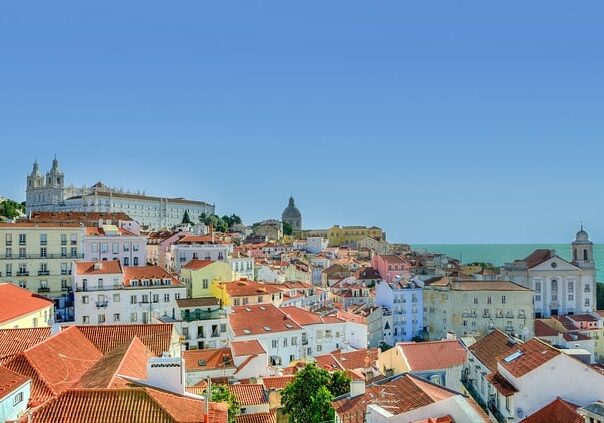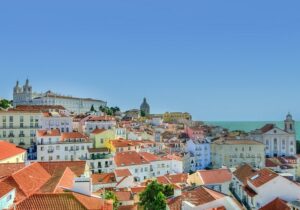 Founded in the 8th century by the Moors, who ruled over the Iberian Peninsula, Alfama is the oldest neighborhood of Lisbon. It's particularly known for its picturesque cobblestone streets dotted with pastel-hued buildings, which evoke a strong sense of heritage.
Alfama is the birthplace of Fado, Portugal's traditional music genre known for its melancholic and soulful melodies. The neighborhood is dotted with Fado houses (casas de fado), where visitors can enjoy live performances and soak in the captivating Portuguese culture.
This history-filled neighborhood is also home to an array of cultural sights. There's the Castelo de São Jorge, which offers breathtaking panoramic views of Lisbon and the Tagus River, the Sé de Lisboa (also known as Lisbon's Cathedral or Sé Cathedral), and the Santo António Church, built on the site where the Patron saint of Lisbon was born, in 1195.
Here, you'll also find the National Pantheon (Church of Santa Engrácia), a 17th-century monument that serves as the final resting place of the country's most important or famous cultural figures.
Another worthwhile place in Alfama is Casa dos Bicos, a museum entirely dedicated to Portugal's most famous writer, José Saramago.
Alfama hosts several annual festivals and street parties, including the popular Santo António Festival in June, which features parades, music, and traditional food stalls.
The historic Tram 28 route passes through Alfama, offering a scenic and nostalgic journey through its narrow streets. It's a popular way for tourists to explore the neighborhood.
It's important to note that, due to its narrow and hilly streets, vehicle access is limited in Alfama. The neighborhood is best explored on foot, and visitors should be prepared for some uphill walking.
Two well-known viewing points, Portas do Sol and Miradouro de Santa Luzia, are also located in Alfama.
Pros
Historic and cultural heritage
Landmarks and attractions
Cons
Average property prices in Alfama
€6,791 per m²
Príncipe Real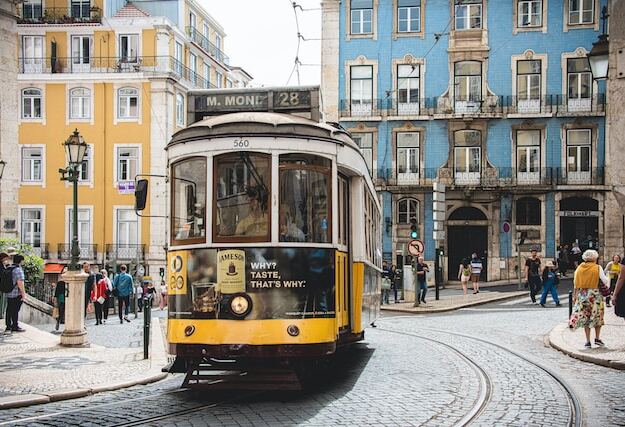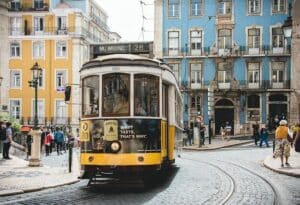 Located within walking distance from Chiado, Príncipe Real is a trendy and upscale neighborhood famous for its elegant atmosphere, historic charm, and vibrant cultural scene.
The centerpiece of this Lisbon neighborhood is the Jardim do Príncipe Real (Príncipe Real Garden), a well-maintained park with fountains, trees, and walking paths. It's also home to viewpoints such as the Miradouro de São Pedro de Alcântara, which provides panoramic views of the city and the Tagus River.
Harboring a plethora of high-end boutique shops and luxury brands, Príncipe Real is one of Lisbon's top shopping destinations. A highlight here is Embaixada, a stylish shopping gallery housed in a former palace.
Filled with independent boutiques, the area is a great alternative to the more expensive Avenida da Liberdade.
Príncipe Real also boasts an upscale dining scene, with gourmet restaurants such as the Michelin-star restaurant Tapisco, as well as trendy cafes and bars.
This neighborhood also has a reputation for being LGBTQ+-friendly, with various trendy bars and venues contributing to its inclusive and welcoming atmosphere. While not as vibrant as Bairro Alto, Príncipe Real has its share of nightlife options, including cocktail bars and lounges. It's a great place for a sophisticated night out.
Principe Real attracts a mix of young expats, digital nomads, and families.
Pros
Central location
A varied selection of stores, cafes, and restaurants
Cons
Properties here are more expensive
Average property prices in Príncipe Real
€7,364 per m²
Santos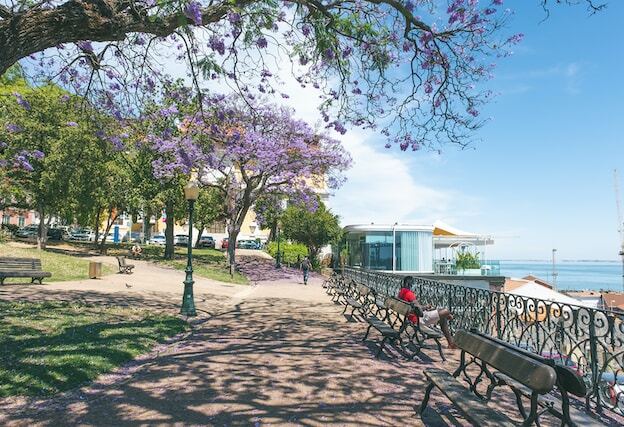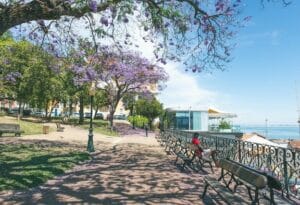 Santos is a historic neighborhood nestled between the bustling neighborhoods of Cais do Sodré and Alcântara. The area enjoys a prime location along the banks of the Tagus River, offering beautiful views and a tranquil ambiance.
It's one of the oldest parts of the city, with many of its buildings dating back to the 18th and 19th centuries. Santos' historic architecture includes elegant townhouses, palaces, and old warehouses that have been repurposed.
And while Santos is one of Lisbon's most historic areas, it keeps reinventing itself. In recent years, Santos has seen a surge in cutting-edge creative schools, like IADE, trendy restaurants, bars, and art galleries. It's a great neighborhood for students and young expats.
The neighborhood offers a mix of real estate options, including renovated apartments, historic buildings, and modern developments. Property prices in Santos can vary, offering options for different budgets.
Pros
Newly renovated properties
Vibrant nightlife scene
Cons
Due to its central location and upscale ambiance, Santos can have higher living costs
Average property price in Santos
€7,019 per m²
Parque das Nações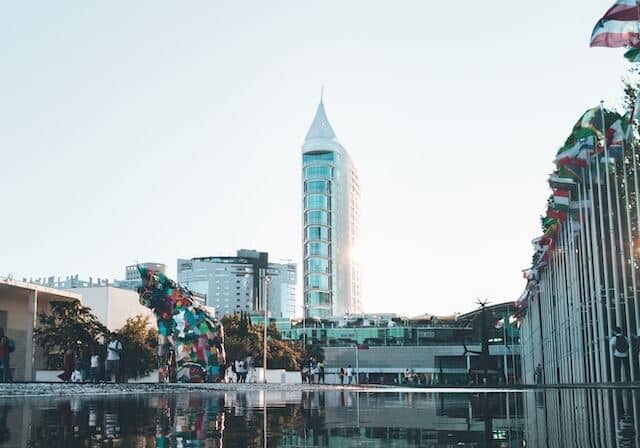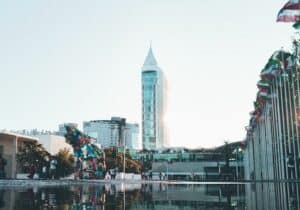 Nestled in the eastern part of the city along the Tagus River, Parque das Nações is a relatively new neighborhood initially built to host the Expo 98 World Exposition. This major international event led to the neighborhood's development and transformation from an industrial area into a modern urban district.
Parque das Nações is characterized by its contemporary architecture and innovative design. Prominent landmarks include the Vasco da Gama Tower, the Lisbon Oceanarium (one of the world's largest indoor aquariums), and the Portugal Pavilion, all of which showcase cutting-edge architecture.
It also has a beautiful waterfront promenade that stretches along the Tagus River. This scenic area is ideal for leisurely walks, jogging, or simply enjoying views of the river and the Vasco da Gama Bridge.
One of the highlights of this Lisbon neighborhood is the Oceanário de Lisboa, one of the largest oceanariums in the world,
Parque das Nações is known for its modern infrastructure, including efficient public transportation. The neighborhood is home to the Oriente Train Station, which has express services to Porto, the Algarve, Evora, and Sintra, which is the ultimate Lisbon day trip.
This Lisbon neighborhood also has well-designed roadways and pedestrian-friendly streets. Aside from being a well-connected neighborhood, it also has a mix of residential options, including apartments with river views, modern condominiums, and housing developments. It attracts a diverse range of residents.
Pros
Modern infrastructure
Waterfront location
Cons
Limited historic character
Relatively high property prices
Average property price in Parque das Nações
€5,965 per m²
Alvalade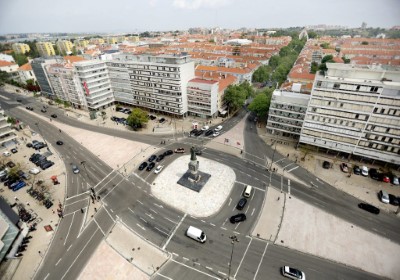 Alvalade is a well-established residential neighborhood located in Lisbon, Portugal. Known for its tranquil ambiance, tree-lined streets, and a strong sense of community, Alvalade offers a comfortable and family-friendly living environment. Here are some key highlights and characteristics of the Alvalade neighborhood:
If you're seeking a family-friendly neighborhood to live in Lisbon, Alvalade is the place to be. This is primarily a residential neighborhood characterized by a mix of mid-century and modern residential buildings. The area exudes a peaceful and suburban atmosphere, making it a popular choice for long-term residents.
One of Alvalade's defining features is its abundance of green spaces and parks. The Jardim do Campo Grande is a central park where residents can enjoy leisurely walks, picnics, and outdoor activities.
Avenida da Igreja is the main avenue in Alvalade. It's a bustling commercial thoroughfare with shops, restaurants, cafes, and local businesses. It offers a range of amenities and services to residents.
This residential neighborhood is also home to various cultural and educational institutions, including the prestigious University of Lisbon, the largest university in Portugal.
In addition, Alvalade benefits from excellent transportation connections. It is served by several metro stations, including Alvalade and Roma (green line), allowing for convenient access to other parts of Lisbon. The Lisbon International Airport is also easily reachable from Alvalade.
 Pros
Residential charm
Green spaces
Access to public transport
Cons
Property prices in Alvalade can still be relatively high
Average property price in Alvalade
€7,015 per m²
Arroios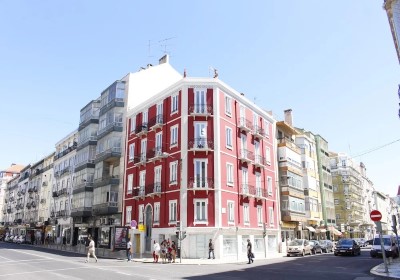 Arroios is a diverse and multicultural neighborhood popular for its lively atmosphere, cultural diversity, and a mix of historic and modern elements. This is one of the city's most cosmopolitan districts, attracting a diverse community of residents and visitors.
Here, you'll find a significant immigrant population from various parts of the world. This diversity is reflected in the neighborhood's culinary scene, shops, and cultural events.
While Arroios has modern elements, it also retains historical charm with its traditional buildings, narrow streets, and historic squares.
Arroios also has a liberal and artistic atmosphere, with several art galleries, studios, and creative spaces. The neighborhood has a reputation for attracting artists and creatives.
One of the great advantages of Arroios is that the neighborhood is well-connected by public transportation, with several metro stations and bus routes. This makes it convenient for commuting to other parts of Lisbon.
Pros
Vibrant and multicultural
Close to the city center
Cons
Arroios can be noisy and crowded, especially in the more bustling areas
Average property price in Arroios
€5,777 per m²
Campo de Ourique & Estrela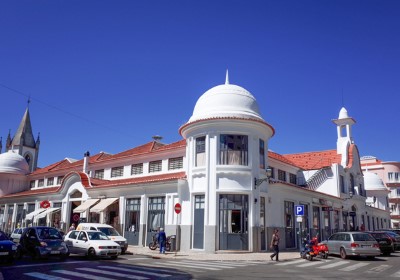 Campo de Ourique is primarily a residential neighborhood, making it a popular choice for families and long-term residents. It exudes a tranquil and suburban feel within the city.
The neighborhood's streets are adorned with trees, creating a pleasant and shaded environment.
Campo de Ourique also retains its historical charm with a mix of traditional Portuguese architecture, including colorful tiled facades and wrought-iron balconies. The neighborhood offers a sense of authenticity and character.
Here, you'll come across a variety of shops, such as local boutiques and grocery stores. It also offers a range of dining options, including plenty of non-touristy restaurants.
Campo de Ourique is bordered by Estrela, which is also known for offering a peaceful and residential atmosphere. It's ideal for families and those seeking a quieter living environment within the city.
One of Estrela's most emblematic sights is the Basilica da Estrela, a stunning baroque church with a large dome offering a stunning panorama of Lisbon. The church is in front of the Jardim da Estrela (Estrela Garden), which is a lovely park where residents and visitors can relax and enjoy greenery.
Pros
Serene atmosphere
Green spaces
Family-friendly
Cons
Property prices in Campo de Ourique can be relatively high
Limited nightlife
Average property price in Campo de Ourique & Estrela
€7,200 per m²
Belém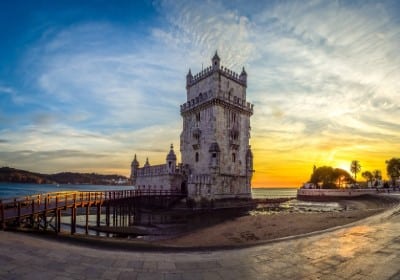 Belém is a waterfront district home to several architectural marvels, including the iconic Belém Tower (Torre de Belém) and the Jerónimos Monastery (Mosteiro dos Jerónimos), recognized as a UNESCO World Heritage Site.
In addition to the World Heritage Sites, Belém boasts an array of world-class cultural attractions, such as the Padrão dos Descobrimentos monuments, as well as several museums. These include the Coach Museum (Museu dos Coches), the Berardo Collection Museum, which houses modern and contemporary art, the Maritime Museum (Museu de Marinha), an ode to Portugal's maritime history, and the Archaeological Museum, devoted to ancient art found in the Iberian Peninsula.
Strolling along Belém's scenic riverfront promenade, visitors can savor pastel de nata from the renowned Pastéis de Belém bakery, all while immersing themselves in the city's rich history and admiring the intricate craftsmanship of these historical landmarks.
The neighborhood is well-connected by public transportation, including trams and buses, making it easy to access other parts of Lisbon.
Belém also provides a tranquil and peaceful living environment away from the city's hustle and bustle, making it an appealing choice for residents seeking a serene ambiance.
Belém is a must-visit neighborhood that beautifully blends culinary delights with cultural treasures, making it a delightful destination for both locals and tourists alike.
Pros
Cultural and historic attractions
Waterfront location
Cons
 Average property price in Belém
€7,914 per m²
Best Neighborhoods Lisbon: The Bottom Line
In conclusion, Lisbon offers a wealth of real estate investment opportunities, and our exploration of the city's most popular neighborhoods underscores this fact. Whether you're drawn to the historical charm of Alfama, the cosmopolitan vibe of Chiado, the family-friendly ambiance of Campo de Ourique, or the modern allure of Parque das Nações, Lisbon caters to a diverse range of preferences.
With its rich culture, beautiful landscapes, and thriving economy, Lisbon presents an enticing prospect for investors and expats alike. The time is ripe to seize these opportunities and make a sound investment in one of Lisbon's best neighborhoods. So, take the next step and consider becoming a part of this vibrant and growing city, where the possibilities are as endless as the charm it exudes.
Additional Resources
Thinking of moving to Lisbon soon? Here are some useful guides that'll help make the process smoother.
Frequently Asked Questions About The Best Neighborhoods in Lisbon:
Which is the best neighborhood in Lisbon, Portugal?
The best Lisbon neighborhoods are:
Alfama
Baixa
Chiado
Bairro Alto
Príncipe Real
Belém
Santos
Avenidas Novas
Alvalade
Alcântara
Campo de Ourique
Graça
Estrela
What is the best area to stay in Lisbon?
Centrally located neighborhoods such as Baixa, Chiado, and Alfama are among the best areas to stay in Lisbon.
What's Lisbon famous for?
Home to steep streets, typical colorful houses, and beautiful viewpoints, the Alfama District is one of the most charming areas in Lisbon.
What is the most walkable area of Lisbon?
Chiado, Baixa, and Cais do Sodré are some of the most walkable areas in Lisbon.
What is the nicest area of Lisbon to live in?
Some of the best neighborhoods to live in Lisbon are Graça, Avenidas Novas, Santos, and Príncipe Real.
More about Lisbon - Portugal