Portugal's property market is booming and expats are catching on. From year-round sunshine to fantastic living standards, excellent cuisine, and a high-quality healthcare system and schooling, international families are purchasing property in droves. In fact, 2020 has seen a rise in the volume of real estate transactions, setting Portugal's property market up for success despite the ongoing COVID-19 pandemic. How to buy property in Portugal? If you're considering buying a property in Portugal, you've come to the right place. In this Ultimate Guide to how to buy a property in Portugal, you'll learn everything you need to know so you can purchase real estate with confidence and clarity.
Why buy property in Portugal
?
There are many reasons why Portugal is the 'it' destination for real estate investors. Here's why you should consider buying a property in Portugal. 
10 reasons to buy property in Portugal
Purchasing and keeping ownership of a property for at least five years can make you eligible for Portuguese citizenship.

The o

pportunity to own a home where there is sunshine all year round

 

The cost of living in Portugal is one of the lowest in Europe

 

It is an investment with high rental yields 

Portugal is

a safe place to live with a high level of political

stab

ility

 

 

It is a beautiful country with unspoiled nature and golden beaches

 

Portugal offers a very high quality of life 
Great tax incentives through the NHR scheme 
It is easily accessible from Europe, Africa, and the US 
Public infrastructure such as healthcare and transportation are widely available and accessible.

 
Where to buy property in Portugal?
There are many places to buy property in Portugal, and the best place for you depends on your budget and the type of property you're interested in. Each region is unique and offers different advantages. Some places you might like to consider are: 
Lisbon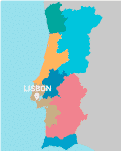 Lisbon is the capital city and the major economic hub of Portugal. It is a beautiful city filled with history that has seen its stock rise in terms of tourism and commercialization. This makes it a perfect place to buy a property in Portugal, whether for commercial purposes or for living.
It is important to note that property prices in Lisbon have seen a sharp increase, so buying here is now actually quite expensive.
If you would like to know more, take a look at our guide on where to buy property in Lisbon.
The Algarve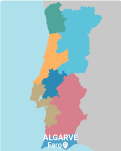 Properties in the Algarve attract everyone from retirees to second homeowners and investors.
It is one of the most popular holiday destinations in Portugal, known for its sunshine, stunning coastline, fresh seafood, top-class golfing, and innate natural beauty.
Easily reachable by plane to and from the UK, it's no surprise as to why there are so many English-speaking homeowners in this part of Portugal who own properties such as holiday homes, villas, and beach houses. 
If you would like to know more, take a look at our guide on where to buy property in the Algarve.
Porto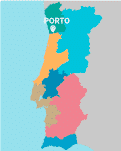 Popularly known as Portugal's second city, Porto is one of the oldest European centers. It's a bustling commercial city with a rich historical and cultural heritage.
Home of the famous Port Wine, it is a popular tourist destination in Portugal. Porto also has the reputation of being a hard-working city.
In terms of property, Porto offers good bargains in many of its districts, such as Ribeira, Foz do Douro, Vila Nova de Gaia and Vila do Conde.
If you would like to know more, take a look at our guide on where to buy property in Porto.
Cascais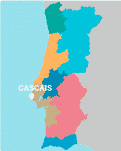 In recent years Cascais has seen a great influx of Europeans as well as non-EU nationals buying property. It is considered a popular alternative to buying a property in Lisbon.
This is in part due to its more relaxed environment and reasonable prices in comparison to Lisbon. The town is uncommonly rich in beautiful architecture, free museums, and carefully maintained parks.
It is also by the coast, with access to incredible beaches and other living amenities.
If you would like to know more, take a look at our guide on where to buy property in Cascais.
Other Locations
Some other locations worth considering include the following: Braga, Coimbra, Setubal, and Guimarães. 
For those who are buying for residential purposes, it might be useful to experience living in different areas before deciding on where to purchase a property.
Talk to a specialist
If you are looking for expert advice on buying property in Portugal, it can help to talk to a specialist.
Our team at Global Citizen Solutions can provide you with a personalized plan for purchasing a home in Portugal. Fill out the form below to schedule a free 15-minute consultation and discuss your options.
Market History and Overview
The Portuguese property market has become very popular amongst investors in recent years, especially among investors from abroad. This rise in foreign investment in the property sector of Portugal is largely due to the Portugal Golden visa scheme as well as properties being relatively cheaper than other parts of Europe.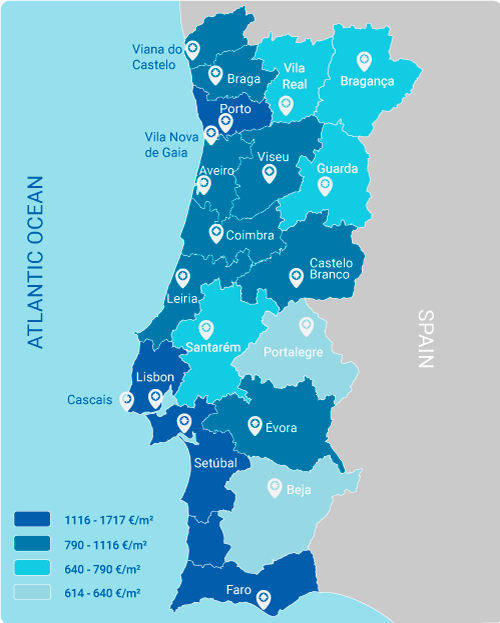 What
are property prices
l
i
ke i
n Portugal?

Property prices in Portugal are generally on the increase especially in the most popular areas (Lisbon, Porto & Algarve) due to overwhelming demand from foreign buyers and investors. The prices in Lisbon have increased exponentially and are much higher than some other regions' average prices. Analysts are predicting that property prices are set to continue rising for the immediate future.
Wh
ich
are the most expensive areas
to buy property in Portugal
?
Lisbon and the Algarve are by far the most expensive areas to buy property in Portugal. Lisbon, Cascais, Estoril, and Oeiras are some of the most expensive neighborhoods to buy property. Setubal near Lisbon is also an expensive place to buy property, just like in the Algarve areas such as Lagos, Albufeira, Tavira, and Lagoa. For luxury houses and apartments Vale do Lobo, Quinta do Lago, and Vilamoura are the best neighborhoods in the Algarve. 
Which areas are cheaper?
For cheap properties and great bargains, you should head inland, especially in the central region of Portugal. Another advantage is that many of the houses and land in these parts are very big and spacious. The Silver Coast is also an attractive area for people looking to buy cheap property. It is considered by many to be a good alternative to the Algarve, as it also has beautiful coastlines. 

Property in the Silver Coast 
When you think of beautiful coastlines and beaches in Portugal, the first place which comes to mind is the Algarve, and rightly so, but the next best place with an equally amazing coastline is the often-forgotten Silver Coast. It is situated between Lisbon and Porto, roughly an hour's drive from the capital city. 
The Silver Coast is an excellent alternative to the Algarve to buy a property by the beach, as the property prices are cheaper. There are great bargains to be gotten here as you can buy houses or apartments for less than €100,000. Some places to consider are Obidos, Peniche, Nazare, and Tomar. For more information, check out this article about living in the Silver Coast.
Property in
the
Algarve
The sunny Algarve is one of the top places in Portugal to purchase property or own real estate, either as an investment or for residence purposes. In the Algarve, there is plenty of choice in terms of property types ranging from apartments with sea view and villas to luxury houses and much more. 
The price of property in the Algarve also varies depending on the region. For example, Vilamoura is known for its luxury homes, making it one of the most expensive places to buy property in the Algarve. Lagos and Albufeira are also expensive areas to buy property. For cheaper properties in the Algarve, you will need to go to areas like Monchique and Alcoutim or more rural areas to find bargain deals.  For more information, take a look at this article about how to live in the Algarve.
Property in Lisbon 
Lisbon property is a prime investment right now, although prices have become massively inflated. Apartments and properties in the downtown area and neighborhoods around the city center have skyrocketed. It is still attracting many foreign buyers and investors looking for second homes or just buying as a financial investment. The most expensive areas in the Lisbon property market at this moment are Avenida da Liberdade, Baixa Chiado, and Lapa. 
For cheaper properties at more reasonable prices, you may want to consider areas such as Benfica and Amadora. 
Other alternatives to buying property in the Lisbon metropolitan area are Cascais and Estoril. They are both located 30 to 40 minutes' drive from Lisbon. Although the real estate prices here are gradually increasing too, and considered expensive in some areas, properties here still offer great value for money. Oeiras located between Lisbon and Cascais is also a good alternative. Check out this article about the best neighborhoods in Lisbon.
Property in Porto 
The property market in Porto is also showing some great signs of growth and it is generally considered a good place to buy property in Portugal. More and more people are looking for alternatives to the Algarve and Lisbon where real estate prices are rising rapidly. In this regard, buying a property in Porto also makes for a good investment as it is a commercial hub as well as a tourist hub in Portugal.  
There are different types of property to choose from throughout the Porto district. For example, apartments in the Foz do Douro neighborhood offer lovely views of the Atlantic, while Vila do Conde is an upcoming area where you can still find great bargains. The Ribeira neighborhood is also a good place to buy especially for commercial purposes. 
Where to look for property?
There are many online portals and real estate agencies that advertise properties for sale in Portugal. Some of them are: 
IMO – https://www.imovirtual.com/en/  
Casa Sapo – https://casa.sapo.pt/en_GB/  
Facebook can also be used to find properties for sale. 
Another way to find a property in Portugal is through a Buyer's Agent. A Buyer's Agents usually have access to properties for sales that are not advertised on the market and sometimes can get cheaper prices too.
Property specialists
Finding a property in Portugal can be a complicated process, and it is important to be aware of all the conditions that may apply to your specific circumstances.
Our team of specialists at Global Citizen Solutions has almost a decade of experience when it comes to property investment in Portugal. Click here to get in touch and start building your personalized investment plan.
Financing a Property in Portugal
If you're not making a one-time payment for the property you want to buy in Portugal, then you will probably need financing options to pay for the property. The most common is the mortgage loan. 
Mortgage loan 
You can decide to get a mortgage from a bank in your home country or a Portuguese one. Some Portuguese banks you can approach for mortgage loans are Santander, Novo Banco and BBVA. 
In most cases, non-residents can get a 25-year mortgage while residents can get up to 30 years. Also, non-residents will have to put up a 30% deposit while residents are only asked for 20% down payment. 
For more information about mortgage loans and financing property in Portugal see our article on financing property.
Step by Step: How to buy property in Portugal 
Buying a house can be difficult, whether in your home country or abroad. It can be even trickier when buying abroad without having much knowledge about the process. The good news is that the process involved in buying a house in Portugal does not entail too much paperwork and there are no restrictions on foreign ownership in Portugal. 
Requirements
Portuguese Tax Number
To purchase a property in Portugal, whether as a resident or non-resident, you will need to have a Portuguese tax (fiscal) number (número de contribuinte) also known as NIF. This can be obtained at any government finance office (Finanças) – You will need to show proof of your address and your passport to obtain a tax number. You will also need a tax number in order to open a Portuguese bank account. 
Means of Identification 
As a buyer, you will need to provide proper identification. It can either be a passport or a Portuguese ID card (Cartão de Cidadão). 
Bank Account 
Opening a Portuguese bank is advisable when buying a property to avoid dealing with frequent changes in the exchange rate. 
Property Purchase Process, Documents & Costs in Portugal
Purchasing Process
After agreeing on a price with the seller, the next thing is to conclude the purchase process. To conclude the purchase of a property in Portugal you should do the following: 
Step one – Involve a local lawyer or solicitor if you don't already have one.

 

Step two – Review the terms and promissory contract with your solicitor.
Step three – Both the seller and buyer sign the promissory contract. At this point, the buyer is also required to pay a deposit. This is normally 10% and will be forfeited if the buyer pulls out of the deal.

 
Step four – After the terms of the promissory contract have been met, the buyer and the seller or their representatives meet in front of a notary for the final act of sale. The buyer pays the remaining amount and the seller hands over the key.

 
Purchase Costs
In Portugal, the buyer incurs the following cost upon purchase of a property in Portugal  
IMT (Property Transfer Tax) – usually based on the value of the purchase price 

Stamp Duty – fixed at 0.8% of the purchase price 

Notary fees and Land Registration fee – usually not more than €600 
Document needed to buy a property in Portugal 
A

p

assport 

 

Portuguese tax number

 
Step one – Compare banks
Step two – Get your documents ready. Some of these documents are; 
ID Card or Citizen Card

 

Duplicates of the last three payroll documents

 

Floor plan of the apartment or house in Portugal that you intend to buy

 

Documents about other incoming sources (if any)

 

Credit Report

 

Last Income Tax Return and its Notice of Settlement

 

Plan of the building

 

Bank Statements (in Portugal and Overseas)

 

Employment confirmation letter

 
Step three – The bank evaluates the property and determine the Loan-to-Value 
Step four – Get life insurance. By law in Portugal, you need to get life insurance when contracting a Mortgage Loan 
For more about mortgage loan and financing property in Portugal see our article on financing property.
Is it worth buying property in Portugal
?
What to consider before buying property in Portugal?
In conclusion, you may have questions like, is it the right time to buy? Should I wait? What type of property should I buy? In truth, the answers to these questions are never straightforward, but one thing is for sure: owning a property in Portugal is a good financial investment.  
If you would like to buy, you need to decide fast and conclude deals as soon as possible as the prices are rising quickly.  
Also, buying a property in Portugal can get you residency and eventually Portuguese citizenship through the golden visa scheme. For you to qualify for this program you must buy a property in Portugal worth at least €500,000. 
Is it worth buying property in Portugal for rent?
Buying a property to rent in Portugal is a good financial investment. It is worth it as there is more demand for accommodation than what is currently available — especially in Lisbon and Porto. Also, rental yields during peak tourism season make property rental in Portugal a viable investment.
Renting vs buying property 
This largely depends on what you want to do in Portugal, either living long term or to have a second home. Either way renting before buying is a popular option amongst expats who move to Portugal as this gives you the opportunity to sample different areas before making a huge commitment to purchasing a place. Some things to consider when deciding between renting vs buying are: 
Flexibility
In this regard, renting gives you more room and freedom to try out different areas of the country. You can see what suits you better as you are not committed to any place yet. It is also not a huge financial liability in case you decide to move out of Portugal as opposed to trying to sell your property if for some reason you decide to leave Portugal.  
Security 
Owning a home gives you a certain sense of security which renting doesn't necessarily offer. Although the housing laws in Portugal are generally in favor of the tenant, you are still somewhat at the mercy of the owner of the house as he/she can decide to sell the property or even decide not to accept the renewal of your lease. 
Golden Visa Scheme
If you have the financial means, buying a property worth at least €500,000 in Portugal can make you eligible for the Portuguese Golden Visa which allows you to work and live in Portugal as well as have free visa travel in the Schengen area.  
Type of property 
In Portugal, renting limits the type of property you will have access to. Especially if you're looking for long term rents in places like the Algarve where homeowners prefer short term sublets during the high season because of the rental income they make in these periods.
Cost 
Generally, the cost of buying a property in Portugal is relatively cheaper than in other European countries. So, it may be a good idea to purchase a property now because the prices are still cheap and can be sold in the future at a great profit as opposed to paying rent which in real terms is dead money.  
Is there a real estate bubble in Portugal?  
The Portuguese economy has gradually recovered from its financial crisis and recession. Tourism is booming again and in turn, the housing market is breaking new grounds. In fact, generally, the demand for property in Portugal in the major cities right now outweighs the supply of property. This has pushed prices of property upwards, for example, in Lisbon prices have gone up by at least 25% in the past three years. Also, there are constant renovations of derelict buildings and constructions of new apartment buildings as well as new hotels springing up. This has also led to the gentrification of some neighborhoods in recent years.  
All of these have contributed to the increase in rent and point to the existence of a real estate bubble in Portugal as many properties are being overvalued. The property bubble is set to be around for a while if the interest from foreign investors does not slow down as they represent the highest number of buyers in the past few years. 
Get in touch
Global Citizen Solutions provides specialist advice for immigration and investment in Portugal. If you are looking to invest or acquire residency in Portugal, our team of in-country specialists can help you. Every query is answered within a day, and the initial 15-minute consultation is free.
Get in touch to begin working on your personal plan.
Global Citizen Solutions - AMI Registration 17987
DISCLAIMER: This guide on How to Buy a Property in Portugal is not intended as a substitute for legal advice. Whilst we take care to ensure that all our information is correct and up-to-date, it is important to always rely on professional advice or the relevant legislation when considering your particular circumstances.
FAQ – Frequently asked questions about buying property in Portugal