Portugal's property market is booming and expats are catching on. From year-round sunshine to fantastic living standards, excellent cuisine, and a high-quality healthcare system and schooling, international families are purchasing property in droves. In fact, 2020 has seen a rise in the volume of real estate transactions, setting Portugal's property market up for success despite the ongoing COVID-19 pandemic. How to buy property in Portugal? If you're considering buying a property in Portugal, you've come to the right place. In this Ultimate Guide to how to buy a property in Portugal, you'll learn everything you need to know so you can purchase real estate with confidence and clarity.
Why buy property in Portugal?
There are many reasons why Portugal is the 'it' destination for real estate investors. Here's why you should consider buying a property in Portugal.
10 reasons to buy property in Portugal
Purchasing and keeping ownership of a property for at least five years can make you eligible for Portuguese citizenship.
The opportunity to own a home where there is sunshine all year round
The cost of living in Portugal is one of the lowest in Europe
It is an investment with high rental yields
Portugal is a safe place to live with a high level of political stability
It is a beautiful country with unspoiled nature and golden beaches
Portugal offers a very high quality of life
Great tax incentives through the NHR scheme
It is easily accessible from Europe, Africa, and the US
Public infrastructure such as healthcare and transportation are widely available and accessible.
Where to buy property in Portugal?
There are many places to buy property in Portugal, and the best place for you depends on your budget and the type of property you're interested in. Each region is unique and offers different advantages. Some places you might like to consider are:
Lisbon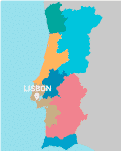 Lisbon is the capital city and the major economic hub of Portugal. It is a beautiful city filled with history that has seen its stock rise in terms of tourism and commercialization. This makes it a perfect place to buy a property in Portugal, whether for commercial purposes or for living.
It is important to note that property prices in Lisbon have seen a sharp increase, so buying here is now actually quite expensive.
If you would like to know more, take a look at our guide on where to buy property in Lisbon.
The Algarve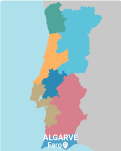 Properties in the Algarve attract everyone from retirees to second homeowners and investors.
It is one of the most popular holiday destinations in Portugal, known for its sunshine, stunning coastline, fresh seafood, top-class golfing, and innate natural beauty.
Easily reachable by plane to and from the UK, it's no surprise as to why there are so many English-speaking homeowners in this part of Portugal who own properties such as holiday homes, villas, and beach houses.
If you would like to know more, take a look at our guide on where to buy property in the Algarve.
Porto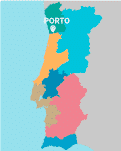 Popularly known as Portugal's second city, Porto is one of the oldest European centers. It's a bustling commercial city with a rich historical and cultural heritage.
Home of the famous Port Wine, it is a popular tourist destination in Portugal. Porto also has the reputation of being a hard-working city.
In terms of property, Porto offers good bargains in many of its districts, such as Ribeira, Foz do Douro, Vila Nova de Gaia and Vila do Conde.
If you would like to know more, take a look at our guide on where to buy property in Porto.
Cascais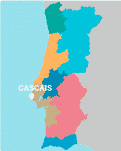 In recent years Cascais has seen a great influx of Europeans as well as non-EU nationals buying property. It is considered a popular alternative to buying a property in Lisbon.
This is in part due to its more relaxed environment and reasonable prices in comparison to Lisbon. The town is uncommonly rich in beautiful architecture, free museums, and carefully maintained parks.
It is also by the coast, with access to incredible beaches and other living amenities.
If you would like to know more, take a look at our guide on where to buy property in Cascais.
Other Locations
Some other locations worth considering include the following: Braga, Coimbra, Setubal, and Guimarães.
For those who are buying for residential purposes, it might be useful to experience living in different areas before deciding on where to purchase a property.
Talk to a specialist
If you are looking for expert advice on buying property in Portugal, it can help to talk to a specialist.
Our team at Global Citizen Solutions can provide you with a personalized plan for purchasing a home in Portugal. Fill out the form below to schedule a free 15-minute consultation and discuss your options.