Portugal's innovation-friendly environment, supportive ecosystem, and warm, welcoming culture make it a preferred destination for startups. The Portugal Startup Visa is a unique opportunity for foreign entrepreneurs aiming to develop their startups to move to Portugal.
The IAPMEI, Portugal's Agency for Competitiveness and Innovation, provides the Startup Visa. This residence visa for entrepreneurs was created to attract foreign investments, highly qualified professionals, an innovation ecosystem, and talent to Portugal.
Benefits of the Portugal Startup Visa
Portugal residency with relatively low costs
The Portugal Startup Visa grants you the right to live and work in Portugal, a country renowned for its affordable cost of living, high quality of life, and stunning natural beauty.
Moving to Portugal
This visa facilitates your move to Portugal. It provides an attractive path for entrepreneurs from around the globe to obtain residency, relocate, and launch their startups.
Visa-free travel to the Schengen Area
Being a Portugal Startup Visa holder allows you visa-free access to the Schengen Area, allowing access to Portuguese and European markets and opening up opportunities for networking and business expansion across 26 European countries.
Starting a business in Portugal
This visa program aids in establishing your business venture in Portugal, providing access to incubators and a rich, dynamic startup ecosystem for your new Portuguese venture.
Another key advantage Portugal holds over its counterparts such as France, Spain, and Italy is its high proficiency in English.
Tax optimization
Portugal offers competitive tax benefits to startups. As a Startup Visa holder, you can use the Non-Habitual Resident (NHR) regime for tax optimization. The Non-Habitual Residency Tax Regime offers a 10-year tax break on almost all types of foreign-sourced income. Under this scheme, income sourced from Portugal is taxed at a fixed 20 percent rate, and individuals with foreign pensions remitted to Portugal pay taxes at a flat rate of just 10 percent.
See: A Guide to NHR: The Non-Habitual Resident Portugal Tax Regime
Opportunities for citizenship and permanent residency
After five years of legal residence in Portugal, Startup Visa holders can apply for permanent residence or even Portuguese citizenship, subject to fulfilling other relevant requirements. In order to acquire permanent residency or citizenship, you must show a knowledge of the Portuguese language.
In comparison, countries like Spain require a considerably longer residency period, often extending beyond ten years, before eligibility for naturalization is possible.
See: Spain vs Portugal Golden Visa Program Comparison
Access to infrastructure
Regarding workspace, in Portugal, major cities like Lisbon and Porto offer an array of affordable, modern co-working spaces. These facilities, such as the Beato Creative Hub – supported by Startup Lisboa, cater to the increasing demand for flexible, remote working spaces, especially within the information technology or "tech" industry.
The Beato Creative Hub is expected to be one of the most prestigious facilities of its kind in Europe upon its completion. Furthermore, long-term commercial space rentals in Lisbon can be up to 80 percent cheaper than startup locations in London, reinforcing Portugal's appeal for startups.
Portugal Startup Visa Requirements for Applicants
The Portugal Startup Visa requirements include presenting a scalable and innovative business idea documented in a detailed pitch deck. Applicants must also demonstrate their startup's potential for job creation and meet specific financial thresholds.
Overseen by Portugal's Ministry of Economy and Internal Affairs, the Startup Visa program lays down specific criteria for potential foreign investors. Firstly, a solid financial standing is paramount. Additionally, an investor must present a viable and promising business plan. Entrepreneurs whose current businesses are not based in Portugal but wish to set up operations in the country must come prepared with a strong business plan.
Foreign entrepreneurs who aspire to secure the Startup Visa and obtain a work and residence visa should meet the following requirements:
Demonstrate an intention to engage in business activities that produce innovative products or services.
Initiate or relocate businesses or projects with a strong focus on technology and knowledge, intending to develop groundbreaking products.
Exhibit the capacity for creating jobs.
Show the potential to achieve either a turnover exceeding €325,000 per year or a total value of assets surpassing €325,000 per year within five years following the incubation period.
Initiated on 15 March 2018, the Startup Visa application process remains open-ended, with no submission deadline. Applicants can apply online through the IAPMEI website. Following application submission, a final decision will be delivered within 30 working days and posted on the electronic portal within three days of the decision.
Required documents
In order to successfully acquire the visa for your Portuguese business venture, you need to have the following documents:
A motivation letter expressing your interest in launching an innovative and entrepreneurial business venture in Portugal.
Your Curriculum Vitae or resume.
Proof of residency in a country outside of the European Economic Area.
Proof of no debt to Social Security or a Tax Authority.
If you have it, a file that presents your startup project.
A copy of your passport.
If you have already acquired a tax identification number (NIF) and social security number (NISS) in Portugal, you should attach those documents with your application.
A Police Clearance Certificate is necessary to demonstrate a clean criminal record.
Lastly, a bank statement verifying your financial means of €5,146.80 and demonstrating that you can transfer these funds to a bank operating within Portugal.
Assessment process
The business's economic and innovative capacity is assessed based on several factors. These include the following:
Level of innovation involved
Potential for business scalability
Market potential
Management team's competence
Potential for generating skilled employment opportunities in Portugal
Applicant's significance within the team.
Startup Visa Costs for an Applicant
The Portugal Startup Visa fee is relatively modest. Still, applicants should be prepared to cover initial living expenses and the investment required to start their business. To get a Startup Visa, you must open a company working with a Portuguese business incubator.
Plan for the following costs:
Opening a company
There is no obligatory investment threshold. However, an entrepreneur is expected to have the funds to create a project, open a business venture, or transfer an existing business to Portugal.
Living in Portugal
You need to have €5,146.80 in a bank account that can be transferred to a Portuguese bank account. You also need to set aside money for renting or buying property to use as your registration address.
Government fees
The visa costs €90 per person and €85.05 for a Portugal residence permit.
Additional costs
Additional costs can include health insurance, legal services, tax representation services, and your trip to Portugal to register with Portugal's immigration service, SEF.
Which Company May Be Suitable for a Startup Visa in Portugal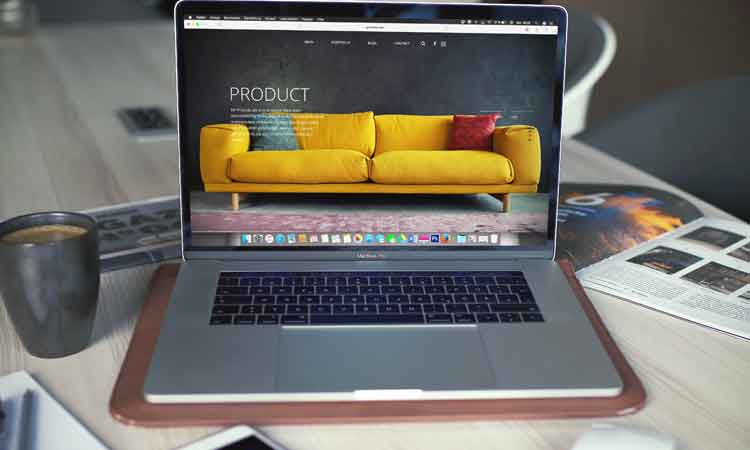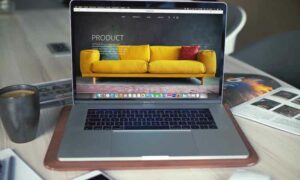 Tech startups often fit well with the Portugal Startup Visa program. In recent years, Portugal has positioned itself as a vibrant hub within the European tech landscape, giving birth to several globally renowned startups such as Farfetch and Outsystems. A pool of highly-skilled talents, robust investment opportunities, excellent English proficiency, and excellent quality of life back Portugal's startup scene.
Portugal's ascension in the tech scene is further amplified by hosting Web Summit, the world's biggest tech event. With its success stories and famed living conditions, Portugal draws an increasing number of international founders and investors to its shores.
However, any company with a scalable, innovative startup idea that can contribute to the Portuguese economy and international markets may be suitable.
Differences Between the Startup Visa and the Portugal Golden Visa
The Portugal Startup Visa and the Golden Visa serve different purposes. While the Startup Visa is aimed at entrepreneurs looking to launch a startup, the Golden Visa is an investment visa requiring a substantial financial investment in Portugal.
Note that the Golden Visa program is ending, whereas the Startup Visa program has no plans to end soon.
Step-by-Step Procedure for Obtaining a Portugal Startup Visa
Embarking to obtain a Portugal Startup Visa requires careful planning and a strategic planning approach. Here's a step-by-step guide to navigating the process.
Preliminary due diligence
Conducting initial due diligence is crucial. This involves researching the Portuguese market, understanding the existing startup ecosystem, and determining the feasibility and scalability of your innovative business venture or idea in Portugal. It's beneficial to familiarize yourself with Portugal's culture, laws, regulations, and potential business challenges.
Gathering the documents
Accumulate all the necessary documents for your visa application. This includes proof of financial resources, health insurance, a criminal record check, and a detailed business plan. The business plan should communicate your startup project's innovation, scalability, job creation potential, and market relevance effectively.
Applying to IAPMEI
IAPMEI, Portugal's Agency for Competitiveness and Innovation, is responsible for certifying your startup for the Portugal Startup Visa. Submit your business plan, pitch deck, and other necessary documents to IAPMEI's online platform for evaluation.
Finding a business incubator
Accepting a certified business incubator is part of the Portugal Startup Visa requirements. After getting your startup certified by IAPMEI, you should reach out to a Portuguese business incubator that aligns with your startup's field. A successful application will provide valuable support and resources for your startup's growth.
Consideration of the application
After submitting your application and documents to IAPMEI and being accepted into a startup incubator, the consideration phase begins. The IAPMEI, along with the business incubator, will review your application thoroughly. This stage may take several weeks to a few months.
Getting the visa
You will be issued a Portugal Startup Visa if your application is approved. This visa permits you to enter Portugal and initiate your startup operations. You should apply for a residence permit within six months of entering Portugal.
Applying for a residence permit
Once in Portugal, apply for a residence permit at Portugal's local immigration authorities (SEF). This involves submitting the necessary documents and scheduling an appointment with the immigration service at SEF.
Getting a residence permit card
Upon approval of your residence permit application, you'll receive a residence permit card. This card officially establishes your status as a resident in Portugal, giving you legal rights to live, work, and build your startup in Portugal, along with other benefits. After five years of maintaining your temporary residence permit, you can apply for permanent residence in Portugal.
Can family members join under the Startup Visa program?
When you receive a Portugal Startup Visa, one of the key benefits is the possibility of family reunification. This allows your family to join you in Portugal while you establish your business. Your spouse, minor children, or financially dependent parents can apply for their own residency permits. The application for family reunification can be made concurrently with your visa application. However, it's crucial to note that the approval of their visas is contingent on your visa being granted.
Once in Portugal, your family members are free to live their regular lives, which includes pursuing professional activities. This means that your spouse or adult children can work, study, or start their own businesses.
To apply for family reunification, certain documentation requirements must be fulfilled. These may include proof of family ties, such as marriage or birth certificates, and evidence that you have enough money to support your family members.
Remember, after five years of legal residency in Portugal, you and your family members may also apply for permanent residency. This Startup Visa program is thus an excellent opportunity to visit Portugal, establish a thriving business, and potentially become permanent residents.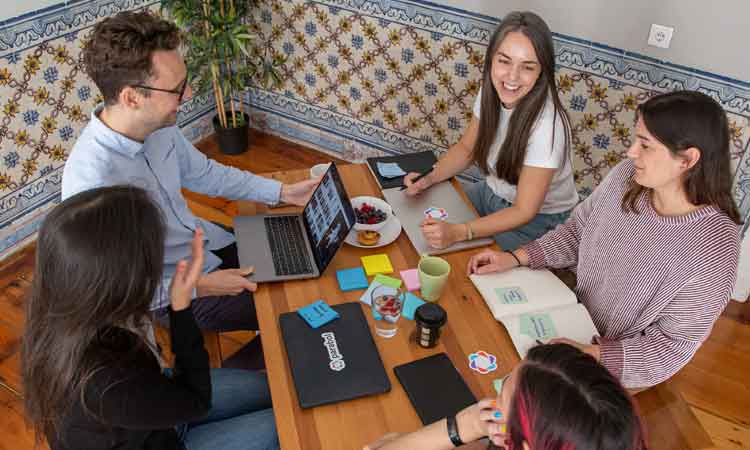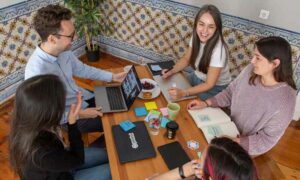 How We Can Help You In Your Application to the Startup Visa Program
We can help you apply for the Startup Visa Portugal program. We're Portuguese immigration experts and can help you apply for and gather required documents like a Portuguese tax identification number (NIF), we can help you in opening a Portuguese bank account, creating a detailed business plan, finding property, and navigating the Portuguese tax system.
We're a team of multi-lingual experts, simply reach out today, and we can start advising you on your Startup Visa application.
How do I get a Startup Visa for Portugal?
You must meet the eligibility criteria to get a Startup Visa for Portugal. This includes intending to develop innovative products or services, creating qualified employment, and the potential for significant business growth.
You'll then need to gather necessary documents such as a motivation letter, CV, project presentation, valid passport and copy, and proof of financial means. The application is submitted online via the IAPMEI website.
Can a US citizen start a business in Portugal?
Yes, a US citizen can start a business venture in Portugal. They can do so either by moving their existing business or starting a new one. In both cases, they would need to obtain a visa, such as the Startup Visa, specifically catering to entrepreneurs. This would allow them to live and work in Portugal and establish their business.
What are the benefits of a Startup Visa in Portugal?
The benefits of the startup visa in Portugal are numerous. It allows for residency in Portugal with relatively low costs and provides visa-free travel to the Schengen Area. This visa offers opportunities for starting a business venture in Portugal and offers potential tax benefits through Portugal's Non-Habitual Residency Tax Regime.
Additionally, it provides a pathway to permanent residency and/or citizenship after five years of legal residency.
The country's thriving startup ecosystem, high English proficiency, and quality of life make it a desirable location for entrepreneurs.