If you haven't yet heard of the Portuguese Riviera, it's time to discover this stunning region. This incredible coastline stretches out to the west of Lisbon, and its upmarket seafront neighborhoods make it popular with both expats and investors.
Are you considering it but aren't sure where to buy property in Cascais? Take a look through this article to find out more about the different areas and where is the best place to invest. Buying property in Portugal has become increasingly popular with expats and investors, and Cascais is one of the true gems of the country.
The History of the Portuguese Riviera
The Cascais municipality is one of the wealthiest areas, not just in Portugal but also throughout the entirety of the Iberian Peninsula.
The region was first established as a luxury resort for Lisbon's wealthiest residents in the 1800s when the King of Portugal, Luis I, established a summer residence in the town.
The area's upmarket reputation was later solidified with the Casino Estoril. Construction began in 1916. Today, the casino is one of the biggest in Europe and served as an inspiration to James Bond writer Ian Fleming, who visited the area as an intelligence agent for the British government in 1941. The Estoril promenade is also worthy of mention and is the perfect place to head to in the evenings to watch the sunset. Estoril center also has wellness centers if you are looking for a bit of relaxation.
Due to the country's neutrality during WWII, the Portuguese Riviera became a hotspot for dispossessed royals and spies, and even today, the beauty and luxury will remind visitors of the set of a James Bond film.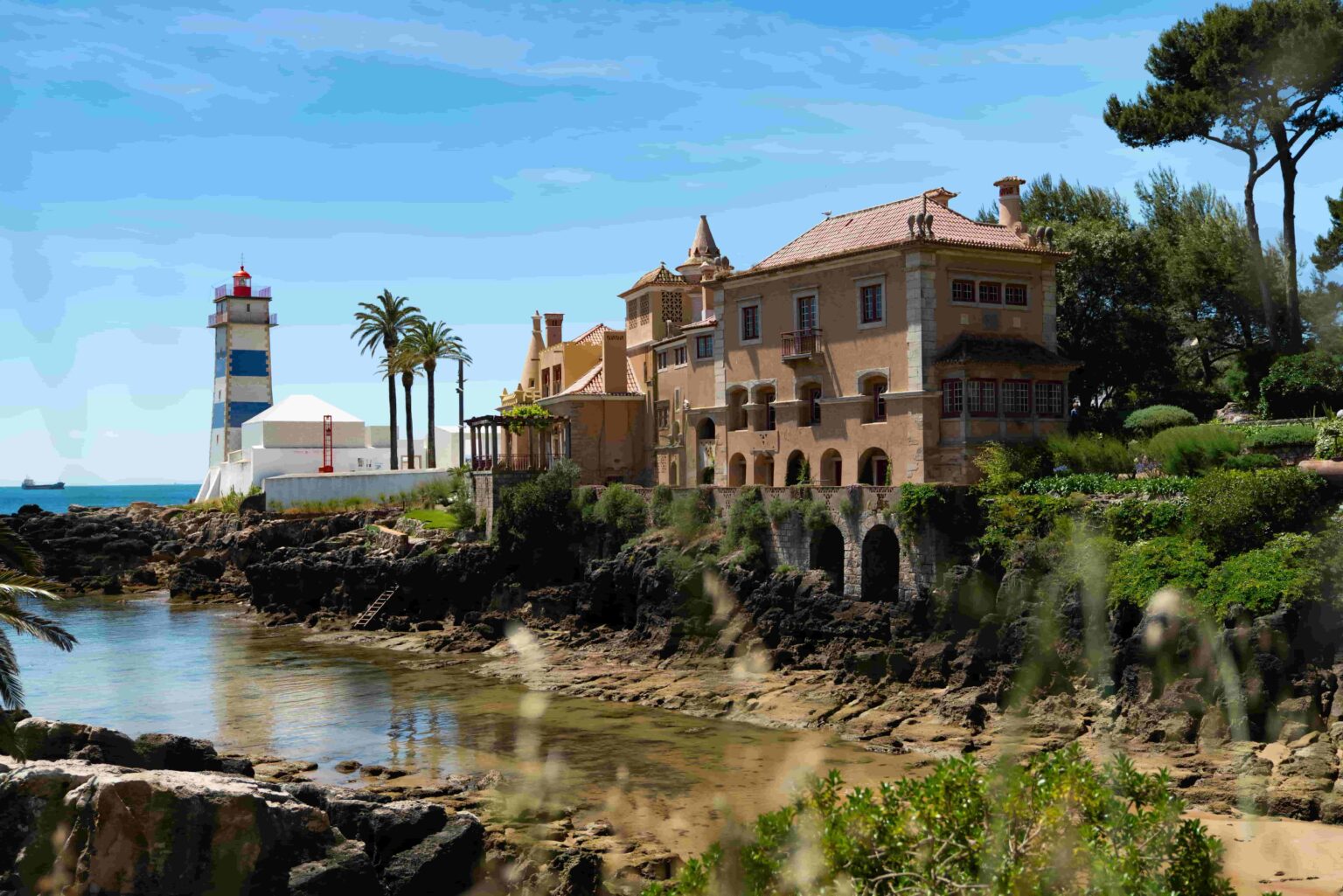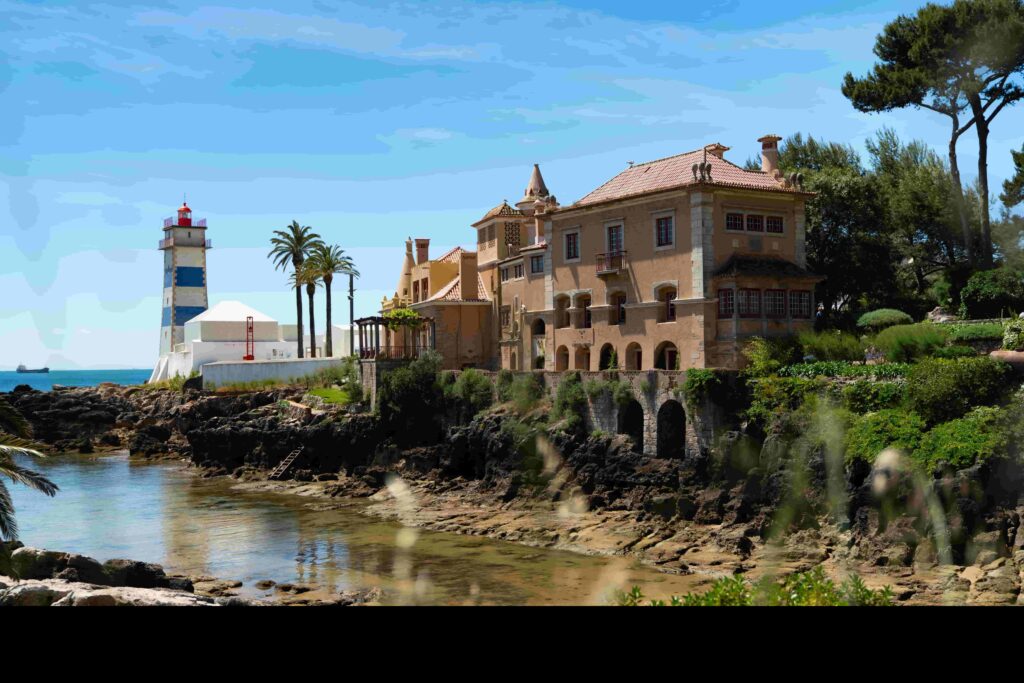 Why buy property in Cascais?
The Cascais municipality isn't just beautiful—it is also a fantastic location to invest in property. It's not difficult to understand what makes the area one of the most highly valued in Portugal. It is placed on a picturesque stretch of coastline but is also close to the capital city. A train line links the neighborhoods along the beach with the center of the city, and Lisbon is less than 45 minutes away by car, making it an excellent idea to buy property in Cascais.
Cascais Overview
Climate in Cascais
Cascais benefits from a moderate climate, with hot weather in the summer and mild winters. In the summer, there are average highs of 26 Degrees C, though daytime temperatures frequently surpass 30 Degrees C. It also has the benefit of being by the Atlantic coast, which means even on the hottest days, there is usually a sea breeze to provide some relief from the heat. In January, the coldest month, average lows are around 11°C.
Beaches in Cascais
Anyone looking to buy property in Cascais will probably already know that the area is famous for its beaches, with some of the most popular being Carcavelos, the Praia da Rainha in the town of Cascais, and Guincho on the coast to the north. The beaches are not only beautiful but also varied. Carcavelos is popular with surfers, whereas the calm waters of São Pedro are more popular with beachgoers who are looking to work on their tan. The rugged coastline of Sintra offers something entirely different, and although it can be windier than Cascais, it is better for those who prefer wilder, less developed coastlines. One thing is for sure: Beach lovers will find many different kinds of beaches close to Cascais to explore.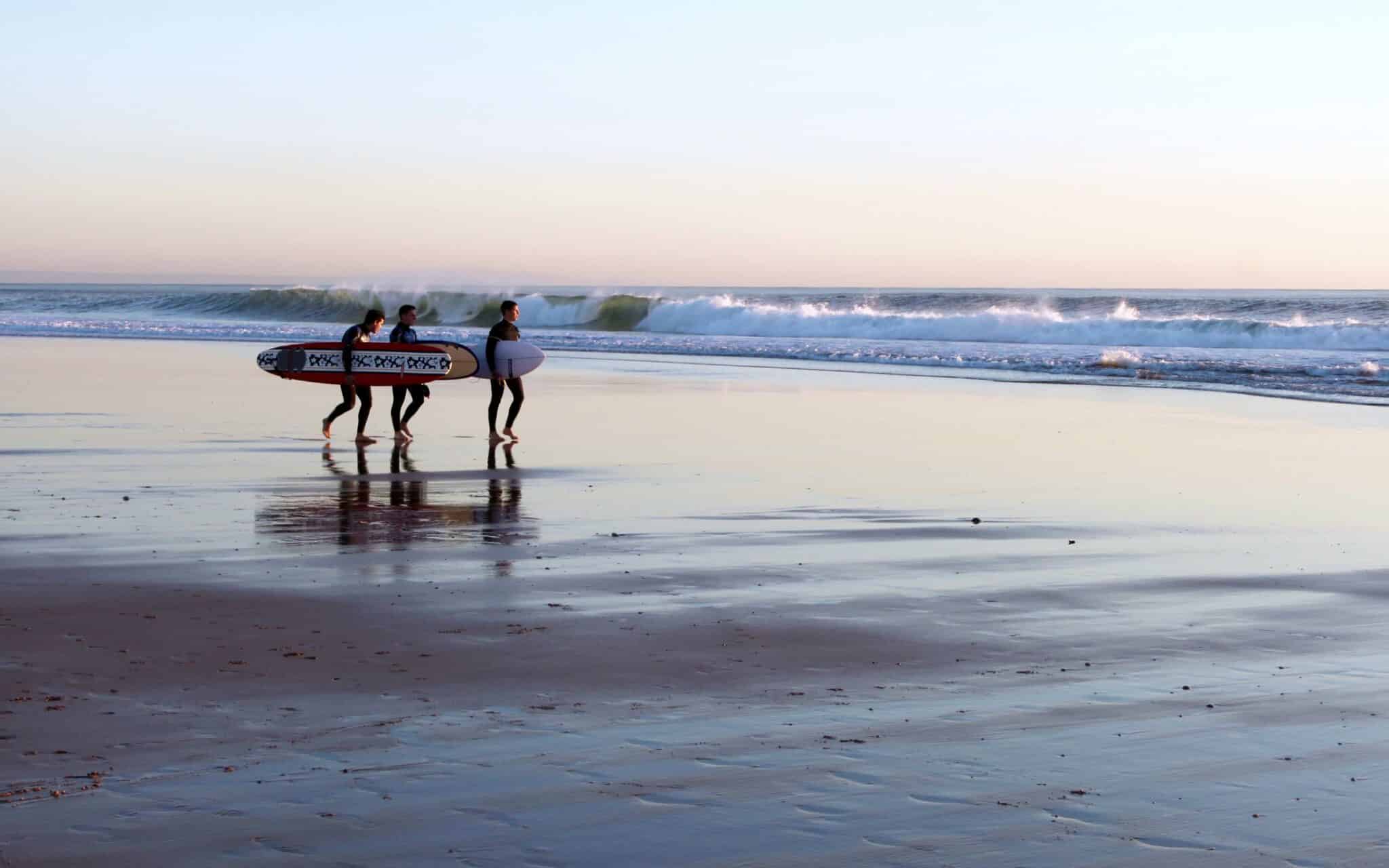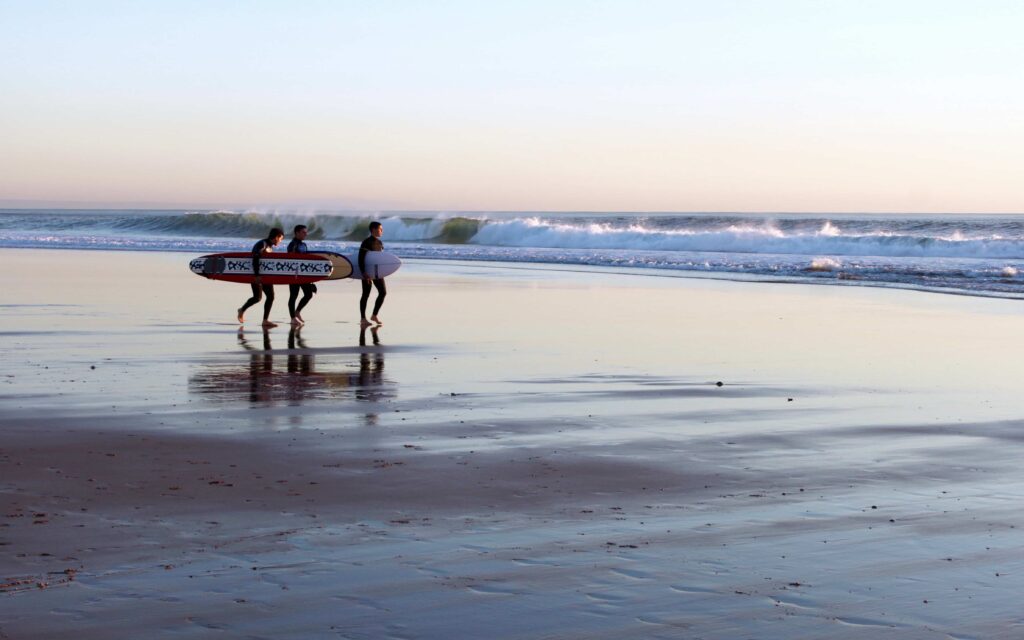 Culture in Cascais
One of the highlights of living in Cascais is the diverse cultural activities it has to offer. There are a number of art galleries in the town of Cascais, including the Casa das Histórias Paula Rego and the Museu Condes de Castro Guimarães.
Luxury living in Cascais
The Cascais greater area is known for its luxury, from the casinos to the golf courses and Michelin-star restaurants. There are a number of high-end restaurants to choose from, including two Michelin-starred restaurants overlooking the Penha Longa golf course: LAB and Restaurante Arola. Alongside the fine dining, there are many opportunities to drink cocktails and good wine at many places along the Cascais coastline. One of the highlights is the Palacio Hotel in Estoril, where you can drink a martini in one of the places that inspired James Bond.
Expats in Cascais
The high quality of living in Cascais attracts many expat communities to the area, as well as the excellent local schools and the proximity to Lisbon city center.
Property Map of Where to Buy Property in Cascais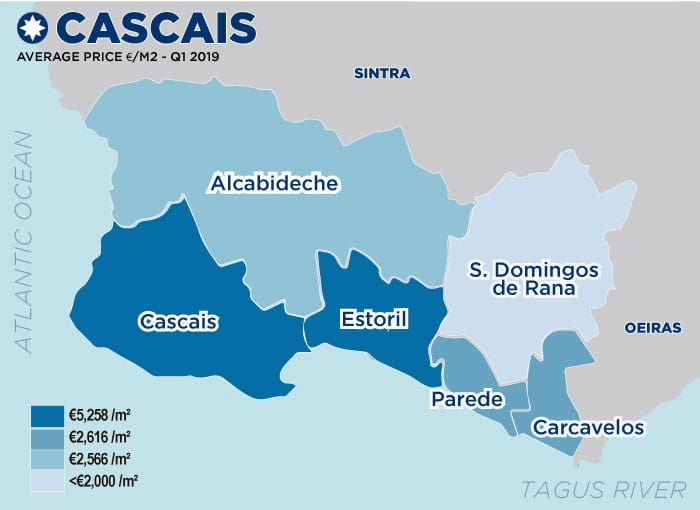 Cascais and Estoril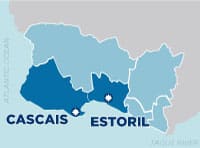 – Upmarket
– Good amenities
– Family-friendly
Visitors to the town of Cascais will find themselves among the palaces and turreted mansions that bring to mind its regal past. Homes in Cascais and Estoril are among some of the most expensive in the entire municipality. You will also find the gorgeous Praia da Rainha here, which you can head to even in the depths of winter, and Cascais Marina, where you can enjoy strolling around on a lazy Sunday afternoon.
Estoril is the location of the famous Casino Estoril, which is the oldest in Portugal and the largest in Europe. The leafy suburbs in the surrounding area have large, spacious houses, many with swimming pools and just a short distance from the beach.
Property prices in Cascais and Estoril
The average asking price for a property here is €6,898m².
Advantages of property in Cascais and Estoril
Life in the Cascais region is incredibly family-friendly, with a number of good international schools to choose from, such as Park International School, St John's School, and St Antonio International School. There is also a wide variety of excellent housing on offer, with spacious, detached homes close to all the necessary amenities, like supermarkets, gyms, and yoga studios. The area has excellent transport links—residents can be in Lisbon's business district in 30 minutes.
The Cascais housing market is also very highly valued, as well as stable, and has seen a 37% increase in house prices over recent years.
---
Carcavelos and Parede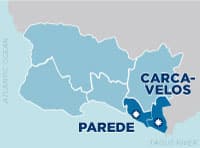 – Beautiful beaches, good for surfing
– Spacious houses
– Family-friendly
Halfway between Lisbon and Cascais, the neighboring suburbs of Carcavelos and Parede have a laid-back and tranquil quality of their own. With large, detached houses leading down to the beach, these areas are a favorite spot for surfers, owing to the quality of the waves on Carcavelos beach.
The beachfront is transformed during the summer, as it is one of the preferred weekend getaways for Lisbon residents looking to escape the heat.
Property prices in Carcavelos and Parede
The average asking price for a property is €4,745 € per m².
Advantages of property in Carcavelos and Parede
Like Cascais and Estoril, Carcavelos and Parede also have a number of excellent international schools, such as St Julian's School and St Dominic's International School. It is also a hotspot for outdoor sports. In the winter months, it gets some of the best waves in Portugal, and it is also a good spot for bodyboarding and paddleboarding in the summer, as well as kitesurfing and kiteboarding.
Alcabideche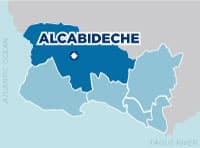 – Cheaper investment option
– Good for golf courses, hiking, cycling
– Family-friendly
One of the more reasonably priced areas of the Cascais district, Alcabideche is situated along the coast to the north of the town of Cascais. It offers the opportunity for investment at a lower cost, while still having all the advantages which the Cascais area has to offer, such as beautiful coastlines and a convenient location. In terms of schools, there is the IPS-International Preparatory School and St James's Primary School.
One of the advantages of Alcabideche is its proximity to Sintra Natural Park, which is convenient for anyone interested in hiking and cycling. It is also close to the Penha Longa and Oitavos Dunes golf courses.
Property prices in Alcabideche
The average asking price for property is €5,527  per m².
How Can We Help You Find Your Dream Property?
Our mission goes beyond standard real estate services. Here's how we stand out in making your property dreams come true:
LOCAL KNOWLEDGE: We have offices throughout Portugal, ensuring a strong presence from the mainland to the Azores and Madeira. Additionally, we're recognized members of the AIPP (Association of International Property Professionals).
INDEPENDENT SERVICE: We don't represent any specific development or project, ensuring our advice remains impartial. By objectively analyzing every opportunity, we focus on maximizing your investment prospects. We partner with various agents, sellers, promoters, and developers, ensuring a broad spectrum of property options. Our goal is straightforward: to help you find the best property at the most favorable price, whether you're buying or renting.
STREAMLINED PROCESS: We provide a dedicated real estate consultant paired with a top-notch client management system for smooth information exchange. With the aid of advanced technology, like metasearch tools, we guarantee expansive market coverage. Our viewing itineraries are tailored to your needs, and we're always ready to assist, be it in-person or on your behalf. When it comes to pricing, we use data-driven analysis to ensure you get the best deal. And, to make your journey smoother, we assign a dedicated onboarding account manager for every client.
ALL-ENCOMPASSING SOLUTION: Navigating financial aspects? We're here to guide you through finance options and manage the required documentation. If you need property management solutions or connections to builders, architects, designers, and gardeners, we have you covered. Relocating? Our concierge services are designed to assist in everything, from securing accommodations to handling utility connections.
TRANSPARENCY AND PRIVACY: We operate with a commitment to GDPR compliance, ensuring your data is protected. Expect a clear and detailed pricing model from us, without any hidden surprises. Plus, we provide independent due diligence services to ensure every decision you make is informed.
Is it better to rent or buy property in Cascais?
Whether it is better to rent or buy property in Cascais depends completely upon the individual circumstances of each person. Buying a property in Cascais is, however, a good investment opportunity.
If you would like to talk to a property specialist about what investment opportunities could be available to you, schedule a free 15-minute consultation with one of our team today.
Is it better to buy property in Cascais or Lisbon?
There are a number of benefits to buying property in both Cascais and Lisbon. Both present as stable investment opportunities, with the price of property has risen steadily over the past few years and is forecast to continue doing so. The difference between the two is in what they offer; while properties in Lisbon will be closer to the city center, homes in Cascais are larger and closer to the beach.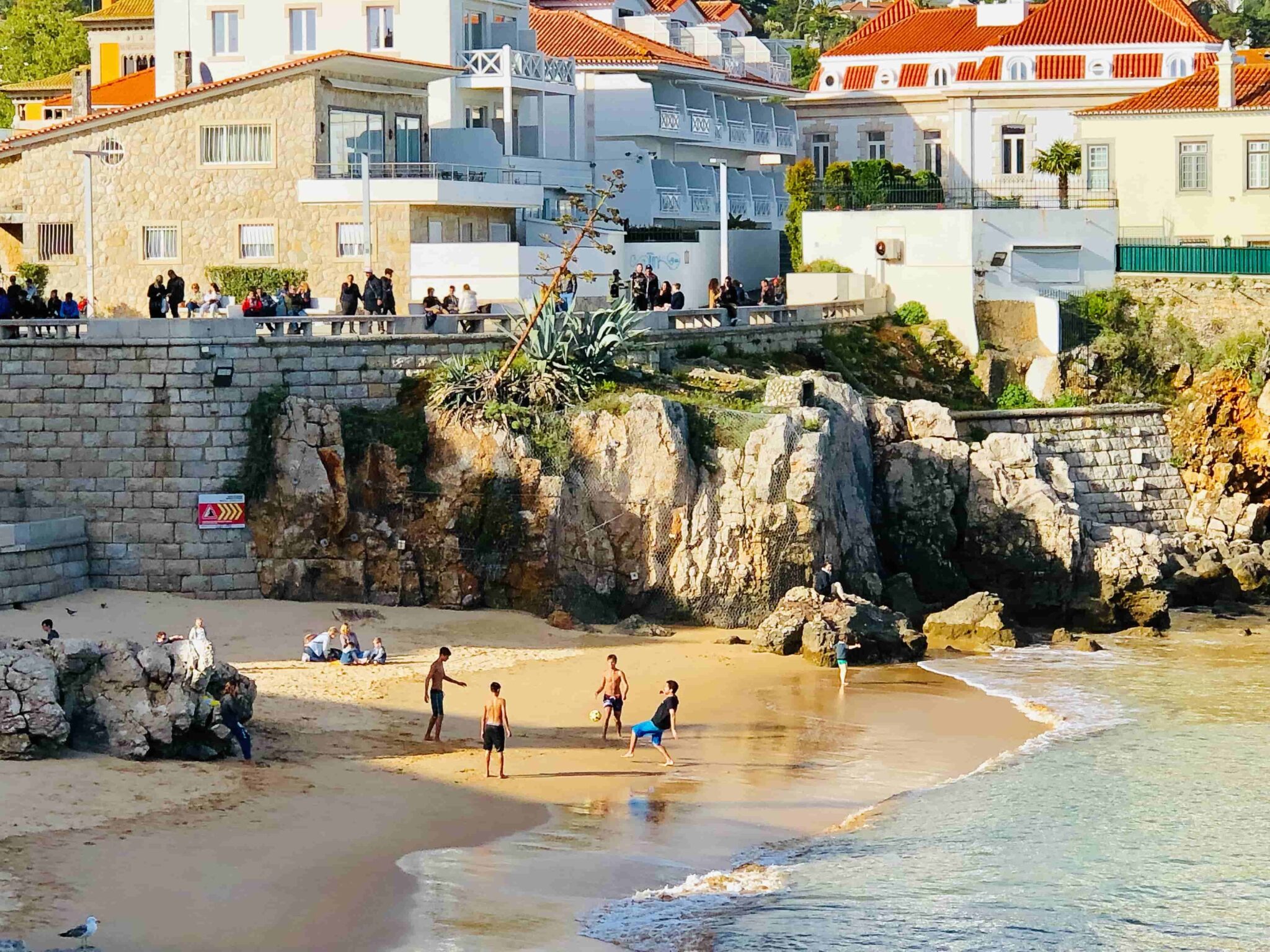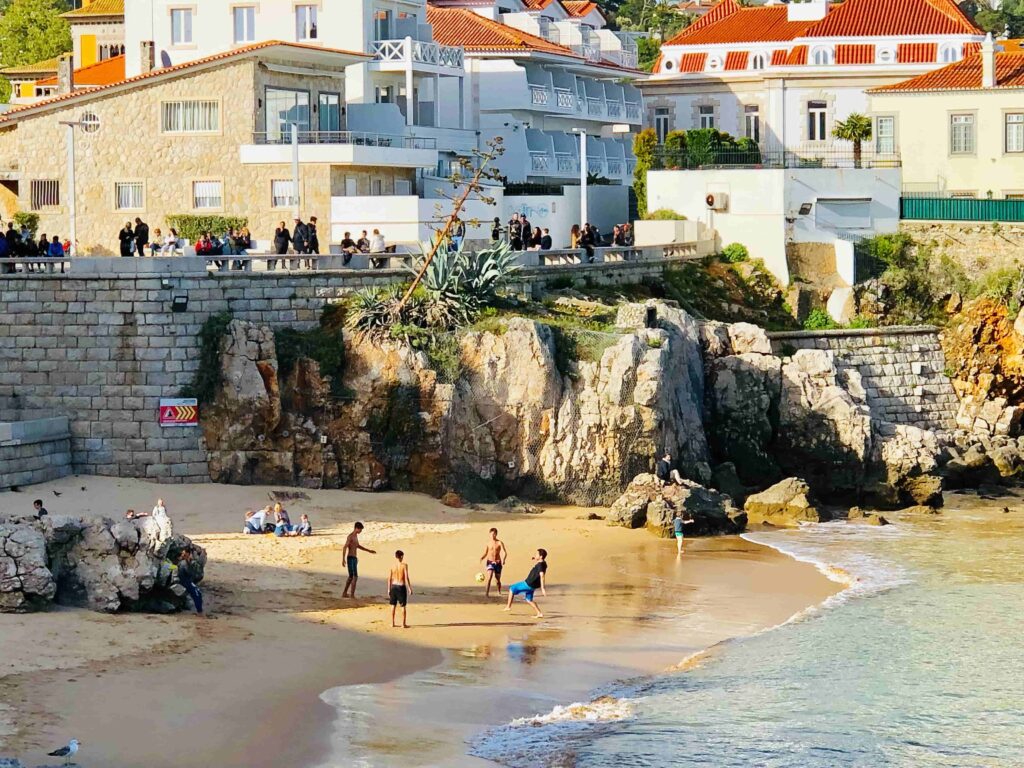 Exploring Visa and Immigration Options for Portugal
If you're considering making the move to Portugal, it's essential to be informed about the various visa and residency options available. The Golden Visa Portugal program is an attractive option for many, offering residency to investors and their families. For those eyeing retirement in this beautiful country, the Retirement Visa (D7) is tailored for you. Digital nomads can take advantage of both short and long stay options with the Nomad Visa (D8). Meanwhile, the NHR - Non Habitual Tax regime provides significant tax benefits for new residents. 
For the entrepreneurial spirit, Portugal offers the Entrepreneurship/startup Visa (D2) - Start-up Visa (open company) tailored for those looking to establish their businesses in the country. Those with specialized skills can explore the Work visa for highly qualified employees (D3). Additionally, if you have Portuguese ancestry, you might be eligible for Citizenship by descent. 
However, moving to a new country isn't just about visas. If you're thinking of buying property, our guide on Buying Property in Portugal can offer invaluable insights. Dive deeper into the immigration process with our comprehensive Portugal immigration guide. For Americans specifically looking to relocate, we have curated information on Americans moving to Portugal. Lastly, one can't forget the importance of the NIF (Tax Registration Number), a crucial step in any relocation process. 
Frequently Asked Questions about Where to Buy Property in Cascais
Is now a good time to invest in property in Cascais?
Real estate in Cascais is currently increasing in value at a steady rate, and therefore is an excellent investment opportunity.
Is it expensive to buy a house in Cascais?
Property in Cascais is valued higher than the rest of the country, but also presents a high return on investment.
Is it expensive to rent a house in Cascais?
Depending on the area, it can be expensive to rent a house in Cascais. There are a number of different neighborhoods to choose from, and renting in Estoril, for example, will be far more expensive than renting in Albediche.
Are there any international schools in Cascais?
There are many international schools in Cascais, in fact, there are more in Cascais than there are in Lisbon. Some of the most prestigious are St Julians, Cascais International School, St Peter's and St Dominic's. Take a look at this article on international schools in Portugal to find out more.
What is public transport like in Cascais?
The Linha de Cascais train line serves the whole of the coastal region between Lisbon and Cascais. Lisbon International Airport, which has frequent continental and international flights to major cities around the world, is less than 40km away.
Where do expats live in Cascais?
There are a number of expat communities in the Cascais region, due to the number of good international schools and high quality of life. Cascais, Estoril, Carcavelos, Parede and Alcabediche are all good choices for expats.
Is Cascais by the beach?
Yes, Cascais is by the beach, and also close to beautiful Sintra coastline as well.
What are the best beaches near Cascais?
Some of the most popular beaches near Cascais include Carcavelos, São Pedro, as well as the beaches in Sintra, such as Guincho.
Is Cascais near Lisbon?
Yes, the municipality of Cascais is just 30 km from Lisbon. It takes approximately 45 minutes to get to the center of Lisbon by car, or 30 minutes by express train.
What is the closest airport to Cascais?
Lisbon airport is the closest to Cascais, at just 35km, it takes about 35 minutes to get there via the A5 expressway.
What areas to avoid in Cascais?
There aren't any areas that should be avoided, though the best place to buy property in Cascais depends entirely on your individual requirements.
Is Cascais expensive?
Cascais is one of the most expensive areas in the whole of Portugal, however, there are still some less expensive investment options to be found.
Is Cascais safe?
Portugal frequently ranks as one of the safest countries in the world, and Cascais is one of the safest regions to live in the country.
What is the best area of Cascais to live in?
Which area of Cascais is best to live in depends entirely on your requirements. Each area has unique advantages, and to find the best place for you it could help to talk to a property specialist.
What is the best area in Cascais?
There are many lovely places in Cascais, and choosing the best area for you will depend on what you are looking for and the type of property you want to purchase. For example, if you would like to live in Cascais or Estoril, you may be able to find a lovely mansion with ample space. However, this part of Cascais is also the most expensive area, not least because many properties here have private swimming pools and are located just a short distance from the beach.  
Halfway between Lisbon and Cascais, Carcavelos (also known for its great beach) and Parede are laid-back suburbs where you will find detached houses that lead down to the beach. Elsewhere, the most affordable part of the area is Alcabideche, which is situated along the north of the town of Cascais. This area provides you with the best of both worlds, as it is a little quieter than Cascais itself but close enough for you to enjoy the perks. Its proximity to Sintra Natural Park is another win, particularly if you like hiking in nature.
We recommend speaking with a real estate professional to find the best area of Cascais for you.
Is Cascais a good place to live?
Yes, Cascais offers a relaxed lifestyle and a high quality of life. Indeed, it is one of the best parts of Portugal to live, close to the capital and beautiful beaches. Beach lovers and city dwellers have each found their perfect home in this part of the country.