The sunny Algarve in Portugal has long been a favorite with holiday-goers from all over the world. But why is Algarve property such a good investment? Take a look at our guide to find out more about why and where to buy property in the beautiful Algarve.
Why buy property in the Algarve, Portugal?
It's possible that the Algarve is the most well-known region in Portugal. There are many good reasons that the incredible southern coastline of Portugal attracts millions of visitors and investors each year: the fantastic climate, the good food, the stunning beaches, and warm, clear water, just to name a few. It's these enduring qualities that make Algarve property such a great investment.
Algarve overview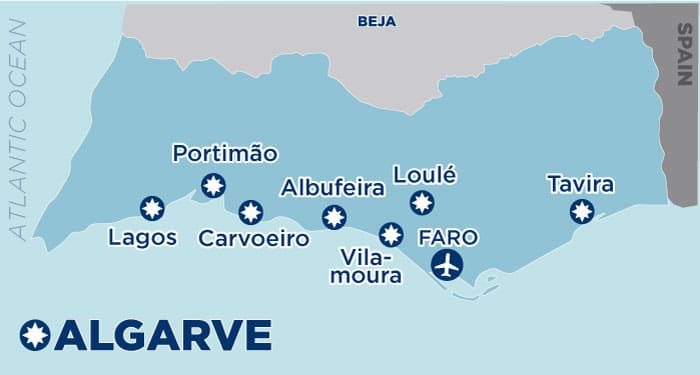 Regions of the Algarve
The Algarve, Portugal is split into 16 different concelhos (municipalities) which span the whole of the southern coast of the country. Some of the most-visited areas include the regions around Lagos, Portimão and Albufeira.
Climate in the Algarve
One of the main attractions of the Algarve is its incredible climate. It has the benefit of hot summers and mild winters, with daily average highs of 33°C in July. The average temperature in January, the coldest month is 12°C, and the region gets on average over 300 days of sunshine per year.
Beaches in the Algarve
If you would like to go to the beach in the Algarve then you will find yourself spoiled for choice. The Algarve has a great selection of different beaches to choose from, from the picturesque Benagil caves to the otherworldly rock formations of Ponta de Piedade. The coastline along the southern coast of Portugal is typically characterized by dramatic limestone rock formations, dotted with arches and caves and surrounded by clear turquoise water. Some of the most popular beaches include Praia da Marinha, near Carvoeiro, Quinta do Lago near Faro, and Praia da Rocha in Portimao.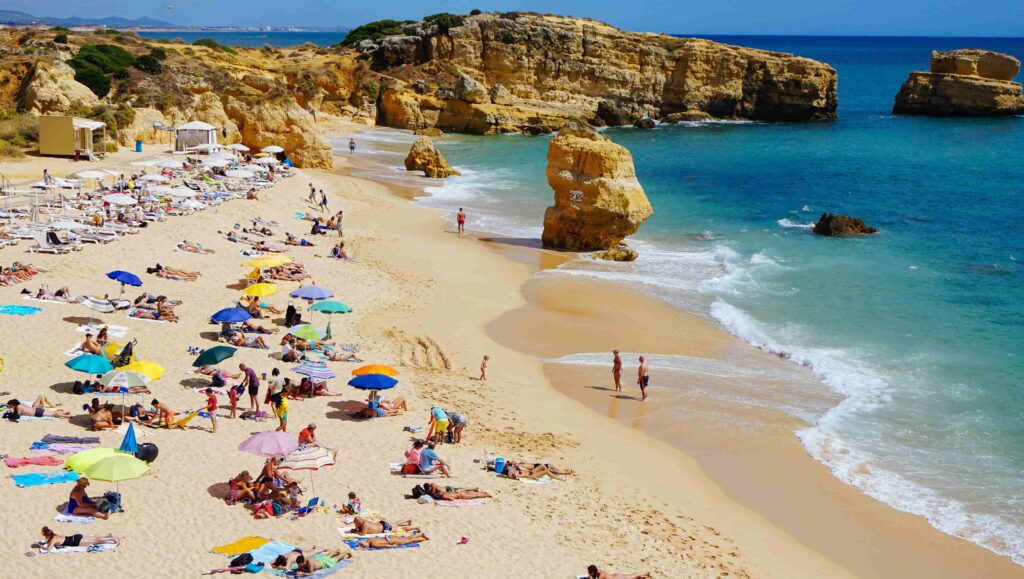 Culture in the Algarve
The Algarve has a lively cultural schedule throughout the year, with a number of historical, musical and food festivals taking place throughout the year. One of the highlights is the carnival in Loulé, which involves ostentatious costumes and floats as well as a lot of samba music. The carnival has taken place every year for the past century, making it the oldest in Portugal. There are also medieval festivals every year in Silves and Albufeira, as well as the Contraband festival, which celebrates the smuggling tradition on the border between Spain and Portugal. The Algarve also hosts a number of internationally renowned music festivals during the summer.
Lifestyle in the Algarve
With long, sunny days all throughout the year, it's easy to lead an active lifestyle in the Algarve. There are a number of excellent golf courses dotted throughout the region, including the Monte Rei Golf & Country Club, the Amendoeira Faldo Course, and the Clube de Golfe da Quinta do Lago.
The Algarve also certainly isn't lacking when it comes to cuisine, with more than twenty Michelin-star restaurants.
For those who enjoy the great outdoors, there are many activities to enjoy, from hiking to cycling to sailing and surfing.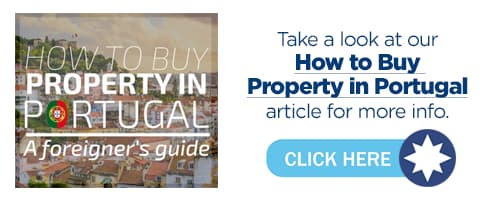 Expats in the Algarve
The Algarve is known for having one of the largest communities of British expats outside of the UK. There are also a number of communities from other countries, such as Italy and France. This pre-existing network can make it easier for new arrivals to adapt and find the necessary support required for integrating into Portuguese life.
Many retirees choose to make Portugal their home because Portuguese tax law is so favorable to pensioners. To find out more about the savings you could make under Portuguese law, take a look at our article on the non-habitual tax regime.
Transport in the Algarve
The main airport in the Algarve in Faro, which operates a number of national and international flights. There is also the smaller Portimão airport, which operates very few commercial flights, mostly from within Portugal. Other nearby options include Sevilla airport in Spain and Beja in the Alentejo. Lisbon is around 3 hours away by car, and there are frequent connections by train and bus.
Algarve property prices
Algarve property prices vary from €2,168 per m² for an apartment in Portimão to €3,279 per m² for an apartment in Vilamoura.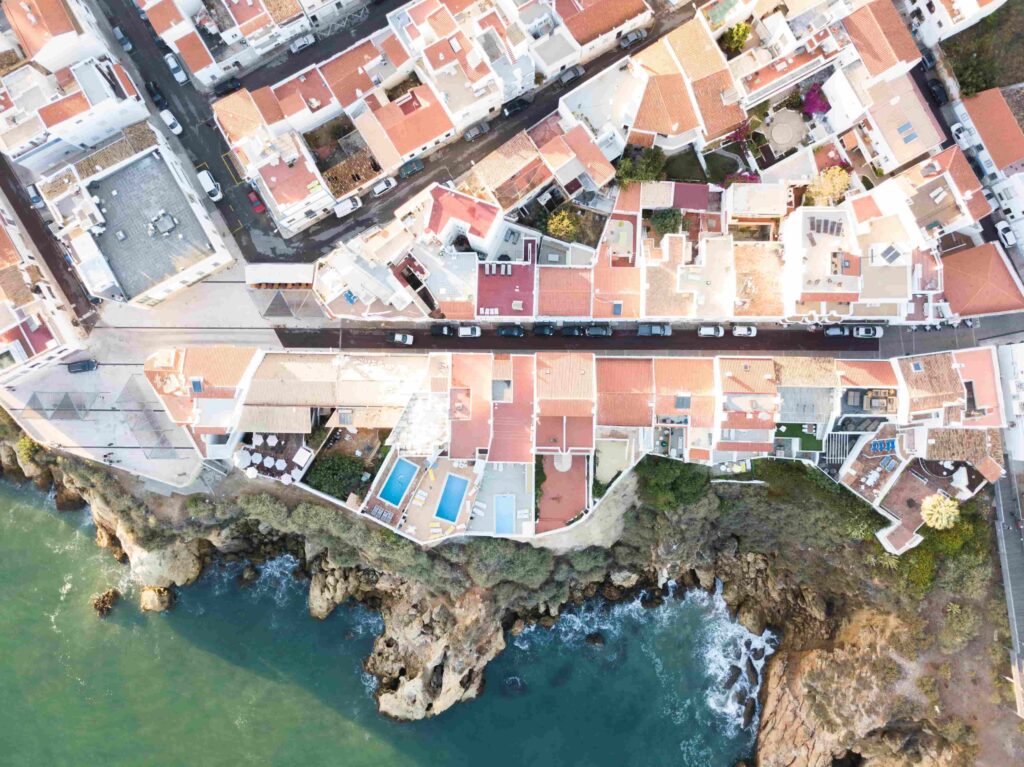 Why buy property in Albufeira, Algarve?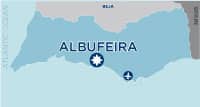 – Beautiful beaches
– Good education options
– Cheaper investment opportunities
Albufeira's golden beaches have long been popular tourists, especially from the UK. With its fantastic cliffs, lively nightlife and clear blue water, there are many reasons why it makes a good place to live and invest. Property in Albufeira makes for an excellent investment, owing to its popularity among tourists and expats.
Advantages of buying property in Albufeira
There is a large expat community in Albufeira, which means that anyone moving to the area will probably find easier to adapt, and also means that much of the local services which you might need. There are also some excellent international schools very close by, convenient for anyone who is relocating with their family. There is also a wide selection of restaurants and other local amenities. The price of property in Albufeira is also on average cheaper than the rest of the Algarve.
Disadvantages of buying property in Albufeira
Albufeira is known for being particularly touristy. Those looking for a quieter scene might want to look at a different area.
---
Why buy property in Lagos, Algarve?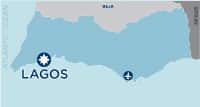 – Lively nightlife
– Beautiful beaches
– Historic
Lagos may be famous for its party scene, but there's much more to this incredible coastal city. Lagos has a rich history and culture and has something to offer for visitors and residents of all ages.
Advantages of buying property in Lagos
Lagos is known for its nightlife, but that isn't all there is to this incredible town in the western Algarve. The historic town is also popular with surfers due to its proximity to Sagres, and there are also many incredible beaches in the nearby, such as the Praia Dona Ana, Pinhao, Praia do Camilo and Ponta da Piedade. For those looking to move to the area with children, there are two international schools nearby, the Nobel International School and the Vale Verde International School.
Disadvantages of buying property in Lagos
The climate and the beaches in Lagos are almost too good—meaning that in the summer months it can be very busy. However, if you are looking to buy a property for holiday rental, then this can also be an advantage.
---
Why buy property in Portimão, Algarve?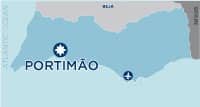 – Lively nightlife
– Some inexpensive investment options
– Good for sailing
Portimão is one of the most-visited towns in the Algarve, with tourists from the UK, Ireland, and Portugal making up the vast majority of visitors each year. The port town is also popular for sailing, as well as watersports such as kitesurfing and scuba diving.
Advantages of buying property in Portimão
If you're looking for excitement, Portimão has a lively cultural scene all through the year. With many options to eat out, drink and party in the evening, there are many reasons why it attracts so many tourists each year. The mild climate also means that it can be suitable beach weather in almost every month of the year. 
Disadvantages of buying property in Portimão
Portimão might be a bit too lively for some, and if you're looking for a place which is quieter and more traditionally Portuguese, then it is probably better to invest in towns such as Tavira.
---
Why buy property in Loulé, Algarve?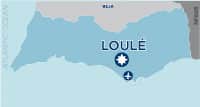 – Relaxed atmosphere
– Fewer tourists
– Historic
The picturesque and historic town of Loulé in the Algarve offers something quite different to the coastal municipalities of the Algarve. The traditional market town attracts many visitors who come for the quaint architecture and relaxed atmosphere.
Advantages of buying property in Loulé
Loulé's relaxed and traditionally Portuguese atmosphere can feel like a breath of fresh air when coming from the coast. For those looking to make an investment in a more tranquil area of the Algarve, then Loulé could be a perfect choice. There are also direct transport connections to Lagos, Faro, and Lisbon.
Disadvantages of buying property in Loulé
Loulé is not on the coast, and it takes around 25 minutes to reach the nearest beach by car.
---
Why buy property in Vilamoura, Algarve?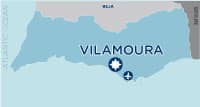 – Upmarket
– Excellent selection of golf courses
– Fine dining
The upmarket resort town of Vilamoura offers a lot in terms of luxury amenities. The flash seaside town boasts a marina, as well as a number of fantastic golf courses in the immediate vicinity. There is also much fine dining on offer, as well as chic bars to enjoy the long summer evenings.
Advantages of buying property in Vilamoura
For those looking for luxury, upmarket Vilamoura is the right choice. The Dom Pedro Golf Course is a short distance outside of the town, and the San Lorenzo and Vale do Lobo golf courses are also nearby. Among the many dining options is Michelin-star Willie's restaurant. Vilamoura is also just a half an hour drive from Faro airport.
Disadvantages of buying property in Vilamoura
Anyone looking for a more traditional experience of the Algarve is likely to be disappointed with Vilamoura, as the town is incredibly modern.
---
Why buy property in Tavira, Algarve?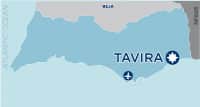 – Relaxed atmosphere
– International education options
– Good transport links
The medieval city of Tavira has a very different feel to the other areas of the Algarve's coast. Small white houses line its cobbled streets, and the city has clear Moorish influences in its history and architecture.
Advantages of buying property in Tavira
While being more relaxed and laid-back than the other popular destinations in the Algarve, Tavira still has just as much to offer. Its beach lies on a sandbank which can be reached by boat, and the historic center has many dining and drinking options. It also has an international school, Colegio Santiago Internacional. It is just over half an hour by car from Faro airport and is also close to one of the most beautiful waterfalls in the Algarve, the Pego do Inferno.
Disadvantages of buying property in Tavira
Tavira is a more relaxed destination than most others in the Algarve, so for is not an ideal choice for those looking for lively nightlife.
---
Why buy property in Carvoeiro, Algarve?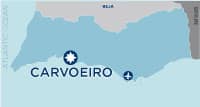 – Beautiful coastline
– Family-friendly
– Cheaper investment options
Carvoeiro's beautiful cliffs and caves never fail to impress. The holiday town has a lot to offer, especially for families, as it has not only an incredible coastline to explore, but there are also many exciting day trips to do in the surrounding region.
Advantages of buying property in Carvoeiro
Carvoeiro is incredibly popular with tourists during the summer for all the right reasons. It is a popular hiking spot as it is situated in the middle of a beautiful stretch of coastline. It is also conveniently located less than an hour from Faro airport and is a slightly cheaper investment option than other towns in the Algarve.
Disadvantages of buying property in Carvoeiro
Carvoeiro is more family and activity orientated, those looking for more in terms of nightlife and luxury amenities may want to choose somewhere else.
---
Other areas to consider buying Algarve property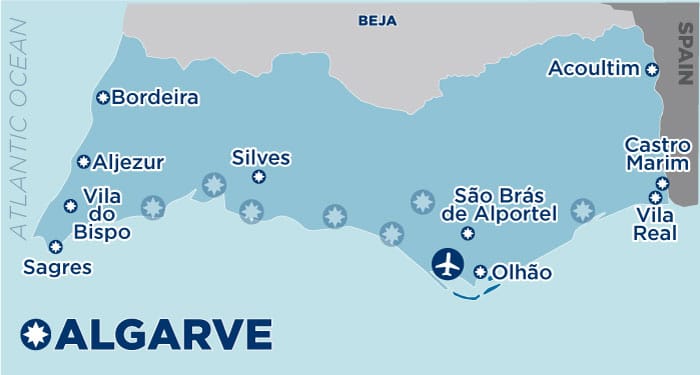 For those looking for quieter spots which are off-the-beaten-track, might want to take a look at the picturesque inland towns of Alcoutim, Castro Marim and São Brás de Alportel. The historical town of Silves is also a popular spot, away from the crowds along the coast.
The wilder western coast is also an option, with the pretty white town of Aljezur being an excellent choice for those looking for less touristic spots along the coast. Bordeira is popular with surfers owing to its proximity to the Praia do Amado. Vila do Bispo and Sagres are both situated close to dramatic coastlines.
Other larger urban centers include Olhão and Faro, which have excellent transport links and perhaps offer more services than most other smaller towns.
Vila Real de Santo Antonio is another option, located on the Guadiana River, although it is not close to any beaches.
Buy or rent Algarve property?
Whether you buy or rent Algarve property is entirely dependent upon your needs and circumstances. If you are looking to make a stable investment with considerable returns, then the Algarve could be a good option for you.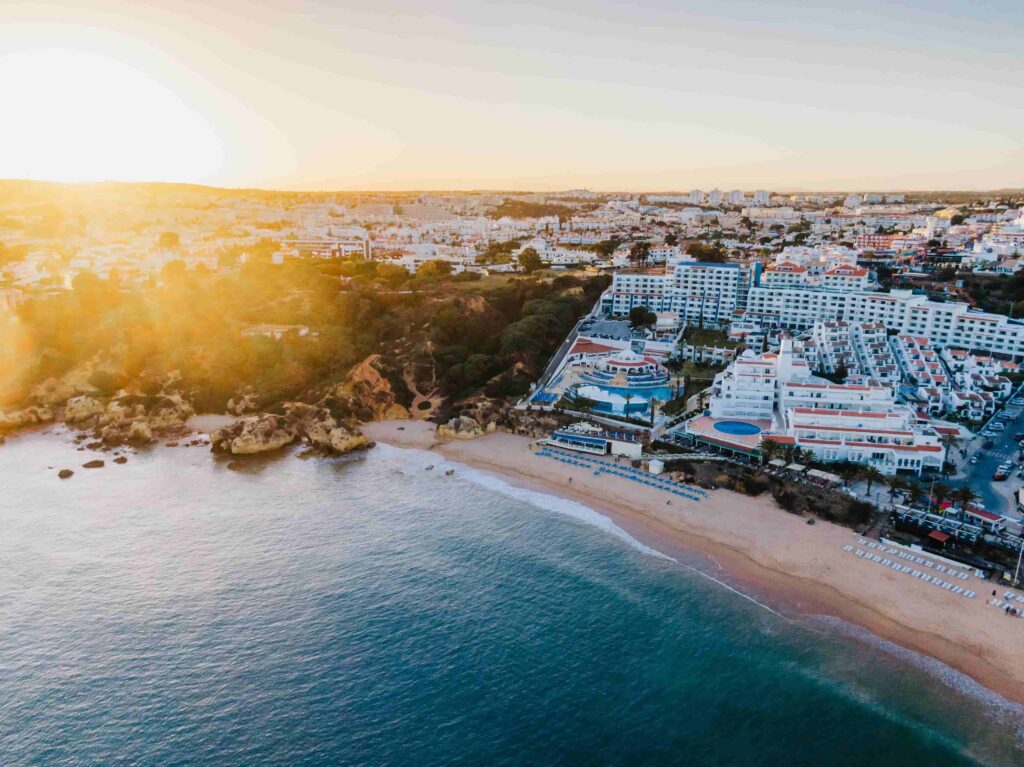 Is it a good idea to invest in Algarve property?
Algarve property presents a great opportunity for investment. Whether you're looking for relaxed, family-friendly areas, apartments in luxury resorts, or property near towns with buzzing nightlife, the Algarve has it all. Algarve property is also relatively inexpensive than the rest of Europe, as well as being remarkably stable.
Should I buy property in the Algarve or in Lisbon?
Both Lisbon and the Algarve are excellent places to invest in property, with different advantages to each one. If you would like to know more about investing in property in Lisbon, take a look at our article about the best neighborhoods in Lisbon.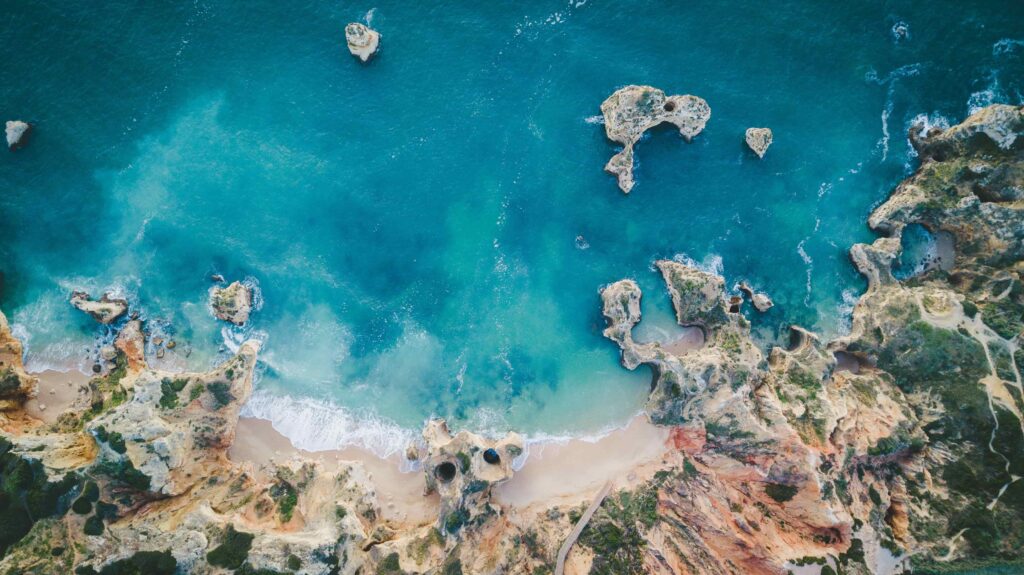 Get in touch
Take the next step towards investing in Portugal and get in touch with our team of specialists.
Get in touch to discuss your options and begin working on your personalized plan.