If you're someone who identifies as a member of the LGBTQ+ community and you're considering relocating, Portugal could be an excellent choice.
Before you make that decision, it's crucial to understand the nuances of the local cultural perspective towards the LGBT community, the legal protections and rights you are granted, as well as which locales offer the most inclusive environments. This comprehensive guide delves into all these critical topics, offering a clear picture of the LGBT experience in Portugal.
Historical Overview of Portugal LGBT Rights
In the wake of the Carnation Revolution in 1974, a peaceful coup that toppled the military dictatorship, Portugal shifted dramatically towards a more progressive and open-minded society. Today, it stands tall among the global leaders advocating for and protecting LGBT rights.
The Portuguese LGBT movement had the freedom to publicize its campaign after the revolution, in May 1974, with the publication of a manifesto advocating for the "liberation of sexual minorities" in the Diário de Lisboa. Nevertheless, it took until 1982 for homosexuality to be decriminalized, and it wasn't until 1999 that the first gay Pride March painted the streets of Lisbon with vibrant colors of acceptance.
That same year, Portugal took the significant step of officially recognizing same-sex unions. This set the stage for legalizing same-sex marriages in 2010, ensuring equal marriage rights for all. The age of consent for same-sex relationships was also equalized in 2007. By 2016, Portuguese law was amended to allow same-sex adoption, thereby further consolidating the legal rights of the LGBT community in Portuguese society.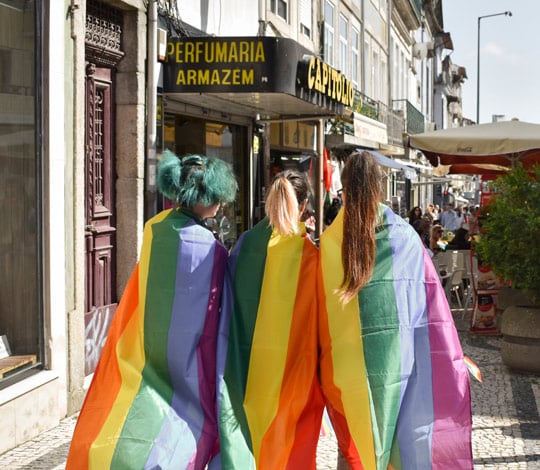 Understanding Your LGBT Rights in Portugal
If you're a member of the LGBTQ+ community contemplating a move to Portugal, it's important to understand the full spectrum of rights you'll have under Portuguese law.
Gay marriage rights in Portugal
In Portugal, same-sex unions were acknowledged by the state in 1999, and same-sex marriages were legalized in 2010. Portuguese marriage laws accord the same rights and protections to queer couples as to heterosexual ones. This equality extends to all areas, including visa issues, inheritance, and other legal matters. 
Residency and visas for same-sex partners in Portugal
Marriage visas in Portugal extend the same benefits to gay couples as to heterosexual couples. If your Portuguese spouse has permanent residency, you can apply for a two-year residency permit, which can be renewed if your marital status remains unchanged at the end of that period.
Even if your partner has only a temporary residence permit, you can still join them under the family reunification provision. However, you would need to demonstrate sufficient funds for self-support.
If you're considering the Golden Visa in Portugal and have a same-sex partner, they, too, can receive a residence permit if their documentation is submitted concurrently with yours. However, it's worth noting that the Portuguese Golden Visa program has undergone significant change. For more information on this topic, please refer to our detailed article on the Golden Visa program.
Citizenship through marriage to a Portuguese citizen
Marrying a Portuguese citizen doesn't automatically grant you citizenship. You would first need to apply for residency, and after three years of marriage, you would be eligible to apply for citizenship.
In essence, Portugal is a bastion of LGBTQ+ rights and offers a conducive environment for members of the LGBTQ+ community. As with any move, understanding the local culture, legal framework, and best locales is key to a successful transition.
Family rights for LGBTQ+ couples in Portugal
With the significant strides in Portuguese legislation, including the legalization of same-sex marriage and adoption, LGBT families now enjoy comprehensive rights equal to those of heterosexual families. This has been facilitated by a political landscape that steadfastly champions LGBT rights.
In Portugal, children of LGBT couples are fully recognized as dependents, equivalent to those of heterosexual couples. This status allows them to apply for family reunification visas and to be included as dependents under the Portugal Golden Visa program. Furthermore, these children can obtain a residence permit, provided they are under 18 or currently engaged in full-time education.
Inheritance rights for the LGBTQ+ community in Portugal
Portugal exhibits an inclusive approach toward inheritance law. There is no inheritance tax for spouses or close relatives in the country. This means same-sex couples and their children are exempt from inheritance tax, reflecting the same privilege granted to heterosexual families.
Adoption rights for LGBTQ+ couples in Portugal
Portugal made a monumental step in enhancing LGBT family rights when it legalized adoption for same-sex couples in 2016. In addition, the country also legally allows same-sex partners to adopt their spouses' biological or adopted children, further promoting family unity and inclusivity.
IVF access for same-sex couples in Portugal
In a simultaneous enactment with the legislation legalizing adoption for same-sex couples, Portugal also extended equal access to In Vitro Fertilization (IVF) treatments to these couples. Consequently, women in same-sex relationships have the same rights to IVF procedures as heterosexual women, signifying the country's commitment to reproductive justice.
In essence, Portugal has emerged as a pioneer in ensuring and safeguarding the rights of the LGBT community, particularly in family-related matters. Its inclusive laws and progressive stance serve as a model for countries worldwide.
Gender identity law in Portugal
Portugal introduced a new law in 2018 whereby transgender individuals are no longer required to have a mental illness diagnosis for the legal change of their gender. This law shows Portugal's commitment to recognizing individual gender expression.
The LGBT Community in Portugal
Is Portugal LGBT-friendly?
LGBT expatriates contemplating travel or relocation to Portugal can expect a welcoming and inclusive environment, as the local populace is renowned for their warmth and acceptance. According to the Spartacus Gay Travel Index 2023, Portugal stood tall, securing a joint fourth-place ranking among global destinations. This significant advancement in recent years is largely attributed to progressive legal protections extended to trans and intersex individuals and proactive anti-hate crime initiatives.
A testament to Portugal's inclusivity, specifically in the capital city of Lisbon, can be seen in an experiment conducted by Portuguese bloggers Lorenzo and Pedro. Echoing a global viral experiment, the pair walked hand-in-hand through the streets of Lisbon. Their experience was completely free of homophobic backlash, demonstrating the city's respectful and accepting atmosphere towards the LGBT community.
This palpable sense of acceptance and inclusivity prevalent in Portugal makes it an appealing destination for LGBT individuals seeking new experiences or looking to call a new place home. The country's impressive ranking in the Spartacus Gay Travel Index and the visible positivity towards the LGBT community make Portugal an attractive choice for both travel and relocation.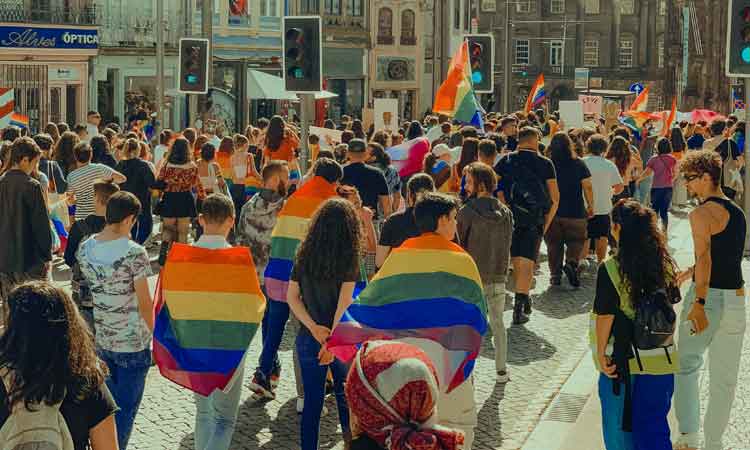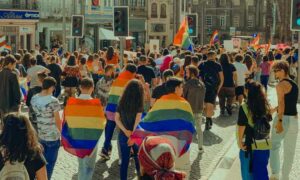 LGBTQ+ Life in Portugal
Celebrating pride in Lisbon and Porto
Arraial Lisboa Pride, Lisbon's official Pride celebration, is a vibrant two-day event held in late June. It starts with a colorful gay pride march and lively street festivals and parties. Its counterpart, Pride in Porto, although relatively smaller in scale, still offers a wonderful opportunity for the community to unite in a spirited celebration of LGBTQ+ culture and pride. Typically held in the first week of July, the timing allows visitors to attend both gay pride marches consecutively during a summer visit to Portugal.
Lisboa and Porto queer film festivals – Queer Lisboa
Queer Lisboa and Queer Porto are twin film festivals focusing on international LGBTQ+ cinema. These festivals aim to promote and celebrate movies that explore LGBTQ+ themes or highlight subjects related to gender, identities, and the queer experience in their narrative or aesthetics. These cinematic events take place annually, providing a creative platform for engaging dialogue each year in September and October.
Queer spaces
Gay saunas in Portugal
In the realm of gay culture, saunas have long held a significant place, providing a safe community space for gay men in Europe for centuries. Portugal hosts an intriguing underground scene of gay saunas and bathhouses, predominantly located in cities like Porto and Lisbon.
Sauna Camoes, situated in Porto, covers an expansive area of over 340 square meters and offers amenities such as a bar, dry sauna, Turkish bath, locker rooms, and showers. Trombeta Bath in Bairro Alto, Lisbon, is distinguished as Portugal's most renowned gay sauna. It features many facilities, including a sauna, steam room, jacuzzi, movie area, lounge, and bar. Additionally, it provides HIV and STD testing services and free condom distribution. 
Gay-friendly beaches in Portugal
While there are no formally designated gay beaches in Portugal, certain nudist beaches enjoy substantial popularity within the broader LGBTQ+ community. These include Praia do Meco in Sesimbra and Praia da Bela Vista, between Costa da Caparica and Fonte da Telha.
Praia do Homem Nu, translating to "the beach of the naked man," situated in Tavira, Algarve, is a particularly beloved spot. Renowned among naturists for over 20 years, this beach draws gay men from around the globe. Although the journey to this beach can be lengthy, a recent addition of a beach train makes the trip more accessible and cost-free.
Queer nightlife in Portugal
Following the Carnation Revolution on 25 April 1974, the previously underground LGBTQ+ scene blossomed, with several bars such as Finalmente and Trumps emerging.
LGBTQ+ Organizations in Portugal
If you're interested in learning more about who is actively championing the rights of LGBTQ+ individuals in Portugal, consider the following notable organizations. Whether you're looking to offer your services as a volunteer or contribute through financial donations, these groups provide an excellent opportunity to get involved.
ILGA Portugal
Established in 1997, ILGA Portugal is the largest organization dedicated to advocating for the rights of gay, lesbian, bisexual, transgender, and intersex people in the country. ILGA offers various cultural and political activities and provides essential free services for the LGBTQ+ community, such as legal advice and psychological counseling.
Clube Safo
Founded in Aveiro in 1996, Clube Safo is a community-focused lesbian organization committed to championing the rights of lesbian women. The group organizes cultural events, formulates political proposals, and encourages dialogue among lesbian women from diverse backgrounds.
Opus Diversidades (previously Opus Gay)
Opus Diversidades is a non-profit organization that fervently defends LGBTQ+ rights. They are presently involved in establishing a shelter for unhoused queer individuals in Portugal. While their initial focus was primarily on LGBTQ+ rights, they have expanded their scope to include support for migrants and women, working to counter anti-immigration and sexist policies. Opus Diversidades also offers free therapy to the LGBTQ+ community and seeks to collaborate with other associations to develop policies that safeguard biodiversity and the environment.
Transmissão
Transmissão is a collective of trans and non-binary individuals committed to defending their rights and affirming their identity. They actively oppose the policing of their gender identities and expressions, advocating for the freedom of all trans and non-binary individuals in Portugal. As part of the organizing committee for the Pride March, the group also hosts various activities in Almada, including a "Wardrobe Discovery" event, providing a safe space for individuals to explore different clothing styles.
Casa T Lisboa
Casa T Lisboa is the first shelter in Portugal established by trans immigrants to support trans immigrants. It was founded in Lisbon during the peak of the pandemic, a time when job and housing discrimination against trans individuals was exacerbated. The shelter became a haven for many trans immigrants in Portugal facing eviction due to their inability to cover rent. Relying solely on donations for operations rather than government funding, Casa T Lisboa continues to require urgent funds to provide its vital services.
LGBT-Friendly Places to Live in Portugal
Major urban areas like Lisbon and Porto, along with the Algarve region, are considered the most LGBT-friendly regions in Portugal. These cities host numerous events that cater to the LGBTQ+ community, creating inclusive environments.
Top LGBT-friendly neighborhoods in Lisbon
Principe Real
Famed as Lisbon's primary gay neighborhood, Principe Real boasts a rich history and a vibrant gay scene. The neighborhood serves as the starting point for the city's Pride parades, embodying the spirit of LGBTQ+ inclusion.
Nestled in the heart of Lisbon, Principe Real offers a blend of natural beauty and urban charm. Here, you can find exquisite parks, high-quality restaurants, traditional homes with stunning views of the Tagus River, and a dynamic nightlife scene, including some of the most renowned gay bars in Lisbon, such as Trumps.
Bairro Alto
Adjacent to Principe Real is Bairro Alto, another district beloved by LGBTQ+ expats. This district stands out with its bustling gay scene, narrow, lively streets frequented by party-goers on weekends, and a host of gay-friendly bars and drag nights in establishments like Manny's Place.
Arroios
Declared one of the "coolest neighborhoods" globally by Timeout magazine, Arroios has earned a reputation for being LGBTQ+-friendly. The neighborhood tends to attract younger members of the LGBTQ+ community and houses several queer-friendly cultural centers. A new cultural hub named the "House of Diversity" will soon open.
Cascais
Located near the capital and surrounded by picturesque beaches, Cascais is a favorite amongst expats. This resort town offers a tranquil lifestyle, top-tier restaurants, an active art scene, and several gay-friendly bars. For more information about property purchasing in Cascais, check out this article.
Real estate rental prices in Portugal
The property market in Lisbon is burgeoning, with prices reaching new heights. Various factors have fueled this growth, including property restoration, new constructions, the emergence of start-ups, and an upturn in the Portuguese economy following the global financial crisis.
However, finding a reasonably priced rental property in Lisbon is still possible. While rental prices in the city center have steadily climbed, the COVID-19 pandemic has influenced homeowners to revert to long-term rentals.
As per data from Numbeo (updated May 2023), a T1 apartment in the city center typically rents for around €1,245, while the rent in the outskirts could be around €800. Generally, the farther from the city center, the cheaper the rent.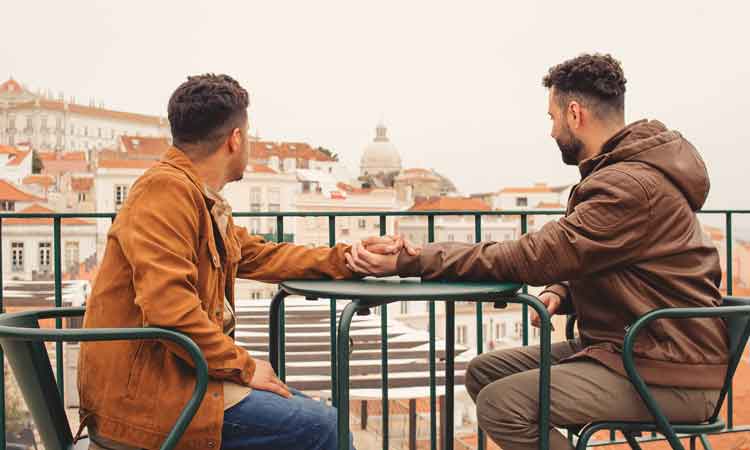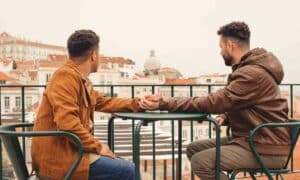 Real estate in Portugal
Portugal's real estate market has proven complex for foreigners due to the considerable property price increases in recent years. This surge can be attributed to the recovery of the Portuguese economy and the expanding tourism sector, making Lisbon an attractive investment hub. However, the high demand for housing in Lisbon also poses challenges in finding the ideal property.
Price of real estate in Portugal
Purchasing a property in Lisbon can be more expensive than in other parts of Portugal. As per Numbeo's data (updated May 2023), a square meter of an apartment in the city center could cost around €5,331, while the price drops to about €2,829 per square meter for an apartment outside the city center.
Note that Lisbon has its own price range compared to other parts of the country. Other cities and rural areas are much cheaper.
Navigating the property buying process in Portugal
Before diving into the property market, you must clearly understand what you're seeking. Consider the current state of the property market and evaluate if it's the ideal time for you to invest.
The choice of location for your property purchase in Portugal is often budget-driven. The Portuguese property market offers a wide range of options, with prices escalating in the major cities, especially in the capital. Each region has unique advantages, so consider spending time in different areas to pinpoint your ideal property location.
Decide on a property type
Before embarking on your search, define the specifics of your desired property:

What is your budget limit?

Do you require proximity to a reputable international school or an airport?

Is your preference for an apartment or a standalone house?
By identifying your needs and ranking them in order of importance, your search process becomes more streamlined.

Implement a search strategy

There are several websites and real estate portals at your disposal for your property search, including:
Facebook is also frequently utilized for property listings. Alternatively, you can engage a local realtor or a buyer's agent to assist you in your quest for a perfect home.

Once you've identified your ideal property and are ready to bid, it's crucial to secure the services of an independent lawyer. The lawyer will review your contract terms and arrange necessary surveys and checks to validate the property's condition.
You'll sign a promissory contract, make a deposit, and then schedule a date to finalize the purchase. The last step involves meeting at a notary's office to sign the final sales contract, pay the remaining balance, and receive the property keys.
You can secure a mortgage in your home country or in Portugal. If you opt for a Portuguese loan, you'll be required to make a 30 percent down payment as a non-resident, and a 20 percent down payment as a resident, although this may vary depending on the Portuguese bank.
Loan durations also vary based on residency; non-residents typically receive a 25-year loan, while residents can apply for a 30-year loan. It's essential to compare different banks, prepare all necessary documentation for your loan application, and comply with the mandatory life insurance requirement for loan applications.
With these steps completed, you can now bask in the joy of owning a home in Portugal.
Engaging a buyer's agent in Portugal
Whether your objective is relocation, investment, or a mix of both, enlisting the services of a buyer's agent can be beneficial. Unlike real estate agents or realtors, a buyer's agent serves the buyer directly, offering unbiased assistance, from property search to legal advice.
Goldcrest, our real estate division, is a local buyer's agent offering insightful property expertise and strategic advice. They can guide you throughout your property-buying journey in Portugal, from sourcing to property acquisition. Get in touch with them here.
LGBT Expats in Portugal
Golden Visa for same-sex couples in Portugal
The Portugal Golden Visa program is an attractive residency-by-investment initiative designed to entice overseas investors. The program extends the opportunity for investors to apply for a Portuguese passport and citizenship after five years of sustained investment, and it's equally available to same-sex couples, offering the same benefits and privileges.
A standout feature of the Portugal Golden Visa program is its flexibility. Investors are not required to relocate to Portugal to reap its benefits. The minimal "stay requirement" is merely seven days per year, which means you can continue residing in your home country while on the path to acquiring Portuguese citizenship after five years.
However, it's crucial to note that the Portugal Golden Visa program is nearing its end. If this program aligns with your goals, initiating your application promptly is highly recommended.
Alternative visa programs
If you are looking for another visa program allowing you to live and work in Portugal, we have plenty of information about pathways to doing so.
If you're looking for a comfortable country to retire in, it might be helpful to know about the D7 retirement visa, which allows individuals who have sufficient funds to stay in Portugal to obtain residency.
For those working or looking to work, there is also the D2 Entrepreneurship Visa, the D3 Highly Skilled Visa, and the D8 Digital Nomad Visa. If you need any further information, do not hesitate to contact us.
Tax for LGBT expats in Portugal
Portugal's non-habitual tax regime (NHR) is another potential advantage for LGBT expats who haven't been Portuguese tax residents in the preceding five years. This scheme incentivizes investment in Portugal by offering substantial tax benefits to residents of significant cultural and economic value. For a deeper understanding of the NHR regime, take a look at this comprehensive guide.
Healthcare for LGBT expats in Portugal
Portugal has a high-quality private and public healthcare system.
Frequently Asked Questions about LGBT Life in Portugal
Is gay marriage legal in Portugal?
Yes, marriage between same-sex couples has been legal in Portugal since 2011.
Is Portugal a good place to retire to for a LGBT person?
Portugal is frequently cited as one of the best countries in the world to retire in. Regarding LGBT rights in Portugal, the country also ranks very highly. Portugal also has a high standard of living and one of the lowest living costs in Western Europe. LGBT people will find that Portugal is a great place to retire to.
Can I get a visa in Portugal through same-sex marriage?
Yes, in Portugal, marriages between same-sex couples have all the same rights as heterosexual couples.
Is it easy to move to Portugal?
It is generally very easy to move to Portugal. The country has good transport links, good infrastructure, healthcare, and education. There is also a very high standard of English throughout the country, so it is easy to communicate.
How much does real estate cost in Portugal?
A two-bedroom house in Portugal will cost upwards of €150,000, though it is usually twice that price in the capital, Lisbon.
Can I get Portuguese citizenship if I'm in a same-sex marriage with a Portuguese citizen?
Yes, same-sex couples and LGBT people have the same rights as heterosexual couples. In short, you are eligible to provide for Portuguese citizenship if your partner is Portuguese, provided that you first hold legal residency in Portugal for three years. Afterward, you can apply for citizenship.
Is Portugal safe for LGBT people?
Portugal is regarded as one of the safest countries in the world for LGBT people. The country ranked fourth in the Spartacus Gay Travel Index 2023. Homophobic hate crimes are considered rare in Portugal. 
Portugal has gay bars, gay pride events, and protected adoption rights for gay couples and LGBT people, making it a great country to relocate to for LGBT expats.
How could Portugal further improve legal LGBTQ+ inclusivity?
According to the OECD, to further advance LGBTQ+ inclusivity within its legal framework, Portugal could consider several measures.
Firstly, Portugal is among the majority of OECD countries that have not yet banned conversion therapies for minors. These therapies falsely aim to alter an individual's sexual orientation from homosexual to heterosexual.
Secondly, Portugal isn't among the eight OECD nations that acknowledge a non-binary gender choice in their civil registries, thus neglecting to recognize trans and intersex people who do not classify themselves as either male or female.
Consequently, the following measures could enhance Portugal's legal LGBTI inclusivity:

Prohibiting conversion therapies targeting minors

Facilitating access to a non-binary legal gender option in the civil registry for transgender and intersex individuals.