Officially known as the country of Curaçao, this island nation is a constituent country of the Kingdom of the Netherlands and is situated in the Dutch Caribbean region. From natural wonders, architectural marvels, a rich history and a welcoming culture to an attractive real estate market and exciting investment opportunities, Curaçao has emerged as one of the most sought after countries for second citizenship in the world. If you are a US citizen looking to visit or move to Curaçao, you have landed in the right place. In this article, we will guide you through the Curaçao Visa Requirements, Curacao immigration requirements, local laws, transportation in the country, plus much more.
In this expert guide, we will be covering the following topics:
Curaçao Tourist Visa for US citizens

U.S. Consulate General Curaçao

Arrival, departure and visa requirements

Safety and security for US citizens

Healthcare in Curaçao

Transportation in Curaçao

Customs and other regulations

Curaçao Investor Permit Program

Curaçao Work Permit

Curaçao visa free countries



Curaçao Tourist Visa for US citizens
If you are a US citizen, then the Curaçao Tourist Visa will be free for you. Citizens from the United States can stay in Curaçao for up to a period of three months.
Application procedure for the Curaçao Tourist Visa
You need to tick the following checkboxes as per the Curacao visa application form.
If you are a US citizen, you don't need a visa to visit Curaçao

Once you reach Curaçao, you can visit the immigration area for further visa procedures, if needed

You need to show certain documents like your valid passport or travel documents from the USA

Once your document is stamped by the immigration center, you can enter the country and stay as per your stamping
Documentation required for the Curaçao Tourist Visa
We have collated below a list of entry requirements.
Health Status Documentation –

All foreign travelers visiting Curaçao need to show their negative Covid-19 PCR test result. Visitors must keep in mind that the test result should be as of 72 hours before departure and not outside this time window.

Vaccination Status –

Travellers visiting

Curaçao must be fully vaccinated and need to show their vaccination status. Travellers must note that the last dose of vaccine should be taken a minimum of 14 days before the date of departure.

Passport –

Visitors must provide an original passport or travel document of the USA. The passport should remain valid for at least six more months as on the date of travel to Curaçao.

Travel Itinerary –

You need to share your travel itinerary, which means the travel reservations under your name, but not the actual ticket. Visitors to Curaçao are advised not to spend on travel and accommodation until the visa is approved. Once your tourist visa is accepted, you can go ahead and book your flight tickets and hotels.

Proof of Finances –

Travellers need to prove their financial stability, that is evidence of enough funds to enter, stay in and leave Curaçao .
U.S. Consulate General Curaçao
If you are an US citizen travelling to Curaçao, you can keep in touch with the U.S. Consulate General Curaçao for any information or help. Here is the contact information for the same:
Address – J.B. Gorsiraweg 1, Willemstad, Curaçao.
Telephone: +(599)(9) 461-3066
Emergency After-Hours Telephone: +(599)(9) 843-3066 (from Curaçao); +1-(503)-420-3115 (from the United States)
Fax: +(599)(9) 461-6489
You can also email at : [email protected]
Arrival, departure and visa requirements
Once you reach Curaçao, you need to show the following documents as per the entry requirements.
A valid US passport that will continue to remain valid for your stay period in Curaçao.

Fully completed Embarkation and Disembarkation Card (ED-Card). You can either complete the documentation of your ED card on your flight to Curaçao or you can also complete the formalities beforehand through ED card online.

You need to produce a return ticket or an onward ticket from the country.

Proof of income/funds that will be enough to cover your food expenses and lodging in Curaçao.
If you are a US citizen, you can stay in Curaçao for a period of six months continuously in a year without a visa or a residence permit. However, if you want to stay in the country or work there for more than six months, you will need to file your application for a residence permit in Curaçao. If you are a US student planning to enroll in a school or college in Curaçao, you need to show your student visa upon arrival. If you are an US citizen, who has already stayed on the island country for six months and want to stay there again in the very same calendar year, then you will need to apply for a "declaration of admission" once you arrive at Curaçao.
Fee for departure
If you are flying to an international destination, a departure fee will be issued by the airport. However, note that most airlines incorporate this fee in the air ticket.
Safety and security for US citizens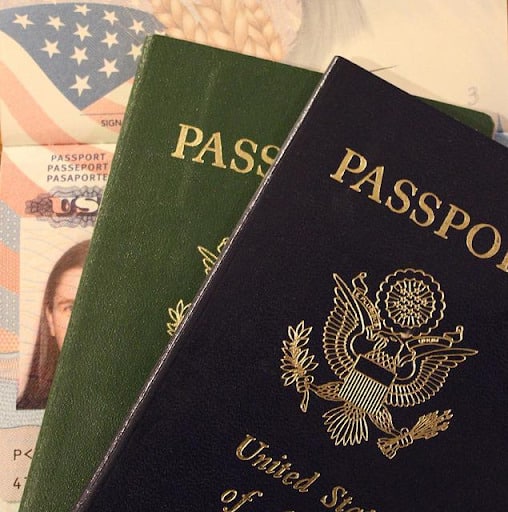 Petty crimes such as pickpocketing are common in Curaçao, especially in tourist places like hotel lobbies, restaurants, beaches and cars. Always stay alert and ensure the security of your personal belongings. Since car thefts are on the rise in the island, make sure to not keep any valuable items in the car. Make sure to always keep your car parked in an area that is under strict monitoring. There are few beaches in the island that issue extra charges on visitors as they deploy private security to avoid car thefts. In addition to this, don't keep your personal items unwatched in unsecured hotels and rental houses. Always make sure to have a copy of your US valid passport to provide proof if your original passport is stolen under any circumstances.
Although infrequent, the island of Curaçao has witnessed serious crimes like rape and armed robbery and they have been reported from isolated places like secluded beaches and small parking lots. Therefore, always be careful while travelling to the remote parts of the island.
Although the legal drinking age in the island is 18 years and above, in most cases it is not applied. So if you are visiting the island with your children, always keep an eye out for them. If you are frequenting clubs and bars in Curaçao, make sure to drink responsibly.
Report in case of crimes
If you require police help in Curaçao, dial 911. Once you get in touch with the local police, make sure to contact the US Consulate at this number – +(599)(9) 461-3066. You should always file a complaint to the local police, as they are the ones who are in charge of investigating the crime. Always file your own complaint to the police and never depend on hotels, tour guides and organizations and restaurants to do it on behalf of you.
Domestic Violence: If you are a victim of domestic violence in Curaçao, you can seek assistance from the US Consulate in the country. If you need urgent help, dial 911 and make sure to contact the local police station first.
Local Laws
Penalties –

Even though you are a visitor, you will also be under the supervision of the local law. In the case of violation of local laws, even if it's not in your knowledge, you might be expelled, arrested or put behind the bars. Moreover, few crimes committed in Curaçao can also be hauled into court in the United States. Visitors must note that Curaçao has very strict laws against the possession and use of contrabands. This law also covers tourists visiting the island. Therefore, tourists using marijuana for personal use can get arrested in the country.

Arrest Communication:

If you get arrested or held back in any police station in

Curaçao, request relevant administration to get in touch with the US Consulate.

LGBTQIA+ travellers:

There is no law against same-sex relationships in the country. The LGBTQIA+ community can easily organize any event in

Curaçao.

Specially-abled travellers

– People with special conditions might find it a little difficult to travel in Curaçao in comparison to the United States. Unlike the US, most buildings lack ramps here and the sidewalks across the country are not very wheel-chair friendly.
Healthcare in Curaçao
In comparison to the United States, quality healthcare infrastructure in Curaçao is not as of such a high standard. US citizens must note that the US healthcare schemes are not applicable overseas. This means that you need to bear your own medical expenses in Curaçao.
Medical Insurance – If you are travelling to Curaçao, ensure that your medical insurance plan is also applicable in the country. Do note that in most cases, you will need to pay in cash to a healthcare provider in Curaçao.
Medicines- If you have prescribed medications, check first with the Government of Curaçao to know if the medication is legal in Curaçao. While travelling, always keep your medicines along with your doctor's prescription handy. In comparison to the United States, the types of drugs available in Curaçao will be limited. In case you want to know as to which pharmacy will be open after regular business hours, you can call at: (+599)(9)737-7404 or get in touch with your hotel for more information.
Medical Infrastructure: St Elisabeth Hospital (SEHOS) is one of largest hospitals in Curaçao and is equipped with an emergency room and an ICU unit (the only ICU unit in the island). In addition to this, the island country also consists of two private clinics called The Taams Clinic and the Antilles Adventist Hospital respectively. If you have an emergency situation in Curaçao, you can dial: Emergency- 911 and EMS- 912
Transportation in Curaçao
Road Safety-

You need to be extra careful while you drive around Curaçao. In many places, common traffic signs are often missing or out of sight, so you need to be extra careful while you navigate intersections in the road. During the rainy season, the roads in the island turn very slippery, so always be alert. In addition to this, you need to also watch out for drunk drivers, scooters and motorcycles as they often don't abide by the traffic rules. If you are travelling in the rural parts of the country, keep an eye out for goats and other animals that can cross roads with no warning. If you are accustomed to night driving, then driving around in Curaçao is completely fine and safe. Although, the streets in the island are not as well-lit with lights like in the US, as long as you know the roads, you should be fine. Make sure to not drink-drive on the island. If you are proven to be guilty of this, your driver's license can be revoked and you can be fined or put behind the bars.
Traffic Rules:

With a US driver's license, you can easily travel in Curaçao. You need to exercise normal precautions like:
Right turns during red lights are forbidden

You need to wear seat belts and helmets in cars and motorcycles, respectively.

Children should always ride in the back seat

In case you have a baby on board below the age of five, you need to have a child safety seat.

U-turns are mostly not allowed

If you are at a T-crossing, remember through going traffic will be prioritized.

If you face an accident, dial 199 and inform the Curaçao Road Services. You don't need to move your vehicle or pull over, instead give a call to your car rental agency. Depending on circumstances you might also need to file a police complaint

In case you are facing any problems related to your car, you can call  9-24-7. The service is on 24*7.
Public mode of Transport –

The public transportation in the island is not very convenient. There are only two bus terminals in the country – one is situated in Punda and the other is located in Otrobanda close to the overpass. Big buses generally cover long distance journeys and travel around one every hour. On the other hand, for travelling shorter distances on the island, you will find mini vans and buses with the word "Bus" mentioned on the registration plates. In comparison to the large buses, these are economical and run continuously without following any particular schedule. In comparison to buses, Taxis are costly but they do run according to time and schedule and are safer. Taxis have no meters here, so before boarding one, make sure to identify the cost of your journey.
Watersports –

Before trying out any watersports in the island, you should know about the risks associated with it and then take part accordinly.. Make sure that you are not completely alone while you participate any watersports especially on deserted beaches. If you have been consuming alcohol, it is best to avoid places where the water is above your waistline. Visitors should also keep in mind the watercraft traffic in the place, while venturing out for any kind of watersports. Always remember, it is better to be safe than sorry.
Cliff Jumping and Diving –

There have been incidents in the past where people have succumbed to injuries on the island. So determine potential risks before signing up for cliff jumping and diving in the island.
Aviation-

Owing to safety issues and on the instructions of the US consulate, US consulate personnel are not allowed to fly on Insel air.
Maritime Travel- Before travelling to the island,

mariners need to

complete a Customs Form 1300, Vessel Entrance or Clearance Statement stating their intention to travel to Curaçao. This needs to be completed before mariners leave from the US port. If they are unable to do so, their entry will be denied in the island's ports.
Customs and other regulations
If you are planning on visiting Curaçao with expensive jewellery items, you should make sure to carry any kind of proof that states that the things purchased are yours. For example, purchase receipts, bills stating the sale, an insurance policy or an appraisal from the jeweler. If you are travelling with any internationally made items like cameras, watches or gifts, make sure to keep the serial numbers handy to show Custom Officers for registration before departing from the United States.

In addition to personal use items, individuals above 18 years can also carry one-fifth of liquor, 200 cigarettes, 50 cigars, and 250 grams of tobacco and enter Curaçao. Once you break this limit, you need to declare your belongings. Moreover, you also can keep up to $10,000 with you while travelling. If you are carrying more than the said amount, you need to declare it beforehand.

The use of marijuana or some other prohibited drugs are completely forbidden in the island. But you can definitely carry prescribed drugs with you, but make sure to make a declaration if they contain narcotic substances.
If you are planning to relocate to Curaçao permanently, you may read our article: Citizenship by Investment in Curaçao for additional information.
Curaçao Investor Permit Program
Curaçao has emerged as one of the top countries where foreign investors want to invest in exchange for residence permit or citizenship. To qualify for obtaining a residence permit, investors need to make a minimum investment of $280,000. The investment can be done through various routes such as acquiring real estate, investing in a business or by obtaining securities.
Curaçao Work Permit
Work permits in the island are not issued to foreign investors alongside the residence permit as part of the Investor Permit Program. Rather, people interested in working on the island need to apply for a work permit separately. For the application, you need an employer to file it on your behalf. If you want to work on an urgent basis, make sure to apply for the work permit as soon as you receive your residence permit. Usually, it takes around three months of time for a work permit to get approved by the authorities. Tourists must keep in mind that they cannot work in the country with only a tourist visa.
For further information, you can check out our article: Curaçao Investor Permit Program – The Ultimate Guide By Experts | GCS
Curacao visa free countries
Nationals of the below mentioned countries don't require a visa if they want to enter Curaçao and stay for a period of 90 days.
All European Union citizens

 Albania

 Andorra

 Antigua and Barbuda

 Argentina

 Australia

 Bahamas
 Barbados

 Belize

 Bosnia and Herzegovina

 Brazil

 Brunei

 Canada

 Chile

 Colombia

 Costa Rica
 Dominica

 Ecuador

 El Salvador

 Grenada

 Guatemala

 Guyana

 Honduras

 Hong Kong

 Iceland

 Israel

 Jamaica

 Japan

 Liechtenstein

 Macau

 Malaysia
 Mauritius

 Mexico

 Moldova

 Monaco

 Montenegro

 New Zealand

 Nicaragua

 North Macedonia

 Norway

 Panama

 Paraguay

 Peru

 Saint Kitts and Nevis

 Saint Lucia

 Saint Vincent and the Grenadines

 San Marino

Serbia
 Seychelles

 Singapore

 South Korea

 Suriname

  Switzerland

 Taiwan

 Trinidad and Tobago

 Ukraine

 United Arab Emirates

 United Kingdom

 United States

 Uruguay

  Vatican City
Frequently Asked Questions
Requirements for Curacao visa for US green card holders?
If you have a US green card, you can enter Curaçao or access any other islands that are a part of the Dutch Caribbean region without a visa.
Curacao travel restrictions for United States citizens?
There are various health screening processes that are in place in the Curaçao airport. There is also a midnight curfew in place until 4.30 am in the country. If a US citizen tests positive for Covid-19, he/she might be quarantined. Make sure to wear masks in public places. Any violation of this rule might lead to penalties.
How do I get a tourist visa for Curaçao?
To get a tourist visa for the island, applicants must have the following-
A valid passport that is more than 10 years old

Your passport should remain valid during your stay period

You need to share your travel itinerary

You must have sufficient funds to cover your expenses in the island

You must possess a valid medical or travel insurance

You should have no criminal record