This article contains information on US passport visa-free countries 2022. We'll explore where US citizens and residents can travel visa-free in 2022, as well as the true strength of US passports in terms of mobility.
Keep in mind that entering and traveling to visa free countries for US citizens does not require a specific kind of approval. In this article, we'll provide you with an up-to-date list of the visa-free countries where US passport holders can confidently travel to.
This page also goes over the countries US residents can visit with a visa on arrival or an Electronic Travel Authorization (eTA).
Where can US passport holders travel visa-free in 2022?

According to the Global Citizen Solutions Global Passport Index, the US passport took the 1st position in 2022 for its travel, investor, and relocation advantages. The Global Citizen Solutions Global Passport Index is a new way to uncover a passport's attractiveness, using mobility as an indicator, while also incorporating investment opportunities and quality of life factors. According to the results of this research, the US ranks as having the most powerful passport in the world when taking into account the three individual indicators: Enhanced Mobility Index (10th place), Investment Index (4th place), and the Quality of Life Index (23rd place).
The balance of performing well in each category pushes the USA to the top spot, followed by  Germany (2nd) and Canada (3rd). Passport visa-free countries with travel benefits for US citizens comprise 172 countries or territories. Note that after staying a longer period of time, some of them impose tougher requirements, usually lasting 30, 60, 90, or 180 days. Additionally, US citizens traveling for business or study may be required to get a business or student visa.
You can see more about the USA Passport on our US country page here.

With a US passport, you are armed to travel to many countries and territories in the world, including theUnited Kingdom, Japan and Singapore. Note that to enter Singapore, you will need to obtain an SG Arrival Card.
In addition, due to Europe's top prominence as a vacation destination, US citizens do not require a tourist visa to visit any of the 27 EU countries. Other countries in Europe, such as the United Kingdom, Andorra, Serbia, Montenegro, Iceland, and others, are free to enter as well.
Where Can the US Travelers Go Without Visas?
As noted before, the US passport is one of the strongest passports in the world, when it comes to mobility, ranking in 10th position. Here is the visa-free countries list for American citizens, proving this to be the case in 2022:
Saint Vincent and the Grenadines

The Central African Republic

Turkish Republic of Northern Cyprus
Countries where US passport holders will require an e-Visa
In addition to the US passport visa-free countries list, there are some further visa requirements for US citizens, such as permits from the US or the foreign government, Electronic Travel Authority (ETA), and e-Visas.
Additionally, there are several locations where US travelers can obtain a visa upon arrival. The regulation requires that travelers get a stamp on their passports once they enter these foreign customs and borders. The duration of such a visa is determined by how long the person intends to stay. It also includes each country's rules and regulations.
We've put together a list of countries and territories where travelers will need documentation like an ETA or e-Visa:
South Georgia and the South Sandwich Islands

British Indian Ocean Territory
Visa requirements for US citizens
Even though the number of visa-free countries that US citizens can travel to is large, there are some countries that require US passport holders to secure a visa before leaving the United States. Among them, there are such countries as India, China, Vietnam, and Russia. This is why travelers must always check whether their future destination requires them to obtain a visa or not. It is better to be well-prepared than to end up accidentally stuck at the airport.
The procedure of getting a visa will depend on the regulations and rules of each country. It can sometimes be difficult, particularly if there is a strained relationship between the country you wish to travel to and the United States.
Below there is a list of countries and territories where US citizens must obtain a visa. What countries do not accept U.S. passport? The only destination where it is forbidden for US citizens to travel to is North Korea, due to its closed border status for both US citizens and citizens of other countries.
The Democratic Republic of the Congo
The Passport validity demand
Countries will have different policies when it comes to passport eligibility. And even though the requirements to travel to one of the countries listed above is only to have a valid passport, you may meet some additional requirements as well.
Your passport should be valid for at least:
6 more months after you arrive
This is the case for Afghanistan, Algeria, Anguilla, Bahrain, Bhutan, Botswana, British Virgin Islands, Brunei, Cambodia, Cameroon, Cayman Islands, Central African Republic, Chad, Comoros, Côte D'Ivoire, Curacao, Ecuador, Egypt, El Salvador, Equatorial Guinea, Fiji, Gabon, Guinea Bissau, Guyana, Indonesia, Iran, Iraq, Israel, Jordan, Kenya, Kiribati, Laos, Madagascar, Malaysia, Marshall Islands, Micronesia, Myanmar, Namibia, Nicaragua, Nigeria, Oman, Palau, Papua New Guinea, Philippines, Qatar, Rwanda, Saint Lucia, Samoa, Saudi Arabia, Singapore, Solomon Islands, Somalia, Somaliland, Sri Lanka, Sudan, Suriname, Taiwan, Tanzania, Thailand, Timor-Leste, Tokelau, Tonga, Tuvalu, Uganda, United Arab Emirates, Vanuatu, Venezuela, Vietnam, Yemen, Zimbabwe.
4 more months after the arrival
Micronesia and Zambia.
3 months
This applies for all EU countries (except Ireland, the UK, and Denmark), Albania, Belarus, Georgia, Honduras, Iceland, Jordan, Kuwait, Lebanon, Lichtenstein, Moldova, Monaco, Nauru, Panama, Saint Barthelemy, San Marino, Switzerland, United Arab Emirates.
45 days
Bermuda.
1 month
Hong Kong, Eritrea, New Zealand, South Africa, and Macau.
Demand for biometrics and vaccination
Let's not forget about the Covid-19 situation and keep in mind that many countries still ask for proof of vaccination or a negative COVID-19 test on arrival. This rule will vary from country to country as each has defined its own scope of requirements. Additionally, these requirements are constantly changing, depending on the current COVID-19 situation, so it is best to check the requirements of the country while planning your trip. For instance, Japan, Saudi Arabia, Argentina, Brunei, Cambodia, Singapore, South Korea, and Malaysia will ask you to provide fingerprints on arrival.
Depending on where you are traveling to, showing a CDC vaccination card may not be sufficient. You may need to take additional steps to set the vaccine passport up before traveling. This is due to certain countries demanding all visitors to present their proof of vaccination. Some of them do not accept all types of existing vaccinations, so travelers need to check them beforehand. For this, The International Certificate of Vaccination is used to determine the sorts of vaccines.
US citizens may meet such conditions in the following destinations: Angola, Benin, Burkina Faso, Cameroon, Central African Republic, Chad, the Democratic Republic of the Congo, Republic of the Congo, Côte D'Ivoire, Equatorial Guinea, Gabon, Ghana, Guinea, Liberia, Mali, Mauritania, Niger, Rwanda, Sao Tome and Principe, Senegal, Sierra Leone, Uganda, and Zambia.
Proof of vaccination is common nowadays to enter a certain country. However, there is nothing to worry about from those coming from the United States since all US vaccines are approved.
A few tips before traveling
When traveling abroad, there are numerous variables to consider and you should pay close attention to every detail. We've all had travel experiences where things could have run more smoothly, but one of the most important things to consider is to make sure you have the correct documents with you, to avoid last-minute stress that could have been avoided. There are numerous options to consider when deciding what to bring with you and what to leave at home. Citizens of the United States must remember these crucial travel documents at all times, to avoid any last-minute turmoil and chaos.
We've put together a pre-trip checklist and advise you to follow it closely for a hassle-free travel experience. There's always a lot to remember, so ticking off these boxes should make traveling a bit less stressful.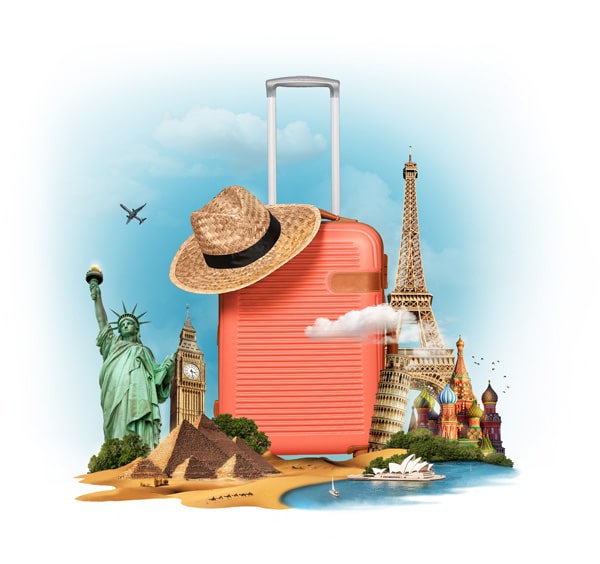 Look for information
After you've decided where you want to go, booked your trip, and discovered if you require a visa, search for the most up-to-date country information.
Connect with others who have visited the region before and ask them questions on social networks. The idea is to get as much information as possible about your destination. What is the present situation there? What is the location of the US embassy in the event of an emergency?
Additionally, you can participate in the Smart Traveler Enrollment Program (STEP) to receive travel and safety information from the US government, and they will send you specifics on your trip. In an emergency, they can also contact you.
Provide the documents needed
Before your journey, make sure you have all of the proper documentation for border officials to enable you to enter the country and return home.
Whether you're traveling within your own country or venturing abroad, you'll need valid identification. You can leave your voter registration card at home, although you should bring the following forms of identification:
Your child's passport and visa (if you're going to a place where a visa is required);

If you have plans to drive in another country remember to bring your driver's license;

In case you are traveling with a minor who is not your child, you will need parental guardianship documentation or permission to travel;

Any doctor's prescription to acquire your medicine while you're on the road.
Making numerous copies of travel documents and credit cards is one step that should be taken. When traveling, keep one copy separate from the original. Another duplicate should be kept at home or with someone you can trust. Additionally, leave a copy of your itinerary and emergency contact information at the department, as well as another copy with others you trust. Please contact the US embassy in your area if your travel documents are lost or stolen.
Consider having insurance
For the majority of people, this is a must-have if they are going to travel. There are numerous tourist insurance policies and options available, but most of them cover emergency medical treatment, trip cancellation, evacuation, and lost baggage issues.
When you travel, you risk putting yourself in danger of disease and other accidents. Travel insurance is important for every seasoned traveler. Purchase one that includes both health and property coverage. From compensation for lost luggage to emergency evacuations, there are constant instances of travelers catching staph, malaria, parasites, or other maladies. Travel insurance is a tool that can save you a lot of money if something awful happens while you're far away from home.
After reviewing local information and essential documentation, think about the type of insurance that is best for you before going. There are dozens of companies and services that provide various sorts of insurance, including:
Health insurance for all forms of medical issues. In some cases, you can get insurance for traveling companions, family members, or friends who are visiting the country with you. This includes basic health insurance that covers things like fevers and visits to the hospital. Even more sophisticated medical crises are covered by supplemental insurance.

In the case of a crisis in the region you're visiting, be sure to have emergency evacuation insurance.

The airline or agency where you purchased the ticket will provide you with travel insurance for your itinerary.
There's no need to dwell on potential issues; instead, stay aware of the surroundings and make small efforts to secure yourself. Thus, it will go a long way in discovering new places and enjoying your adventures abroad.
Traveling to Europe from the USA
While Europeans dream of traveling across North America's 50 states, Americans are just as interested in visiting Europe. What EU countries can US passport holders travel to visa free? The following countries in Europe are accessible to American citizens without the need for a short-term Schengen visa:
List of countries - No short-term Schengen visa is required
An EU Visa to visit Europe
A citizen of the United States who has a valid passport can visit any of the European Member States for up to 90 days. This means that for short-term international travel and business trips, there is no need to apply for or obtain a Schengen visa.
When it comes to US residents of other nationalities, the situation has changed somewhat. Non-Americans living in the United States may or may not be required to obtain a visa. It depends on their nationality when they plan to travel to Europe:
Residents of the United States who are citizens of countries with whom the EU has established visa-free regimes do not need to seek a visa to enter Europe.

The US residents of countries that have not yet established a visa-free system with the European Union must apply for a Schengen Visa in the United States to visit these countries.
Please keep in mind that citizens of the United States planning a trip to Europe will have to apply for a visa waiver through the European Travel Information and Authorization System (ETIAS) shortly. This is a new European travel authorization that will be implemented by the end of 2022. ETIAS will permit short-term stays in all Schengen nations for a set amount of time. This is one of Europe`s recent measures to tighten security to avoid immigration issues and unlawful terrorism.
By the end of 2022, all Americans traveling to 26 countries of the European Schengen Area will be required to have ETIAS. It also applies to non-EU countries: Lichtenstein, Iceland, Switzerland, and Norway.
Documents to prepare
Even though US citizens can travel visa-free to Schengen, there are still certain documents that they will need to bring with them. These documents include: 
A United States passport that is valid for at least 3 more months past the expiration date of leaving the Schengen Area.

Proof of sufficient financial means, that proves that the tourist from the United States has enough money for the duration of their stay in Europe.

Entry reasons evidence. This is a document explaining the reason for traveling to the Schengen Area.
In the case of getting rejected at the EU border, a traveler has to go back to the US and fill out an application for a basic Schengen Visa.
Traveling to the UK from the USA
Tourists and business travelers from the United States do not require a visa to visit the United Kingdom. A valid US passport is required for a maximum stay of up to 6 months.
Yes if you are a US citizen, it is not required to obtain a visa to visit the United Kingdom. Green card holders, on the other hand, may need to apply for a UK visa while in the US, as visa-free access is determined by nationality.
To reach visa free countries for US, green card holders must follow these procedures to apply for a UK visa in the United States:
Find out if you require a visa to enter the United Kingdom

Fill out the online visa application form for the UK
To begin the process of applying for a visa in the United Kingdom, the online application form must be completed. After submitting accurate and truthful information, you will need to pay the visa application fee. Your application will be rejected if the information on the application form does not match the information in the other needed documents.
Schedule an appointment to provide biometric data
After that, you must schedule a biometric testing appointment at one of the more than 130 Application Support Centers (ASCs) located across the United States. You must give a digital image and a digital scan of all 10 of your fingers during this session. After biometric submission, the quickest time to submit your visa application and all other documents are 1 or 1,5 days. The latest is two weeks.
Attend the visa interview
Once you have gathered all of the required documents, mail them to a registered travel agent, or submit them to the British Consulate General in New York. Organize your application, passport, and other documents in a checklist and put them in an envelope; no stapling is necessary.
At the interview, applicants are required to bring their passport, a print of the application form, and a copy of the biometric information receipt.
Frequently Asked Questions
What Is The US Passport Rank?
According to the Global Citizen Solutions Global Passport Index, the US passport took the 1st position in 2022 for its potential, including three individual indicators: Enhanced Mobility Index (10th place), Investment Index (4th place), and the Quality of Life Index (23rd place).
Do I need a US passport to travel overseas?
Yes, you need your passport to travel overseas. Passports are required for exiting and entering the United States, as well as all other countries. When traveling abroad, it is everyone's obligation to have identification for the sake of proper safety.
---