The city of Braga, in the north of Portugal, has been somewhat overlooked as attention has long focused on the buzz of Lisbon or the historic charm of Porto. However, Braga was voted as being the best European destination back in 2021, which has significantly increased its presence on the map as a top expat destination. Alongside this, the city has become somewhat of a tech hub, with many international companies opening up offices here, organically mixing modernity with the long-standing traditions of the city. One of the most important things to consider is affordability when considering a place to move to. In this article, we'll provide you with everything that you'll need to know about the cost of living in Braga, Portugal. You will probably be pleasantly surprised by the affordability of this northern gem.
Rent costs and property prices in Braga
When deciding whether to buy or rent a house, it's good to have some idea of the property market. The popularity of Braga amongst expats, students, and, increasingly, tourists who are looking to explore the north of Portugal, has increased in recent years. If you were to buy a house, you should be able to rent it out for part of the year to secure a nice return on your investment if you are looking over a longer time horizon. What's more, house prices in Braga are generally very affordable, compared with other cities in Western Europe, and therefore it could be a good idea to consider buying, instead of renting property.
However, this will completely depend on your situation, as buying a property is a major investment. In this part of our cost of living in Braga article, we'll provide you with some insights into rent costs and property prices in Braga.
Braga rent prices
According to Numbeo, with data last updated in June 2022, rent prices in Braga are around 43% lower than in the capital, Lisbon, and 23% lower than in Porto, the second-largest city in the country. To provide you with further information, here we'll provide you with some prices (rounded up or down):
A one-bedroom apartment in the city center – €550
A three-bedroom apartment in the city center – €925
A one-bedroom apartment outside the city center – €442
A three-bedroom apartment outside the city center – €733
Note that the rent prices will vary depending on which part of the city you want to live in, the size of the apartment, the age of the apartment, and other factors. Some properties will include utilities, while for others you will need to pay extra for them. We'll provide you with some information on utility costs later in this article.
Property prices in Braga
Property prices in Braga will vary greatly depending on where you live in the city, or if you live slightly out of the city center.
The price per square meter to buy an apartment in the city center is €1,816.
The price per square meter to buy an apartment outside the city center is €950.
Food prices
Food prices will provide you with an insight into the cost of living in Braga. Generally, food is very affordable and the produce is of very good quality, particularly if you shop locally.
The table below will provide you with the prices for some common grocery items, with the data taken from Numbeo.
| | |
| --- | --- |
| Milk (regular), (1 liter) | |
| Loaf of white bread (500g) | |
| | |
| | |
| | |
| | |
| | |
| | |
| | |
| | |
| | |
| Bottle of wine (mid-range) | |
| Domestic beer (0.5-liter bottle) | |
| Imported Beer (0.33-liter bottle) | |
Restaurants and eating out
It is said that the food in the north of Portugal is the best in the country, and we would not dispute this. With excellent family-owned restaurants, Michelin-starred establishments, and lovely cafés to discover, Braga has much to offer.
Meals are generally very cheap and a meal in an inexpensive restaurant will cost you around €7 or €8. If you venture into more luxury-end restaurants, however, expect to pay international prices.
Cost of utilities
Utility costs will depend on your usage. It's important to note that the winters can get cold in the north of Portugal, so make sure that you have a good heating system to get you through the cold months.
To give you an indication of the basic cost of utilities (electricity, heating, cooling, water, and garbage) this will cost you around €132 per month for an 85m2 apartment. One minute of a prepaid mobile local tariff, without any discount or plan, will cost you €0.14. Internet (60Mbps or more) will cost you around €30.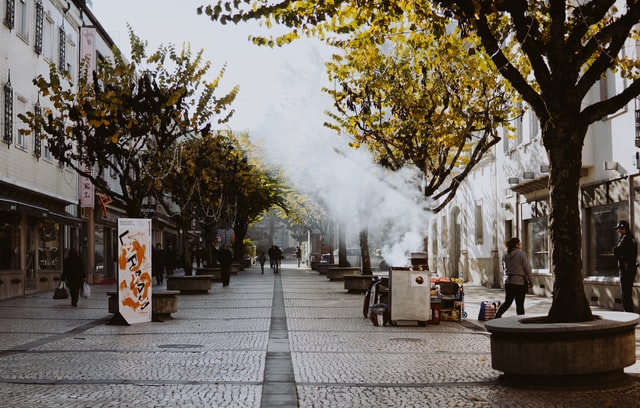 Transportation costs
If you live in Braga, you will find that you can easily get around the city by public transport, with good bus connections both inside and outside the city, where you can travel to nearby towns. Porto, the second-largest city in Portugal is also reachable by train. Porto also has its own airport for international travel.
Transportation in Braga is quite affordable. A one-way ticket on local transport will cost you €1.55 and a monthly pass will set you back €26 euros.
Taxis are also an affordable option, but for even better deals, check out Uber. If you are driving, gasoline will cost you €2.03 per liter.
Educational costs
If Portugal is on your radar and you are moving to the country with your family, you have the option to send your children to a public school, private school, or an international school.
If you choose public education, this is free for all Portuguese citizens and legal residents in the country. If you decide on private education, then you will then have to pay a fee, which will fall between €800 and €1,500 per month for primary through to high school. There will also be extra costs to factor in, which will include enrollment fees, book fees, and, if applicable, school uniforms.
International schools will cost you about €1,500 in Portugal, although this will vary from school to school. In Braga, CLIB – The Braga International School is a good option, which is a private, co-educational and non-denominational school that is for children between the ages of 3 and 18. You will also need to pay for books, enrollment fees, and the uniform, if applicable.
Universities in Portugal are well known internationally for their excellence and traditions. With universities, you have public and private universities in the country. Public universities will have a fee limit that will change annually but has recently been fixed with a maximum fee of  €900. Private institutions, however, will cost you an average of €3,000 per year.
Your cost of living in Braga, if you are moving with your family, will depend on if you opt for public or private school education for your children. To learn more about the education system in Portugal, you can consult our article here.
Healthcare costs
For Portuguese residents and citizens, healthcare in Portugal is almost completely free, with only small costs applicable. There are, however, a few procedures where you will be required to pay a fee, such as paying a visit to the emergency room, taking a diagnostic exam, or getting a specific doctor's appointment. Routine checkups will typically cost €40, while medical procedures will start at a cost of €5. The cost of living in Braga, with regard to healthcare, is pretty affordable, particularly when compared with the USA.
Private healthcare will cost around €40 to €50 for a doctor's appointment. Private insurance will cost a yearly fee of €400, while comprehensive healthcare cover will cost approximately €1,000.
Portugal Visa options
When looking to move to a country, you'll want to know how you can legally relocate. While EU citizens will have an easy time moving to Portugal and will not need a visa, but will simply need to apply for a Residence Certificate after three months, two good options for non-EU citizens are the Portugal Golden Visa and the D7 Visa. In this part of our cost of living in Braga article, we'll provide you with a brief overview of both.
Portugal Golden Visa
If you are looking to move to Portugal, then the Portugal Golden Visa could be a good option for you. This scheme has become one of the most popular investment programs of its kind since its inception in 2012. The Portugal Golden Visa allows holders to reside in Portugal for a qualifying investment in the country. There is also the possibility to secure citizenship after five years through naturalization, as long as you fulfill all the requirements.
One important note, however, is that, as of 1 January 2022, it is no longer possible to invest in residential real estate in hotspot locations in the country. This rules out Lisbon, Porto, Braga, much of the Algarve, and many other parts of the country. You will need to invest in interior areas, but you should be pleased to know that there are many excellent options close to Braga that could be the perfect option for you. There is also a 20% discount applicable if the property is also located in a low-density area. For commercial property, there are no location restrictions.
You can read more about the criteria for interior areas and low-density areas here.
For more information on the Portugal Golden Visa, you can consult our Portugal Golden Visa Step-by-Step Guide, which includes the investment options in full.
Portugal D7 Visa
If you are not looking to make a significant investment in the country, then the D7 Visa is probably your best option to live in Portugal. This is an affordable visa that allows individuals to secure residency as long as they have a recognized stable income or sufficient funds to sustain themselves during their stay.
Proof can include movable property, real estate, intellectual property, pensions, or financial investments, making this visa an excellent option for retirees, entrepreneurs, and any other expats that are looking for a route to residency in Portugal. You will need to earn the minimum wage in Portugal, which is dictated by the Government, to qualify.
For more information on the Portugal D7 Visa, you can read our article here.
You can read here our ultimate guide for expats in Portugal here.
Braga life cost: Conclusion
Braga is one of the most charming cities in Portugal and is fast becoming a hub for expats who have come to appreciate the beauty of this northern city. Indeed, the cost of living in Braga is affordable, there is an up-and-coming tech scene, the food is beyond excellent, and the locals are extremely welcoming. If you are considering taking the plunge in moving to a corner of Europe, then living in Braga, Portugal, comes highly recommended.
Global Citizen Solutions: How we can help you
Global Citizen Solutions is a boutique residency and citizenship by investment consultancy. We are focused on finding the perfect investment, citizenship, or residency program for individuals across the world. We work solely on behalf of our clients throughout the process for an easy and hassle-free journey to your desired route.
With offices worldwide and an experienced, hands-on team, get in touch today to see how we can understand your objectives and help you move towards becoming a global citizen.
If you are considering Braga, Portugal real estate then you can get in touch with our real estate division, Goldcrest, who will be delighted to discuss your options with you. They will be able to provide you with expert advice on the best neighborhoods in Braga, Portugal, plus guide you through the buying process.
The following articles may be useful to you:
Portugal ranks in 12th position in Global Citizen Solutions' pioneering Quality of Life Index, part of our innovative way to uncover to true value of a passport. This index factors in the cost of living, alongside the Sustainable Development Goals, levels of freedom, happiness levels, migrant acceptance, and environmental performance.
Frequently asked questions about the cost of living in Braga:
Is Braga expensive to live in?
Braga is a very affordable city to live in when compared to other cities in Western Europe.
Is Braga a good place to live?
Yes, Braga is an excellent choice to live in and was voted the best European destination in the first quarter of 2021.
Is Braga cheaper than Porto?
Living in Braga vs Porto, you will find the former more affordable, in terms of consumer prices, rent, and restaurant prices.
Where should I live in Braga?
There are many great options where you can live in and around Braga, including the university quarter, Bom Jeses do Monte, Maximinos, Sé e Cividade, and Briteiros, Vila Verde or Espinho. You can see more about these locations in our article Living in Braga.