A tropical climate, stunning sandy beaches, a vibrant culture, delicious cuisine, and friendly locals - this is likely what comes to mind when you think of the Caribbean. It's no wonder that with so many enjoyable aspects, the Caribbean is the ideal destination for investors, families, digital nomads, and retirees all looking to make a home in a slice of paradise. In our guide on moving to the Caribbean, we'll go over everything you need to know, from what to expect from life here to the process of applying for citizenship.
The islands in the Caribbean offer an ideal getaway for many, whether you're visiting as a tourist, relocating for work, or investing in a new home where you can spend your golden years of retirement. Made up of over 7,000 islands, places like St Lucia, Turks and Caicos, Antigua and Barbuda, and St Kitts and Nevis offer something for everyone.
Check out our article:
Living in Antigua as an Expat Guide
.
Keep reading as we delve into what you can expect when moving to the Caribbean.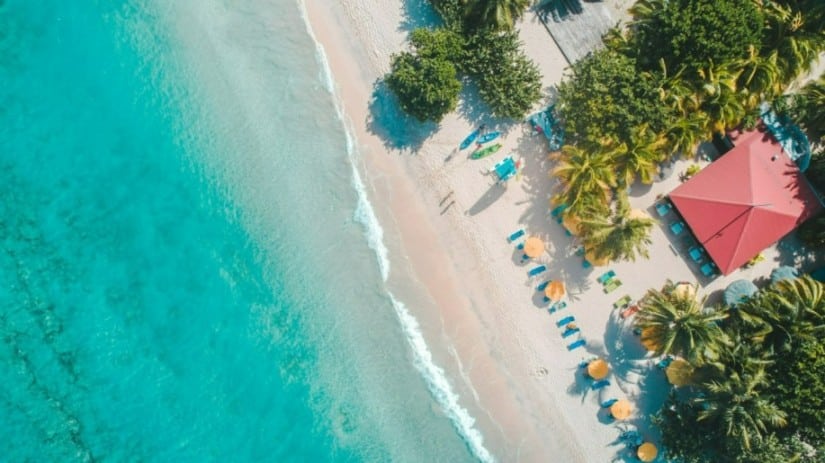 Caribbean Life
Life in the Caribbean is diverse and caters to various lifestyles. Larger islands like the Bahamas and Barbados are tourist hubs with thriving construction, hospitality, and retail industries. If you're a digital nomad or relocating for your career, these areas may be ideal for you.
If you're retiring to the Caribbean, you may be searching for somewhere less busy and with a more laidback island life. In this case, islands like Grenada, St Kitts and Nevis, and St Lucia offer the opportunity to lead a life of calm and rejuvenation.
Check out our article: Americans Relocating to St Lucia.
When moving to the Caribbean, you may also want to think about the transport systems available in the area you choose to reside in. As we mentioned above, the Caribbean is made up of a number of islands, and travel between them is often as easy as a short flight. If you're eager to explore these beautiful islands, you'll be happy to learn that flights, cruises, ferries, and yachts are all available to get you from island to island. Within each island, you'll be able to rent a car or board a bus to make your way around.
Moving to the Caribbean
You may be wondering exactly how to move to the Caribbean. Fortunately, you have several options to choose from.
Digital nomad life in the Caribbean
Becoming a digital nomad is an attractive option for many. The advantages include being able to travel while you work, being able to live in different countries, and being able to make use of digital nomad visas offered by various countries. You can look to places like Antigua and Barbuda, the Bahamas, and Dominica if you are interested in pursuing the digital nomad route.
For more information, check out our article: Digital Nomad Visa: Countries Offering Visas for Digital Nomads.
Apply for dual citizenship
Another way of being able to live and work in the Caribbean is to obtain dual citizenship. A number of destinations in the Caribbean offer citizenship by investment programs, such as Antigua and Barbuda, Grenada, St Lucia, St Kitts and Nevis, and Dominica.
For more information, check out our article: Caribbean Citizenship by Investment Comparison Guide.
Find a local job or start a business
If you are interested in advancing your career in one of the Caribbean countries, you can look for jobs available there. As we mentioned above, larger islands like the Bahamas and Barbados have thriving industries providing numerous work opportunities.
However, it is important to note that you may find this route more challenging than others, depending on the industry you work in and your qualifications. You will also need to obtain a residency permit or dual citizenship, as this will enable you to legally live and work in the Caribbean.
How to Move to the Caribbean
Now that you know what to expect, let us take a look at how exactly you can take your first step toward moving to the Caribbean.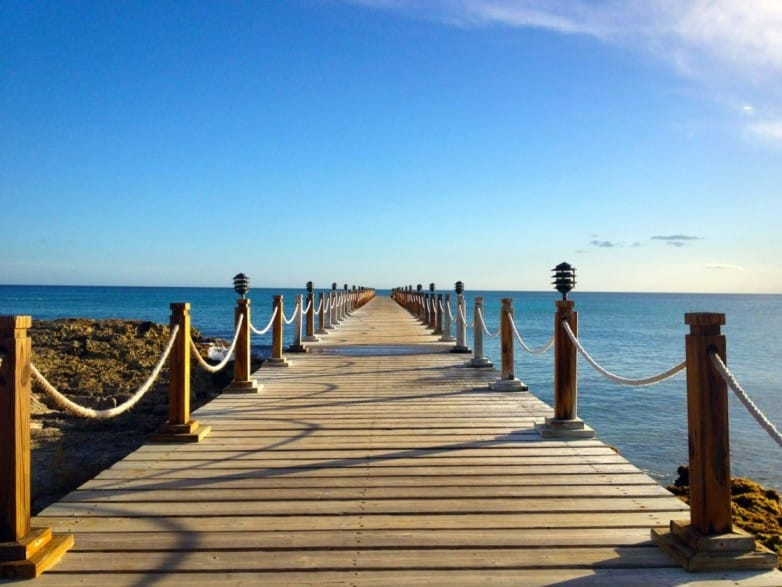 Step 1: Identify what you're looking for
It's important to have a clear idea of what you are looking for before you make the move. What kind of area do you want to live in? Are you moving with your children and therefore need to live close to a school? Are you relocating for work and need to have easy access to the bustling city center? Or are you retiring to the Caribbean with the intention of living just a short walk from white sand beaches and seaside restaurants?
It would be best if you also considered the day-to-day essentials you will want in order to lead a comfortable life, such as a car to get you to and from the grocery store. Furthermore, are you looking for a more traditional experience of the local culture, or would you prefer to live in an area populated by other expats?
These are but a few of the important factors that you will need to consider prior to making your move. Having a clear idea of what you want – and therefore need to look for – will make your move more manageable.
Step 2: Do your research 
Another advantage of knowing what you are looking for is being able to conduct your research clearly and efficiently. You can begin with a more general search online and narrow down your options based on the criteria you have already identified. 
Research is also important when determining the areas in the Caribbean you are able to move to, as well as what kind of visas/visa programs you may be eligible for. Fortunately, there are several platforms that you can use to conduct your research, including:
The internet

Facebook groups

Country websites

Immigration firms
Step 3: Ask for help
As you may expect, talking to someone is the easiest way to find the information you need. Facebook groups are a great way to connect with other expats who have already taken the leap, getting advice and support from people who have embarked on a similar journey.
It is also beneficial to speak with experts in immigration and visa matters, such as lawyers and firms like Global Citizen Solutions. These professionals are experts in this field and will be able to provide expert and impartial advice regarding eligibility requirements, documentation, processing times, and more.
Global Citizen Solutions: Who we are and how we can help you
Global Citizen Solutions is a boutique investment migration consultancy firm focused on finding the right residency or citizenship by investment program for individuals wishing to secure their future and become global citizens.
With offices in Portugal, the United Kingdom, Hong Kong, and Brazil, our multilingual team guides individuals and families from start to finish, providing expert advice considering freedom, mobility, taxation, and security. Get in touch today to find out how we can help you in moving to the Caribbean.
Step 4: Prepare back home
Once your move to the Caribbean is organized and confirmed, you should take some time to make the necessary preparation for your move. This can include things like selling or renting out your home (if applicable) and sorting out your finances so that you will not encounter any issues once in the Caribbean. You should also familiarize yourself with the tax rules in the Caribbean so that you are aware of what laws apply to your individual situation.
Another aspect to prepare for is furnishing your new home. If you are moving into an already furnished property, you may only want to bring a few home comforts with you. If you are moving into a home that is not furnished, you may want to bring more items with you or find items in the Caribbean to furnish your new home. Depending on the type of property you acquire in the Caribbean, you may decide to either sell (or give away) most of your belongings or take them with you to the Caribbean. Each option comes with its own cost, so it is important to determine which option is best for you.
Step 5: Settle in
The final step is to book your plane ticket and finally make the move to your new home. This is likely the most exciting step, as your new life is finally beginning! You'll be able to explore the Caribbean, enjoying the sights, sounds, tastes, and world-class beaches.
It will take some time to adjust to your new life, but it is important to remember that life in a new location will always get easier over time. The excellent lifestyle that you will encounter in the Caribbean – particularly the breathtaking natural landscapes, wealth of activities, and friendly locals – will help you embrace your new environment.
Check out our article: Living in the Caribbean – The Pros and Cons You Need to Know.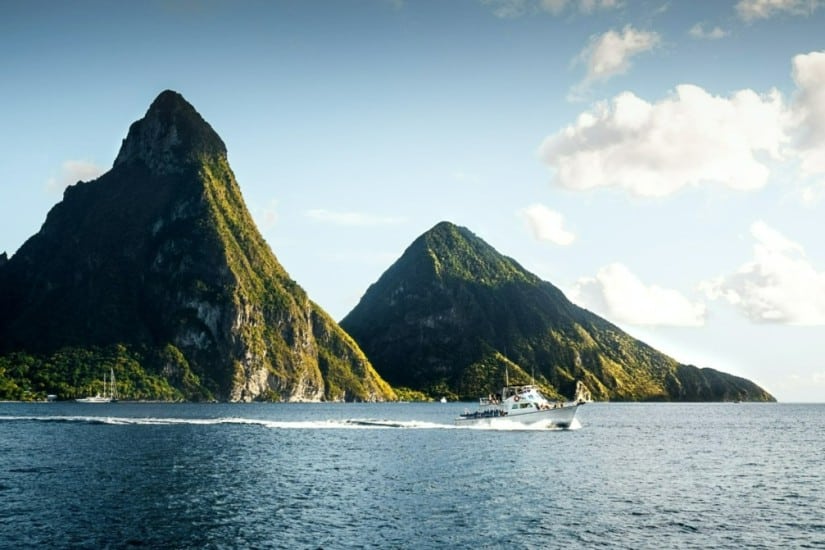 Moving to the Caribbean
Once you're in the Caribbean, you'll be able to enjoy the many advantages of living there, such as being a part of a community of fellow expats, waking up to sunshine and warm weather throughout the year, leading a slower and less-stressed lifestyle, and being exposed to several economic and financial advantages.
Art and culture
The Caribbean boasts a number of social and cultural events that take place throughout the year, so you're not likely to encounter a shortage of events to attend. These events, popular among locals and international individuals alike, include:
BVI Spring Regatta and Sailing Festival – an annual sailing competition that attracts hundreds of competitors, as well as their families and friends.

Junkanoo Summer Festival – a vibrant and colorful carnival celebrating Bahamian culture that takes place on various dates during the year.

Trinidad and Tobago Carnival – a week-long event held in February of each year, showcasing the rich history and culture of the Caribbean.

St Maarten Flavors Appeteaser Week – a week-long festival in the middle of June that celebrates Caribbean cuisine.

St Kitts Music Festival – an annual extravaganza in late June that boasts jazz, R&B, soul, Calypso, meringue, and more.
Education
If you're moving with a family, you may wonder about the education opportunities in the Caribbean. Fortunately, the Caribbean boasts a selection of local, international, and private schools for you to choose from.
In many Caribbean countries, the education system is influenced by the British and European systems. English is the primary language spoken in many countries, but parents will find ample opportunities here to help their children learn an additional language.
The Caribbean is also home to several excellent universities, such as the University of the West Indies (UWI). In fact, UWI is the region's most prestigious university and the only one to feature on lists such as the Times Higher Education Young University Rankings.
If you have children interested in studying medicine, you will be happy to learn that the Caribbean islands contain more than 60 medical schools.
Entertainment opportunities
When looking for things to do during your downtime, the Caribbean has plenty to offer. Each country and island offers its own unique attractions and activities, so you're sure to find something exciting to do no matter where in the Caribbean you decide to settle.
Across the Caribbean, you'll find activities like bouldering, hiking, sailing, snorkeling, and sunbathing. The islands of Aruba, Bonaire, and Curacao are known for their exceptional diving and snorkeling experiences, while islands like Dominica and Jamaica are home to beautiful waterfalls and natural preserves. In the Bahamas, you'll find a whole new world of deep-sea fishing to keep you occupied. 
Expat communities
The Caribbean islands and nations each have their own communities of expats made up of digital nomads, long-term travelers, retirees, and families. These communities make it easy to make connections, build friendships, and create your own communities here.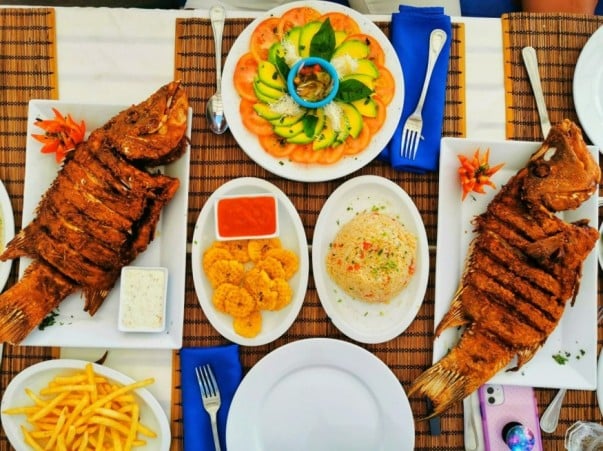 Local cuisine
The Caribbean has been influenced by a mix of cultures, including African, Amerindian, Asian, British, Dutch, French, Indian, and Spanish, the results of which can be seen in the local cuisine. You'll find some wonderfully iconic and delicious dishes here, such as La Bandera Dominica (a delectable meal of rice and stewed beans and meat) and Oil Down (a mouthwatering dish from Grenada consisting of breadfruit, coconut milk, dumplings, callaloo, salted fish and/or meat, and a beautiful mix of herbs and spices).
Tax advantages
The favorable tax advantages for Caribbean residents and citizens are a great reason many choose to relocate to the Caribbean. Here, individuals and businesses can benefit from fewer (or no) taxes on capital gains, inheritance, wealth, and income, as well as progressive tax rates. In fact, many countries here are considered tax havens.
You can learn more in our articles on tax in the Caribbean:
In conclusion, moving to the Caribbean offers a plethora of benefits that can greatly enhance your quality of life. The region's stunning natural beauty, year-round warm climate, and laid-back lifestyle create an idyllic setting for those seeking a relaxed and rejuvenating environment. The Caribbean's exquisite beaches, crystal-clear waters, and diverse marine life make it a haven for outdoor enthusiasts and beach lovers alike.
Beyond its scenic wonders, the Caribbean boasts a rich cultural heritage and history. With various opportunities to embrace the cultural diversity found here, thanks to the number of festivals and events that occur throughout the year, you're sure to find your days filled with exciting adventures. Furthermore, the Caribbean's welcoming and friendly communities foster a sense of belonging, making it easier for newcomers to integrate and build meaningful connections in this beautiful location.
Read more about the Caribbean
If you would like to learn more about the Caribbean, the following articles may interest you:
Frequently Asked Questions about Moving to the Caribbean
1. Which Caribbean island is easiest to immigrate to?
The easiest Caribbean island for you to immigrate to will depend on several factors, including your qualifications, your budget, the quality and cost of life available there, and more. Generally speaking, Antigua and Barbuda, Dominica, Grenada, St Lucia, and Trinidad and Tobago are some of the more accessible Caribbean countries to obtain citizenship.
2. What is the safest Caribbean island to move to?