Algarve is one of the places in the world that deserve to be visited at least once by everyone. The region has a beauty that is mystic yet charming. Having been blessed with the most delightful geographical features, the region stands at an edge, and indeed, is one of the best places around the globe. And if you are planning to move to Portugal, certainly living in Algarve is your best option.
So, follow us if you are interested to know more about living in Algarve.
About Algarve
The region is in the south of continental Portugal and makes up the southern coastline of the country. It has an area of about 4,997 km² and extends to the south of Tagus Valley that is to the south of the Liberian Peninsula.
How's the weather like in Algarve?
Algarve has the perfect weather. Climate statistics show that the temperature fluctuates from 25Cº to 48Cº during summers and rarely falls below 0Cº during the winter season.
Beaches
The coastline being wide itself has a wide variety of tourists destinations to cater tourists of different types and preferences. From the stunning beaches nature has provided it, to the development people of Algarve themselves have brought; it has everything to make a perfect holiday destination, and to your astonishment, the best place to retire in the world as well.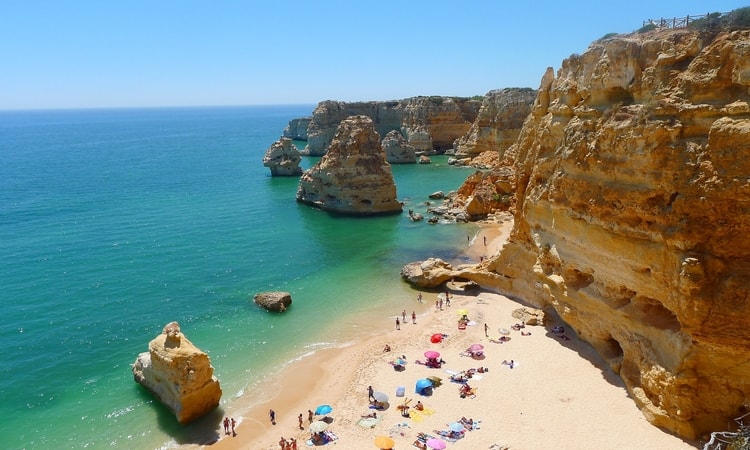 Algarve enjoys having a distinct, and charming scenery. It boasts some of the most fascinating beaches around the globe. The beaches are a perfect spot to have your family enjoy together. The picturesque fishing towns and the cultural food of Algarve are a must try for everyone.
Activities
Many waterparks and parks are also there in order to make sure that the teenagers, and kids exclusively can have the most of their holidays. The buzzing nights of Algarve also await the presence of young couples.
Why live in the Algarve?
However, despite all this, there are some additional features of Algarve that makes it a perfect to-live-after-retirement destination. Those features include:
A pension-friendly cost of living;
10-year tax exemption opportunity for the international retirees;
The soothing scenery of the Atlantic Ocean as Algarve is a coastline;
Historic places for a cultural tour;
Sports like Golf;
Dozens of opportunities to stay active and make the most of your life.
Living in Algarve: best cities to live
Although Algarve is a beautiful region and is altogether classified as a perfect place for a living; there are certain cities that rank at the top of the table. These cities are as follows:
Faro
Faro is the capital of Algarve and can indeed be classified as the best place to stay in Algarve. The city is rich in history; the ancient walls and the stone paved paths speak for themselves. It is also a centre to several brands, and hence, a heaven for shopaholics.
For retirees in specific and others in general who love tranquillity and peace, the calm plazas are all you need! Faro is also home to a stunning wonder of nature; the natural RIA Formosa Park with a range of wildlife species. The food available is also a must try.
Portimao
Portimao is one of the largest cities in Algarve and provides you up with the sight of the ever-beautiful Arade River and Praia Da Rocha beach. There are countless resorts, apartments, hotels, and many bars, restaurants, and café present there.
The most distinct feature of the city is that the culture is a mix of the 19th and 20th century and is artsy; the city is stacked with buildings of different colours making blocks. The city also hosts several Sports Events or exhibitions, due to the Expo- Trade centre there.
Lagos
Amongst the best of towns in Algarve, Lagos has a place that stands out. It is probably the most preferred place to live in. The city gives you a perfect blend of past times and modern reality. The sight of the sandy beaches and the turquoise water there soothes the nerves.
The city literally has everything for groups of age; from the waterparks to the hiking spots to the places rich in history. It should not be forgotten that the longest beach of Algarve that extends to a length of 4km is nowhere but in Lagos.
Tavira
Indeed, every city in Algarve is unique in its own way. Tavira too has some distinct features. The history of this town is associated with Moorish culture, and thus, for all the history enthusiasts is a perfect place to stay. The infrastructure of the city has a Moorish influence. In addition, the city is also considered to be a heavenly beach near the mystic yet beautiful park RIA Formosa.
Buying a house in Algarve
The Algarve region is certainly the best place in Portugal and it is easy to see why people choose to purchase property in the region. The area is popular for those wishing to purchase property either as an investment or primary residence.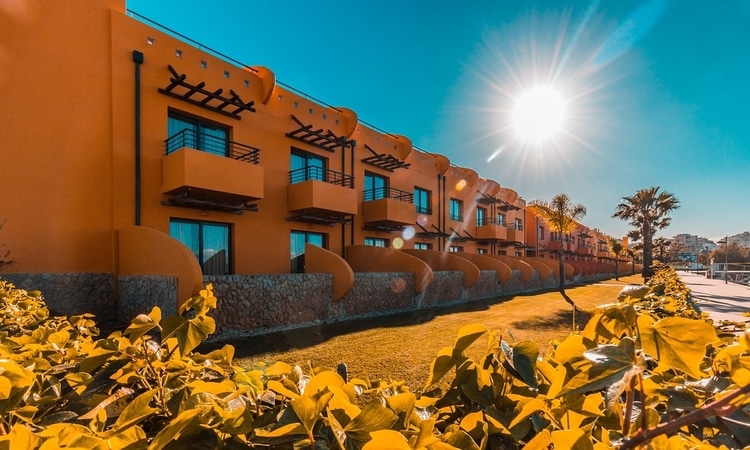 The prices to buy a house are different in each region. For example:
Loulé – € 1.806 m²;
Lagos – € 1.738 m²;
Albufeira – € 1.613 m²;
Tavira – € 1.531 m²;
If you have a young family, maybe a good option would be a typical Portuguese villa. You will find different options of villas for sale from vast multi-million-euro, contemporary large buildings set with sea views, to modest three-bedroom houses with an outdoor pool and private garden.
Another alternative if you don't want to expend a lot of money is a Portuguese apartment – typically flat fronted, painted white with balconies and stone floors. Even in the most popular Portuguese spots, these tend to be cheap by British standards.
A condominium is also another property type to consider. Certainly, is not common in Britain, but is popular among Algarve resorts. These are basically flats in a development with shared facilities such as a pool, gym or clubhouse. Some of the condominiums in Portugal's exclusive golfing resorts offer concierge services and top-end facilities.
How to legally retire in Algarve?
To legally retire in Algarve, one must go through the 'Portugal Retirement Residency Law.' Under the rules and regulations of the country, if you are a European Union Citizen, then applying for retirement is easy and straightforward.
All you must do is simply apply for a residence permit, and after that is granted to you; you can simply go on and live there like a local resident. For EU citizens, application for a residency permit can be submitted through any of the regional offices of the Portuguese Immigration Service.
Make sure to read about Second citizenship.
Living in Algarve: non-EU citizen
However, there are merely two ways if you are a non-EU citizen. One of them is that the non-EU citizen must apply for a residency permit by submitting the application and forms at the Portuguese Consulate office in their homeland before relocating to Portugal.
A valid passport, proof of income and health insurance along with a criminal background check are prerequisites for this application. Once through, a temporal residency permit lasting up to 5 years is given to them; after which one can apply for a permanent residency permit like the EU nationals.
The other way is to fall under the eligibility criteria for the Golden Visa Scheme that has been introduced no late. It is, however, only open to the nationals or citizens of third world countries; and the visa is just an incentive to attract private investors to Europe from these countries.
Living in Algarve as a resident?
Apart from retirement, can Algarve also be chosen as a place for merely settling down forever? The answer is yes!
Education
Algarve has everything that one needs like any other developed country or state. With everything mentioned or enlisted above, the region also has numerous education facilities for its residents. Many kindergarten and primary schools are present that offer a high-class education to the young generation.
For higher and secondary education there are state-run and private institutions. The region is also catering up networks of some international schools. Furthermore, the University of Algarve situated in the city of Faro awards all academic degrees in fields stretching from marine biology, to environmental engineering to economics.
Transportation and connection
The region is very developed in terms of infrastructure, and thus, has a developed means of transportation and connection. Moreover, coupled with affordable prices everywhere, the large number of employment opportunities is surely a major attraction. The GDP per capita is around 86% of the European Union average; the third-richest.
Therefore, it would not be wrong to conclude that living in Algarve is surely worth a shot!
If you are interested, read our complete guide about buying property in Portugal.