Portugal has long been hailed as one of the best places for Americans looking to relocate or invest in Europe. This has recently been reaffirmed by Forbes magazine and the European Best Destinations (EBD) organization, which have included the Algarve, Braga, and Azores in its list of the "20 best places for Americans to live, invest and work in Europe."
Why are Americans picking Portugal over other countries? Well, according to Forbes and EBD's list, Portugal's international schools, quality of life, healthcare system, technology, ease of transportation, cost of living, welcoming expat community, and low crime rates make it an ideal destination for American families to relocate to.
To find out more about the healthcare system in Portugal, read our Expats Guide to Portugal's Healthcare System to see how it compares to the US healthcare system.
Best places for Americans in Portugal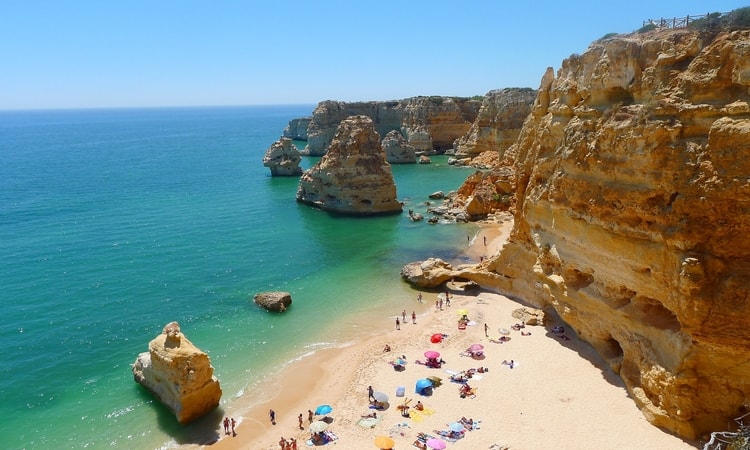 In particular, Americans have their eye on Portugal's sunny Algarve, which is jampacked with gorgeous beaches, excellent weather, and a low population density.
In fact, the Algarve is world-renowned for its surf and outdoor water sports, making it a perfect place for American digital nomads who surf online by day, and surf waves after work.
São Brás de Alportel is another favorite among American expats, with its mesmerizing green hills and breathtaking Ocean views. Along with the Algarve's high-quality international schools and proximity to Lisbon, Americans view Portugal as one of the happiest countries to live in.
Elsewhere in Portugal, Braga offers the best quality of life for US expats and is regarded as 'the Portuguese Rome'. Rich in history and culture, Braga has no shortage of green spaces and international schools. Neither does it have a shortage of investment opportunities. Experiencing tourism growth, more and more Americans are seizing the opportunity to invest in property for short-term rentals. 
Off mainland Portugal, the stunning Azores is home to nine beautiful islands, where the regional government has introduced various incentives to magnetize businesses and start-ups. Tax incentives have lured many American entrepreneurs to the Azores, enabling them to kickstart businesses in an island offering a high quality of life and the best value for money in real estate. According to EBD's list, the average price per square meter in the Azores is almost three times lower than the average price in the US.
Besides Portugal, other popular European cities included on the EBD list include:
Madrid

San Sebastian

Malaga

Brighton

Hamburg

Berlin

Athens

Brest-Terres Oceánes and Alsace

Brussels 

Vienna

Rotterdam

Tuscany

Basel

Dubrovnik

Cork

Poland
The 20 finalists were chosen from a first selection of 120 destinations.
How are Americans making the move to Portugal?
Portugal has two highly successful programs that have enabled Americans to move to Portugal easily enough. The popular Portugal Golden Visa Scheme invites expats to make a qualifying investment in the nation and, in turn, receive legal residency within a few short months. The second option would be to go through Portugal's Passive Income D7 visa, but do note this option is available for passive income earners only.
Exploring Visa and Immigration Options for Portugal
If you're considering making the move to Portugal, it's essential to be informed about the various visa and residency options available. The Golden Visa Portugal program is an attractive option for many, offering residency to investors and their families. For those eyeing retirement in this beautiful country, the Retirement Visa (D7) is tailored for you. Digital nomads can take advantage of both short and long stay options with the Nomad Visa (D8). Meanwhile, the NHR - Non Habitual Tax regime provides significant tax benefits for new residents. 
For the entrepreneurial spirit, Portugal offers the Entrepreneurship/startup Visa (D2) - Start-up Visa (open company) tailored for those looking to establish their businesses in the country. Those with specialized skills can explore the Work visa for highly qualified employees (D3). Additionally, if you have Portuguese ancestry, you might be eligible for Citizenship by descent. 
However, moving to a new country isn't just about visas. If you're thinking of buying property, our guide on Buying Property in Portugal can offer invaluable insights. Dive deeper into the immigration process with our comprehensive Portugal immigration guide. For Americans specifically looking to relocate, we have curated information on Americans moving to Portugal. Lastly, one can't forget the importance of the NIF (Tax Registration Number), a crucial step in any relocation process. 
Why choose Global Citizen Solutions for your Immigration Visa?
GLOBAL APPROACH BY LOCAL EXPERTS
GCS has offices located across Portugal.
Members of the US-Portugal and UK-Portugal Chambers of Commerce in Portugal, and the Investment Migration Council (IMC).
Our expert team can help you throughout your journey to secure your Visa. 
100% APPROVAL RATE
Our successful track record in applications provides reassurance to applicants. 
We have helped clients from more than 35 countries secure residency in Portugal.
ALL-ENCOMPASSING SOLUTION
With a single channel of communication, our approach ensures that you have complete clarity on your application. 
Our BeGlobal® Onboarding System allows for a total flow of information.
TRANSPARENCY AND PRIVACY
Our pricing is clear and detailed, you will not face any hidden costs.
All data is stored within a GDPR-compliant database on a secure SSL-encrypted server.