Although Portugal's Golden Visa program is not officially a "citizenship by investment" scheme, but actually a residency-by-investment program, clarifications made to Portuguese residency law mean than Golden Visa resident holders can obtain Portuguese permanent residency and Portuguese passports after just 5 years.
This has put previous doubts to rest, as applicants have a clear to citizenship when fulfilling the minimum 35-day stay requirement over 5 years and passing a basic Portuguese language test.
Changes to Portuguese residency law
There had been some questions as to whether Golden Visa permit holders (ARI – Autorização de Residência para Atividade de Investimento) would be able to obtain Portuguese passports after 5 years, however, a clarification to nationality laws in 2018 means that as long as residency holders fulfill the correct requirements they do not have to be physically resident in the country.
2019 has been a landmark year for Portugal's Golden Visa program, as it marks the first year since the program's introductions in 2013 that Golden Visa investors are now obtaining Portuguese citizenship. According to Patricia Casaburi, CEO of Global Citizen Solutions, "this is a great development for the Golden Visa program, as it clarifies the path towards Portuguese citizenship for investors".
Before this change in legislation, Golden Visa permit holders had to be resident in Portugal for a sixth year before applying for a Portuguese passport.
In order to obtain Portugal citizenship by investment applicants must also complete a basic A2 certificate in the Portuguese language.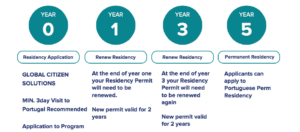 Portuguese residency-by-investment program is one of the most successful in Europe
Portugal's low "stay requirement" (the number of days you have to spend in the country in order to maintain legal residency) is one of the main reasons why the program has remained consistently popular in comparison to similar schemes in Europe.
Investors don't have to relocate
Whereas most European citizenship-by-investment programs require applicants to maintain their investment as well as spend the majority of the year in the country, the Portuguese Golden Visa program has a stay requirement of just 7 days in the first year, and 35 days in total.
Inexpensive investment options
One of the other factors that have made the Portuguese residency-by-investment program one of the most popular in Europe is the inexpensive investment options. Despite the high quality of life and stable economy, Portugal's real estate market is diverse and far cheaper than other countries in Western Europe.
Starting investments for the Portuguese Golden Visa can be made starting at just €280,000, and there are a number of different options to choose from, whether you choose to invest in Portuguese real estate, or other increasingly popular routes such as Portuguese investment funds. 
High returns for investment
The strength of the Portuguese economy also means that investors can expect higher returns for their investments than in other similar programs. The growth in the tourism sector has resulted in a rise in the profitability of short- and long-term rental in the country, particularly in cities such as Lisbon and Porto.
Generous tax incentives
Portuguese Golden Visa investors also qualify for Portugal's non-habitual tax regime (NHR), which allows investors to enjoy generous tax reductions or in some cases total exemptions over a 10-year period.
Take a look at our guide to the Portugal NHR for more information.
Portugal investment residency requirements
In order to apply for Portugal citizenship by investment, applicants must:
Not already hold EU citizenship

Have a clean criminal record

Be over 18

Make and maintain an investment of at least €280,000 in Portugal over a 5-year period

Spend at least 35 days in Portugal over 5 years

Pass a basic A2 Portuguese language test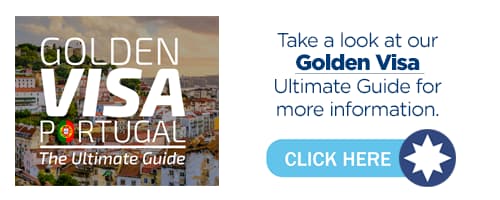 Portugal citizenship by investment: 2020 is set to be a record year
After a record-breaking year for Portugal residency-by-investment in 2019, 2020 is set to be an even better year for the program. With the clarification of Portuguese residency law and confirmation that investors will receive a Portuguese passport after 5 years, this will likely incentivize further investment in the scheme.
There are also more developments in store for the coming year, with the new Portugal-US treaty creating promising changes to American trade with Portugal.
How to apply for Portugal citizenship-by-investment
Our team at Global Citizen Solutions has a 100% success rate with Golden Visa applications.
With our extensive knowledge of the Portuguese market and legal system, we can provide you with personalized advice throughout the process, ensuring that you always make the best possible decisions with your investment.
Our pricing is competitive and transparent, which means you will always know what to expect.
Get in touch with a member of our team for a free initial consultation.