Best Cities to Live in Portugal
With endless sunshine, breathtaking landscapes, and excellent quality of life, Portugal is a fantastic place to live in. From the wonder of northern Portugal to the Algarve in the South, there are so many beautiful places to choose from. If you want to move to Portugal but don't know where to go, this guide is for you. We will take you on a tour of the best cities to live in Portugal for expats.
About Portugal
Portugal is definitely one of the best countries to live in Europe, graced with historical cities and incredible landscapes. With its 300 days of sunshine per year,  fantastic quality of life, efficient health system, and great culture, what is there not to like about Portugal? Most visitors to the country can see firsthand why Portugal has established itself as a top tourist destination.
Gifted with breathtaking landscapes and hundreds of long stretches of beautiful sandy beaches, Portugal is famous for its diversity and beauty throughout the world. It's also home to 17 UNESCO World Heritage Sites, up and down the country, with a further 19 on the tentative list, plus there are several national parks to enjoy. Its uniqueness makes it a very popular tourist destination but also a favorite amongst international expats seeking to relocate to Europe.
Since 2012, Portugal has launched its own Portugal Golden Visa scheme, allowing non-European citizens to get Portuguese residency in exchange for an investment in the country's economy. The program is very popular and has allowed numerous investors, families, and retirees to call Portugal their new home.
Do note, however, that this program is coming to an end. If you are interested in applying for the program, we strongly recommend you to begin the application now – time really is of the essence. You can keep up to date with the topic in our article: Golden Visa Ending: Everything We Know So Far.
You'll be pleased to know that Portugal is very welcoming of expats and, if you are looking to move here, there are many other visa and residency options, such as the D7 Visa and the Digital Nomad Visa.
The Best Cities in Portugal for Expats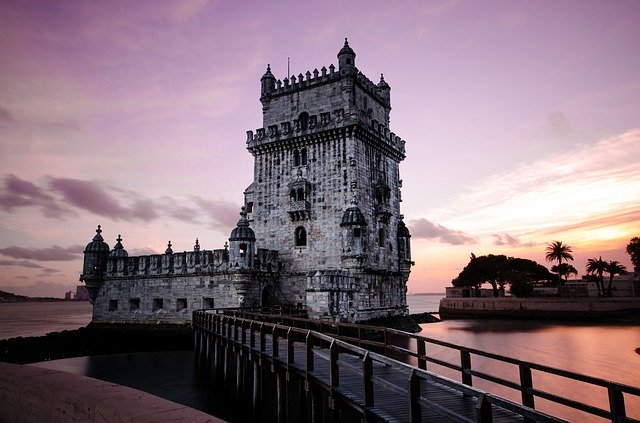 Lisbon
One of the absolute best cities to live in Portugal for exapts is the capital: Lisbon, the largest city in the country. It's a bustling city and an exciting place to live in. For those on the lookout for activities, there is always plenty to do and see in Lisbon: from restaurants and museums to concerts, movies, theatre, and much more. As it is the capital city, you will find everything you need in Lisbon: jobs with high pay, hospitals, banks, administrative buildings, schools, tourist attractions, plus much more besides.
Compared to the rest of the Portuguese cities, Lisbon is more expensive, but you can still find attractive property deals if you look well. Particularly if you live outside the city center, you'll find that prices drop. Some of the best neighborhoods to live in Lisbon, Portugal, are Alameda, Areeiro, Entrecampos, Almada, and Oeiras.
There are beautiful gardens spread out across the city, such as Edward VII Park. You'll also find many a viewpoint (miradouro) hill overlooking the fabulous Tagus River – yes, it's with good reason that Lisbon is named the city of seven hills.
Another pro about Lisbon is that it is located very close to beautiful beaches, offering amazing getaways from city life. The city's beaches allow you to live the best of both worlds – vibrant city and relaxed beach life. Around an hour south of Lisbon is Setúbal, which is also an excellent place to live, where you have the stunning Arrábida Natural Park on your doorstep. The local fish market in Setúbal is also world-famous. Alongside Setúbal, day trips can easily be made to Sintra and the Silver Coast, and also to Évora, which is only a two-hour's drive east.
Porto
Located in the North of Portugal along the Douro river, Porto is one of the top cities in Portugal for expats. It's a beautiful city to live in. Picturesque and authentic, Porto is the second-largest city in Portugal, with many tourist places to visit. It is notably famous for its Porto wine, gastronomy, and charming cobbled streets. The city's architecture, with traditional Portuguese tiles, is also magnificent and has attracted many tourists over the years.
For those looking to work in Porto, the city has been an upcoming hub for the start-up scene, with many international entrepreneurs relocating to Porto. If you travel about an hour south of Porto, you'll come across the colorful striped houses in Costa Nova, well worth visiting if you want a nice day trip close to the beach.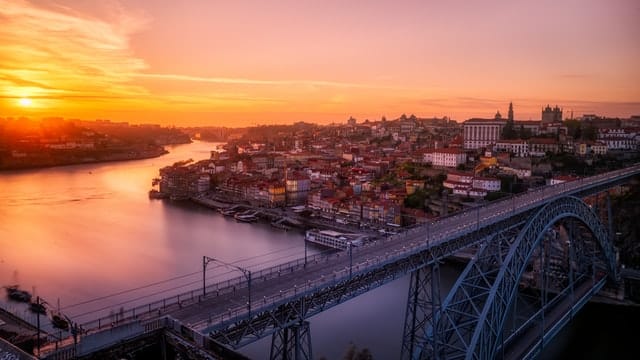 A bit cheaper than Lisbon, Porto has some great neighborhoods to live in, such as Foz do Douro, Riberia, Boavista, Campanha, and Avenida do Aliados. The historic center of Porto is also a charming place to live.
The only con about Porto is that its weather can be colder than the rest of Portugal. Apart from that, living in Porto is absolutely worth it and is definitely one of the best cities for expats to live in Portugal – what could be better than strolling down the historic streets of Porto on a summer evening, looking for a nice place for dinner and to watch the bright lights of the wine houses on the opposite bank of the Douro?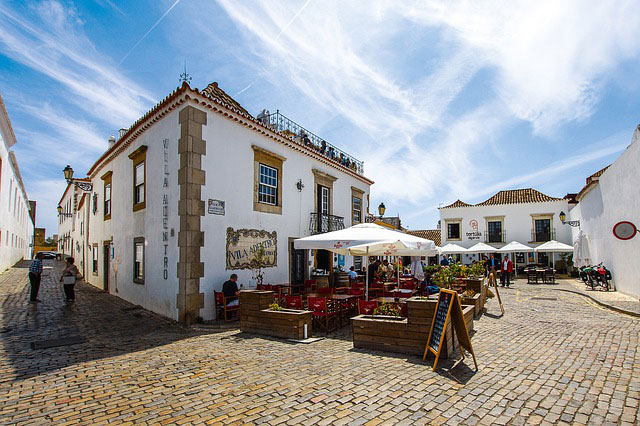 Faro
Faro is the main city of the Algarve, the southern region of Portugal. This coastal city is considered a place of sun, sea, and delicious seafood where many expat retirees have chosen to settle down. While the Algarve is best known as a top vacation spot, it's a great place to relocate to.
Some of the advantages of living in Faro are lovely weather all year long, proximity to some of the most incredible beaches in the world, a very relaxed lifestyle, and a slow pace of living. If you are a history lover, the city also has much to offer. Check out the historic center and the city walls (Muralhas de Faro), which form a broken ring around the city's Old Town. The town square and the Roman temple ruins of Milreu are also well worth a visit.
With a booming real estate market, Faro is a comfortable city to live in, with rental property prices cheaper than in Lisbon. You'll find that prices drop as you leave the historical center. Well-developed with efficient transportation and health infrastructures, it is only a two hours' drive from the capital city. With a huge expat community living in Faro, you will feel at home in no time.
Viseu
Viseu is a small city located in Central Portugal. It has been ranked as the best city to live in Portugal multiple times, as well as one of the best cities to live in Europe. This is due to Viseu's excellent quality of life. From great weather and excellent education to efficient public transportation and an outstanding healthcare system, Viseu has all it takes to be happy.
In Viseu, housing is not expensive, and the job market is thriving. The city's Renaissance architecture is also very charming, and as it is surrounded by nature, living in Viseu is perfect for hikers and excursion lovers. Considerably less well-known than Lisbon and Porto, the city is a perfect place to live for expats looking for an affordable, tranquil, and top-quality lifestyle.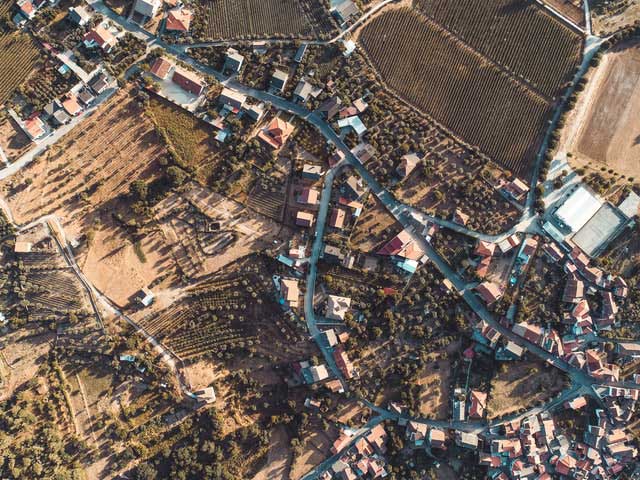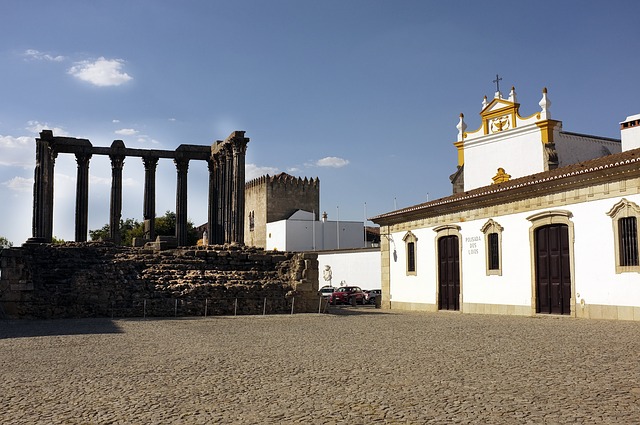 Évora
Évora is the main city of the southcentral region of Portugal called Alentejo and is one of the most beautiful cities in Europe, let alone Portugal. With temperatures rising above average all year long, Évora is a beautiful and calm city with medieval architecture. When it comes to the most charming cities in Portugal to visit, Évora is a must.
Famous for its rich history, the entire city of Évora is full of charm and wonders to discover. The Roman Temple of Évora is an excellent place to start if you're just arriving in the city.
Although this medieval city is relatively small in size, Évora is very agreeable since it isn't crowded, and you'll be able to stroll around the historic center with ease. Évora Cathedral is also an established religious center in Portugal, well worth a visit if you are in the area. If you choose to live here, you will enjoy a very relaxed pace of living, as well as plenty of delicious cafes and restaurants to try out.
Sintra
Although Sintra is officially a town and municipality, we had to include it in this list. The magical town of Sintra is hands-down one of the best places to visit in Portugal and was intended for the Portuguese royal family to enjoy in the summer months. The cultural landscape of Sintra is a designated UNESCO World Heritage Site, and while you'll be amazed by the colorful Pena Palace and marvel at the Moorish Castle, Sinrtra is also a great place to live.
When you get a little further out from the tourist attractions, you'll find that Sintra is a place of calm and serenity, where you'll be graced with stunning views of the Atlantic Ocean. The small medieval town of Óbidos, with its incredible castle, is also close by, where you can enjoy days out throughout the year in the historical town, such as the Medieval Festival.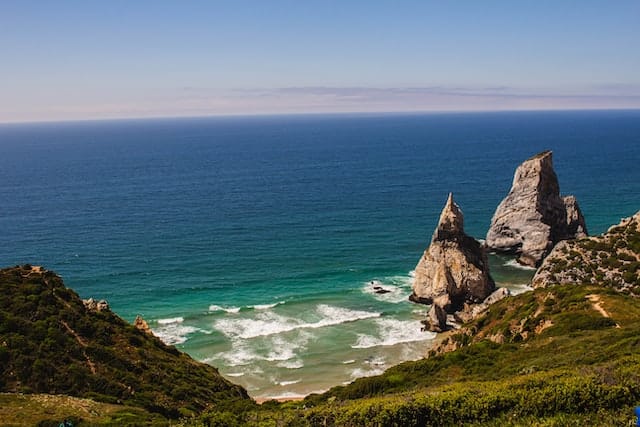 For nature lovers, you have the Sintra-Cascais Natural Park, and the nearby beaches lining the west coast are without the heady footfall that you sometimes encounter in the immediate Lisbon vicinity. Plus, you can head north along the stunning coastline and come across the quaint villages and beautiful small towns on the Silver Coast, each with its own unique character and traditions, such as the fishing town of Nazaré, where you can check out the surfers testing their mettle against the big waves and the fishermen's wives still wear their traditional clothing of seven skirts, on occasion. Some of the most beautiful towns in the country can be found in this lovely part of Portugal. 
Families moving to Portugal will find three excellent international schools in Sintra, with many others located in Cascais, not far away. Plus, what could be better at the weekend than getting out and about with your family to discover the area? Lisbon is also only a short drive away, and there are very good public transport links to get to the bright lights of the Portuguese capital.
Aveiro
With its meandering canals, vibrant Moliceiro boats gracefully passing by, and delectable cuisine, Aveiro has earned the reputation of being the Venice of Portugal.
For those seeking an authentic and historically rich place to live, Aveiro fits the bill perfectly. Moreover, if you're considering relocating here, you'll discover that properties are relatively affordable compared to other regions in Portugal. Another advantage is that you're conveniently located near Porto, Coimbra, and the serene Silver Coast.
Leiria
Leiria, located northeast of Nazaré, is a captivating city abundant in history, sunshine, and delightful Portuguese cuisine. The city boasts remarkable attractions such as a medieval castle, recognized as a UNESCO World Heritage Site, and numerous churches. Additionally, Leiria is renowned for its substantial expat community, drawn by its leisurely lifestyle and close proximity to the Silver Coast.
One of the most enchanting aspects of Leiria is its charming old town, which provides a glimpse into the medieval era. If you yearn for tranquility, authenticity, and the freedom to visit the beach whenever you desire, Leiria might just become your ideal new home.
How to Live in Portugal Permanently 
Portugal is one of the top destinations for expats to move to. Depending on your situation, there are several options available for non-Europeans to live permanently in Portugal. The most famous visa option for non-European expatriates is the Portugal Golden Visa.
The Portugal Golden Visa allows investors and their family members to get Portuguese residency and, eventually, a Portuguese passport in exchange for an investment in the country's economy.
The advantages of having Portuguese citizenship are multiple: freedom of movement in the Schengen Area; the ability to live, work, and study in one of the most stable European countries; and many more worldwide opportunities.
Portugal Real Estate
In recent years, Portugal's real estate market has experienced significant growth. There are many incredible cities to find an array of different property types, whether you are looking for one of the major cities or a smaller place to call home.
Not only is the Portuguese real estate market full of exciting and diverse properties, but investing in Portugal real estate is also a way to get Portuguese citizenship. Note that to invest in residential real estate, there are location restrictions, and you can only qualify if you invest in the interior areas of Portugal.
The rise of tourism in Portugal has also increased the demand for rental properties, which provides investors with the opportunity to buy real estate with high investment returns.
To learn more about how to buy property in Portugal, take a look at our guide by local experts.
The D7 Visa
If you would like to move to Portugal, but don't wish to invest a considerable amount, then the D7 Visa is probably the best option for you. This allows non-EU citizens to secure Portuguese residency, provided that they have sufficient funds to sustain themselves during their stay in the country.
The D7 Visa is perfect for individuals from all walks of life, from retirees to digital nomads, who are looking to live in Portugal without making a major economic investment. The visa can be renewed after one year for two successive periods of two years and can be exchanged for a permanent residence permit after five years. Additionally, holders of the D7 Visa will be able to request Portuguese citizenship after five years, provided that they fulfill the other requirements in the Portuguese national law.
Benefits of the D7 Visa include:
Permanent free entry and circulation in the Schengen Area
Live, work, and study in Portugal without any problems
Tax benefits through the non-habitual residence (NHR) scheme
Benefit from the excellent Portuguese health service
Fast visa processing times
The entire family is eligible
You can learn more about the D7 Visa in our article: D7 Visa Portugal 2023 Guide.
The Digital Nomad Visa is also a very good way for remote workers to live in Portugal. You can see our article: Portugal for Digital Nomads: All You Need to Know.
Frequently Asked Questions about the Best Cities to Live in Portugal for Expats
How can I live permanently in Portugal?
There are several visa options available for foreigners to live permanently in Portugal. The Golden Visa scheme is one of the best ones, as it gives Portuguese residency to investors and their families in a few short months, provided that an investment is made in the country's economy.
The Portugal D7 visa is also an excellent option whereby you can secure Portuguese residency as long as you can show proof that you have sufficient funds to sustain yourself for the duration of your stay in the country.
What are the best places to live in Portugal for expats?
Portugal has its fair share of beautiful cities. Some of the best places to live in mainland Portugal for expats are Lisbon, Porto, Faro, Viseu, and Évora.
What is the best place to live in Portugal by the sea?
Depending on the type of lifestyle you are looking for, Lisbon and Faro are some of the best places to live in Portugal by the sea. Porto, with its charming cobblestone streets, is also a top place to consider.
Can I get a Portuguese passport as a non-European citizen?
Yes, you can get a Portuguese passport as a non-European citizen. Thanks to the Portugal Golden Visa Program, it is possible for investors and their families to get a Portuguese passport in five years in exchange for a minimum investment into the country's economy.
What are the best cities in Portugal to retire to?
The are so many incredible Portugal cities to live and retire to. Faro is the first place that comes to mind when considering the top cities in Portugal to retire to, although the Algarve region as a whole has many fantastic places to consider. The south of Portugal should be by no means only be thought of as a great beach holiday destination. 
Elsewhere, Lisbon, Porto, and Viseu each offer excellent lifestyles, although there are many top cities in the country that you should consider. Ultimately, the choice is yours and will depend on what you are looking for.
What are the biggest cities in Portugal?
The biggest cities in Portugal are Lisbon, the Portuguese capital,  Porto, Vila Nova de Gaia, Braga, and Amadora.
What are the most famous cities in Portugal?
Some of the most famous cities in Portugal are Lisbon, the captivating capital, Porto, Sintra, Faro, Coimbra, Braga, and Setúbal. 
Where is the nicest city in Portugal?
We can't really provide you with an answer to this question, as there are many stunning cities in Portugal, each nice in its own way. If you are looking to be at the center of the action, then the bustling city of Lisbon could be the place for you. The second largest city, Porto, is steeped in history and can certainly rival Lisbon in a lot of ways. 
Coimbra is a lovely university town, Aveiro is considered the "Venice of Portugal," and Viseu may be the place for you if you are after a more authentic lifestyle in a smaller city. And if you are looking to live the ultimate beach lifestyle, then choose Faro. 
You should not forget that Portugal is not just about the lovely cities. If you're looking for a  nice place to live, you have many options. From quaint coastal towns on the Silver Coast to the quiet countryside in the north of the country, there are many places to consider.