Coimbra, located in the center-west of Portugal is the perfect place to call home. The city and municipality provide its inhabitants with a tranquil, quiet life that can still give any other city in Portugal a run for its money in terms of amenities. This is largely because the city is home to the oldest university in the country, which has attracted students, both Portuguese and international, to its doors. With many housing types in the city and on the outskirts, buyers will be happy to know that living in Coimbra, you will have the best of both worlds – the city and the countryside. There are also stunning beaches to be found on the Silver Coast, which are easily accessible. However, before you jump into moving to Coimbra or the buying process, you should consider the cost of living in Coimbra.
Portugal ranks in 12th position in Global Citizen Solutions' pioneering Quality of Life Index, part of our innovative way to uncover to the true value of a passport. This Quality of Living Index factors in the cost of living, alongside the Sustainable Development Goals, levels of freedom, happiness levels, migrant acceptance, and environmental performance.
In this article, we'll provide you with everything that you'll need to know on the topic,  including:
Rent costs and property prices in Coimbra
Food prices
Restaurants and eating out
Cost of utilities
Transportation costs
Educational costs
Healthcare costs
Portugal visa options
Plus much more!
Rent costs and property prices in Coimbra
Knowing whether to rent or buy a property can be tricky. If you look over a longer time horizon, purchasing property may be better, as you can receive a steady return on your investment. As Coimbra has a large number of students, you should also find many that are looking for a place to live. Nonetheless, we know that buying property is a major investment, and renting may be better suited to your current needs.
Regardless of your choice, in this section of our cost of living in Coimbra article, we'll provide you with important information on the rent costs and property prices in the city.
Coimbra rent prices
According to data from Idealista, last updated in June 2022, the average cost of rent in Coimbra Portugal is around 53% cheaper than an apartment in Lisbon. To give you some indication of the cost of rent in Coimbra, here we'll provide you with some price brackets below (rounded up or down).
A one-bedroom apartment in the city centre – €450
A three-bedroom apartment in the city centre – €742
A one-bedroom apartment outside the city centre – €345
A three-bedroom apartment outside the city centre – €633
Property prices in Coimbra
In Coimbra, Portugal real estate is relatively affordable. The average asking price for a villa in the council of Coimbra was €816 in 2020. Properties will evidently be pricier if they are located in the center of the city. However, you will find properties in and around Coimbra to be much more friendly on the wallet compared to Lisbon and even Porto.
You will also find many different property types. In the city, you'll be able to find a lovely townhouse, while the surrounding countryside has an array of fabulous properties where you can live in a quiet corner of the world.
Food prices
Food prices give a very good indication of the cost of living in Coimbra. Compared to many other western countries, you will find that the food is generally very affordable, and the produce is very good. Particularly if you shop locally, you will find the food prices inexpensive.
To provide you with some insights into food prices in Coimbra, you can check out the table below.
| | |
| --- | --- |
| Milk (regular), (1 liter) | |
| Loaf of white bread (500g) | |
| | |
| | |
| | |
| | |
| Bottle of wine (mid-range) | |
| Domestic beer (0.5-liter bottle) | |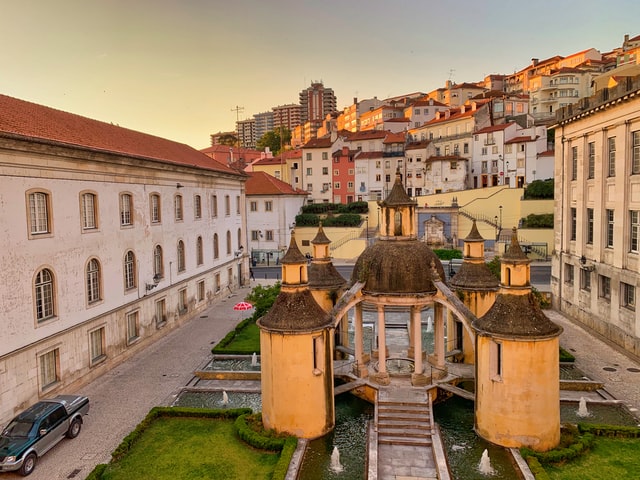 Restaurants and eating out
As Coimbra is a university city, you'll find many exciting and innovative bars and restaurants, plus established family-owned eateries. The cost of living is quite low in comparison to other western European countries and you can eat in an inexpensive restaurant for €8, according to Numbeo. There are also a handful of excellent Michelin-starred restaurants for luxury dining. A meal for two people in a mid range restaurant will cost around €30, a coca cola (0.33-liter bottle) will cost you €1.30, and water (a 0.33-liter bottle) will cost you €1.02.
Cost of utilities
To give you an indication of basic utilities (electricity, heating, cooling, water, and garbage), the estimated monthly costs for an 85m2 apartment will be around 95€ in Coimbra. One minute of a prepaid mobile tariff, without any discount or plan, will cost you 0.12€. Estimated monthly costs for internet (60Mbps or more) will cost you approximately €33 with unlimited data.
Utility costs will obviously depend greatly on your usage. One good thing about living in Portugal is that the climate is usually very good, and you will not need to spend any money on heating for much of the year. However, one thing that often takes expats by surprise is that the winters can be cold inside, so make sure you have an effective heating system in place. For example, a family of four estimated monthly costs will be more than that of a single person.
Transportation costs
Coimbra has a good public transport network of buses and trains. Traveling by bus is probably the best option open to you to get around town, as there is good coverage and access to both the upper and lower parts of the city. Estimated monthly costs for a one month pass will cost you €30 and a one-way ticket on local public transport will be around €1.60. If you are driving in Porto, gasoline will cost you €2.02. The monthly fee for transportation makes it quite easy and cheap to get around the bigger cities in the country.
Nearby cities to Coimbra include Porto, Aveiro, and even Lisbon, which is just a two-hour drive away. With good train links across the country, you should be able to find it easy to access nearby cities.
Educational costs
If you are planning to move to Coimbra with children, there are serval education options.
Public education is free for all legal residents in Portugal and Portuguese citizens. However, if you choose private education then you will obviously have to pay a fee. In Portugal, the estimated monthly costs usually fall between €800 and €1,500 for primary through to high school. Extra costs that you will need to factor in are book fees, enrollment fees, and, if the school requires a uniform, then you will need to pay for this as well.
International schools will cost you around €1,500. A good international school for residents of Coimbra is the Colégio de São José. The cost of schooling in an international establishment will vary from school to school and, as with public schools, there will be extra costs such as enrollment fees, books, and so on.
Coimbra is a favorite amongst international students, along with Lisbon and Porto, among other universities in the country. The universities across Portugal are very good and internationally recognized for their excellence and long traditions.
With universities, you also have public and private ones. Public universities have a fee limit that can change annually but that, recently, has been a maximum fee of €900. For private universities, they will cost an average of €3,000 per year.
Healthcare Costs
Healthcare is almost completely free for Portuguese residents and citizens, with the exception of some specific procedures, such as paying a visit to the emergency room or diagnostics exams.
Private healthcare is more expensive and you will be required to pay approximately €40 to €50 for a doctor's appointment in a private healthcare facility and yearly fees can cost around €400. A comprehensive healthcare insurance cover will cost you around €1,000.
Portugal Visa Options
To live in Portugal, you'll want to know about the visa options that are open to you. In this part of our cost of living in Coimbra article, we'll run over the Portugal Golden Visa and D7 Visa.
Portugal Golden Visa
The Portugal Golden Visa, introduced in 2012, is one of the most popular residency-by-investment programs of its kind in the world. If you are looking to move to Portugal then this could be a good option for you, with starting investments from €250K.
While the Portugal Golden Visa changes, updates, and new rules came into force on 1 January 2022, which prevent investors from purchasing residential real estate in Porto, Lisbon, and other hotspot locations in Portugal, there are other options on the table.
Here are the current investment options available for the Portugal Golden Visa:
Residential Real Estate: Buy residential real estate in designated interior areas of Portugal worth at least €500,000 or €350,000 if investing in a rehabilitation project. If the residential property is located in a designated 'low-density' area, then a 20% discount applies.
Commercial Real Estate: Buy commercial real estate anywhere in the country worth at least €500,000 or €350,000 if investing in a rehabilitation project. If the commercial property is located in a designated 'low-density' area, then a 20% discount applies.
Buy Real Estate on Madeira or Azores: Buy residential and commercial real estate anywhere in Portugal's autonomous islands of Madeira and Azores, worth at least €500,000 or €350,000 if investing in a rehabilitation project.
Fund Subscription: Make a contribution to an investment qualified Fund worth at least €500,000
Capital Transfer: Make a capital transfer of at least €1.5 million
Scientific Research: Science or Technology research contribution of at least €500,000
Job Creation: Company incorporation and creation of ten jobs amounting to a minimum value of €500,000
Donation: Support the arts or reconstruction of national heritage with a donation of at least €250,000.
For more information on the Portugal Golden Visa, you can consult the following articles:
Portugal Golden Visa Step-by-Step Guide
Portugal D7 Visa
If you are not looking for a residency-by-investment scheme to live in Portugal, then the D7 is probably the best visa option for you. The D7 Visa – also known as the Passive Income Visa or Retirement Visa – is an affordable option that allows non-EU citizens to secure Portuguese residency so long as they have sufficient funds to sustain themselves during their stay in the country.
Note that EU citizens can live in Portugal without the need for a visa. However, they will need to obtain a Residence Permit if they want to live in the country for more than three months.
For the D7 Visa, a recognized stable income includes real estate, pensions, financial investment, and other proof of consistent income to demonstrate you have enough funds to sustain yourself. This visa is an excellent option for retirees, entrepreneurs, and expats from all walks of life. To qualify, you will need to earn a minimum wage, set out by the Portuguese Government. Note that the minimum wage in Portugal is quite low compared to surrounding countries.
Our article on the Portugal D7 Visa can provide you with further information.
Coimbra life cost: Conclusion
Whether you are looking to retire in Coimbra, Portugal, move to the city with family, or even work as a digital nomad, you'll discover a very welcoming city. Indeed, Coimbra has proven to retain its traditions and rich cultures, while also embracing modernity and innovation, and the range of inhabitants in the city have created a very special place to live in Portugal. From the rolling hills in the surrounding countryside to the historic townhouses and Roman architecture, this is an excellent place to call home –  yes, you'll be able to live both an affordable and high-quality life in the city.
If you are looking to purchase property in Coimbra, our real estate division, Goldcrest, can help you with securing your dream purchase. We know that each person is looking for something different, which is why we provide a tailored service for each of our clients.
For further useful information, you can check out the article below:
Frequently asked questions about the cost of living in Coimbra?
Is it expensive to live in Coimbra Portugal?
Particularly by western European standards, most people find the cost of living in Coimbra relatively low. From buying groceries to eating out in restaurants and transportation costs, the city is has a low cost of living in comparison. Property prices and rental prices are also very reasonable.
Is Coimbra a nice place to live?
Coimbra is a lovely place to live, with top restaurants, innovative bars, and the stunning River Mondego running through its center. The historic city welcomes students, retirees, and expats from all walks of life to embrace the Portuguese customs and traditions of the city. With easy access to beaches on the Silver Coast and stunning Portuguese landscapes in every direction, this is a good place to live.
Is Coimbra cheaper than Porto?
The cost of living in Coimbra is one of the best things about life in the city. According to Numbeo, consumer prices in Coimbra are 15.83% lower than in Porto, including rent. Numbeo suggests that a family of four estimated monthly costs are 1,850$ (1,809€) without rent.
Where should I live in Coimbra?
So, which are the best neighborhoods in Coimbra Portugal? This will largely depend on what you are looking for. If you are moving to Coimbra with your family, then Vale das Flores in the parish of Santo Antonio dos Olivais is a very good option. Other good options include São Martinho do Bispo, Santa Clara, Alta, and Celas. The surrounding countryside also has some large, spacious properties, perfect for those retirement plans or for families looking for a little more space in the heart of the picturesque Portuguese countryside.
Is Coimbra walkable?
Yes, the size of the city of Coimbra means that you can easily get around on foot.
What is the cost of living in Coimbra for students?
As a student city, you should find that the cost of living in the city is very affordable for the student community. You should be able to find a decent one-room apartment at a very good price for a single person. The University of Coimbra is also the oldest university in Portugal and one of the oldest in Europe.
Alongside local shops, you will also find the typical chain store which you find in any big city.
Other cities that are popular with young people and students include Porto and Lisbon.