Blessed by infinite nature, Saint Lucia is a Caribbean island nation teeming with beaches, coral reefs, and forests. The nation may be small, but it's dripping in luxury, charm, delicious creole cuisine, and cultural activities. And expats have caught on. In particular, more and more Americans are relocating to St Lucia, drawn in by the island's perfect balance between rest, relaxation, and work. For expats wanting to know about St Lucia immigration processes and what it takes to call this gorgeous nation home, then this guide is for you. 
In this St Lucia Immigration guide, you'll learn about:
The three types of residency offered in Saint Lucia, including the St Lucia Immigration By Investment Program
How to obtain a St Lucia immigration permit
The Immigration to St Lucia step-by-step process
And so much more!
Why St Lucia?
Whether you're an avid outdoor person, a beach-goer, a business-savvy investor, or looking to simply retire in St Lucia, Saint Lucia offers something for everyone. There is so much packed into this small island gem— from old plantations, hidden beaches, and geological wonders to jungle-clad waterfalls and extinct volcanic cones. 
And if you're the kind of person that loves pampering yourself, then Saint Lucia offers some exceptional places to unwind in complete luxury. Typical resort experiences entail relaxing in beautifully crafted wooden suites with plunge pools overlooking the fabulous Piton mountains. 
Similar to other Caribbean islands, Saint Lucia's history is rich with centuries of colonial rule by the French and the British, with a blend of its indigenous and West African traditions. The result is an eclectic mix of French West Indies influences that make Saint Lucian culture as truly unique.
Saint Lucian citizens enjoy the following benefits:
Access to a thriving, tourist-based economy

Favorable international financial services sector

Plenty of affordable property options on the market for a solid investment

Passport holders get visa-free or visa-on-arrival travel access to over 140 countries worldwide, including the Schengen states, Britain, Hong Kong, and Singapore.

Stable political and economic democracy based on the British parliamentary style of government

Dual citizenship is recognized

Family members can enjoy a family-friendly environment 
Residency Options in Saint Lucia
So what is your immigration to Saint Lucia options? There are three types of residency in St Lucia: citizenship, permanent residence, and the right to reside. Let's take a look at each one in more detail.
Saint Lucia citizenship
The most classic way to obtain Saint Lucia citizenship is by birthright of course. People born in St Lucia are naturally eligible to apply for citizenship. Children of St Lucian parents or parents born outside the country can also apply. Moreover, if you're married to a St Lucian citizen, you can obtain citizenship after seven years of continuously living in Saint Lucia.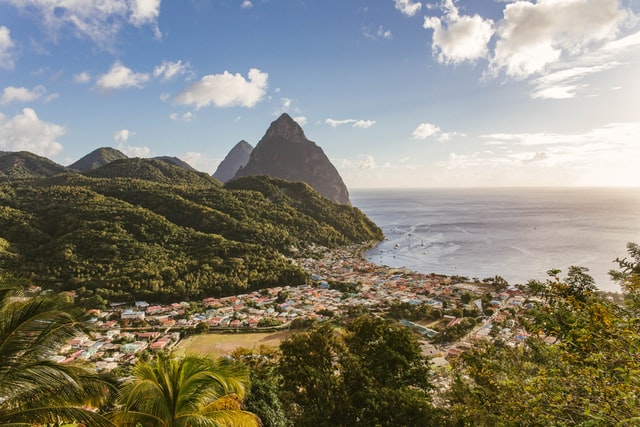 Saint Lucia Citizenship By Investment
Expats will be pleased to know that they can obtain a St Lucia passport through St Lucia's Citizenship By Investment Program, thanks to St Lucia's Investment Act. The concept is the name. You must make a qualifying investment in the country to obtain citizenship. The whole application process takes around two to three months and the minimum investment required is a non-refundable contribution of $100,000 to the Saint Lucia National Economic Fund. Alternative options include making a minimum investment of $200,000 in pre-approved real estate to obtain St Lucian citizenship or invest in enterprise projects. Passport holders get full citizenship rights.
For more information about the program requirements, check out our St Lucia Citizenship By Investment Guide.
Saint Lucian permanent residence
Permanent residence is afforded to individuals who live at least five years continuously in Saint Lucia. The biggest advantage of acquiring this status is that your passport receives a permanent residence stamp, which saves you a lot of time and hassle from having to renew your residence permit every three months.
But an important thing to flag here is that the permanent resident status doesn't give you a right to work in Saint Lucia. You'll still need to apply for a work permit separately.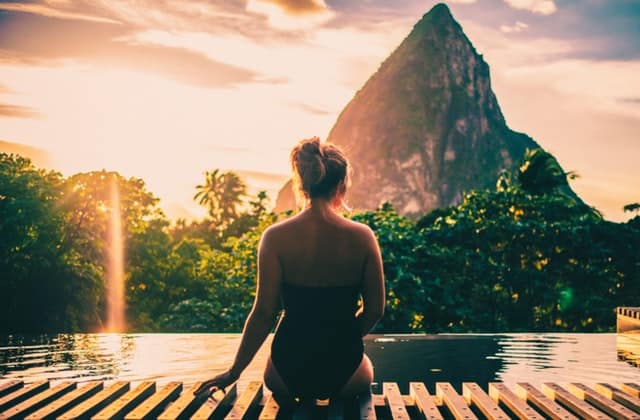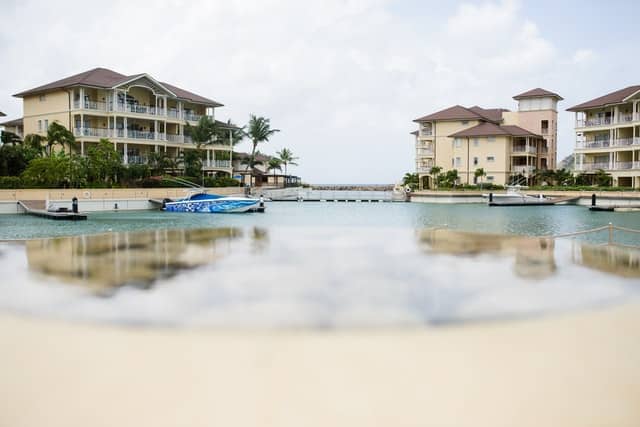 Residence in St Lucia
As a foreigner, you can still live in Saint Lucia under specific conditions. Primarily, if you're coming to work on the island then you must get a work permit first before arriving. When the work permit is granted, the Immigration Department stamps your passport upon arrival. This stamp is important since it gives you the right to live in St Lucia for the duration of the work permit. If you have dependents with you, they'll get a similar stamp, but they can't work in the country, only live there.
Alternatively, you can also buy property in Saint Lucia and then qualify for residence. But you can't work in the country. Lastly, if you do decide to invest in real estate for residency purposes, you'll need to obtain permission from the Minister of legal affairs. St Lucian immigration lawyers usually take care of this process.
Process & Requirements
To obtain a St Lucia immigration visa, the process varies, depending on what immigration route you decide the pursue. Below we'll unpack the process for each type of immigration intention.
Passport Process
All passport applications should be submitted to the nearest Saint Lucia consulate for processing. The processing time typically takes around 14 working days, or with the express option (for an extra fee) it's 1-5 working days.
Note the following passport costs:
Regular passport – EC$80.00 (in USD that's 30)

Express passport – EC$130.00 (in USD that's 48)
You must also complete the St Lucia Immigration Passport Form and submit it with the required fees and supporting documents to the Immigration department. Applicants must show their payment receipt in order to collect the passport. If a person other than the applicant is collecting the passport, the person's details must then be included on the form (section 5).
St Lucia immigration requirements to obtain a passport:
NIS card for applicants 16 – 17 years old (proof of St Lucian identity)

National Identification card for applicants 18 and over

Birth certificate (Birth and Baptismal Certificate will only be accepted along with the Birth Certificate when a name does not appear on the Birth Certificate)
For more information, consult the St Lucia Immigration Website here.
St Lucia Citizenship By Investment Process
The process of applying for the St Lucia Citizenship By Investment Program is relatively straightforward, with a Saint Lucia passport in your hands in as little as two to three months' time.
Note the following step-by-step instructions to acquiring St Lucian citizenship by investment:
Choose an Authorised Agent to process your application. Your Authorised Agent will walk you through all the necessary paperwork and requirements for a successful citizenship application.
Complete all the application forms as provided by your Authorised Agent. Make sure all the documents are legalized according to the Citizenship Unit's standards (more information on document requirements below).
The Government of St Lucia Immigration Department assesses the application and conducts background checks on each applicant.
The Unit approves your application within 60-90 days of applying. A letter will be issued, with detailed instructions on making your investment. 
Choose your preferred investment within 60 days of receiving notice from the Unit. Submit proof of purchase of your qualifying investment, as well as the government application fees.
Become a citizen. Upon receiving proof of payment, the government Unit issues the certificate of citizenship registration.  Applicants must then submit the passport documents and passport application. You are then granted citizenship of St Lucia and can get a St Lucian passport.
Important Note: Global Citizen Solutions is an official CIP Licensed Marketing Agent authorized to promote and market St Lucia's Citizenship by Investment Program. You can view our certificate below:
Global Citizen Solutions is proud to announce our official certification by the Government of St Lucia as an Authorized International Marketing Agent.
By being granted this license, Global Citizen Solutions is allowed to promote and market St Lucia's Citizenship by Investment Program, as authorized by the island's Citizenship Investment Unit (CIU).
This also means that we have exclusive rights to act as a CIP International Marketing Agent for St Lucia.
You can find a copy of our certificate by clicking the image on the left.
Work/Residence Process
Foreign nationals wanting to work in the country must prepare a list of materials beforehand, which enables them to obtain an entry visa first, followed by a St Lucia work permit. An entry visa can be obtained online or at the nearest consulate before entering the country. Usually, the St Lucia Immigration Office reviews and processes the St Lucia Immigration Form within five days. As a general rule, applicants should apply two weeks before they plan to enter the country's borders.
Foreign nationals must also apply for a work permit before entering Saint Lucia. They must pay a non-refundable fee of EC$100 (USD$37) to the Accountant General at the Government Treasury. They can then submit the necessary documents with a completed application to the Work Permit Officer, found at the Ministry of Legal Affairs, Home Affairs, and Labor.
The Minister of Labor will review the application and approve or deny the work permit. This approval process may take a few days or a few weeks. The Ministry of Legal Affairs, Home Affairs, and Labor recommends applying for this type of permit two months before beginning work to avoid noncompliance.
For an entry visa, St Lucia immigration policy requires applicants to provide:
A valid passport

Two passport-sized photos

A return ticket to their country of origin

A copy of their itinerary

Proof of accommodation

A letter of invitation if relevant
For a work permit application, the following documents are required:
Certified proof of qualifications

A police record from the applicant's last place of residence

Copies of the job advertisement

One passport-sized photo

Proof that the income tax is paid

A trade license if applicable
FAQs:
Can I Immigrate to St Lucia?
 Yes, immigration to St Lucia is possible. St Lucia acknowledges three types of residency: citizenship, permanent residence, and the right to reside. Non-nationals must obtain a work permit to reside in St Lucia.
How do you become a citizen of St Lucia?
There are several paths to Saint Lucia citizenship. You can either obtain it by birth in St Lucia or by birth outside of St Lucia, by marriage or alternatively, via the St Lucia citizenship by investment program.
How can I move to St Lucia?
If you're keen to live in St Lucia but are a non-national, you have two viable options. You can either apply for St Lucia's citizenship by investment program, make a qualifying investment starting from $100,000, and then obtain a St Lucia passport. Alternatively, you can find work, get a work permit, and then move to St Lucia. 
Can St Lucia buy citizenship?
You absolutely cannot buy citizenship. What you can do, is apply for the St Lucia Citizenship By Investment Program. You'll need to make a qualifying investment in St Lucia, and in return, receive a St Lucian passport, provided that you have a clean criminal record and have sufficient funds to make the investment.