Portugal has fast become one of the most desirable countries in the world to live as a foreigner, with expats from all walks of life coming to claim sunny Portugal as their home, from retirees, digital nomads, and families. Portugal is in the southwest corner of Europe, neighboring Spain, on the Iberian Peninsula. The stunning coastlines, beautiful landscapes, and exciting cities make it an ideal choice to move to permanently. If you are unsure which city to choose, the historic city of Porto is an excellent choice. In this article, we'll dive right into living in Porto. 
In this article, we'll cover the following: 
Where is Porto?

Top reasons for living in Porto

Best neighborhoods in Porto

Buying or renting a house in Porto as a foreigner

How to live in Porto as a foreign citizen: residence permits and visas

The living cost in Porto Portugal

Schools

Getting around

Shopping

Healthcare

Language

Weather in Porto

Festivals and attractions

Living in Porto: pros and cons

Is Porto safe?

The bottom line of living in Porto

Plus much more!
Where is Porto?
Porto, the second biggest city in Portugal, is located in the north of Portugal. Less than two hours south of Spain, and with the beautiful landscapes in the north of Portugal, there is much to discover. Porto has stunning views of the Douro River, with the wine houses on the banks on the opposite side of the river, so you are well placed to soak up some of the best views in the country. For beach lovers, you also have many of the best beaches in the country close to home. Yes, whatever you are looking for, you will probably be able to find it in Porto. 
Top reasons for Living in Porto
There are many reasons to live in Porto. In this part of our living in Porto article, we'll provide you with some of the most important reasons to consider Porto.
Outstanding business location
Aside from Lisbon, Porto is the next best biggest hub to do business in the country. Indeed, many international businesses have chosen to settle down in this charming northern city.
Setting up a new business in Portugal is relatively easy. In Porto, you may find office spaces at cheap prices, and then you can be working in a very favorable, dynamic, and thriving business environment. Note that you should make sure to seek advice from experienced professionals who will be able to help you with the move to Portugal. 
Safe and tolerant
Portugal is the fourth safest country in the world, according to the 2021 Global Peace Index, trailing only Iceland, New Zealand, and Denmark. Porto has low crime rates, is pretty liberal, and is very welcoming to foreigners. From whichever walk of life, whether a local or foreigner, you should be able to find your place in the city.
Beautiful beaches
Porto has many beautiful beaches close by, some of our favorites are: 
​​

Praia da Aguda in Gaia

Moreiró Beach in Vila do Conde

Labruge Beach in Vila do Conde 

Sereias Beach in Espinho

Senhor da Pedra Beach in Gaia

Gondarém Beach in Foz

Leça da Palmeira beach is Matosinhos
Tax benefits
Portugal provides many tax benefits to foreigners coming to live in Portugal, through the favorable non-habitual residence (NHS) scheme. If structured correctly, the scheme provides significant tax benefits for up to ten years. This has been a major draw for expats moving to Portugal over the years. 
Best neighborhoods in Porto
Porto has many exciting neighborhoods to choose from, each with its own special dynamic. In this part of our living in Porto article, we'll examine each one so that you are best placed to find the perfect place in the city for you. 
Ribeira, Miragaia, and Baixa
Ribeira is the most recognizable part of the city, an area buzzing with restaurants and cafés. You will also find traditional housing and architecture along the Douro river, usually the first port of call for visitors when they first arrive in Porto. Miragaia is an excellent neighborhood to get the vibe of the city and Baixa, the downtown area, is where you will find most of Porto's major landmarks. The advantage of buying property here is that you'll be able to find many of the best restaurants in Porto, plus lots of shops to explore. Another detail to mention as that this part of town is on the UNESCO World Heritage List. 
Cedofeita and Boavista
Cedofeita is an artsy place in the city. A trendy place for innovative bars, unique shops, and hip cafés. Here, you will be able to enjoy many art galleries where you can admire the works of artists. On  Saturday, the Porto Belo Market is the perfect place to stroll around and find a handcrafted gift. The oldest church in Porto, São Martinho de Cedofeita, and the Crystal Palace Gardens are also found here.
If you prefer a quieter part of the city Boavista is the place for you. Boavista Avenue, the long boulevard is here, which leads beach lovers straight to the ocean.
Foz do Douro
Perfect for families, the fabulous neighborhood of Foz do Douro is one of the best places to live in Portugal, let alone Porto. The modern homes have beautiful views of the ocean that make you think that you're living in a different city completely. With a long promenade, you can soak up the views of the ocean and are blessed with the best of both worlds, with close proximity to beaches and the city. 
Bonfim and Campanhã
Bonfim and Campanhã are quickly becoming two of the hottest neighborhoods in town. The two are located next to each other and have long suffered from the stigma of being amongst the less affluent parts of the city. However, in recent years, they have benefitted from generous public investments and the neighborhoods are becoming some of the trendiest in the city. 
Vila Nova de Gaia
While Vila Nova de Gaia is on the opposite side of the river, this can be seen as a significant advantage of living in this neighborhood. Why? Well, because you will have simply fabulous views of Porto. Vila Nosa de Gaia is best known for its wine cellars, and the area is an excellent investment option as properties here are much more affordable and there are very good services and amenities to cater to the growing number of people discovering this excellent part of Portugal in its own right. 
Vila do Conde
If you are looking to live a little outside the city, in the greater Porto area, then Vila do Conde is an excellent choice. It has been rated as one of the best areas to live in the greater Porto region. If you visit this beautiful, traditional seaside town, you'll easily be able to see why. Its close distance from the city makes it easy to experience a buzzing city lifestyle while being able to relax and enjoy a little more peace.


Buying or renting a house in Porto as a foreigner
One of the best things about buying or renting a property in Portugal is that Portugal's policies are very flexible for foreigners, allowing you to easily buy or rent a property in Porto.
Buying a Home in Porto
If you are living in Porto, you are sure to have a high quality of life. Porto attracts all types, young professionals, digital nomads, and retirees. 
You can see our ultimate guide to buying property in Porto here, which also includes more details about the neighborhoods. Although there are certain steps to follow, you will be pleased to know that the procedure for buying property in Portugal is relatively straightforward.
For more information, you can consult our article on how to buy a property in Portugal here. 
You can also see our article on the best places in Portugal to buy property here.
Renting a House in Porto
If you were to choose to move to Lisbon, it would be a great idea, as it's a thriving cosmopolitan city, with an array of draws for expats. However, when comparing living in Porto vs Lisbon, renting in Lisbon is significantly higher than in the rest of the country. That's why buying in Porto is an excellent option  — rents are significantly more affordable. If you research well, plan in advance, and speak with an expert, you should be able to find the perfect property to rent in Porto. 
How to live in Porto as a foreign citizen: residence permits and visas
In this part of our living in Porto article, we'll provide you with crucial information about the different visa types and residence permits that you will need to live in Porto as a foreign citizen. 
Living in Porto as an EU citizen
If you are an EU citizen are would like to stay in Portugal for more than three months, you will need to apply for a registration certificate. You can apply for this certificate after entering Portugal and the registration certificate is valid for a period of up to five years. 
Living in Porto as a non-EU citizen
If you are a non-EU national and would like to live in Portugal, you will need to apply for a Portuguese residency before you arrive in the country. Once your visa expires, you will need to apply for a residence permit. 
Exploring Visa and Immigration Options for Portugal
If you're considering making the move to Portugal, it's essential to be informed about the various visa and residency options available. The Golden Visa Portugal program is an attractive option for many, offering residency to investors and their families. For those eyeing retirement in this beautiful country, the Retirement Visa (D7) is tailored for you. Digital nomads can take advantage of both short and long stay options with the Nomad Visa (D8). Meanwhile, the NHR - Non Habitual Tax regime provides significant tax benefits for new residents. 
For the entrepreneurial spirit, Portugal offers the Entrepreneurship/startup Visa (D2) - Start-up Visa (open company) tailored for those looking to establish their businesses in the country. Those with specialized skills can explore the Work visa for highly qualified employees (D3). Additionally, if you have Portuguese ancestry, you might be eligible for Citizenship by descent. 
However, moving to a new country isn't just about visas. If you're thinking of buying property, our guide on Buying Property in Portugal can offer invaluable insights. Dive deeper into the immigration process with our comprehensive Portugal immigration guide. For Americans specifically looking to relocate, we have curated information on Americans moving to Portugal. Lastly, one can't forget the importance of the NIF (Tax Registration Number), a crucial step in any relocation process. 
Cost of living in Porto
If you are considering living in Porto, you'll want to know about the cost of living. Well, first things first, Portugal is a very affordable country to live in, in comparison to neighboring countries in western Europe. In this section of our living in Porto article, we'll give you some further information on the cost of living in Porto Portugal.
Accommodation
Rent in Porto is around 21% cheaper than rent in Lisbon, according to statistics from Numbeo. The following are estimations of renting:
A one-bedroom apartment in the city center will cost you €674.41 per month.

A one-bedroom apartment outside the city will cost you €519.06 per month.

A three-bedroom apartment in the city center will cost you €1,229.60 per month.

A three-bedroom apartment outside the city center will cost you €905.26 per month.
Food
Food is relatively inexpensive in Porto, particularly if you buy locally. Of course, if you are after products that are imported from other countries it will come at a greater cost. Also, because of the climate in Portugal, you can find fresh fruits and vegetables. Given the long coastline of Portugal, fish is a staple of the diet in the country, and good quality meat is also easy to be found. 
Eating out
Porto boasts many excellent restaurants, regardless of your budget. From high-end, luxury eateries, to small tascas (typical Portuguese restaurants). You will even find many Michelin-starred restaurants dotted around Lisbon. What's more, many have argued that the food in the north of Portugal is the best in the country, which is really saying something as trying food in any corner of Portugal, you will eat very well indeed.
Transportation
You will find that Porto has excellent transportation links within the city. The metro network is affordable and efficient, and you can also get around by bus easily. 
Schools
For families considering moving and living in Porto, the first thing that will pop into your mind is, what about your children's education? Porto has many good options that you can explore for all ages. The Oporto British school, which can be found in Foz do Douro, is the oldest British school in Continental Europe. You also have CLIP Oporto International School, which provides an English National Curriculum, and the Lycée Francais International Porto and Deutsche Schule zu Porto, which provide French and German schooling, respectively. 
Note that as a legal resident of Porto, you can enroll your children in a public school for free. However, state schools require a lot of paperwork so you will need to plan in advance. Also, the language barrier could be an issue, but if your child is of a younger age it could be a good option so that they can soak up the language from a young age. 
Getting around
It's very easy to get around in Porto. Some transport options are the following:
By tram:: You'll find the historic city of Porto. At present, there are three tram routes to get around town. Being a favorite with locals and tourists, they may be crowded but are well worth the experience. 

By bus: Buses are one of the easiest ways to get around the city of Porto and further afield, for example, if you would like to head to the beach at Foz do Douro. 

By taxi: Taxis in Porto are more affordable than in other parts of Western Europe. And Uber is even cheaper, a nice tip to bear in mind. 

By foot: You can very easily get around Porto on foot. While it can be hilly and the cobbled streets can be hard to walk on at times, there is no better way to discover the city!
Shopping
In Porto, you'll find larger brands, as well as boutique shops and family-owned businesses, plus traditional marketplaces. The contrast between international stores and shopping malls with a creative, artistic culture is a very special aspect of the city.
Healthcare
For residents of Portugal, you can have access to public healthcare through Portugal's National Health Service, the SNS (Serviço Nacional de Saúde). In Porto, there are also a good many private hospitals and healthcare facilities that you can go to if you have health insurance or would like to pay while you are there. 
There are many hospitals in the city, so you should have no problems finding good quality health services. Over the past ten years or so, the available healthcare for foreigners in Portugal has improved leaps and bounds, probably fueled by expats moving to the country. 
The Euro Health Consumer Index ranked Portuguese healthcare as the 13th best in Europe in 2018, ranking in a higher position than the UK, Spain, Italy, and Ireland. Portuguese healthcare scored the highest in terms of patient rights and information, waiting times, and accessibility, as well as overall health outcomes. Portugal has an average life expectancy of 81 years. 
Language
English is widely spoken in Porto, particularly among younger people. However, for expats living in Porto Portugal, learning some Portuguese will be useful to impress your Portuguese neighbors and integrate into the Portuguse way of life. 
Weather in Porto
Portugal has a sunny Mediterranean climate, with pleasant weather for most of the year. However, note that the north of the country, including Porto, can experience very cold periods, particularly in the winter month. Ensure that your house has a good heating system. Regardless you will still find the climate much more favorable than in most other parts of Europe and it is sunny for much of the year. 
In general, the summers are warm, dry, and clear, and the winters a little cold, wet, and a little cloudy. Over the year, the temperature ranges between 43°F (6°C) to 76°F (24°C).
​​
Festivals and attractions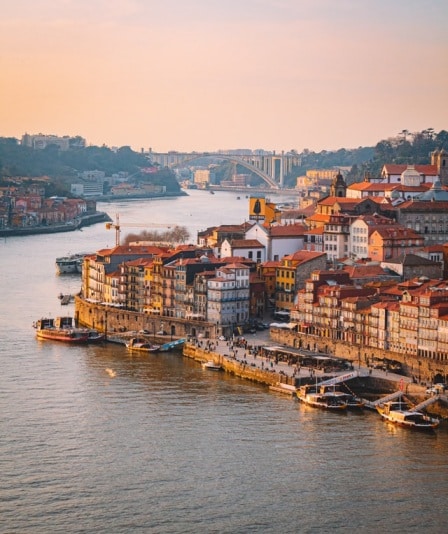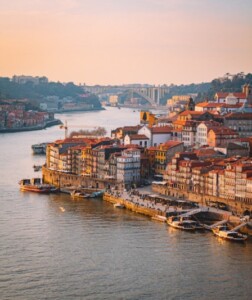 There are several festivals and attractions in Porto throughout the year. This includes films, food festivals, concerts, art exhibitions, plus much more. Some of the popular events in Porto are:
Port wine day: The famous Port wine is beloved by locals and foreigners alike. The national drink is the star of the show, but there's also the opportunity to try some more exotic variations on the theme. 

Porto book fair: An excellent festival for literature lovers, and you can easily leave with your new favorite book in hand.

NOS Primavera: Get ready, as each summer the biggest names in pop, rock, dance, and everything else head to Porto for the biggest music festival in the city. 

São João Festival: June 23 is a very special day indeed in Porto, as its when the São João Festival takes place, the biggest festival in the city, and its most viciously celebrated. With events, entertainment, fireworks, plenty of drinks, and much more besides, this festival is not one to be missed. 
Living in Porto: Pros and Cons
In this section of our living in Porto article, we'll provide you with some of the pros and cons of living in Porto.
Living in Porto Portugal pros and cons:
Advantages: 
Affordable cost of living in a great European city

Good climate

A thriving expat community

Buzzing nightlife and social scene

You are very close to excellent beaches

Good business opportunities

Very good restaurants
Drawbacks
Cobbled streets can be difficult to get by

The bureaucracy process can be slow

Tourism can make the city feel congested in summer, although this is not nearly as much as a problem as in Lisbon

No central heating in some properties
Is Porto safe?
Porto is a very safe city to live in, with low crime rates and an easy-going vibe. As mentioned previously, Portugal is the fourth safest country in the world, according to the 2021 Global Peace Index. However, as with any city it is best to be careful in busy areas. 
The bottom line on living in Porto Portugal
Living in Porto Portugal is an excellent choice. The city provides all the benefits of living in a lively, happening, and international environment, whilst having its unique, historic charm and relaxed pace of life. Retirees, families, or digital nomads who are looking for a fresh beginning should definitely consider moving to Porto Portugal. The city offers a vibrant nightlife, a rich culture, good weather, and some of the best food in Europe. 
Frequently asked questions about living in Porto:
Is Porto a nice place to live?
With it's unique charm, proximity to beaches, and fabulous cultural scene, Porto is an excellent place to live, whether you are a retiree, digital nomad, or moving with family. 
How much money do you need to live comfortably in Porto?
As with many urban cities in Portugal, the cost of living in Porto has increased over the years. However, Portugal's second-biggest city remains considerably cheaper than its counterpart, Lisbon, in the south of the country. To live a comfortable life in Porto, you should budget from €800 to €1.500 monthly, depending on your lifestyle. 
Is living in Porto expensive?
The cost of living in Porto has increased in recent years but remains a very affordable city when compared with other western European cities. 
Is Porto good for expats?
Yes, Porto is a very good city for expats, with many internationals living in the city, coworking spaces, and there is a great cultural and lifestyle side to the city. 
How do I retire in Porto Portugal?
If you have a steady passive income, then the D7 Visa is the perfect option for you. This visa is perfect for retirees, who want to avoid the high living costs of their home country and enjoy the sunshine and quality of life in Portugal.