IMPORTANT UPDATE: It's official, Cyprus closed its popular citizenship by investment program on 1 November 2020. What this means is investors will no longer be able to directly acquire a Cypriot passport by investment.
A new program has taken place, however. The Cyprus Golden Visa provides individuals with an alternative route to permanent residency in Cyprus. Those looking for European citizenship can also apply to the Malta citizenship program, which offers a direct investment route to a Maltese passport.
---
Malta vs Cyprus Citizenship, what's the best option? If you're looking to get your European citizenship without much hassle, good news for you. We've compared the best residency and citizenship by investment programs in Europe: Cyprus and Malta.
Obtaining European Citizenship Quickly
Liberation from visa-related formalities, an attractive business climate, and personal security guarantees are just some of the many reasons why the Malta and Cyprus passport programs are so popular. Whether you wish to obtain EU citizenship in either one of these countries because you're looking for opportunities for scaling a business, or are interested in a high standard of living and access to a progressive healthcare system, below, you'll find all you need to know about the advantages of a
second passport
, and the process for Malta vs Cyprus citizenship.
Quick Comparison between Malta vs Cyprus Citizenship
Malta and Cyprus are members of the European Union, and they both offer Golden Visa programs that can lead to citizenship. Malta has a population of 444,140 whereas Cyprus is slightly larger at 1,226,773 (as of 2022). These two countries have the Euro (€) as currency, but while Malta is a member of the Schengen Area, Cyprus is not. Nowadays, only Malta offers an expedited route to European citizenship out of the two countries, as the
Cyprus Citizenship by Investment
scheme has been suspended. Nevertheless, Cyprus still offers an alternative route to permanent residency in its Republic, which can eventually lead to citizenship.
Languages Spoken
The two official languages spoken in Malta are Maltese and English, whereas Greek and Turkish are more commonly spoken in Cyprus. With that being said, 76% of the Cypriot population are proficient in English. If you're considering applying to either one of the Golden Visa programs, you won't have to worry about learning a new language, as there are no language proficiency tests required in either country for obtaining citizenship. Many potential investors are asking themselves which one is better between Malta vs Cyprus citizenship. To answer the question, it is essential to look at the basic eligibility requirements and cost information for each of the countries.
Malta Citizenship Requirements and Cost
Often inaccurately referred to as
Malta Citizenship by investment
, the
Maltese Citizenship Act Granting of Citizenship for Exceptional Services Regulations
, otherwise known as the Malta Citizenship by Naturalization for Exceptional Services by Direct Investment (CES) is a citizenship by naturalization scheme that acts as an expedited route to European citizenship. Applicants to this scheme can be granted citizenship in Malta along with their family members if they satisfy the following criteria:
Age
Be 18 years of age or older (except for dependents, who can be younger)
Rent or buy property
Rent or buy a private home for a minimum value of €700,000 and maintain it for five years, or rent a property for a period of 5 years with a lease worth at least €16,000 per year
Resident in Malta
Have been a resident in Malta for the last 12 months
Have an insurance
Have private global health insurance coverage for at least €50,000
Make a qualifying investment
Make a qualifying investment for citizenship in the form of a donation of €750,000 to the special government fund, and a philanthropic donation worth at least €10,000 to a non-governmental organization in Malta.
Additional fees to pay
There are some additional fees that the applicant needs to pay, including due diligence fees of €15,000 for the main applicant and €10,000 for dependents, as well as €500 passport fees per person and €200 bank charges per application. It might also be interesting to know what the
cost of living in Malta
is.
Cyprus Citizenship Requirements and Cost
While Cyprus no longer offers a citizenship by investment scheme, it still offers a residency by investment program that grants qualifying individuals and their family members residency rights in the Republic. This program is referred to as the
Cyprus Golden Visa
, and has plenty of benefits and advantages. The requirements for the program are as follows:
Age
Be 18 years of age or older.
Invest in Real Estate
Invest at least €300,000 in real estate of any kind (could be residential real estate or commercial real estate); Or
Invest in a share capital of a Cypriot company
Alternatively, invest at least €300,000 in a business project or an operating business, with no restrictions in terms of business area; Or
Invest in units of a Cyprus Collective Investment Organization
Invest at least €300,000 in units of a Cyprus Collective Investment Organization (e.g. AIF, AIFLNP, RAIF)
Additional fees
Additional fees include an application processing fee of €500
Malta vs Cyprus Citizenship – Which Program Has More Advantages?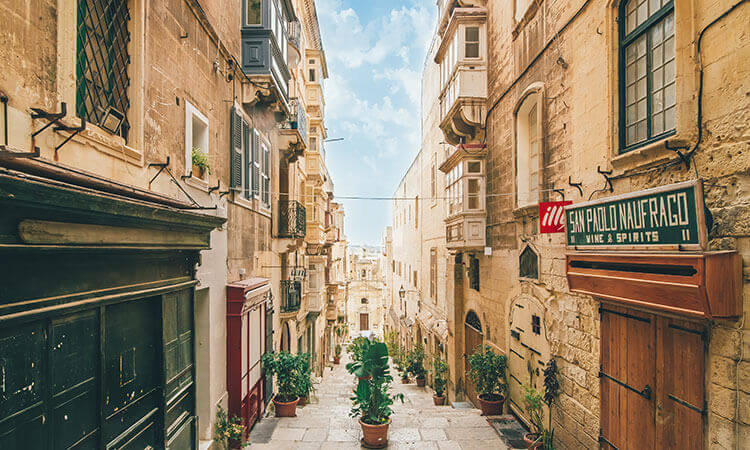 The above-listed criteria show that there are several areas that differ between the Malta and Cyprus citizenship and residency programs. While both programs lead to EU citizenship and residency, some people may prefer Malta vs Cyprus citizenship or the other way around depending on their personal preferences and personal circumstances. See also what's the difference between
residency and citizenship by investment
.
Both require to buy local property
The requirement to purchase local real estate exists for both programs, but it differs with regards to the amount. While the Malta scheme allows applicants to purchase property with a minimum value of €750,000 or have a five-year rental contract at a minimum value of €16,000 per year, Cyprus offers a lower investment requirement that can lead to citizenship after seven years of naturalization.
Property bought in Malta can be sold
Moreover, the property you purchase in Cyprus will have to be retained for a period no less than seven years if you choose to be integrated into the society in order to succeed in your naturalization, however, your property in Malta can be sold after five years and the time requirement leading up to citizenship is much faster. It is also essential to keep in mind that the property bought in Malta for obtaining citizenship can be sold exempt from tax if it was held for at least three years as the sole and ordinary residence of the applicant.
Overall Investment Considerations
The overall cost of obtaining Maltese citizenship is about €840,000, which is considerably higher than the €300,000 minimum investment required to
obtain Cypriot residency
. Both schemes offer applicants the right to reside, work, and travel in all of the other EU member states, but you should keep in mind that Malta is also a member of the Schengen area while Cyprus is not. This means that European travel and work can be easier with a
Malta passport
.
Other Considerations for Malta vs Cyprus Citizenship
Taxation is similar in both countries
Malta and Cyprus have similar legislation regarding taxation, which means that the tax system of both countries is based on residency instead of citizenship. To be a fiscal resident of either state, an individual will need to reside in the country for at least 183 days a year. You can learn everything you need to about the
capital gains tax in Malta
and
Cyprus tax for non-residents
to access relevant information regarding their taxation systems.
Timeframes and Visa-Free Entry
The fastest way to obtain EU citizenship by investment is by applying for a Maltese passport, and acquiring it by means of naturalization. The entire process takes up to 12 months.
Passport "power"
Malta and Cyprus are holding the 21st and 29th positions in the Global Quality of Nationality Index as of 2021, which means their passports are equally powerful.
Visa-free for United States
There are no visa formalities for holders of Maltese and Cypriot passports for many countries such as Australia, the UK, Hong Kong, Japan and more. The main difference is that
Maltese citizens can also travel freely to the United States
while Cypriots require a travel visa.
What's the best option?
To sum it up, the procedure to obtain Maltese citizenship is a lot faster, but it demands a higher investment sum. However, there are strict formalities for granting this kind of citizenship in Malta, with only 400 foreign investors being considered for it after the
Malta citizenship by investment
changes occurred. Obtaining Malta vs Cyprus citizenship is thus a matter of personal preference and investment abilities for non-EU citizens and high-net-worth-individuals who are seeking EU citizenship.