More and more retirees are moving to Portugal for retirement. Drawn by a pleasant climate, affordable living costs, and excellent living standards, Portugal is one of the best places in Europe for retirement. 
From the best retirement cities in Portugal, down to what the best place to retire in Portugal is, in this guide,  we explore everything you need to know about retiring in Portugal.
Benefits of retiring in Portugal
Portugal is a popular choice for retirees, and it's easy to understand why. There are many advantages to retiring in Portugal. A world-class healthcare system, solid infrastructure,  low cost of living, and tax exemption on foreign pensions are all big draws for retirees looking to uproot their lives. 
Portugal is also one of the safest countries in Europe with low crime rates. It has further endured lasting political peace for the last 60 years, making it an ideal country for relocation. Finally, Portugal's geographical position as continental Europe's easternmost country means it is easy and fast to travel within Europe, or outside of America for U.S. citizens and Canadian retirees.
Benefits of buying property in Portugal for retirement
Portugal's dynamic property market is experiencing a period of under-valuation. And since real estate in Portugal is undervalued, it's among the most affordable countries in Europe for property investment. 
Portuguese real estate also has one of the best price-to-rent ratios and price-to-income ratios in Europe. Meaning, housing is cheaper to buy and investors can actually make money from rentals or property selling.
How to retire in Portugal
Portugal D7 visa for retirees
Portugal's D7 visa is a good option for retirees. It gives foreign citizens who wish to reside in Portugal the opportunity to do so, either as retirees, or as passive income earners. 
In exchange for proving you have a regular and reliable income, either from your pension funds or from your own financial resources, you can get the  residence permit (D7 visa), granting you special tax status for a 10-year income tax break.  The D7  visa is an excellent option for non-EU nationals looking to reside in Portugal permanently, and many retirees apply for this specific residence program.
Golden Visa Portugal
To retire in Portugal, another residency solution is to apply for Portugal's Golden Visa Program. The Portugal Golden Visa is a five-year residency-by-investment initiative for non-EU nationals. In exchange for a qualifying investment — usually in real estate — you are rewarded with a permit that enables you to live and work in Portugal.
Real estate investment options start from €280,000, providing an excellent opportunity for retirees to buy a second home and resettle in Portugal. Key Portugal Golden Visa benefits include free movement within Europe's Schengen Area, affordable investment options with high investment returns, and the possibility of acquiring a European passport after five years.
Take a look at our Portugal Ultimate Guide for more information.

Your Portugal Golden Visa Consultants
Global Citizen Solutions is a boutique consultancy firm with years of experience delivering bespoke residence and citizenship-by-investment solutions for international families. With offices worldwide and an experienced, hands-on team, we help clients from around the world acquire Golden Visas or homes while diversifying their portfolio with robust investments.
As Portugal Golden Visa Consultants, we have a 100% success rate with Golden Visa applications. Our prices are transparent and competitive, and we guarantee a fast service, tailored to your specific objectives. For more information on how we can help, contact us by clicking here.
What does it cost to retire in Portugal?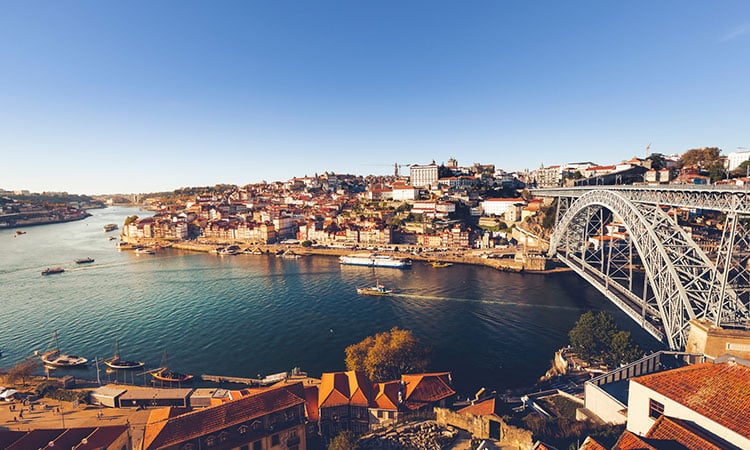 Portugal consistently ranks as one of the best places to retire abroad, with the Algarve selected by CNN and Forbes as being among the best place on the planet to retire. One of the main reasons is because Portugal is an affordable country to live in.
How much you need to retire in Portugal depends on your budget. Generally though, you can live comfortably with an estimated €1,300-1,500 (US$1,500-1,700) per month in small towns, or €1,700 ($2,200) in larger urban areas such as Lisbon or Porto.
When considering the living cost, it's important to factor in real estate costs too. If you're looking to retire in Portugal by making a real estate investment, then for typically €500,000, you can buy a second home in an excellent location. A mortgage is possible, and mortgage rates for prime borrowers are solid, standing between 3.25% and 5.25%, depending on the loan conditions.
Retire in Portugal: Health insurance
Portugal has universal health coverage through its publicly funded National Health Service (called the Serviço Nacional de Saúde, SNS). It's free for Portuguese citizens and residents. Basic national health care is administered through local and regional health services as well as hospitals and includes all levels of care, except for dentistry. 
Healthcare under Portugal's national health system is free for people over 65, making it an attractive prospect for retirees looking to settle down in Portugal. Even the medication administered during a hospital procedure is free. 
Portuguese healthcare is considered the 13th best in Europe, ranking higher than Spain, Italy and Ireland. Portuguese healthcare scores higher in terms of patient confidentiality, accessibility, and waiting times, as well as health outcomes- with the average life expectancy at 81 years old.
Retiring in Portugal and your pension
EU citizens can transfer their pension contributions from their home country, along with any other contributions where they've worked, to count towards their state pension in Portugal. 
For non-Eu nationals looking to retire in Portugal, depending on the state pension service in the home country, pension withdrawal rules might differ. Portugal does have tax and social security agreements with several non-EU-countries to make relocating hassle-free, so it's advisable to check in advance with your respective country. Sometimes, transferring international pensions to Portugal are subject to tax.
Retire in Portugal tax-free
Retiring in Portugal brings about many tax advantages. New Portuguese legislation has eliminated some local taxes on foreign pensions and other retirement income. The Non-Habitual Residency Regime is an excellent option for retirees, as you're exempt from local taxes for 10 years.
At present, NHR offers a 20% income tax rate to people employed in 'high-value-added' professionals, as well as the potential to receive some foreign income, like property gains or pensions, completely free of Portuguese taxes.
Best towns in Portugal to retire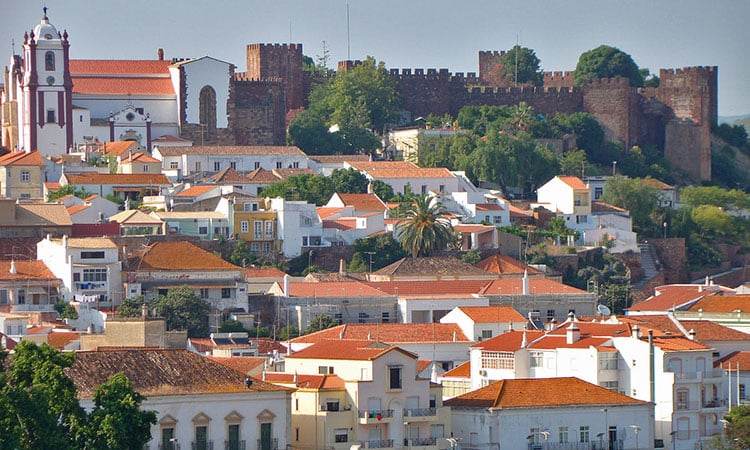 There are many different regions to choose from in Portugal. Some of the best retirement cities in Portugal are the sophisticated Portuguese Riviera to beautiful Porto or the bustling and cosmopolitan Lisbon. 
The Algarve is probably the most well known for retirement, and for good reason. Its incredible beaches, warm water, and endless sunshine make it an incredible place to live. The existing English-speaking community means that there is a considerable amount of administrative support available to help take care of the Portuguese retirement process.
Those looking for a less developed and more authentically Portuguese region also pick the Silver Coast.
Best place to retire in Portugal
By far, Algarve is voted as the best place to retire in Portugal. There are over 100,000 resident expat retirees currently living in this region. In particular, the best city to retire in Portugal is Silves, and another best city to retire in Portugal is Lagoa. From charming towns to bustling markets, local wine, and beautiful beaches, the Algarve is a very appealing lifestyle choice for relocation.
Retirees in particular like Algarve because of the excellent weather, the internationally-acclaimed golf courses, and a large English-speaking community.
Retirement in Portugal for US citizens
How to retire in Portugal from the USA? It's easy! Many Americans choose Portugal to retire to because compared to the US, the living costs in Portugal are relatively cheap, and the standard of healthcare, combined with endless sunshine and a community of expat retirees, make Portugal very appealing. A solid housing market is another powerful draw for Americans, as well as Portugal's Golden Visa and D7 visa residency options. 
Frequently asked questions about how to retire in Portugal
How to retire in Portugal?
You have two main options about retiring in Portugal. You can either go through the Portugal Golden Visa Program, which enables you to get a residence permit in exchange for a qualifying investment — usually in real estate — or apply for the D7 visa and move to Portugal as a retiree.
How much money do I need to retire in Portugal?
How much money you need to retire in Portugal depends on what your spending budget is like. In general, retirees can get by comfortably for €1300 per month in smaller towns in Portugal or €1,700 per month in bigger cities like Lisbon or Porto.
Can i retire in Portugal?
Yes, you can retire in Portugal, provided that you either go through Portugal's Golden Visa program or the D7 visa program. If you're an EU national, then you can move to Portugal easily without applying for a residency visa.
How does retiring in Portugal from the USA work?
Many people from the USA are retiring in Portugal. There are thousands of American retirees re-settled in Portugal. You can buy a property through Portugal's Golden Visa program, and get a residence permit in Portugal.
What is the best place to retire in Portugal 2020?
The best place to retire in Portugal this year in 2020, is the Algarve.
What is the tax in Portugal for retirees?
Retirees are eligible for certain tax exemptions, via Portugal's NHR regime.
Retiring in Portugal pros and cons?
There are many pros to retiring in Portugal. Ease of travel, great weather, fantastic food, beaches, and culture, Portugal has a lot to offer. One of the main cons of living in Portugal is the language barrier, but many people in Portugal speak English.