Initiated in October 2012, Portugal's Residence Permit Program — also known as the Portugal Golden Visa (ARI) — is one of the most popular visa programs in the world. The Portugal Golden Visa program enables non-EU individuals to get a five-year residency by making a qualifying investment into the country, and, following this, they can apply for Portuguese citizenship after five years, provided they meet all the requirements set out by the Portuguese government.
Many expats and investors from every corner of the world are flocking to Portugal either to settle with their families or to invest and benefit from the Golden Visa's available options.
IMPORTANT UPDATE: PORTUGAL GOLDEN VISA - OCTOBER 2023
The Portugal Golden Visa program has recently undergone substantial changes. The new legislation is now in effect, and it's crucial to note that real estate investments are no longer a valid qualifying option within the program.
However, several attractive investment routes still maintain their eligibility for the program. Please refer to our comprehensive guide: Portugal Golden Visa Ultimate Guide.
The End of the Real Estate Pathway
Portugal, with its amazing climate, has constantly been recognized as a favorite and attractive destination for expats and investors from all around the world in recent years. Regarding the country's residency-by-investment scheme, the Portugal Golden Visa is one of the fastest and most convenient Golden Visa programs in Europe.
There are various options for obtaining the Portugal Golden Visa, and the real estate investment pathway has historically been the most common among investors. With the ending of the real estate option, it is likely that other investment options, such as the investment fund route or cultural production pathway, will increase in popularity.
Portugal Golden Visa Investment Options
In the wake of the termination of the real estate and capital transfer investment options, the following investment options remain open to investors:
Fund Subscription

: Make a contribution to a qualified investment fund worth at least €500,000

 

Investment or donation in the arts or reconstruction of national heritage

with a donation of at least €250,000

(reduced to

€250,000 is located in a low-density area)

Scientific Research

: Science or Technology research contribution of at least €500,000

(20 percent discount if located in a low-density area)

Creation of ten jobs

: Creation and maintenance of ten jobs during the required period

 

Share capital and job creation:

Incorporation of a company or reinforcement of a company's share capital, in either case with an investment of €500,000, combined with the creation of five or maintaining ten jobs (5 of them permanent)

 
Golden Visa Alternative: Investment Funds
Given the fact that the real estate option is no longer an option, investment funds have emerged as a popular choice for those considering the Portugal Golden Visa program. To qualify for this visa route, foreign investors must transfer a minimum of €500,000 into Portuguese investment or venture capital funds. These funds should primarily focus on providing financial support to companies incorporated under Portuguese law and have a required minimum maturity period of five years at the time of investment.
Regarding the residency requirement, individuals seeking the Golden Visa must spend at least seven days in Portugal during the first year of their investment, followed by a minimum of 14 days for each two-year period after the initial year. It's crucial to sustain your investment activity throughout the entire five-year period to maintain your residence permit. Afterward, you can apply for permanent residency or Portuguese citizenship after five years.
For a comprehensive overview of the available investment options, please refer to our detailed article on the Portugal Golden Visa investment fund route.
Another option to consider is the cultural production Golden Visa.
Real estate Investment in Lisbon, Porto, and the Algarve
Investments in Lisbon, Porto, and the Algarve have not been eligible for the Portugal Golden Visa since January 2022. However, if you are looking to purchase a property in Portugal – and are not seeking a Portugal Golden Visa – then these locations provide excellent investment opportunities.
Rental yields in the Lisbon Metropolitan Area stood at 5.6 percent in 2022, while in the Porto Metropolitan Area, this number was 5.34 percent. In the Algarve, rental yields range from 3.56 percent to 5.03 percent, depending on the location.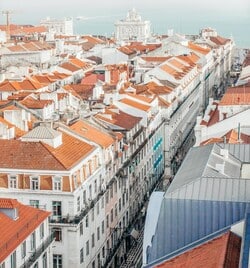 Less Known Real Estate Gems
There are many locations where you can find your dream home in Portugal, and although real estate is no longer an option for the Golden Visa, there are countless lesser-known areas that provide not only peace and quiet but could also prove to be key investment spots in the future.
Aljezur, a coastal village in the Algarve, is a good example of this. It's an ideal place where you can be away from the crowds, but you'll be a one-hour drive away from Faro, the region's capital. Sagres is another spot that is is a top destination.
In North Portugal, the Douro Valley, which is easily reachable from Porto, is another eligible area where you can buy a lovely countryside house. Thanks to the growing eco-tourism, real estate in and around the Douro Valley is becoming very popular.
One of the major points you should also consider while deciding where to buy your property is how to buy it. That's why there are many options to secure mortgages in Portugal for foreigners.
Global Citizen Solutions: Who We Are and How We Can Help You
At Global Citizen Solutions, we have a dedicated team of professionals with years of experience helping individual investors and their families from different nationalities obtain the Portugal Golden Visa.
With offices in Portugal, the United Kingdom, Hong Kong, and Brazil, we reach a 100% success rate when it comes to Golden Visa applications, we can ensure that you find various options tailored to your needs and requirements and be your loyal consultants throughout the process.
You should also know that our real estate division located in Portugal — Goldcrest — works as an independent buying agent to help you find and acquire the best property investment suited to your needs. Goldcrest leverages local connections to ensure correct property reviews have been conducted, which is a key requisite for buyers unfamiliar with the Portuguese property market.
Get in touch
You can contact us through our social media channels or drop us a message on the website by leaving your information, and we will contact you and help you avoid the difficulties that befall many Portuguese Golden Visa investors.
Even though a property investment no longer qualifies you for the Golden Visa, there are an array of attractive investment options on the table, including investment funds, job creation, and an investment into cultural production.
Why choose Global Citizen Solutions for your Portugal Golden Visa?
Global approach by local experts: A team of experienced local case executives, immigration lawyers, and investment specialists based in Portugal.
Independent service: We are not a marketing agency for any projects. You will access all eligible routes for the Golden Visa so you can decide on the best option, and your investment will benefit from the legal due diligence services of a reputable Portuguese Law Firm.
100% approval rate: We have the unique distinction of never having had a Golden Visa case rejected and have helped hundreds of clients from more than 35 countries.
All-encompassing solution: Our dedicated onboarding and immigration teams will assist you throughout the process and beyond with a single channel of communication. 
Transparency: Our fees are clear and detailed, covering the entire process with no hidden costs. 
Privacy: Your personal data is stored within a GDPR-compliant database on a secure SSL-encrypted server.
To see the full list of reasons why to work with Global Citizen Solutions for your Portugal Golden Visa, you can find out more here: Why Work with Global Citizen Solutions for Your Golden Visa Portugal Application?
Frequently Asked Questions about Golden Visa Portugal Real Estate Investment
What is the minimum investment for a Golden Visa in Portugal?
If you're into art, then you can benefit from the minimum investment for a Golden Visa in Portugal with an art donation of €250,000. This is reduced to €200,000 if located in a low-density area.
How much do you need to invest in Portugal to get residency?
The most affordable option is cultural production Golden Visa, which requires an investment of €250,000. This is reduced to €200,000 if located in a low-density area.
Can you get residency in Portugal if you buy a property?
The real estate pathway of the Portugal Golden Visa is no longer available, as of 7 October 2023.