Grenada Citizenship by Investment applications have increased 2.5 times in the third quarter of 2022, according to figures released by the CBI committee. The country received 462 applications between July and September, an impressive surge from the 167 received in the months between April and June. The total applications of Q3 nearly reached the sum of applications in the whole year of 2021, which totaled 566. 
Grenada is the only Citizenship by Investment program in the Caribbean that currently doesn't have a list of nationalities that are banned from applying. Although the CBI Committee doesn't release data about the primary nationality of applicants, the fact this is the only program available for Russians and Belarusians may have an influence in the figures. The CBI committee has declared in June that they have been processing applications from Russians and Belarusians "in a case-by-case" basis, and only from non-sanctioned individuals. The dates match the spike in the applications, as in the graph below: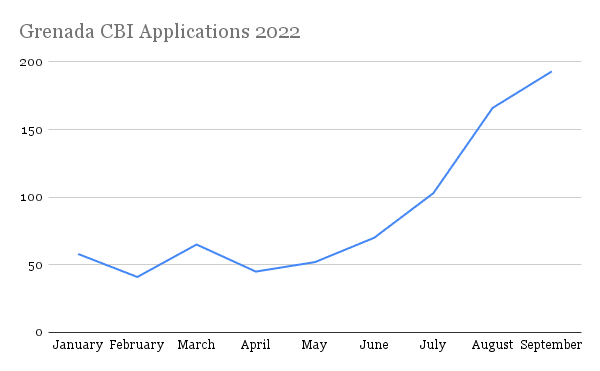 Economic citizenship of Grenada can be obtained in exchange for an investment in the country, starting at $150,000. A Grenada passport allows visa-free travel to over 140 countries, including the European Schengen are and the UK, and also allows Grenada citizens to apply for the United States E2 Business Visa. 
There are two investment routes for CBI:
A non-refundable contribution to Grenada's National Transformation Fund (NTF), of at least $150,000 for a single applicant and $200,000 for a family of four.

The purchase of real estate (or shares of real estate) in a pre-approved development project worth $220,000 or more.
The requirements for application are flexible, with no residency or presence necessary or managerial experience. Citizenship can be granted in three to four months. 
To find out more, check our Ultimate Guide to Grenada Citizenship, or get directly in contact with our experts at Global Citizen Solutions: