When it comes to passport rankings, the approach to uncovering the most powerful passports in the world has usually focused solely on mobility – how many countries can you get visa-free or visa-on-arrival access to? While this is very important in ranking a passport, we believe that this overlooks other important factors. With dual citizenship increasingly popular, individuals want to look for countries that offer excellent investment opportunities and have a good quality of life. With this in mind, Global Citizen Solutions developed a pioneering Global Passport Ranking that incorporated these factors into the ranking system. This method showed the US passport ranking as the second best in the world.
Read on to discover why American passport holders have the second most powerful passport in the world, with a detailed breakdown of the US passport ranking score and country profile.
USA Passport Ranking in 2023
Why seek second citizenship? The answer is relatively simple – whether you are looking for greater financial or personal freedoms, second citizenship provides you with increased security, greater global access, and the opportunity to diversify your assets.
Our Global Passport Index uses a quantitative scoring system to determine the attractiveness of a passport. Our approach is based on measuring global passports' access to other countries (with visa free access or visa on arrival), but also investment opportunities, and quality of life. For this, three separate indexes were created. So, based on this approach, how does the USA fare? The US Passport ranks differently across each index.
Holds the most weight (50%) and is based on the number of countries that the passport holder has access to, alongside the "attractiveness" in terms of quality of life standards.
USA's passport ranking: 17th
Worth 25% of the overall calculation and is based on the country's economic strength, looking at investment opportunities and how easy it is to conduct business.
USA's passport ranking: 3rd
Worth 25% of the overall calculation. Six components related to the quality of life are covered under this index – sustainable development, cost of living, level of happiness, environmental performance, freedom, and migrant acceptance.
USA's passport ranking: 39th
For more information, see the USA country profile here.
US Passport Ranking: The Second Strongest Passport in the World
The United States of America is an economic powerhouse with the highest GDP in the world, which helps the USA in ranking highly in our Global Passport Index. However, it is the overall positioning, performing well in each index, that ensures that the USA ranks in second position. Indeed, while the country's performance in the Quality of Life Index is perhaps lower than one may first expect, this is made up for by the investment opportunities that the country has to offer.
US passport ranking: Enhanced Mobility
A US passport provides the passport holder visa-free or visa-on-arrival access to 173 countries or territories. A key reason for their strong performance in mobility is that the US has negotiated and established treaties that allow citizens with easy access to travel, business, and trade. Otherwise, there would be long visa processes that would slow down negotiations.
Countries that American passport holders have easy access to include EU countries, the United Kingdom, Brazil and Canada, Singapore, United Arab Emirates, Australia, and New Zealand.
US passport ranking: Investment Opportunities
The USA provides investors with a very diverse and developed economic market, with the most lucrative consumer market in the world. It is unsurprising that the USA performs so well in the Investment Index.
The USA has a Gross National Income per capita (GNI) of $70.480 and personal taxation of 37 percent, which makes the USA a "most favorable" option for investors. The USA ranks well on all aspects of markets and innovation – innovation capability, financial system, product market, market size, labor market, and business dynamics. The USA particularly excels on market size.
The opportunities to invest in the country are extremely attractive to investors. This is perhaps one of the key reasons why the country offers many attractive visa schemes for expats looking to invest in America. Take the EB5 Visa program and the E2 Visa program, two excellent options. The Business Visa also allows citizens to spend 90 days in the country for business ventures.
USA Passport Ranking: Quality of Life
In some aspects, the USA performs exceptionally well in quality of life – such as in sustainable development, freedom of speech, and happiness. However, because of a high cost of living, the USA performs least well in the Quality of Life Index.
Nonetheless, the USA is at the forefront of innovation, which has been making inroads on the country's level of sustainable development and environmental performance, looking to become a global leader in these aspects.
The World's Most Powerful Passports:
The US comes out in second position when looking at the world's most powerful passports. Taking the top spot is Germany (1st). Other strong passports include Sweden (3rd), Denmark (4th), the Netherlands (5th), Finland (6th), the UK (7th), Canada (8th), Norway (9th), and Switzerland (10th).
In the Americas, the world's most popular passports are the United States (2nd), Canada (8th), Chile (42nd), Brazil (47th), Argentina (50th), Bahamas (51st), Saint Kitts and Nevis (53rd), Mexico (55th), Costa Rica (56th), and Uruguay (57th).
A New US Passport Design
The US New Generation passports came out in March 2021. The new passport uses new technologies to create a more robust passport. 
The advanced information page is the most noticeable difference in the Next Generation passport. This is the page where the traveler's photo, name, nationality, and date of birth are shown. The photo has been laser-etched in black and white and with high-tech images, and the pages themselves are more durable.
The Next Generation passport is smaller than its predecessor, with a normal book of 26 pages (versus the previous 28) or an extended book of 50 pages (versus the previous 52), and frequent travelers can request one.
The new passport's Next-Generation passport number begins with a letter and is followed by eight numbers. Passports also include current representations of American culture, history, and traditions on the visa page, as well as a new perforated passport number throughout.
Those who have an early passport book, known as an "e-passport," which was launched in 2007 can still use this passport for foreign travel until it expires. Furthermore, the state department is presently only providing Next Generation passport books but has stated that it intends to modernize passport cards as well.
Passport updates
Next Generation passports use new technologies to produce stronger passports in terms of enhanced security features such as polycarbonate information pages, laser engraved personalization, and upgraded artwork. According to the department officials, they continue to launch Next Generation passports in their agencies and passport centers. The document has been redesigned to be safer, smarter, and better. 
Although the US passport book is being circulated at present, it's already a very secure travel document. The main difference you may notice is the location of the polycarbonate information and certification page on the third page. The visa page has also been enhanced with artistic paint and ink to depict American architecture, history, landscapes, culture, and traditions.
Securing a Second Passport
Outside the popular routes of citizenship by birth, marriage, and naturalization, citizenship-by-investment or residency-by-investment programs are becoming increasingly popular.
Citizenship-by-investment is a win-win, as it boosts the country's economy and allows individuals to become truly global citizens and enjoy certain personal freedoms and financial prosperity.
Global Citizen Solutions is a boutique global citizenship and residence advisory firm, providing citizenship and residency solutions to international clients. Contact us today to begin your journey to obtain true global citizenship.
Some of the countries that we currently offer citizenship or residency by investment are the following: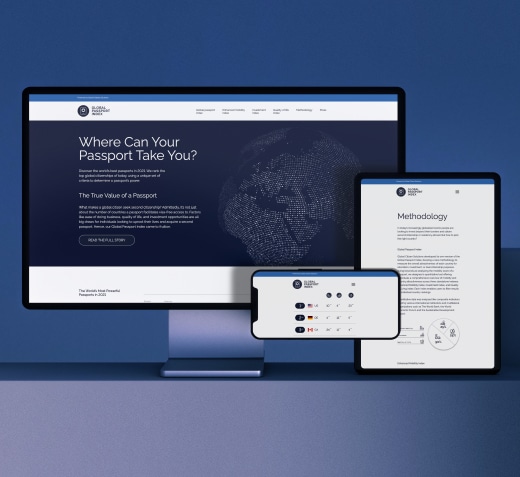 About the Global Passport Index
Passport rankings have typically focused on the number of countries that allow visa-free access, with those that allow easier mobility and great access ranking highly. However, we believe that this is an oversimplified approach and that there are other important benefits that are fundamental to consider when acquiring a second passport – such as investment opportunities and quality of life.
To create our Global Passport Index, quantitative data like composite indicators were used to analyze specific criteria that determine the attractiveness of a passport. The ranking is based on data from various institutions and multilateral organizations, such as the World Bank, the World Economic Forum, and the Sustainable Development Report, and was put together in collaboration with senior analysts.
Our full methodology can be found here.
US Investment Green Card: Which is the best route?
Take the EB5 Visa program and the E2 Visa program, two excellent options to consider for individuals looking to secure second citizenship in the USA. You will be able to experience the stability, investment opportunities, and personal freedoms that come with living in the USA. Global Citizen Solutions can help you understand which option is best for you, working diligently from start to finish to ensure a successful application.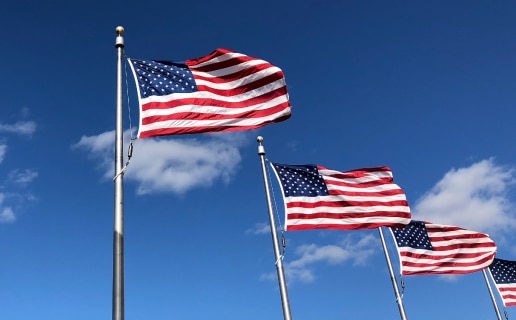 US EB-5 Visa
The EB-5 visa is a direct pathway to gaining a US passport, making it a very attractive scheme for investors looking to increase their financial and personal security. The EB5 investment amount is to invest at least $1,050,000 (or $800,000 if investing in a Targeted Employment Area).
You can see our guide on the EB-5 Visa here.
You can book a call here today to discuss the possibility of this green card route to securing American citizenship.
US E2 Visa
The US E2 Visa allows individuals to live and work freely in the US without having to worry about leaving their family behind – you are able to bring your spouse and unmarried children under the age of 21 with you. Permanent residency is attainable, with eventual citizenship a possibility by naturalization.
To be eligible, the investor must be from a country with an established E-2 Treaty agreement with the USA. If the country is eligible, then the application must make a substantial investment into an enterprise and intend to be the lead manager or business owner of the venture. Finally, the fund that is invested in must be classified as at-risk.
You can see our US E2 Treaty Investor Visa Guide here.
Frequently Asked Questions
How long does it take to get a passport in 2023?
A passport can take up to 16 weeks to arrive, with expedited processing taking 12 weeks. For further information and current processing timeframes, you can check the official travel.state.gov website.
Are US passports changing?
The new Next Generation passport is the most visible update. The State Department began distributing "Next Generation Passport" books in 2021.
Who gets the Next Generation Passport?
Every individual who can be granted a US passport can obtain a Next Generation Passport should they need to renew their passport. 
What do new US passports look like?
The new passport is an updated version of the United States passport book. The Next Generation Passport book incorporates modern technology to provide a more durable passport with better security measures such as a polycarbonate data page, laser-engraved customization, and redesigned artwork. These enhanced security measures secure your identification, make counterfeiting or changing more difficult, and speed up the "enter and departure" procedure.
What does Type P mean on a US passport?
Along with your photo, at the top of the page, directly beneath the headline "United States of America," you'll notice "Type" and "P." This does not denote a specific sort of passport; rather, it denotes the type of document, which is a passport.
What is a red US passport?
Members of Congress, members of the military, family members of military personnel, and any other private citizen who may be traveling internationally at the request of the government by using this form of a passport. Only persons above the age of 18 are eligible for a red passport.
What is a blue passport?
The blue passport book, often known as the Regular or Tourist passport, is the most prevalent type of US passport. You will need a blue passport if you plan to travel for business, work, or school, as a tourist, or as a member of an international flight crew. It is issued in all passport offices in the United States.