Paris, Rome, and Barcelona are largely considered to be some of the most spellbinding capitals in the world. However, if you visit Riga, the capital of Latvia, you'll quickly appreciate that this charming capital can definitely hold its own. The historic quarter of this delightful city is a UNESCO World Heritage site, and wandering down the city's endearing streets close to the River Daugava, you may even be tempted to pick up sticks and consider moving to Latvia.
Well, the Latvia Golden Visa – also referred to as the Latvia Investment Visa or the Latvia residence by investment program- makes this a definite possibility. The program aims to attract foreign investment in the country. In this guide to the Latvia Golden Visa 2023, we'll delve into this residency-by-investment program, including the different investment options, the application process, and its pros and cons.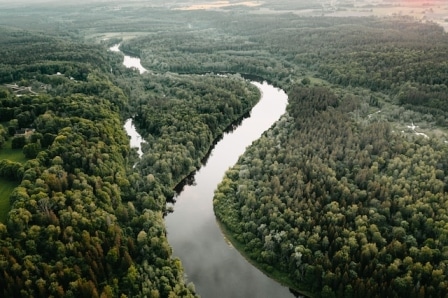 An Introduction to Latvia
Latvia is a small country in Northern Europe that borders the Baltic Sea and is home to one of the most picturesque capitals in the world – Riga. The country offers a fantastic blend of old and new, and if you are thinking about visiting – or even moving to this charming country, you'll be captivated by the unique landscapes – such as the 200 million years Gauja Valley in the Gauja National Park or the beautiful steep coast at Jurkalne. Whether you prefer hiking in the mountains or visiting coastal towns, Latvia can certainly cater to your needs.
Riga, the capital, is where around a third of the population lives. Still, the country also has many other splendid cities, such as Daugavpils in southeastern Latvia or Sable in the west, which date back to the 13th century. Alongside being a geographically small country, Latvia also has a relatively small population of just two million people. Being a European Union (EU) member state since 2004, Lativian residents and citizens can easily travel across Europe.
How to Obtain a Latvian Golden Visa
If you are considering relocating to Lativa, then the Latvia Golden Visa is a popular immigration option. The scheme is open to individuals who are willing to invest in the country's economy in return for residency. It's a win-win – you receive residency in a charming European country, while Latvia significantly boosts its economy. In order to apply, you will need to be a non-EU, non-EEA, or non-Swiss citizen.
One of the many advantages of applying for a Latvian Golden Visa is the different types of investment options on the table. The following sections will provide you with key information on each, from making a real estate investment to making a bank transfer.
Option 1: Real estate investment
The most popular option to acquire a Latvia Golden Visa is through making a property investment in the Latvian real estate market. Applicants must invest at least €250,000 in real estate in Latvia, and the investment must be held for a minimum of five years. You will also need to pay a one-time government fee equivalent to 5 percent of the purchase price.
Option 2: Business investment
The most affordable option to secure a Latvia Golden Visa is through making a business investment – this is the Latvia Investor Visa €50,000 option.
The minimum investment amount is to invest €50,000 in a Latvian company, and this investment must be held for a minimum of five years. With this option, you will need to pay a €10,000 government fee, and the company must pay at least €40,000 tax annually. This means that, over the five-year period, your investment will still be around €250,000 (the initial €50,000 and the additional €40,000 annual tax payments).
Important note: A €50,000 minimum investment is valid if you invest in a company that has a turnover of less than 10 million and has 50 employees or less. If you want to invest in a company larger than this, you must double your investment to €100,000.
You can find more information on this investment route on the Latvia immigration official website here.
Option 3: Government bonds
You can also acquire a Latvia Golden Visa by purchasing government bonds amounting to €250,000. The bonds are non-interest bearing, meaning that at the end of the mandatory five-year holding period, you can get back what you paid, should you choose to withdraw the funds.
Note that there is a government fee of €38,000 if you choose this route to the Latvia Golden Visa.
Option 4: Make a bank deposit
The fourth and final option is to secure Latvia residency by bank deposit. You will need to make a deposit of €280,000 to a Latvian bank or a credit institution to purchase its bonds, and you will be required to hold this investment for a period of five years.
A difference between this option and the government bonds investment option is that if you choose to make a bank deposit, then you will be able to receive any interest that may be applicable, whereas this is not the case if you invest in government bonds.
There is also a government fee of €25,000, should you choose this option.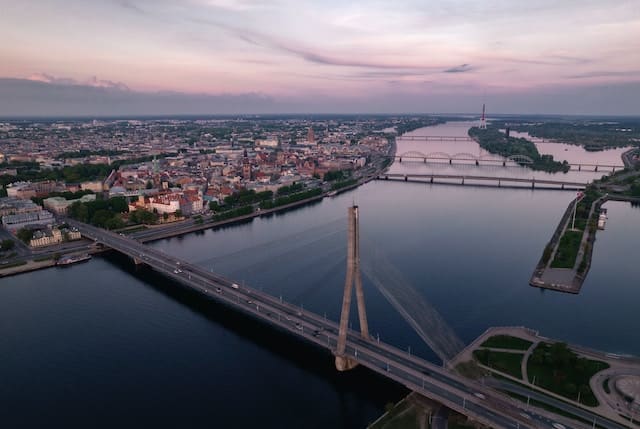 What's the best option?
The best option will completely depend on what you are looking for. For example, if you are looking to jump on the real estate ladder, then this is obviously a good option for you to consider. Also, the fact that the majority of foreign investors choose this route demonstrates that it is a sound investment option.
The second most popular option is forming a company in Latvia, perhaps because this is also the most affordable option.
The government bonds or bank deposit options are the least popular by quite a margin but are still worth considering. We recommend seeking expert advice to determine which option is right for you.
How to Apply: A Step-by-Step Guide
The Latvia Golden Visa boasts a straightforward process for obtaining residency, which is one of its key benefits. Within a span of two to three months, you and your family members, including your spouse and dependent children, can enjoy the freedom to travel throughout Europe.
Before submitting your application, it is important to verify your eligibility, which entails meeting the standard requirements similar to other Golden Visa programs.
You should have the following:
Be a non-EU, non-EEA, or non-Swiss citizen
Sufficient funds to apply for the program
A good character, good health, and sufficient funds to support yourself (and family members, if applicable) in Latvia
Clean criminal record
No outstanding tax debts worldwide
Health insurance for yourself (and your family if applicable) for one year
Once you have confirmed your eligibility, you can then proceed to acquire residency through the program.
The following section provides a step-by-step guide to applying for a Latvia Golden Visa.
Step 1. Make the investment and prepare your documents
While some Golden Visa programs allow you to make the investment later in the application process, this is not the case for the Latvia Golden Visa. In Latvia, you will need to make the investment before you apply for residence in the country.
Once you have determined which investment option is the right one for you, you should make your investment and send the required documents. The Office of Citizenship and Migration Affairs in the Republic of Latvia is responsible for analyzing the documents.
Step 2: Apply for residence in Latvia
You will receive a temporary D-Visa to enter Latvia. When you have entered to country, you will need to attend a biometrics appointment and will receive your five-year temporary residence permit.
3. Renew residence annually
There is no minimum stay requirement to maintain residency. However, holders of a temporary residence permit are required to visit the country every year to re-register with the authorities. Additionally, to renew the residency permit after five years, individuals must demonstrate that their investment has been maintained. At this time, you can exchange your temporary residence permit for a permanent residence permit, provided you meet the stay requirements.
Step 4: Get Latvian permanent residence by investment
In order to secure permanent residency after five years, Golden Visa holders will need to spend the majority of their time in the country during the time they hold a temporary residence permit. After five years of living in Latvia with permanent residency, you can then secure Latvian citizenship, provided you fulfill all the requirements under Latvian Nationality Law.
The Latvian Golden Visa scheme offers a temporary residency permit rather than a permanent residency option through investment. To acquire permanent residency in Latvia through investment, you must reside in the country for at least four years out of five, meaning you must spend a minimum of 183 days per year living in Latvia and pay taxes in the country.
You can consult our article Latvia Citizenship: An Overview for more information on securing citizenship in Latvia. There are certain requirements that you will need to meet, such as knowing the lyrics of the national anthem, showing Latvian language proficiency, etc. Note also that Latvia offers dual citizenship for many countries, but there are some counties where dual citizenship is not possible. You can consult our Latvia Citizenship: An Overview article for more information on this.
Step 5. Obtain a Latvian passport
Should you secure Latvian citizenship, you are also eligible to obtain a Latvian passport. The Latvian passport is considered the 40th strongest passport in the world, according to our innovative Global Passport Index.
You can read more about the passport advantages open to Latvian citizens here: Latvia's country page on our Global Passport Index.
Latvia ranks particularly high in the Enhanced Mobility Index and the Quality of Life Index.
Advantages of the Latvian Golden Visa
If you are still digging into which Golden Visa program could be the right fit for you, Latvia has many good points to its name. Some of the advantages of the Latvia Golden Visa are:
Travel across the Schengen Area: Latvia is an EU member country and part of the Schengen Area, providing easy access to Europe.
Enhanced mobility: A Latvian passport provides visa free travel to 172 countries, perfect for non-EU, non-EA, and non-Swiss citizens looking to enhance their global mobility. You can secure Latvian citizenship through the program if you have lived in Latvia for a ten-year period (five years with temporary residency and five years with permanent residency).
Family eligibility: Family members can be included in the application, such as your spouse and children (aged 18 or younger or aged above 18 in some cases where they are unmarried and still dependent on the applicant).
An affordable Golden Visa: The Latvia Golden Visa is one of the most affordable Golden Visa programs in Europe.
Minimum physical residency requirements: You only need to visit the country once a year to maintain residency. However, note that if you are looking to secure permanent residency and, ultimately, citizenship, you will need to live in Latvia for the majority of the year.
High quality of life: Latvia boasts a high quality of life, a welcoming population, and excellent healthcare and infrastructure, alongside one of the fastest Wifi networks in the world.
Strategic location: With many travel opportunities to Europe, Russia, and further afield, you are very well connected.
Language: You should find that most Latvians speak a good level of English, even in the more remote areas.
Route to permanent residency and citizenship: After five years of maintaining your investment, you can apply for Latvia permanent residency, and after a further five years with permanent residency status, you can apply for Latvian citizenship.
Disadvantages of the Latvian Golden Visa
Every Golden Visa program will have its drawbacks, and Latvia is no different. Some of the cons of the Latvia Golden Visa include the following:
You will need to visit Latvia annually to renew your permit, which can be a hassle.
To apply for permanent residence in Latvia after five years, you will need to spend 183 days in Latvia each year and fulfill your tax obligations.
The weather can get cold in the winter months, which can be difficult if you are accustomed to warmer climates.
The route to citizenship takes ten years (you will need to have a valid residence permit for the duration of this time – five as a holder of a temporary residence permit and five with Latvia permanent residence). There are also certain requirements that you will need to meet, such as knowing the lyrics of the national anthem, showing Latvian language proficiency, etc, which can make securing citizenship tricky.
Alternatives to Latvia's Golden Visa Program
Golden Visa programs vary in suitability, and it's definitely worth shopping around to find the perfect match for you.
The following countries in Europe also offer Golden Visa programs.
Portugal: The Portugal Golden Visa has cemented itself as one of the most popular residency by investment programs of its kind. With investments in real estate, investment funds, and national heritage, there are many investment options on the table. You can read more about the Portugal Golden Visa in our article: Portugal Golden Visa: A Complete Step-by-Step Guide 2023.
Note that the Portugal Golden Visa is coming to an end. If you are interested in applying, you should begin your application now.
Spain: The Spanish Golden Visa provides investors with an array of investment options – real estate, a business investment, pubic debt securities, stocks, shares, and bank deposits – and a pathway to EU residency in a vibrant country renowned for its lively cities, welcoming population, and varied landscapes.
You can also consult our article comparing the Portuguese and Spanish Golden Visas if you are interested in either program but can't quite make up your mind.
Other excellent options to consider include the Greek Golden Visa and the Italian Golden Visa.
Global Citizen Solutions: Who We Are and How We Can Help You
Global Citizen Solutions is a boutique migration consultancy firm focused on finding the right relocation, residency, or citizenship by investment program for individuals wishing to secure their future and become global citizens. If you want to apply for a residency by investment (RBI) or citizenship by investment (CBI) program but are still determining which program is for you, we are here to help.
If you are looking into Golden Visa programs in Europe but are undecided on which program to choose, we'd be more than happy to discuss your needs. You can get in touch with us here.
The following article may be of interest to you:
Frequently Asked Questions about the Latvian Golden Visa
Does Latvia have a Golden Visa?
Yes, Latvia has a Golden Visa program, allowing third-country nationals with the means to secure EU residency in return for an investment in real estate, a Latvian business, bank deposits, or government bonds.
How to get Golden Visa in Latvia?
The process to secure a Golden Visa is quite straightforward. You will need to fulfill the following requirements.
Be a non-EU, non-EEA, or non-Swiss citizen
Sufficient funds to apply for the program
A good character, good health, and sufficient funds to support yourself (and family members, if applicable) in Latvia
Clean criminal record
No outstanding tax debts worldwide
Health insurance for yourself (and your family if applicable) for one year