Cambodia has been increasingly attracting expats from around the world who are looking for a more affordable and relaxed lifestyle. As a former French colony, Cambodia offers a unique blend of traditional Khmer culture with a touch of European influence. The country boasts stunning temples, pristine beaches, lush jungles, and a vibrant nightlife scene, making it a popular destination for both tourists and expats alike.
In this article, we will provide you with the essential information on everything you should know if you are considering residency and citizenship in Cambodia, including securing a Cambodian passport. We'll run over the various routes to citizenship, Cambodia's investment programs, and its latest Golden Visa program, which has already garnered a lot of interest.
About Cambodia
Cambodia is a country located in the Southeast Asian region bordered by Thailand to the west, Laos to the north, Vietnam to the east, and the Gulf of Thailand to the south. The capital city of Cambodia is Phnom Penh, and the official language is Khmer.
Cambodia has a unique history, having been influenced by various empires, including the Khmer Empire, French colonialism, and the Khmer Rouge regime. The country has emerged from its troubled past and is now a popular tourist destination, famous for its breathtaking temples, delicious cuisine, and friendly locals.
Despite some challenges, Cambodia has made significant strides in recent years, with a growing economy and a vibrant tourism industry. The country also has a rich biodiversity, with tropical rainforests, exotic wildlife, and stunning coastal landscapes. Cambodia is a fascinating destination that offers residents and visitors a chance to experience a unique blend of history, culture, and natural beauty.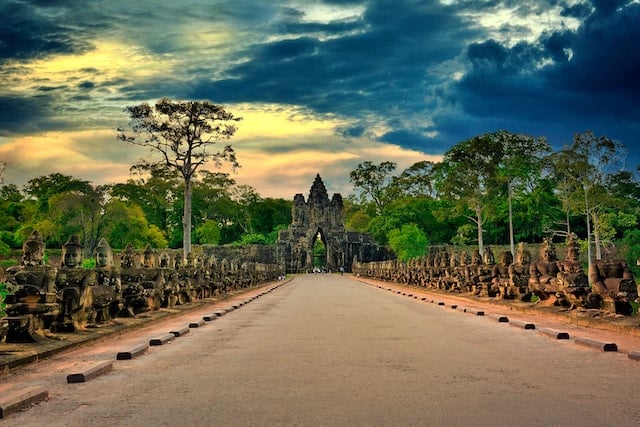 Cambodia's Economy
Cambodia's economy is primarily driven by agriculture, garment manufacturing, and tourism. The country has experienced strong economic growth in recent years, with an average annual growth rate of seven percent over the past decade.
The tourism industry has also played a significant role in the country's economic growth, with the number of international visitors increasing steadily each year. While the cost of living in Cambodia is significantly lower compared to Western countries, the country is still developing, and expats should expect to encounter some challenges in terms of infrastructure and healthcare.
However, many expats find the warmth and friendliness of the locals to be one of the most appealing aspects of life in Cambodia. English is widely spoken in urban areas, which makes it easy for expats to communicate and integrate into the community.
The government has implemented various policies to attract foreign investment and promote economic growth, such as the creation of special economic zones and the establishment of favorable business regulations. Last year, the Cambodian government launched its own Golden Visa program, the Cambodia My Second Home (CM2H) program.
Further details of this program, which offers applicants a route to citizenship within five years, are discussed in the following sections.
Visa-Free Countries
According to the Global Passport Index, Cambodia ranks in 151st place and offers visa-free, visa-on-arrival, or electronic visa travel to 88 countries.
Requirements
There are a variety of ways to obtain a Cambodian passport. In the following section, we will guide you through each of them and what you should consider before applying for your new passport.
Cambodia also accepts dual nationality, so you can keep your original passport if your home country allows dual nationality, too.
To get a Cambodian passport as an expat, you will need to provide the following:
Passport application form
Proof of legal residency
Two recent passport photos, on a white background
Marriage certificate (if applicable)
Cambodia Passport through Investment
Cambodia's citizenship by investment program allows foreign investors and expats to become Cambodian citizens and gain Cambodian passports by investing in the country. There are several investment options, which start from a minimum investment of 1 billion in Cambodian riel (KHR) (about $244,000). Applicants can become Cambodian passport holders within three to four months.
There is no requirement to first possess a Cambodian visa for residency, complete a period of residence, or have the ability to speak and understand the Khmer language in order to be accepted. Whether you're a tourist or a successful investor, you can gain eligibility for a Cambodian passport, provided you make the required investment.
Investment options
A minimum investment of KHR 1.25 billion (about $305,000) in a government project approved by the Cambodian Development Council (CDC)
A minimum investment of KHR 1.25 billion in a government project approved by the Royal Government
A donation of KHR 1 billion to the Kingdom of Cambodia
Administration fees
Applying for citizenship by investment incurs additional administrative fees.
A deposit of $5,000
$25,000 before submitting an application
$40,000 after the application is approved
$15,000 after the Cambodian passport is available for pickup
Cambodia Golden Visa
Last year, Cambodia announced that it was launching a Golden Visa program, a residency-by-investment scheme. Also called the Cambodia My Second Home Program (CM2H), eligible investors must invest a minimum of 405 million Riel ($100,000).
According to the Cambodian government, this is a government-endorsed initiative, acknowledged by the Ministry of Interior and General Department of Immigration. It grants foreigners a ten-year Golden Visa, enabling them to stay in Cambodia.
After five years, CM2H holders are eligible to apply for a Cambodian passport. The CM2H program is accessible to individuals from all countries acknowledged by Cambodia, subject to specific investment and financial criteria. Successful candidates encounter no constraints on entering or exiting Cambodia.
Benefits of a Cambodian Passport
Cambodia isn't a country that first comes to mind when considering passport planning to become a global citizen. However, Cambodian passport holders enjoy several benefits, making the Kingdom a pleasant country to be a national of.
Full property ownership rights
Like Thailand and several other countries in Asia, only Cambodian citizens (Khmer nationals) enjoy the freedom to own land in Cambodia. Foreigners living in Cambodia are limited to 49 percent ownership, and real estate purchases must be made through a Cambodian citizen or company. Additionally, foreigners can purchase a condominium or apartment, but the property cannot be on the ground floor of the building.
No job restrictions
Ten job categories are off-limits to Cambodian foreign residents. Cambodian companies also have an employee limit of ten percent for foreign nationals. Cambodian passport holders have no restrictions on the types of jobs they can do and receive preferential consideration for job vacancies.
Enhanced travel in Southeast Asia
Visa-free and visa-on-arrival countries are limited for Cambodian passport holders. The Cambodian passport ranking relative to other countries in Southeast Asia, like Singapore and Malaysia, doesn't provide the same mobility benefits, such as a large number of visa-free countries. In any case, Cambodian citizens with a valid passport can travel to all destinations of the Association of Southeast Asian Nations (ASEAN) without a visa.
Political stability and safety
Despite Cambodia's tumultuous history, today, the Kingdom ranks as one of the most peaceful in Asia. The country has low internal conflict, low violent crime, and good relations with neighboring countries.
Life in Cambodia
Acquiring a Cambodian passport means you can permanently enjoy the benefits of citizenship in Cambodia. You're no longer required to obtain a physical visa to enter the country–most of which have a maximum validity of 12 months. You get to enjoy a high quality of life in one of the cheapest destinations in Asia. You can purchase a luxury property in the vibrant capital of Phnom Penh, or a pristine beach plot on the tropical island of Koh Rong.
Cambodian passport holders also enjoy free entry to Cambodia's world-famous historical sites, like Angkor Wat. The current fees for foreigners to visit Angkor Wat are $37 for a one-day pass, $62 for a three-day pass, and $72 for a seven-day pass.
Cambodia Passport Ranking
Cambodia's passport ranking is generally lower than most other countries on the Global Passport Index. Cambodian passport holders enjoy the following travel freedoms.
Visa-free countries: 88
Visa-on-arrival countries: 31
Electronic visa countries: 37
Electronic Travel Authorization countries: 1
In total, Cambodia passport holders can gain entry into 88 countries without a pre-arranged physical visa. Regarding international travel, 108 countries require Cambodian travelers to apply for a visa.
For further information on the Cambodia passport ranking, which countries require a visa for Cambodia passport holders to travel to, and how other countries fare in comparison, please see our Global Passport Index.
Who can get a Cambodian passport?
Anyone who qualifies for the investment program can also get a Cambodian passport after five to seven years (see above). The following options are also available:
Citizenship through birth
Citizenship through marriage, including three years of residency in Cambodia
Citizenship through seven years of continuous residency in Cambodia
Passport by birth
The Kingdom of Cambodia judges birthright citizenship by the rule of jus sanguinis (right of blood) and jus soli (right of soil). Persons born in Cambodia or overseas to a Cambodian mother or father have the right to Cambodian nationality by birth. Children born in Cambodia with three consecutive years of residence and whose foreign parents were legal residents at the time of birth can claim a Cambodian passport by birthright.
Passport by marriage
The foreign spouse of a Cambodian national is eligible to submit an application for naturalization in Cambodia after three years of marriage. Living in Cambodia for three years before applying for citizenship is not required.
Passport by naturalization
Foreign residents in Cambodia can apply for Cambodian passports, provided they fulfill the following criteria:
The person has been a legal resident of Cambodia for seven consecutive years.
The person has a clean criminal record and a clean Cambodian police report.
The person can speak and understand the Khmer (Cambodian) language, has knowledge of Khmer history, and understands the Kingdom's traditions and customs.
Do note that naturalization in Cambodia is not a right for foreigners who fulfill the criteria, and acceptance is solely at the discretion of the Cambodian government.
Applying for a Cambodian Passport
To apply for a Cambodia passport, you must apply first for and acquire Cambodian nationality. If you don't have family ties to Cambodia, obtaining citizenship is still relatively straightforward for foreigners who invest in Cambodia through its investment immigration program.
Required documentation
A Cambodian passport application requires the following documents:
Cambodian national ID card: Cambodian naturalized citizens can apply for their national ID card at the police headquarters of the commune (sangkat) where they live or at the General Department of Identification in Phnom Penh. They must bring their Certificate of Citizenship.
Family Book: A Family Book (seivphaov kroosar/band kroosar) in Cambodia is a yellow book identifying family members of Cambodian nationality and the relationship between each family member. Cambodian naturalized citizens need the following documents to obtain one:
Residence Book
Certified copy of children's birth certificate (if applicable)
Certified marriage certificate (if applicable)
Cambodian national ID card
The Residence Book required to obtain a Family Book can be obtained with the following documents:
Certified copy of children's birth certificate (if applicable)
Certified marriage certificate (if applicable)
Cambodian national ID card
Cambodian passport application process
Submitting a Cambodia passport application will require you to visit Cambodia. The application will initially be processed by the municipal police headquarters, after which applicants must submit the passport application and pay the fee directly to the Ministry of Interior Passport Office in Phnom Penh.
For additional information on the procedures for applying for a Cambodia passport, and assistance if you're unable to complete certain of the steps, you can contact the Cambodian Embassy or Consulate in your home country.
Cambodian passport application cost and processing time
The processing time of a Cambodia passport application is determined by the fee paid. Here is a general breakdown:
45 to 55 days: $135
up to 25 days: $185
up to 14 days: $290
up to three days: $380
Within one business day: $480
Does Cambodia allow dual citizenship?
As mentioned above, Cambodia allows dual citizenship with any country that is recognized by Cambodia. It is advisable, however, to check that your home country allows dual citizenship before you apply.
Can I go to Cambodia with a US passport?
Yes, you can go to Cambodia with a valid US passport. US passport holders are granted a tourist visa upon arrival at the airport or any other port of entry, allowing them to stay in the country for up to 30 days. If you wish to stay in Cambodia for more than 30 days, you must apply for a visa extension at the Department of Immigration in Phnom Penh or Siem Reap.
Alternatively, you can apply for a tourist visa from the Cambodian Embassy or Consulate in the US before your trip. It is important to ensure that your passport is valid for at least six months beyond your intended departure date from Cambodia and has at least two blank pages for the visa stamp and entry and exit stamps.
Additionally, we'd recommend you check the latest travel advisories and entry requirements from the US Department of State before planning your trip.
How long can a US citizen stay in Cambodia without a visa?
As mentioned above, as a US citizen, you can get a tourist visa upon arrival at any port of entry in Cambodia, which allows you to stay in the country for up to 30 days. A visa extension can then be granted for up to 30 days, and you can apply for it twice, which means you can potentially stay in Cambodia for up to 90 days without leaving the country.
In Summary
A Cambodian passport is an attractive option for many expats who have fallen in love with this beautiful country and want visa-free access to many other Asian countries. Cambodia offers great investment and business opportunities and a relaxed lifestyle in a beautiful and vibrant country.
Obtaining a Cambodian passport is possible through a variety of options, either by investment, by applying for citizenship after a total of seven years of residence, or by marriage, including three years of residence.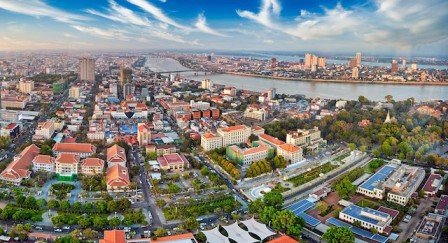 For more information on becoming a global citizen, schedule a non-binding call with one of our experts at Global Citizen Solutions. We are a boutique investment migration consultancy with years of expertise and experience behind us. Our borderless vision is our biggest asset and has helped hundreds of clients realize their dream lives.
Frequently Asked Questions about the Cambodia Passport
Who can get a Cambodian passport?
Those eligible for Cambodia passports are:
People born in Cambodia or overseas to a Cambodian mother or father
People born in Cambodia who have maintained three years of residence and whose foreign parents were legally residing in Cambodia at the time of birth
The foreign spouse of Cambodian citizens after three years of marriage
People who have been Cambodian legal residents for seven years and have clean criminal records in former countries of residence and Cambodia. They must also be able to speak and understand the Khmer (Cambodian) language, have knowledge of Khmer history, and understand the Kingdom's traditions and customs.
People who make an investment in Cambodia of at least 1 billion in Cambodian riel (KHR) (about $244,000)
Where do you get a Cambodian passport from?
You can get your Cambodian passport from a Cambodian passport office or from a Cambodian Consulate or Embassy in your home country.
How do I renew my Cambodian passport in the USA?
You will need to go to a Cambodian Consulate or Embassy with your existing passport and other relevant documents, including up-to-date passport photos. Passport photos should be with a white background.
How do I apply for a Cambodian passport?
To apply, you need to be eligible via one of the five following routes:
Birth
Marriage
After seven years of residency in Cambodia
Via Cambodia's investment program (the business option includes seven years of residency before you can apply for citizenship)
Via Cambodia's Golden Visa program (includes five years of residency before you can apply for citizenship)
You can then go to one of Cambodia's passport offices with the relevant documents and then apply for a passport.
Are there any travel restrictions for Cambodia passport holders?
The restrictions on Cambodian passport holders' travel privileges are defined by the countries they wish to gain entry to. Concerning regulations in Cambodia, anyone living in the Kingdom (Cambodian citizens and residents) must always carry valid photo identification. This can be a passport, driver's license, or national ID card.
Can Cambodian citizens travel to ASEAN countries with a national ID card?
As per the ASEAN framework for visa exemption, Cambodia passport holders must present passports valid for at least six months to receive a passport stamp and gain entry into any ASEAN member state.
What does a Cambodian passport look like?
Regular passports in Cambodia are burgundy, with gold text in Khmer, English, and French. The Cambodia passport-size photo is 40 x 60 mm. A Cambodia passport number is eight to nine characters long, consisting of one letter at the beginning followed by seven or eight numbers.