Greece is a charming country with rich history, fantastic nature, and a modest way of living. The nation ranks 45th in the
Global Passport Index
by Global Citizen Solutions and is the 12th most popular travel destination in the world. Anyone would find the chance to live there appealing. When living abroad, you should always care about your health and possible medical needs. That's why it is vital to know what the healthcare system is like in the country you're moving to. The healthcare system in Greece is comprised of private and public healthcare, and it is accessible to both Greeks and foreigners. The nation is known to have high healthcare standards and accessible healthcare services. Greece has a single system known as EFKA (Unified Social Security Fund) that offers free healthcare to all citizens. Other insurance companies are part of the EFKA.
Public Healthcare in Greece
Greece has a National Health System (ESY) that aims to provide all citizens with free and equal access to high-quality healthcare. The system consists of a combination of public and private providers of medical services, which are generally divided into primary, secondary, and tertiary levels of service provision.
ESY provides free medical care for Greek citizens and residents. This system can also benefit expats, unemployed individuals, and EU citizens. 
State healthcare in Greece includes:
Hospitalization
Laboratory services
Maternity care
Transportation
Health promotion
Public health surveillance
Environmental health control
Control of infectious diseases
General and specialist care
Discounts on medicines and drugs
Medical equipment
Greece provides either free or inexpensive healthcare. A doctor's referral is not required to make an appointment with a specialist. As a result, there can be a long wait list if you want to get an appointment for specialized treatment.
You may be eligible for free or discounted healthcare benefits if you are an expat working in Greece with a social security number and pay extra for the public health insurance program. If you're concerned about the language, most employees speak some English in public health facilities. However, finding medical personnel who understand English could be challenging in a small town or hospital.
The largest Social Security Organization in Greece is IKA, covering Greek employees and expats. Alternatively, you can get covered by OAEE – a social security fund available to self-employed foreigners.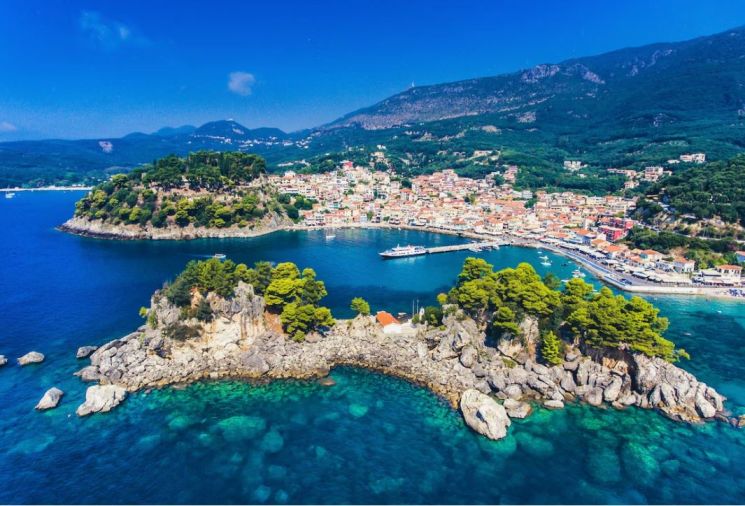 If you're concerned about the long wait time to receive treatment, you can opt for international health insurance coverage in Greece.
Citizens of EU countries
The European Health Insurance Card (EHIC), valid in all EU member states, can be used to pay for medical services in Greece. However, the costs of private healthcare are not covered by this card. EHIC members can visit a physician in a PEDY (National Primary Healthcare Network) facility and profit from various dental procedures.
How to apply for the public healthcare insurance system
If employed by an employer
If employed in Greece, you must obtain an AMKA (social security number), and your employer is responsible for making contributions on your behalf. They are also in charge of finding a provider for you. If your place of employment does not enroll you, you should inform the local EFKA office.
Documents you need to present to the EFKA office
The list of documents to provide for the EFKA includes the following:
Your tax number
An S1 form
Passport photocopy
Two passport-style photos
AMKA (national social security insurance) number
Residence certificate (if you are going to be a resident in Greece for more than three months)
If you work in Greece, you must submit a 50-day contribution to EFKA to be covered by insurance. You will receive a health booklet serving as verification of your insurance. The booklet must be renewed annually.
If self-employed
If you work for yourself, you must submit an insurance application to OAEE (Organisation for the Self-Employed).
Documents you need to present to the OAEE office
The documents you need to provide the OAEE office with include the following:
Passport or Greek ID card
Proof of insurance payments for the last three months
Two passport-style photos
Because the insurance system is based on reimbursement, you should always verify your insurance coverage with EFKA. It comes in a variety of forms, including different services.
Dependent family members
Your family will benefit from your health insurance once you have made all the required contributions. Dependent relatives include:
Your spouse (if unemployed)
Your parents (under some conditions)
Unmarried children that live with you until they turn 18, and until 24 if they are unemployed. If your children are students – two years after their studies finish, or once they are 26.
Children with more than 67 percent disability (it has to be assessed by a medical professional)
Siblings with more than 67 percent disabilities (it has to be evaluated by a medical professional)
Grandkids, siblings, or orphans with one parent are protected members, and orphans who have lost both parents.
Divorced spouse (under some conditions) if they pay the contributions to the institution of the previous spouse.
Private Healthcare in Greece
In Greece, private healthcare centers have more modern equipment than state healthcare centers. IKA does not, however, cover these facilities. Greek private hospitals also offer medical care to foreign nationals, and their medical personnel is more likely to know English. Additionally, several private hospitals collaborate with hospitals in the US and other nations.
Private healthcare insurance in Greece
Since public insurance does not fully cover medical costs, many choose private health insurance. Private medical facilities have shorter wait times than public facilities.
What public insurance doesn't cover may be covered by private insurance. In some circumstances, private insurance might even pay for everything. If you already have insurance in another nation, you can extend it to cover you in Greece. Several businesses provide private insurance in Greece, including Allianz, Alico AIG Life, Ethniki Asfalistiki, Bupa Global, Generali, Piraeus Bank, and Cigna Global.
What does private health insurance cover?
In addition to providing comprehensive quality care, Greek private health insurance also covers the following:
Specialist fees

Elective plastic surgeries

Modern dental procedures

Treatment at the best hospitals in the nation
What does the cost of private insurance depend on?
The cost of private health insurance depends on different criteria, some of which are:
Age (the older, the more it costs)

Gender

Nationality

Payment frequency

Country of residence

Coverage area (if you are only covered in Greece or other countries as well)

Product choice (if it uses the newest technology, it will cost more)

Co-insurance

Deductibles
Emergency Services in Greece
Greece has free emergency services, and bigger cities have public ambulance services. Finding one, however, could be difficult in a remote location or on some islands. In the event of an emergency, foreign nationals can call 166. Remember that not all operators will be able to speak English. You must contact the European emergency number 112 to talk to an English operator.
Medication and Pharmacies in Greece
Greece provides easy access to medication, but some drugs could require a hospital visit. If you're an expat and bring medication from your country, you must do it in the original packaging and bring a letter from your doctor with details of your condition, the drug you are taking, and its generic name. You should also check if your medication is permitted in Greece.
In larger cities, pharmacies are widespread. Since many pharmacists in Greece know English, communicating with them as an expat will be simple. A green cross typically identifies pharmacies.
Mental Healthcare in Greece
There have been more new mental health services introduced in Greece in recent years. In addition, expats living in Greece with international health insurance have access to more sophisticated and extensive services.
Healthcare for Greek Golden Visa Applicants
In Greece, having a Greek Golden Visa does not allow you access to free medical care. You must obtain private health insurance to cover your medical expenses in Greece if you decide not to move permanently there.
Frequently Asked Questions About the Healthcare System in Greece
Does Greece have a good healthcare system?
In Greece, there are both public and private healthcare systems. Despite the recent financial crisis, the nation has relatively high expectations for healthcare. The healthcare system in Greece is freely accessible to both Greeks and foreigners.
What kind of healthcare system does Greece have?
The Greece healthcare system in 2022 is a hybrid one that combines the National Health System with other social insurance funds. Greece's government health insurance covers medical expenses. However, private healthcare is also an option.
Is healthcare in Greece free?
All Greek citizens and residents are entitled to free medical care through the ESY, or Greek Healthcare System. Whether you are an EU citizen, an expat, or unemployed, you are eligible for this healthcare system.
Who pays for healthcare in Greece?
Although the majority of medical care in Greece is free, all working citizens are required to contribute to social insurance, and about 15 percent of Greeks also purchase private health insurance.
How do I pay for healthcare in Greece?
Expat residents who pay into the Social Insurance Institute (IKA) have access to free or inexpensive public healthcare for themselves and their families. The governmental insurance corporation IKA is in charge of managing Greece's social security.
Does public health insurance cover retirees?
EFKA is covered if you cannot afford to pay for private insurance and are an EU citizen or an expat retiree who spends social security contributions. However, retirees must contribute to prescriptions by paying a lower 10 percent contribution than other patients.
Does public insurance in Greece cover students?
Use an EHIC card to receive insurance if you are an international student from an EU country.
Check the agreements between your nation and Greece if you are not an EU citizen. If there is no agreement, you will need private health insurance.
Does public health insurance cover dental treatment?
Public insurance covers dental treatment, preventive dental care, and orthodontic care until age 13. Dentures change every five years with the provision of services during that time. Other therapies or procedures could need private insurance coverage in addition to these services.
What is the contribution rate for public health insurance?
Your employer is responsible for setting up the EFKA contribution rate, which is around 30 percent of your salary.