Grenada — also called the 'Spice Island' — is a stunning Caribbean destination. Filled with first-class beaches, crystal clear blue water, waterfalls, and a lush tropical forest, this country is worshiped by many. Retirees, investors, and families looking to live a quality life in the Caribbean are increasingly drawn to Grenada. This guide takes you through what living in Grenada is like, with a comprehensive overview of the best relocation cities for living in Grenada.
About Grenada
Grenada and its sister islands — Carriacou and Petite Martinique – are mesmerizing Caribbean islands, favored by beach lovers. Relatively untouched compared to the more mainstream Caribbean islands, Grenada is ideal for individuals seeking peace and beauty. There are plenty of activities to do in Grenada mainly revolving around nature. With its 40 stunning white-sandy beaches, 15 waterfalls, and plenty of incredible diving sites with bright colored coral reefs, it is hard to get bored in Grenada. Sailing, snorkeling, kayaking, swimming, and hiking are part of the daily lives of Grenada's inhabitants.
Grenada's warm and friendly population whose main language is English and the island's renowned status for being extremely safe, make it easy to feel welcomed in Grenada. Because of optimal living conditions, the expat community is increasingly growing in this beautiful country, and Grenada's real estate market offers fantastic housing options for families, investors, and retirees.
In 2013 Grenada launched its very own Citizenship by Investment Program which has been a success, enhancing the country's international exposure. In exchange for an investment in the country's economy, outstanding individuals and their families are now given the great opportunity to get Grenada citizenship.
Living in Grenada: list of the best cities for relocating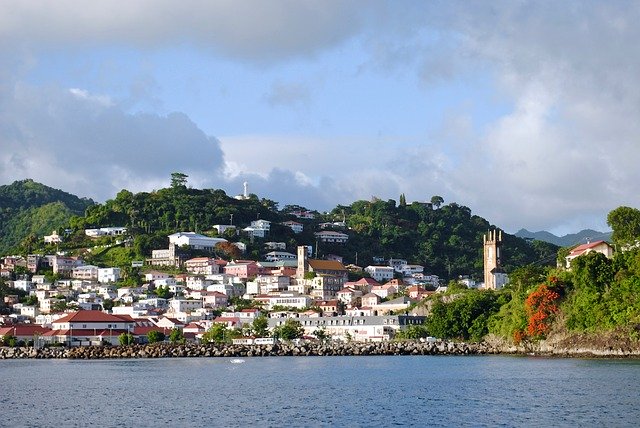 Saint George's
Saint George's is the capital city of Grenada. This iconic city is full of history and bustling activities. St George's location is close to Maurice Bishop International Airport which is very convenient for international travel. As the major seaport of the country and world-renowned exporter of spices — nutmeg and cocoa, cinnamon, cloves, garlic and ginger, turmeric — St George's is international and very active, and its several marinas offer high-quality services for yacht and boat owners. 
St George's is also the place where you will find the highest number of economic and health facilities. There are many bars and restaurants where you can enjoy delicious local food such as the 'oil down' — Grenada's national dish — and international cuisine. It is also the place where you can find the country's major hospital, the General Hospital and St George's University School of Medicine.
Live in Carriacou
Carriacou is the smaller sister island of Grenada. It is an absolute marvel due to its environmental preservation and the island is known for its first-class white sandy beaches and turquoise waters. Known as the 'Isle of Reefs' it has some of the best coral reefs of the region and is famous for its impressive diving spots. In Carriacou, you will find luxury villas and beach houses with astonishing views.
Due to its small size and relatively low number of inhabitants — only 8,000 —, the island is an idyllic place to live if you are looking for peace and tranquility. If you are, however, seeking more movement, Carriacou's port authority Tyrall Bay has many bars and restaurants. It also has a marina to maintain yachts and sailing boats. The rest of the island's settlements are small and contain peaceful villages.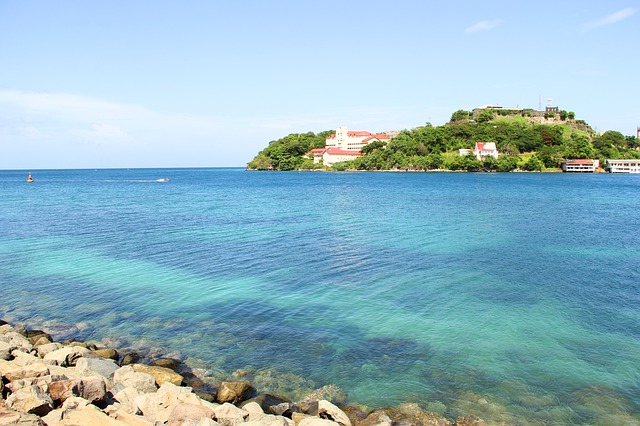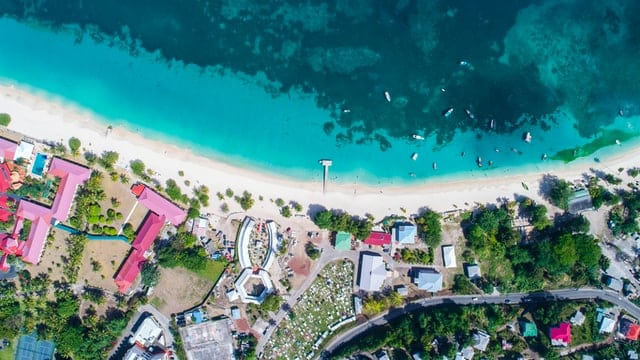 Live in Grand Anse
The world-famous Grand Anse beach is the place to live for individuals seeking activities and beauty. Grand Anse is Grenada's biggest beach, a two miles stretch of white sand and crystal clear blue waters. It is ideally located close to St George's, enabling access to big-city commodities, as well as access to the Maurice Bishop International airport.
In Grand Anse, you will find plenty of bars and restaurants, as well as top accommodation choices such as newly built condos and luxury villas along the beach. For individuals loving sports, Grand Anse is the place to be, as you will be able to practice kayaking, swimming, snorkeling, and paddle daily. 
Live in Lance aux Epines
Lance aux Epines is a famous residential community located in the most southern tip of Grenada. This place is popular due to its beautiful beaches in Grenada as well as offering luxury homes and private villas. It is a favorite destination for many international families going on holiday.
Lance aux Epines is conveniently located close to Prickly Bay — an absolutely stunning bay — which is home to the Prickly Bay Marina. The marina offers high-quality yachts and boating services with a wide selection of bars and restaurants. In Lance aux Epines you will always find all sorts of entertainment such as cocktails and live music.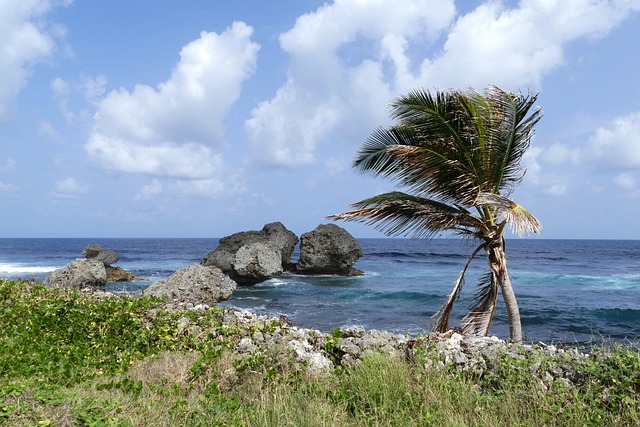 How is living in Grenada possible?
Several visa options are available to individuals wanting to live permanently in Grenada:
Permanent residency

: A foreigner looking to stay in Grenada for longer than three consecutive months will have to apply for an extension visa. Individuals who have resided in Grenada lawfully for more than two years can apply for permanent residency.

Citizenship by naturalization

: Foreigners who have resided for seven years in Grenada can apply for citizenship by naturalization.

Citizenship by investment

: In exchange for an investment of at least $150,000 in Grenada's economy, foreigners and their families can get a

Grenada passport

in two months' time.
Grenada real estate
Compared to some of the more mainstream Caribbean islands, Grenada is still relatively preserved, which is why it is possible to find stunning properties that are appropriately priced. Grenada's real estate market offers many different options such as new apartments, luxury villas, beautiful bungalows, charming family homes, or historic colonial houses. 
Buy property in Grenada: Prices in the Grenada real estate market vary between $160,000 and $7,000,000. It is important to note that foreigners wishing to purchase Grenada real estate will have to apply for the Alien Landholding License which amounts to 10% of the property value.
Rent property in Grenada: Depending on where you want to live and what kind of property you are looking for, rents can be relatively inexpensive in Grenada. You can, for example, rent a one-bedroom apartment in the city center for $400, and a three-bedroom apartment for $900. Outside the city center, you can find a one-bedroom apartment for $340 and a three-bedroom apartment for $600. 
Frequently Asked Questions about living in Grenada
What are the best cities to live in Grenada?
Some of the best places to live in Grenada are St George's, Carriacou, Grand Anse, and Lance aux Epines.
Is Grenada safe?
Grenada has a very low-crime rate and is therefore one of the safest Caribbean islands to live in.
How can I get the Grenada passport?
You can get the Grenada passport via the Grenada Citizenship by Investment Program. Providing that you make an investment of at least $150,000 in the country's economy, you and your family can get Grenada citizenship in two months.
How can I live permanently in Grenada?
There are several options if you wish to live permanently in Grenada. You can apply for permanent residency, obtain citizenship by naturalization, or pursue Grenada citizenship by investment.