Home to the breathtaking Piton mountains, St Lucia is a first-class destination in the Caribbean. Whether you would like to reside in one of the most animated cities on the island or enjoy a peaceful and relaxed village by the rainforest, St Lucia has it all. This article introduces you to what living in St Lucia is like, with detailed insights into some of the best cities to live in St Lucia.
About St Lucia
St Lucia is a beautiful Caribbean island of 173,996 inhabitants covering an area of 616 kilometers. Internationally recognized for its scenic landscapes and great quality of life, St Lucia has seen an increase of high net worth foreigners relocating on the island. With the main language being English, and an international airport connecting St Lucia to the US, Europe, and Canada, St Lucia is a convenient place to live in.
Most of St Lucia's population lives in the northwest part of the island, while the southern part remains relatively underdeveloped. This setting allows for nature enthusiasts to live in quiet places such as Soufriere and Marigot Bay, while those seeking more lively places will find plenty to do in Castries and Rodney Bay.
Nature-lovers will enjoy the beautiful white sandy beaches, pristine waters, refreshing waterfalls, and lush rainforests, while those favoring city life will find plenty of restaurants, bars, shops, and cultural events to attend – such as the Jazz and Arts Festival, the Atlantic Rally for Cruisers or the La Margeurite Flower festival.
Living in St Lucia: best cities list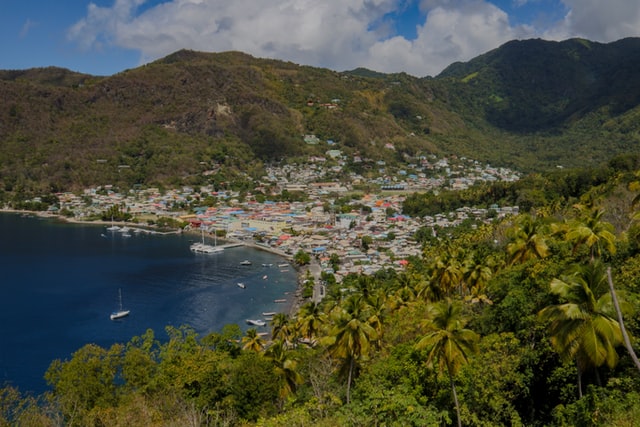 Live in Castries
The beautiful capital city of St Lucia – Castries – is a bustling political and economic hub. Home to the island's main port, it also hosts many foreign and local businesses. In Castries, you will find plenty of St Lucia banks, shops, and services. Two of St Lucia's major hospitals are located in Castries, which is very convenient for those seeking healthcare.
The Central Market is a great place for shoppers looking to buy various fresh products. If you prefer eating out, Castries has many restaurants serving exquisite cuisines from all over the world.
If you want to relax and exercise, some of the island's best beaches are located near Castries. 
Live in Rodney Bay
Rodney Bay is the second-largest city of St Lucia. It is a well-known activity hub as its marina is one of the best in the Caribbean. The buzzing marina has many shops, coffees, restaurants with cuisine from all over the world, bars, and night clubs offering quality entertainment.
In Rodney Bay, you will find all the services you need to live a stress-free life – banks, supermarkets, spas, customs, and immigration offices. There are also two important shopping malls – Baywalk Shopping Mall and JQ Rodney Bay Shopping Mall.
If you love to sail or own a yacht, the Rodney Bay Marina can host up to 120 yachts as well as smaller boats. It is not recommended to swim in the Marina, however, white sandy beaches and snorkel spots are within close proximity.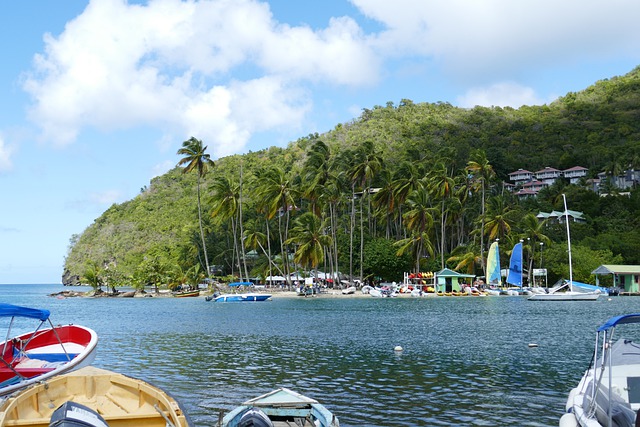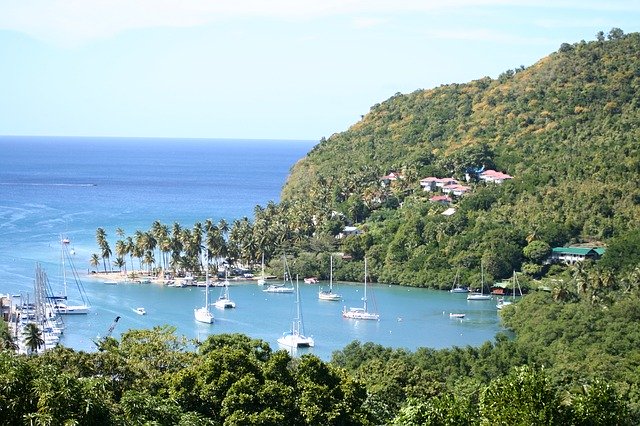 Live in Marigot Bay
Described by the famous American novelist James A. Michener as the 'most beautiful bay of the Caribbean', Marigot bay is certainly a treasure to behold. Strategically located 3.75 miles away from the capital city of Castries, Marigot Bay is surrounded by tropical hills.
It is a place to live for people seeking a relaxed pace of living close to nature. In Marigot Bay you will have access to some fantastic beaches where you can snorkel and admire colorful coral reefs. Marigot Bay is also home to one of the largest mangrove ecosystems of the island where you can do kayaking.
Located on the top of the hill, Marigot village provides for breathtaking accommodations with a scenic view on the bay.
Live in Soufriere 
Soufriere is a village located in southern St Lucia facing the Piton mountains. Because of its astonishing location, Soufriere is one of the most beautiful places to live on the island. Relatively undeveloped compared to the North, Soufriere has a very laid-back and relaxed atmosphere. 
It is a place to live for nature lovers as it is surrounded by rainforests, waterfalls, and beautiful beaches. You will find plenty of hikes to do in Soufriere. 
Located nearby are hot springs and mineral baths, making it the perfect place for relaxation and body rejuvenation. In Soufriere, live in luxury villas facing the breathtaking Piton mountains and Caribbean sea.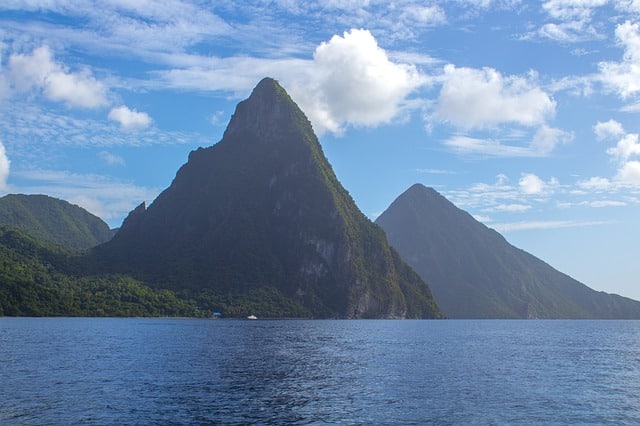 How living in St Lucia is possible as a foreigner 
Several visa options are available to foreigners considering living in St Lucia permanently:
Multiple Entry Visa

: This visa allows foreigners to live up to a year in St Lucia. Expats seeking work in St Lucia will however have to apply for a work permit.

Permanent residency

: After 2 years of renewing your Multiple Entry Visa, you can apply for St Lucia permanent residency.

Citizenship

: After 7 years of permanent residency, you can apply for St Lucia citizenship.

Citizenship by investment

: The

St Lucia Citizenship by Investment Program

allows qualifying investors to get the

St Lucia passport

for a minimum investment of $100,000. Multiple routes of investments are available to foreigners. 
St Lucia real estate
St Lucia real estate market is very interesting and diverse. You can rent or buy authentic houses or luxury property. Varieties of options are available such as family homes, luxury villas, modern condos and apartments, charming bungalows, and historic colonial villas. Below is an estimation of St Lucia's real estate prices.
Rent property in St Lucia: You can rent a one-bedroom apartment in Castries city center for $480 per month and a three-bedroom apartment for $1,000 per month. Outside the city center prices are lower: rent a one-bedroom apartment for $250 and a three-bedroom apartment for $480.
Buy property in St Lucia: Starting from $200,000 you can buy a beautiful St Lucia local home. Modern condos and bungalows cost around $300,000, while beachfront villas cost about $1,000,000.
FAQs:
What are the best places for living in St Lucia?
Some of the best cities to live in St Lucia are Castries, Marigot Bay, Rodney Bay, and Soufriere.
As a foreigner can I buy St Lucia real estate?
As a foreigner, you can buy St Lucia property if you apply for an Alien Landholding Licence. You can buy pre-approved property via the Citizenship by Investment Program and get St Lucia citizenship.
How can I get a St Lucia passport?
Thanks to St Lucia Citizenship by Investment Program you can get a St Lucia passport. You will need to make an investment of at least $100,000 in either the National Economic Fund, pre-approved real estate, enterprise investment, or government bonds.
How can I live permanently in St Lucia?
In order to live permanently in St Lucia, you will need to apply for permanent residency, or for St Lucia citizenship after having resided in St Lucia for 7 years. You can also get St Lucia citizenship through the Citizenship by Investment Program.
Where should I live in St Lucia?
The best place to live in St Lucia depends on preference and lifestyle. If you prefer quiet places with lots of nature, the best cities are Soufriere and Marigot Bay. Alternatively, if you seek more lively places, then head to Castries and Rodney Bay.
What are the best beaches in St Lucia?
It all depends on what you are looking for. The Jalousie Plantation beach has the best views of the Gros Piton and Petit Piton peaks, whereas the Grand Anse is the best place to spot turtles. On the north part of the island you can find the Cas en Bas beach, with lots of social life, and the Reduit beach, great for kids.