If you're looking to obtain easy citizenship by investment in Europe, take a look at our citizenship by investment comparison guide for 2020. We look at all of the best citizenship by investment programs available, as well as explore alternative programs like the Golden Visa scheme. 
What is citizenship?
What exactly does citizenship mean? It essentially means you are entitled to a number of rights and privileges you wouldn't normally have.
This includes:
The right to live and travel freely in the country, as well as in other countries with which the nation has special agreements with

The right to vote

The right to work 
In return, you accept the responsibility of complying with the laws and rules of the respective state.
What is citizenship by investment?
Citizenship by investment is a process by which an individual obtains a second passport and second citizenship by investing in the country ― usually in the form of property investment. Depending on the country, there are specific requirements for the investment you can make, and different benefits associated with the passport you acquire.
Can I buy a passport?
Often when people talk about how you can buy a passport, they talk about citizenship by investment. However, no one can "buy a passport" legally, but with citizenship by investment programs you can ultimately obtain a second passport more quickly and easily than through other immigration methods.
Which countries offer citizenship by investment?
There are many countries around the world that offer citizenship by investment programs. By investing in these programs, investors can obtain citizenship not only for themselves, but also for their dependents, including their parents, children, stepchildren, and grandparents.
Citizenship by investment countries
Here are some countries with popular citizenship by investment programs:
🇦🇬 Antigua and Barbuda

🇨🇾 Cyprus

🇩🇲 Dominica

🇬🇩 Grenada

🇲🇹 Malta

🇰🇳 St Kitts and Nevis
Requirements for citizenship by investment programs
Each country has a different set of requirements that investors must fulfill in order to obtain citizenship. For example, some programs request medical exams which require candidates to prove they are in good health, others do not.
The vast majority of countries do however demand the following two requisites:
That you are over 18 years old

That you have a clean criminal record

That you have a good character

That your investment funds come from a legal source
Citizenship by investment options
Transfer of funds or government bonds
A transfer of funds or government bonds is usually the fastest way of becoming a citizen by investment. The benefit of this method is that if your application is unsuccessful, your money will be returned.
Real estate investment
Investing in real estate can in some cases be more costly and involve more paperwork and bureaucracy. However, at the same time, depending on which country you choose to invest in, an investment in real estate can bring in considerable returns.
Best European citizenship by investment programs
Malta vs Cyprus citizenship
There is a lot to consider when determining which European country is best suited to your citizenship needs. Malta and Cyprus both offer competitive citizenship by investment programs, albeit with key differences in the program requirements.
Citizenship Application time
Applying for Maltese citizenship can take up to 14 months, while applying for Cypriot citizenship can take up to 6 months.
 Freedom of travel
Both Cyprus and Malta offer extensive travel benefits. Citizenship in Malta allows for freedom of travel to 183 countries (including the US, Canada, and Australia), and citizenship in Cyprus allows for roughly 170 countries, excluding the US.
Schengen limitations
Malta is part of the Schengen area meaning that holders of Maltese citizenship are able to travel freely within these borders. While Cyprus is a part of Europe and the European Union, it has not yet joined the Schengen zone.
Citizenship program restrictions
Cyprus allows for an unlimited number of investors to apply for its program and citizenship. Malta limits the number of eligible participants. As of September 2017, the number of participants was 1200.
 Residence requirements
During the first year, Malta requires applicants to spend 183 days in the country to develop a genuine connection. There is no such requirement for Cyprus.
Still unsure about whether to pick Malta or Cyprus's passport-by-investment programs? Take a look at our Malta vs Cyprus citizenship comparison guide.
Best Caribbean citizenship by investment programs
Looking for a new lifestyle or simply a second home? Caribbean citizenship programs are extremely popular due to offering the quickest, cheapest, and most straightforward way to obtaining a second passport. While there are many Caribbean citizenship by investment programs, here are some of the most popular ones.
Dominica citizenship by investment
By far, Dominica offers the cheapest and fastest way to get a passport by investment. Starting from $100,000,  you and your immediate family can obtain passports in four short months. Dominica's passport ranking is 37th in the world, due to the passport offering visa-free travel to over 130 destinations, including Europe's Schengen Area.

Antigua and Barbuda citizenship by investment
The Antigua and Barbuda citizenship program offers a second passport to qualifying investors. There are three investment options to choose from, including paying a minimum of $200,000 into the National Development Fund, buying property, or investing in a business.
As with other Caribbean passport-by-investment programs, both processing and due diligence fees apply to any type of investment. What makes Antigua and Barbuda an attractive option is that it's ranked as the safest country in the Caribbean for relocation. Also, it's made up of 365 islands, with crystal clear blue waters, stunning scenery and a relaxed pace of life. As a haven for sail-boating and scuba diving, Antigua and Barbuda remains a popular citizenship by investment option.
Saint Lucia citizenship by investment
As a tropical Eastern Caribbean Island with a high earning population, good safety records, and a variety of landscapes to soak in, Saint Lucia has everything, including a competitive citizenship by investment program. The application process is straightforward and quick, with the overall process of citizenship taking four months.
The requirements include a due diligence check and a clean health record, along with donating to one of the following investment paths: St Lucia National Economic Fund, government bonds, real estate projects, or investment in enterprises.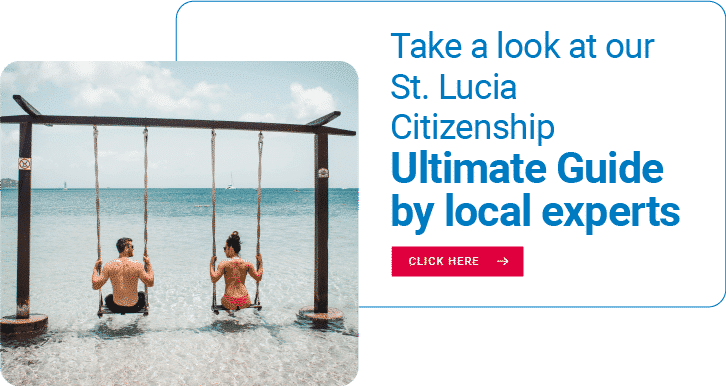 Citizenship by investment vs residency by investment
There are two different routes to citizenship, which usually varies depending on the country of choice.
You can get European residency in a country that can eventually lead to European citizenship. You can do this through an initiative called residency-by-investment, also popularly referred to as the Golden Visa Program. The Golden Visa scheme gives you the option to obtain a higher-ranking second passport, but usually at a bigger cost. You often receive the passport in five years or more.
Golden Visas are not the same as citizenship by investment. It is a residency program that can eventually lead to citizenship through naturalization, provided that you fulfill the Golden Visa investor requirements first.
Best Citizenship by investment 2020 comparison: why invest in a second passport?
There are a number of different reasons why you should invest in a second passport:
As security against political and economic instability

Increase your business options

To protect your assets against excessive taxation

Reduce your fiscal obligations

Visa-free travel to more countries around the world
The benefits of a second passport through citizenship by investment
There are a number of benefits in obtaining a second passport through a "Golden Visa" or citizenship by investment program, some of which are:
Live in a European country without a visa

Travel more freely to more countries

Access to national services

Access to education

Investor tax benefits

Entitlement to a pension

Enhanced business opportunities

Better quality of life

Your family members also have the right to citizenship
How to choose the best citizenship by investment program
Your choice of citizenship by investment program will depend entirely on your circumstances and requirements, however, there are some investment programs that are more popular than others. We've compiled a comparison of some of the most successful programs for you to compare.
Citizenship by investment comparison 2020: most popular programs
| | | | | | |
| --- | --- | --- | --- | --- | --- |
| Country | Minimum investment | Type of investment | Stay requirement | Time until citizenship | Ease of process |
| 🇦🇬 Antigua and Barbuda | $132,850 | Transfer of funds | 5 days per year | 7 months | Easy |
| 🇨🇾 Cyprus | €2,000,000 | Real estate and other options | n/a | 9 months | Medium |
| 🇩🇲 Dominica | $262,550 | Real estate and other options | n/a | 6 months | Medium |
| 🇰🇳 St. Kitts & Nevis | $150,000 | Real estate or government donation | None | Fast track option 2 months | Easy |
| 🇬🇩 Grenada | $150,000 | Real estate or government donation | None | 3 months | Easy |
| 🇱🇨 St. Lucia | $100,000 | Real estate & other options | None | 4 months | Medium |
| 🇲🇹 Malta | €900,000 | Investment and donations | n/a | 18 months | Easy |
Factors that can influence your decision are whether you intend to relocate or not, equally the type of investment you intend to make is important, and can require a thorough examination of potential returns.
Golden Visa Europe comparison
Spain vs Portugal Golden Visa
By far, Spain's Golden Visa and Portugal's Golden Visa program offer the best advantages for non-European nationals looking to invest and acquire European residency.
With golden beaches, enticing foods, and excellent weather, both Spain and Portugal offer safe and stable lifestyles in the heart of Europe and straightforward ways to obtain temporary residence permits. However, key differences between the two programs exist and it's important to know what these differences are.
The main benefits of the Portuguese Golden Visa program in comparison to the Spanish one is that investments can be made for a lower amount, starting from €280,000  Investors in the Portugal Golden Visa can also obtain a European passport in just 5 years, whereas investors in the Spanish Golden Visa must wait 10 years.
Another key difference is that the Spanish Golden Visa has no "stay requirement" (number of days required to spend in the country) to maintain residence whereas the Portuguese Golden Visa requires that applicants spend 7 days per year in the country for 5 years.

Portugal Golden Visa: the ideal choice for those looking to relocate to Europe
Portugal's Golden Visa program (officially known as the "ARI" Autorização de Residência para Atividade de Investimento) is one of the most popular citizenship by investment programs in Europe. This is largely due to the high standard of living, stable economy and government, as well as the potential for high returns on investments.
Benefits of the Portugal Golden Visa program
Freedom of movement across 26 European countries

You can apply for a Portuguese passport after 5 years

You can also obtain residence permits for your family with a single investment

You only need to spend 7 days there per year to maintain residency

You can also take advantage of the non-habitual tax regime (which can entail substantial tax reductions or even total exemption over a ten-year period)

There are a range of different investment options available, many of which are relatively inexpensive and can result in high returns.

Greece vs Portugal Golden Visa
Greece has rivaled Portugal in recent years in terms of the most popular citizenship by investment programs in Europe. This is largely due to the two programs being similarly priced and having similar requirements. There are however some key differences between the two.
The Portuguese real estate market has grown at a stable rate over the past few years, while the Greek real estate market is still experiencing a period of stagnation which began with the global financial crisis.
The Greek program also requires that applicants spend 183 days per year in Greece, for 7 years in order to get a European passport. The Portuguese program only requires applicants to spend 7 days per year in the country, and investors can obtain a European passport after just 5 years.
Portuguese real estate investment outlook
Portuguese real estate prices are projected to continue rising in the coming years, therefore presenting a much more stable and secure investment than Greek real estate. The Portuguese economy has also been bolstered by a surge in tourism and shored up by an increase in tech companies and startups in Lisbon.

Global Citizen Solutions is here to help you
Global Citizen Solutions is a boutique consultancy firm with years of experience delivering bespoke residence and citizenship-by-investment solutions for international families. With offices worldwide and an experienced, hands-on team, we have helped hundreds of clients from around the world acquire residence permits or homes while diversifying their portfolio with robust investments.
We guide you from start to finish, taking you beyond your citizenship or residency by investment application.