Cyprus, known as the Jewel of the Mediterranean, is fast becoming a favorite destination for people looking to emigrate. With its breathtaking coastal atmosphere, exotic cuisine, spectacular architecture, and phenomenal rich history, it is not too hard to be enticed by the notion of calling this paradise home.
Where is Cyprus located?
Located between Greece and Turkey, Cyprus has long been a chosen haven for especially rich expatriates and retirees.
After becoming an official EU nation in 2004, Cyprus has greatly improved its infrastructure and the economic boost has been a major factor in the high influx of wealthy immigrants.
Deciding where to settle in Cyprus can be a little bit of a challenge because each corner of this beautiful island offers so much more than you can ever ask or think.
If you're interested in living in Cyprus, it might also be interesting to know how the Cyprus citizenship by investment scheme works and the requirements.
How is Cyprus divided?
Cyprus is divided into six district cities which are:
Nicosia
Limassol
Larnaca
Paphos
Famagusta
Kyrenia
Living in Paphos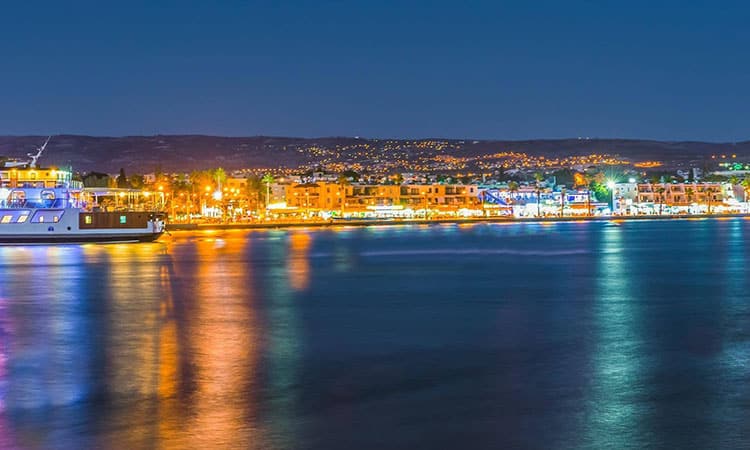 Paphos is chosen has been ranked as the best city to live in Cyprus for seven years in a row. It is a favorite destination for especially British immigrants and is home to the largest expat community.
In 2007 it won the title of City of Culture in Europe.
It's a modern city
After close to €30 million was invested for the refurbishment of the city, it now has modernized public facilities and upgrades in its archaeological and architectural infrastructure.
Other reasons why Paphos takes the crown as one of the best cities to live in Cyprus include:
The location is absolutely amazing
It is located right next to the coast of the Mediterranean which means endless spectacular views, robust summers, absolute peace, and tranquillity.
Real estate prices are attractive
Real estate prices are at a bargain! For the price of a flat in central London, you can easily buy a five-bedroom mansion with all amenities overlooking the ocean.
Rentals are also on the low side with an average monthly cost to rent being €450-€600.
Low tax scheme
Expats enjoy the benefits of exceedingly low tax options.
Low crime rate
Cyprus, in general, has a low crime rate but Paphos is a lot more peaceful than the capital, Nicosia.
Family Friendly
The locals are generally welcoming of expats and it's a family-friendly city.
Living in Limassol
Limassol is the business capital and the second, in the list of best cities to live in Cyprus.
So, if you're thinking of starting a business or investing in a business, or simply getting a good high paying job, then Limassol is the city for you.
It is the city that has it all… action, adventure, romance, discovery, etc.
It is also the city with the largest number of small villages, so if you want to really immerse yourself in Cypriot culture, then this city was made for you.
Some other reasons why this city ranks high on expat list include:
Leisure
Limassol boasts as the entertainment capital of Cyprus. There is always something to do and no chance of you getting bored.
The city is home to most of the historical and architectural designs.
Health and education
Great health and educational benefits especially if you are an EU expat.
Affordable cost of living
Even though expenses are slightly higher than Paphos, it is still relatively low compared to other cities in Europe.
Plus, the city also has a great transportation system.
Read more about the cost of living in Cyprus.
Living in Nicosia
The capital city of Cyprus comes in as the third in terms of best cities to live in Cyprus, and was voted in the top 20 best cities to live in Europe.
One of the main attractions of this city is that it is not a tourist haven even though it has the perks of attracting a lot of visitors.
It has a mixture of city and village life, as well as the, infuse of culture and history.
It does not have as many beaches and unique structures like the other cities and locals are not very welcoming of especially tourists. But it's still a great city to settle in and here are some of the reasons why:
Easy travels and connections
Out of all the cities in Cyprus, Nicosia has the best transport and connection system. Since it is strategically located at the midpoint of Africa, Europe and Asia, travellers enjoy easy connections to international airports and shipping ports.
Hundreds of direct flights operate daily across three continents which makes this an attractive option for settlers.
Easiest place to relocate in Cyprus
If you are an EU citizen then you can expect a smoother transition since you are eligible to live, study, work and run a business there without any hassles. If you are a non-EU citizen, you face slighter tougher transition but not as frustrating as most of the major EU countries.
Lowest corporate income tax regime
Out of all the cities in Cyprus, Nicosia offers the lowest competitive tax rate of just about 12% for expats. It's a great deal compared to the other EU nations that have more than twice that rate.
Living in Larnaca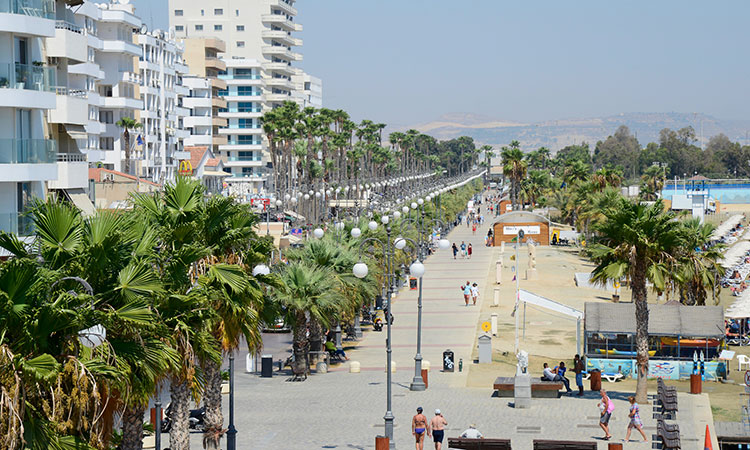 If you have ever sampled a great bottle of wine from Cyprus, chances are that wine came from Larnaca, as it is the wine capital of Cyprus and ranks as the fourth in the list of bests city to live in Cyprus.
It also takes the crown for the best food in Cyprus.
So, if you really want an exotic Mediterranean Cypriote delicious cuisine, head over to Larnaca. Other reasons you may want to choose Larnaca as your home:
Retirement goldmine
Since the introduction of the Retirement visa back in 2007, Larnaca has become the place to reside when you retire. This scheme was specially designed for wealthy non-EU citizens (EU citizens do not generally need visas of any kind).
The city caters mainly to retirees who enjoy a lot of great benefits such as state of the art healthcare, very low-income tax and pensions are not subject to withholding tax.
Duty-free imports
One of the greatest perks of this city is the duty-free importation of all your items including your car and pets.
Very low cost of living
Compared to the other three cities mentioned above, Larnaca is very cheap and the expenses are manageable.
Average monthly rent for a house is only €300.
Famagusta
Famagusta is another of the best cities to live in Cyprus.
The marine capital of Cyprus, Famagusta ranks as the fifth-best place to live purely because it is such a busy city.
It accounts for a very high number of tourists because the city is surrounded by historical wall structures and has maintained the structure of it's past.
It is also the industrial production hub for Cyprus with its largest fishing port as well as shipping dock mainland. May not be a favorite destination for would-be immigrants, but it still has some perks including:
It's the economic hub of Cyprus
Famagusta has lost the allure of comfortable living, but it still serves as a great investment for businesses.
After all, it is the economic hub of Cyprus so if you intend to grow your money or increase your paycheck, the Famagusta is the place to go and do that.
Home to the best university in Cyprus
The Eastern Mediterranean University has been ranked as the best university in Cyprus and qualifications obtained here are recognized worldwide.
The university is also responsible for bringing down unemployment rates and increasing the economy rate for Cyprus.
Excellent healthcare
Famagusta is home to the three best hospitals in Cyprus which are also ranked very high in hospitals around the world.
Kyrenia
Kyrenia appears last in the list of best cities to live in Cyprus.
It's the least favorite city to settle in, at least for the expat community.
Even though it is part of EU Cyprus, it still has a heavy Turkish influence making it slightly difficult for immigrants to adjust.
The city has multiple attractions
It is home to the largest seaport in Cyprus and just as Famagusta, it is a historical city with lots of castles, museums, and walls that surround the city.
It is also a tourist magnet and has a very active social life.
Economic contribution is also high
The economic structure is not as frugal as the other cities mentioned above, but it still contributes greatly to the overall economy of Cyprus.
It's a great place to visit and have a vacation but it does not have a lot of perks for settling in. The city is designed mainly for young millennials and travelers and is not verily suited for retirement.
Choosing a city to live always depends a lot on your preferences. We hope this article helped to know the Best cities to live in Cyprus and make a better decision.
If you need any assistance with relocation, visas, etc, know that we are prepared to assist you with any issue an expat may face while relocating to Cyprus or another country.
What are the best cities in Cyprus?
Paphos, Limassol, Nicosia, Larnaca, Famagusta, and Kyrenia are some of the most popular cities in Cyprus.
Why do people move to Cyprus?
Good weather, low crime rate, tax benefits, affordable living costs are all reasons why people pick Cyprus to live in.
Is Cyprus expensive?
Living costs in Cyprus are relatively low in comparison to the rest of Europe.
Is Cyprus a good place to retire?
Affordable living costs and good weather are just some of the reasons that make Cyprus a good place to retire. It is also a very safe country where English is widely spoken.