Are you looking for a safe place to invest your money? Look no further than Europe's top 50 safest banks. Whether you're an individual investor or a large business, these banks will surely provide the security and trustworthiness you need.
This article will look at the top 50 safest banks in Europe according to an international study by the US finance magazine Global Finance. We will also discuss tips on selecting the right bank for your needs and provide information on what makes a bank secure.
What makes a bank safe?
Whether it's an online bank or a traditional bank, when it comes to safeguarding your finances, you want to make sure your bank is up to the task. But what makes a bank safe? Here are a few factors that explain how:
Financial stability
A safe bank starts with a financial institution that is financially stable, with a strong balance sheet and plenty of liquidity. This means it can weather any storms that come its way and still be there for its customers.
The financial instability of a bank is often revealed during tough times, such as an economic crisis. The 2007 to 2008 financial crisis demonstrated how irresponsibly a number of large national banks had operated with their client's savings, inevitably requiring saving from bankruptcy by the same taxpayers they held money for.
Regulation and supervision
Financial institutions are subject to strict regulations and supervision by financial authorities, such as the European Central Bank (ECB) in Europe or the Financial Conduct Authority (FCA) in the United Kingdom. They ensure that banks run in a sound and judicious manner and that customers' bank accounts are protected.
Deposit guarantee schemes
All banks operating in the European Union are covered by the deposit guarantee scheme which is a type of deposit insurance. In the event of a bank's insolvency or any other circumstance where it's unable to release funds owed, the deposit insurance would entitle account holders to get their cash deposits back up to €100,000 ($106,000) per person.
For research on the most secure banks in Europe to open a bank account, these are some of the things you should consider.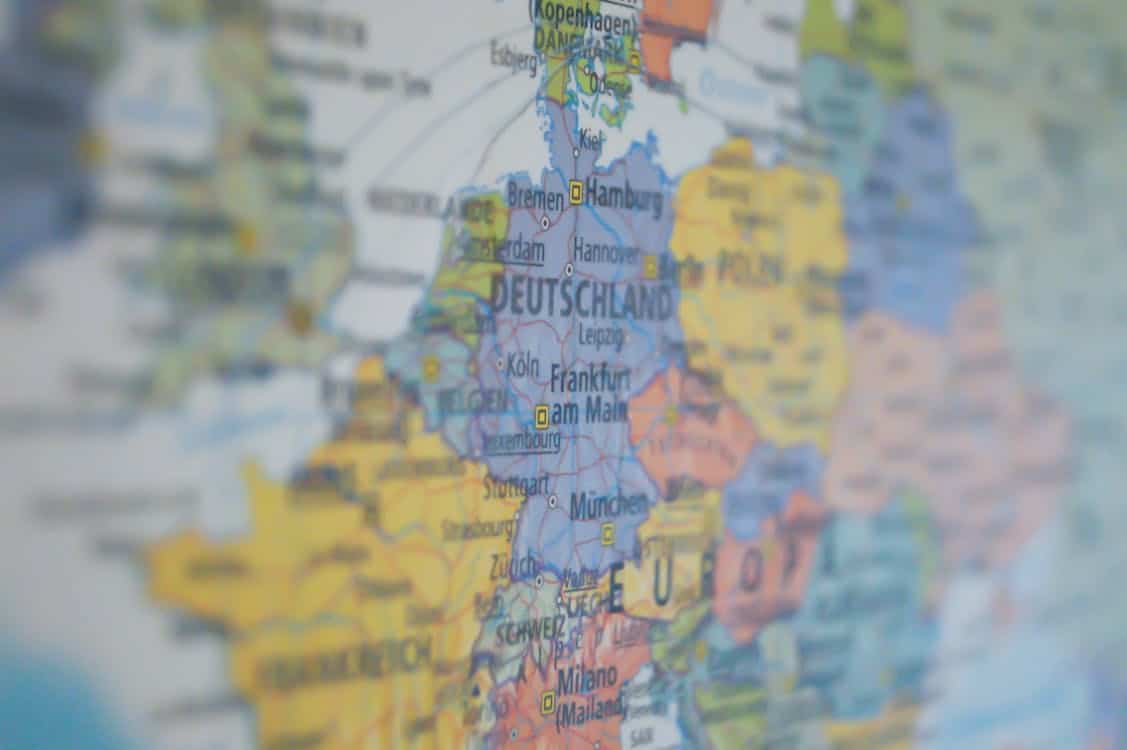 The Safety of European Banks
Europe is home to many of the safest banks in the world. In fact, ten of the continent's financial institutions rank as the top ten in the World's Safest Banks 2020 survey conducted by the Global Finance magazine.
There are several reasons why banks in Western Europe rank so highly for secure banks to keep your money:
European countries like Switzerland have a long history of financial stability and sound banking practices, providing a solid foundation for the banking sector as a whole.
All financial institutions – including the biggest banks in Europe – are subject to strict regulation and oversight from both national and supranational EU governing bodies. This ensures that banks are operating responsibly.
European banks have strong capital levels and robust risk management practices, providing a buffer against potential losses and helping keep the banks on a solid footing.
Overall, these factors combine to make EU banks some of the most secure banks in the world.
Europe's Top 50 Safest Banks
To compile its annual list of the safest banks in Europe 2023, Global Finance looks at a variety of factors, including capital adequacy, asset quality, profitability, liquidity, security, and government support.
Here is the list of Europe's top 50 safest banks:
1: KfW (Germany)
2: Zuercher Kantonalbank (Switzerland)
3: BNG Bank (Netherlands)
4: Landwirtschaftliche Rentenbank (Germany)
5: Nederlandse Waterschapsbank (Netherlands)
6: L-Bank (Germany)
7: Kommunalbanken (Norway)
8: NRW.BANK (Germany)
9: Swedish Export Credit Corporation (Sweden)
10: Caisse des Depots et Consignations (France)
11: Svenska Handelsbanken (Sweden)
12: Banque et Caisse d'Epargne de l'Etat (Luxembourg)
13: Banque Cantonale Vaudoise (Switzerland)
14: DZ BANK (Germany)
15: Deutsche Apotheker- und Aerztebank (Germany)
16: DNB Bank (Norway)
17: Banque Pictet & Cie (Switzerland)
18: SFIL (France)
19: Nordea Bank (Finland)
20: SEB (Sweden)
21: Sparkassen-Finanzgruppe (Germany)
22: UBS AG (Switzerland)
23: Rabobank (Netherlands)
24: OP Corporate Bank (Finland)
25: BNP Paribas (France)
26: Credit Agricole (France)
27: Swedbank (Sweden)
28: HSBC Continental Europe (France)
29: LGT Bank (Liechtenstein)
30: Banque Federative du Credit Mutuel (France)
31: BPCE (France)
32: BNP Paribas Fortis (Belgium)
33: BGL BNP Paribas ((Luxembourg))
34: SpareBank 1 Nord-Norge (Norway)
35: ABN AMRO Bank (Netherlands)
36: Nationwide Building Society (United Kingdom)
37: Nykredit Realkredit (Denmark)
38: Komercni Banka (Czech Republic)
39: SBAB Bank (Sweden)
40: ING Bank Slaski (Poland)
41: Lansforsakringar Bank (Sweden)
42: AXA Banque (France)
43: Societe Generale (France)
44: Erste Group Bank (Austria)
45: HSBC Holdings (United Kingdom)
46: Banco Santander (Spain)
47: Danske Bank (Denmark)
48: Belfius Bank (Belgium)
49: Jyske Bank (Denmark)
50: SpareBank 1 SR-Bank (Norway)
Choosing the Best European Bank for You
When it comes to finding the best bank in Europe, there are a few things you need to take into account–where is the bank located? Would you be affected by a bank failure? does the bank charge monthly fees? Is it a new digital bank or similar to traditional banks? These are just a few of the questions you should ask:
Size: Banks and most businesses' services are often affected by scale, which can be both positive and negative. Larger banks typically offer more investment opportunities and facilities for foreign transactions and investment. In contrast, smaller banks are more equipped to provide account holders with a more tailored and personalized banking experience.
Financial stability: Banks will live and die by their balance sheet. It's easy for banks to make promises and take people's money, and even easier to lose it. Maintaining a good balance sheet and keeping your client's funds safe over a long period of time – through good and bad economic periods – is the true sign of a financially stable bank.
Highlight services: A bank is essentially a financial institution that accepts deposits from the public and issues funds upon request, but from mobile apps to fast-track debit card replacements, there are several layers to the services that banks offer and where their strengths lie.
offer and where their strengths lie.
Monza, the best online bank in the UK is considered to be one of the best online banks in Europe to open an online bank account, as its digital banking user experience is highly rated by its customers. It's also one of the most secure banks in Europe, with well-refined and secure authentication features for online banking in its basic banking services.
Large banks like HSBC Holdings in the UK with subsidiaries around the world, like HSBC Continental Europe in France and HSBC bank Malta, are the best banks for international trading and global investors as you can limit charges like foreign transaction fees and ATM fees.
Customer service: Many people fail to consider the aftercare provided when opening a bank account. Those with a savings account probably don't need to contact banks very often, but many current and business account holders regularly transfer money and make credit-related transactions. A bank with a well-structured and efficient customer service division is more equipped to handle any issues that arise.
Deutsche Bank in Germany is renowned for its excellent customer service. It has branches in almost all major cities across Europe and offers 24/7 customer support.
Location: The country where banks are located can have a profound outside effect on banking experiences, not just from a safety point of view but a savings one too.
For individuals looking to open an offshore bank account to optimize taxes and save money, programs like Portugal's NHR (non-habitual resident) tax regime make this possible.
Through Portugal's NHR tax regime, you can open a bank account in a reputable Portuguese national bank like Millennium BCP and enjoy several tax-saving benefits, such as special personal income tax treatment over ten years, no minimum stay requirements, and free remittance of funds to Portugal.
Click here for a comprehensive guide to Portugal's NHR tax regime.
Key Takeaways
Whether you're an EU citizen looking to switch banks or a foreigner looking to open an offshore bank account, European banks have all the options besides being the safest banks to use.
You can rest assured that, unlike many online banks, European online banks go through stringent and regular due diligence and compliance checks to ensure that things like monthly maintenance fees charged are honest, customers have easy and quick access to their funds, and all other practices they work in their customer's best interests.
Frequently Asked Questions about the Safest Banks in Europe
What is the safest bank in Europe?
The most secure bank in Europe is KfW bank in Germany which was voted number one of the top 50 safest banks in Europe by the US finance magazine Global Finance.
Which European country has the most secure banks?
The European country with the most secure banks is Germany which has four of the top ten most secure banks in Europe.
KfW

Landwirtschaftliche Rentenbank

L-Bank

NRW.BANK
Which European bank is the most secure?
The most secure European bank is KfW in Germany, which ranked the highest among the top 50 safest banks in Europe by the US finance magazine Global Finance. KfW is one of Europe's largest banks and has topped the list of the most stable EU banks for twelve years in a row.
What is the best bank in Europe?
The best bank in Europe is KfW in Germany, which was voted number one in the list of the 50 safest banks in Europe 2023. KfW's rank as the most secure bank goes beyond Europe, too–being ranked number one for twelve years in a row for the World's Safest Banks by the US finance magazine Global Finance. This proves that KfW is the standout bank when it comes to security.