The currency market is an important factor to consider with regard to international property markets. Alongside this, being aware of your options is key to ensuring that you are making a smart investment. In recent years, there have been some aggressive moves in foreign exchange rates, particularly for the USD and EUR currencies. For American buyers interested in international investments in Europe, the value of a currency is extremely important. In September 2021, $500,000 would convert into €431,000, but, in September 2022, this would convert to €511,000. This is roughly an €80,000 difference.
Euro Dollar Exchange Rate - EUR/USD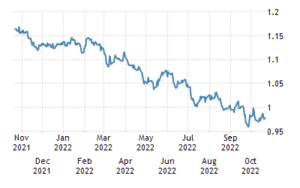 Source:
Trading Economics
The USD appreciated against the EUR by 15.7%, between September 2021 and September 2022. The GBP depreciated against the EUR by 2.6% over the same period. Individuals are increasingly using property currency specialists, who can help them manage the costs of property in the best possible way to ensure that they get the best possible outcome at the best cost. Indeed, being aware of currency exchange rates is crucial and experts now use many tools to monitor currency changes. These include rate alerts, spike notifications, automatic buy instructions when rates are reached, and being able to buy forward (i.e. locking in on the current rate without all the funds being available). The movement of the currency market can have a significant impact on your running costs and project budgets. Working with experienced professionals in the field can save you time and money, and be crucial in understanding the value of a currency and how it will impact your investment.
Goldcrest
is a property specialist in Portugal and a division of Global Citizen Solutions. As a buyers agent based in Lisbon, our team works diligently to ensure that the correct steps have been taken, providing a high-quality service and safeguarding you from poor property investments.