Living in a global society where it becomes easier to live wherever you wish has also opened doors for retirees who look to spend their retirement years in a sunny, warm, and welcoming climate. Turkey offers all of this and much more, and most expats who choose this vibrant country as their new home embrace everything it offers. What's more, Turkey is one of the  Best Places to Retire in Europe, for good reasons.
To retire in Turkey means living amongst rich history and stunning landscapes that create an ideal haven for your golden years. From vibrant bazaars to tranquil coastal escapes, you'll discover a lifestyle that blends cultural intrigue with modern comfort.
In this article, we'll guide you through everything you need to know about retiring in Turkey, such as visas and residence permits, the best areas to retire as well as tax considerations after relocating.
About Turkey
Nestled at the crossroads of Europe and Asia, Turkey offers a captivating blend of modernity and tradition. Its robust Turkish economy, a fusion of industries like textiles, automotive, and tourism, paints a picture of a country in transition. Rooted in a rich culture, Turkey proudly embraces its heritage as a bridge between East and West.
Living in Turkey means being surrounded by Western and Eastern influences, which is especially evident in Turkish city living. Istanbul, Turkey's largest city, stands as a testament to its dynamic history. Serving as both the cultural and economic hub, this vibrant metropolis effortlessly weaves ancient landmarks with a bustling urban landscape.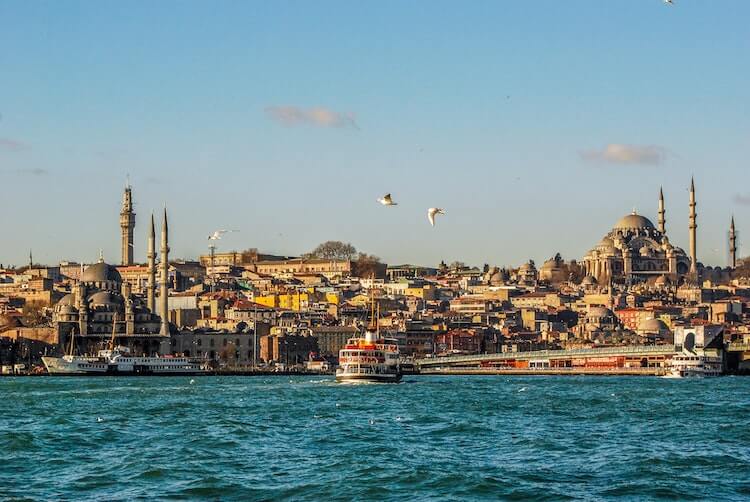 Turkey's capital city is Ankara, which, with its historical significance, reflects Turkey's contemporary political and administrative aspects.
As a predominantly Muslim country, Turkey's tapestry is intricately woven with religious influences, while its people uphold a warm and hospitable nature. The Turkish language serves as a gateway to connect with locals and immerse yourself in the culture. Although many Turkish people speak English, learning to speak Turkish is always a bonus.
Bordered by the Mediterranean Ocean, Turkey's allure extends to its coastal regions. The country is very affordable compared to many Western counterparts and therefore makes it an attractive prospect for spending your retirement years here. The Turkish Lira is Turkey's official currency, and its value allows for a comfortable lifestyle at an affordable cost, while ongoing negotiations with the European Union hint at increasing prospects for growth.
Embracing its Mediterranean ambiance, Turkey presents a relaxed pace that perfectly complements its rich history. Whether strolling through bazaars, savoring Turkish cuisine, or basking in the coastal beauty, retirement in Turkey offers an enchanting chapter adorned with cultural riches and a relaxed lifestyle. For more information, How to Live Abroad in Turkey could give you further insights into living in this exciting country.
Visas and Residence Permits for Turkey
In the following section, you'll find out everything you need to know about visas and residence permits if you wish to retire in Turkey.
Visa
Turkey does not offer a visa specifically for the retirement of foreign citizens, so the alternative is to apply for a residence permit, obligatory for stays exceeding three months.
Initial steps involve securing a short-term residence permit, which you need to apply for within one month of arrival through the online application on the Turkish Ministry of Interior's website. Upon completion, the next phase involves scheduling an appointment at the nearest DGMM office for payment and further processing.
Residence permit
A short-term Turkish residence permit is valid for two years. Upon eight uninterrupted years of residing in Turkey under a short-term residence permit, expats are eligible to apply for a long-term residence permit, which has indefinite validity, meaning you'll never have to renew the long-term residence permit.
Irrespective of the type of residence permit you're after, proving you've got adequate financial means is necessary. The exact amount depends on factors such as dependents, with a single individual generally needing at least the equivalent of a month's Turkish minimum wage. As of June 2023, the Turkish government increased the Turkish minimum wage to around $495 per month.
Turkish citizenship
The Mediterranean lifestyle is addictive, combined with the charm of the Turkish people and Turkish culture, so it's not surprising that many expats apply for Turkish citizenship instead of opting for Turkish residency only.
Although there are a number of ways to become a Turkish citizen, you are generally eligible to apply if you've lived in the country continuously for five years. You can find more information here, including other avenues for becoming a Turkish citizen.
Additionally, Turkey stands out as one of the few nations globally that operates an economic citizenship program, granting citizenship to foreign nationals who invest at least $400,000 in the Turkish economy.
For aspiring expats with global aspirations, there is great value in acquiring Turkey citizenship by investment.
Turkish citizens have advantages, including access to a rich cultural heritage, diverse landscapes from coast to mountains, economic opportunities, and participation in a dynamic society at the crossroads of Europe and Asia.
Where to Retire in Turkey: Popular Places
Selecting a retirement destination in Turkey depends on lifestyle choices and, primarily, financial considerations for expats. Each of the following places boasts distinct attractions while living expenses differ considerably from the pricey Istanbul to budget-friendly Aegean resorts.
Antalya: Southern coast hub
Spreading across a substantial portion of the southern coastline, the Antalya region offers numerous favorable aspects. It's Turkey's second most sought-after tourist destination and the second leading hub for foreign property sales.
With a bustling city center and quaint coastal getaways, its cosmopolitan ambiance magnetizes people from all over the world. Well-established expat communities have seamlessly integrated into the Mediterranean lifestyle here.
Preferred retiree spots include the eastern endpoint, Alanya, and the central city center. Both offer vibrant shopping and dining scenes, along with robust year-round transportation links to both the rest of Turkey and the world. Prices for property are around $1,610 per square meter in city locations and around half of that outside cities.
Kalkan: Retire in luxury
Nestled to the west of the Antalya region, Kalkan shines as a sophisticated haven on the Turkish Riviera. Apartment prices start at around $165,000, while expansive seaside mansions venture into six figures. Although some retired expats prefer a seasonal stay, a year-round vibrant community invites those seeking lasting friendships and fresh social connections.
Kalkan's higher cost of living, particularly in dining and entertainment, aligns with its exclusive aura of luxury. The mix of modern architectural designs and panoramic Mediterranean Sea views stands as two compelling reasons expats opt to invest in Kalkan for retirement.
Fethiye region: The darling of Turkey
Fethiye presents an irresistible package. Its breathtaking scenery, relaxed pace of life, and budget-friendly living costs have attracted retirees, particularly from the UK. While some opt for cozier retreats like Hisaronu, Ovacik, and Calis, a substantial community thrives in the town center, relishing year-round access to shopping, dining, entertainment, and excellent transportation.
Close to Fethiye is Dalaman Airport, ensuring convenient access. Added to this are attractively low property prices, with apartments available from $739 per square meter in city locations, making this area even more enticing.
Altinkum: Golden sands
Altinkum, by the Aegean coastline, emerges as an affordable haven that has captured the attention, especially of British retirees. Nevertheless, locations such as Mavisehir exude a more authentically Turkish ambiance. Functioning as a tourist-centric resort, Altinkum thrives between May and October, with life taking a more subdued pace in off-peak months.
Real estate prices start in the region of $85,000 for a two-bedroom apartment, although more lavish property is also available.
Bodrum Town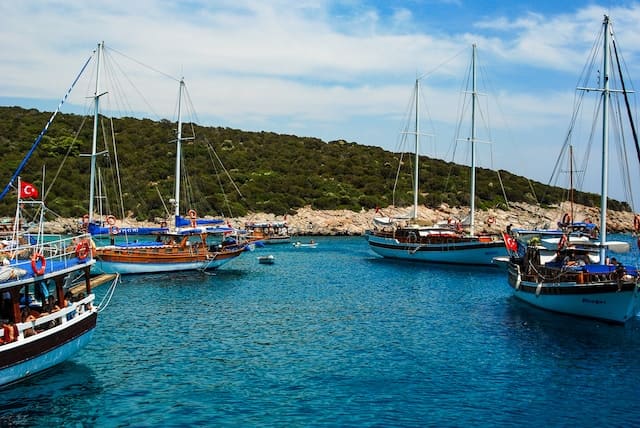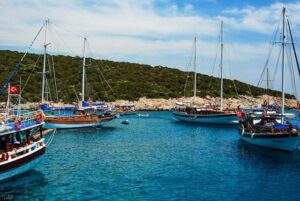 Bodrum Town not only captivates the Aegean tourism scene but is also home to a diverse expat community of various nationalities. With its history of welcoming foreigners since the late 1950s, Bodrum nurtures a sense of belonging among retirees.
For sailing enthusiasts in retirement, Bodrum's an international sailing haven. Its distinctive transportation infrastructure, featuring an airport and a central coach station, seamlessly links it to Turkey and other countries, including Greece, which is only a short boat ride away.
Property prices in Bodrum Center start at around $2,254 per square meter and $1,478 per square meter outside Bodrum Center. Despite relatively high living costs compared to places like Altinkum, Bodrum's unparalleled ambiance consistently lures retiring expats, reaffirming its appeal year after year.
Yalikavak: Where Aegean Turkey excels
Part of the Bodrum peninsula, Yalikavak seized the spotlight as a sailing epicenter with the grand inauguration of Palmarina. Often touted as a high-end destination, Yalikavak's appeal attracts a multitude of global retirees, yet it preserves an essence of traditional Turkey in its historic quarter. Here, the spirit of tradition thrives in tea houses, Turkish eateries, barbershops, and more.
Yalikavak caters to year-round living needs, while a short bus ride transports residents to the heightened offerings of Bodrum town center. Real estate prices are at the higher end, similar to Bodrum, with many multi-bedroom mansions available for sale. For further information on Turkish real estate, you may want to consult our article Buying Property in Turkey.
Tax Considerations for Retiring in Turkey
When moving to a foreign country, it's important to understand, as an expat, that you are expected to pay taxes on your worldwide income. Turkish taxes are determined by a central government body responsible for finances (Turkish MoF).
In line with many other Western countries, Turkey employs distinct tax regulations for residents and non-residents. Residents pay taxes on their global earnings, while non-residents are solely accountable for taxes related to income originating in Turkey. The nation adopts a progressive tax scale structure, spanning from 15 to 40 percent, depending on a person's income bracket.
A tax treaty between Turkey and the USA presents potential relief for US expats. This arrangement enables contribution to only one country's social security program.
How safe is it to retire in Turkey?
Each expat's experience of living in Turkey is unique. Some might travel through Turkey and discover minimal security concerns. Nonetheless, applying common sense and being vigilant in busy city centers is recommended. The US Department of State's travel advisory highlights the need for vigilance against both terrorism and arbitrary detentions while visiting or transiting through Turkey.
It is generally advised to avoid the provinces of Sirnak and Hakkari in the southeastern region, as well as any region within a six-mile radius of the Syrian border due to potential terrorist activities.
Although taking part in Turkish life and engaging with locals and their culture is always encouraged, staying attentive to surroundings and monitoring political developments is advised. You should also refrain from discussing political matters online, as this could raise concerns.
Tips on Retiring
Regardless of your retirement age, making sure that you're ready to retire is the most important thing. This is the case for your financial as well as your personal circumstances. The following tips might be of help to you:
Work with a financial advisor to make sure you're all sorted for your ideal retirement.
Plan your retirement to ensure you won't face financial burdens and surprises down the line. Moving to a different country can have its challenges, so it's best to be prepared in advance.
Ensure you've researched and arranged the healthcare coverage and medical insurance that you need. Healthcare costs can be expensive, so make sure you're prepared for every eventuality.
Retirement age
The retirement age in Turkey for Turkish nationals was, until early 2023, 58 years for women and 60 years for men. This is significantly lower than in many other countries. In recent political news, President Erdogan announced that this minimum retirement age would be scrapped so that anyone meeting the required criteria laid out by the Turkish government can retire earlier.
Health insurance
The central government body responsible for healthcare and related policies is the Ministry of Health (MoH). Turkey has a public healthcare system, and all residents that are registered with the Social Security Institution (Sosyal Güvenlik Kurumu – SGK) have access to Turkey's national healthcare systems.
Turkish healthcare is more accessible in cities and urban areas, with some rural areas having less access. What's more, medical facilities in cities are more likely to cater to English speakers. It's for that reason that many expats either supplement their public health insurance with private health insurance.
Private insurance gives access to private medical facilities, which can give you peace of mind in a medical emergency.
In Summary
Turkey offers a lot to foreign nationals who wish to retire in this exceptional country. From a relaxed lifestyle to a low cost of living, as well as a great public and private healthcare system, retiring in Turkey may just be the perfect place to spend your golden years.
Frequently Asked Questions about Retiring in Turkey
Is Turkey a good place to retire?
Turkey can be a favorable retirement destination due to its diverse culture, affordable living costs, and captivating landscapes. However, one should consider factors like healthcare, language, and political stability when evaluating suitability for retirement.
How much does it cost to retire in Turkey?
The cost of retiring in Turkey varies based on factors like location, lifestyle, and individual preferences. Generally, Turkey offers a relatively affordable retirement compared to many Western countries, with expenses influenced by housing, healthcare, and daily living choices.
Is Turkey good for American expats?
Turkey can be an appealing option for American expats. Its rich history, vibrant culture, and diverse landscapes offer a unique experience. However, factors like language, culture shock, and political dynamics should be considered before making a decision.
Where do most American expats live in Turkey?
Most American expats in Turkey tend to settle in major cities like Istanbul and Ankara, attracted by modern amenities, cultural attractions, and business opportunities, while some also choose coastal areas like Antalya for its Mediterranean lifestyle.
Can you live in Turkey without speaking Turkish?
While it's possible to live in Turkey without speaking Turkish, learning the language significantly enhances daily life, communication, and integration. English is often spoken in urban areas and tourist spots, but local language skills foster deeper connections and smoother interactions.