Whether it is to keep financial assets safe, live in another country, or seek the best investment options, there are many reasons to pursue dual citizenship and a second passport. So, how is the Turkish passport positioned in terms of travel, investment, and relocation?
Our Global Passport Ranking is divided into three standalone indexes:
Enhanced Mobility Index
Investment Index
Quality of Life Index
The Turkey passport ranking varied in each index.
The Benefits of a Turkish Passport
Enhanced Mobility Index
Turkey passport ranking: 94th
Turkey has a rich culture, bordering both Asia and Europe, with influences from each side. As a hot tourist destination for all-inclusive vacations, cruise ships, and city breaks, along with a myriad of unique and historical sites for tourism, the country is regularly in the top ten countries in the world to visit. 
There are many Turkish passport benefits and perks beyond travel; However, a Turkish passport holder can travel visa-free, including with visa-on-arrival, to 128 countries worldwide, landing Turkey in 94th position on the Enhanced Mobility Index.
Turkish passport holders can travel visa-free to several countries in Southeastern Europe, such as Serbia, Montenegro, North Macedonia, and Bosnia and Herzegovina, but will need a valid Schengen Visa and any other relevant visa required to gain entry into Schengen member states and other EU countries.
Additionally, Turkish citizens need a visa to enter the United Kingdom, Canada, and the USA. However, visa-on-arrival and visa-free countries that Turkish citizens have easy access to include Singapore, most South American countries, and many African countries. This also includes visa-free and visa-on-arrival travel to several nations that impose travel restrictions on US citizens, such as Sudan, Iran, Cuba, Bolivia, and Belarus.
Investment Index
Turkey passport ranking: 82nd 
Turkey attracts all sorts of foreign investors. The nation offers a stable economic climate, with reasonable growth rates and numerous investment opportunities. Foreign direct investment law in Turkey encourages the transfer of foreign capital to the country for business-related activities, with the Turkish constitution guaranteeing fair treatment for foreign and local investors.
The Turkish government also incentivizes business activity within the state, with the possibility of reductions in VAT (Value Added Tax) and reduced customs duties. What makes Turkey even more attractive as a destination for investment is being a world leader in cornerstone industries such as agriculture and textile manufacturing. 
It also has a young and flourishing workforce, and due to the strength of the US dollar versus its national currency, rates to employ highly skilled workers are significantly cheaper than in the US and other developed countries. International investors involved in Turkey's leading sectors, such as the textile industry and agriculture, receive high-quality labor and expertise at a fraction of the cost. Turkey is also the ideal geographical location for foreigners interested in importing and exporting, being on the border of Asia to the east and Europe to the west.
According to the World Economic Outlook released by the International Monetary Fund, Turkey has experienced continued GDP growth yearly since the COVID-19 pandemic, with a GDP of $942 billion in 2023. Although certain markets and innovations lack the strength of some North American and European countries, there are still good options available and enough space for substantial growth. IT and real estate investment in Turkey can be highly lucrative.
Quality of Life Index
Turkey passport ranking: 138th
The cost of living in Turkey is very low compared to most countries in the European Union, which is one of the main benefits of relocating to this Eurasian country. According to data provided by Numbeo, the cost of living in Turkey in USD based on the current exchange rate for a family of four is about $1,600 per month. On average, a large 150m2 three-bedroom apartment outside the center of Istanbul costs around $229,000.
Turkey also ranked high in the Sustainable Development Report, scoring 70.41 out of 100. In terms of healthcare, medical care in Turkey is exceptional and cheap. It has established itself as a globally trusted destination for medical tourism related to multiple cosmetic and dental procedures.
The government of Turkey has made significant investments in its infrastructure over the last decade, overseeing substantial improvements in various sectors. The nation has a relatively well-developed infrastructure, particularly in major cities like Istanbul and tourist destinations like Antalya and Ankara.
Turkey's Transportation infrastructure is generally considered good, with a modern network of highways, bridges, and tunnels connecting different parts of the country. The railway system has also been upgraded to a high-speed network, continuously expanding, providing efficient transportation options for passengers and cargo.
Regarding air transportation, Turkey has several international airports and a well-connected domestic flight network, making travel within the country convenient despite its size. Istanbul's new airport, referred to as Istanbul Grand Airport, is one of the largest airports in the world and serves as a major hub for international travel.
Turkey also has a robust telecommunications infrastructure, with widespread access to mobile networks and internet connectivity. The country has made advancements in broadband internet availability, enhancing digital connectivity for businesses and individuals.
The World's Most Powerful Passports
1st: Germany
2nd: United States 
3rd: Sweden
4th: Denmark 
5th: The Netherlands
6th: Finland
7th: United Kingdom
8th: Canada
9th: Norway
10th: Switzerland
How to get citizenship in Turkey?
Citizenship by investment
The Turkey citizenship by investment program allows foreign investors to obtain Turkish citizenship after contributing to the country's economy.
An alluring aspect of obtaining a residence permit and Turkish citizenship by investment is that several investment options are available to acquire a Turkey passport by investment and citizenship rights. You can be eligible for Turkish citizenship by: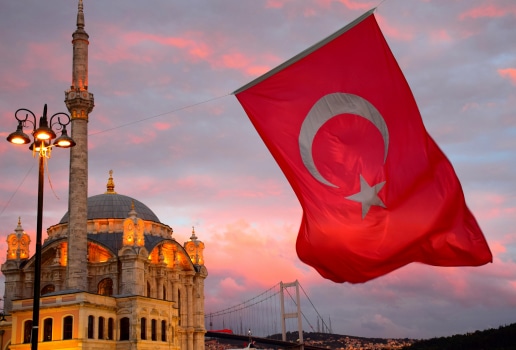 Purchasing real estate worth at least $400,000 or investing the same in land acquisition. You can invest in multiple properties if you wish and still qualify for the Turkey citizenship by investment scheme.

Making a bank deposit of at least $500,000 into a Turkish bank account and maintaining it for at least three years. The deposit can be in dollars, an equivalent foreign currency, or Turkish Lira.

Contributing at least $500,000 to government bonds. This can be in dollars, an equivalent foreign currency, or Turkish Lira.

Making a minimum capital investment of $500,000 into a real estate investment fund or venture capital investment fund. The investment can be in dollars, an equivalent foreign currency, or Turkish Lira.

Creating full-time jobs for at least fifty people, as stipulated by the Ministry of Family, Labor, and Social Services
After supplying the documents required for the citizenship application, making the minimum investment, and passing through all due diligence checks carried out by the Turkish Embassy in your home country and the Turkish immigration authority, you'll obtain Turkey citizenship and a Turkish passport. Second or multiple citizenships are also valid in Turkey, so you don't need to worry about losing or renouncing your home country's citizenship.
At Global Citizens Solutions, we offer a service tailored to your specific needs. Our team of experts is ready to help you with your application, working diligently from start to finish to ensure a successful application.
Citizenship by naturalization
Obtaining Turkish citizenship and a Turkish passport can be quite a lengthy process compared to a Turkey passport acquired through investment. Here is a list of the main prerequisites to obtain Turkish citizenship:
Residency:

Applicants must maintain valid residence permits for six years uninterrupted.

Turkish language proficiency:

Applicants are generally required to demonstrate a basic level of proficiency in the Turkish language.

Good moral character:

Applicants must have a clean criminal record and be of good moral character. Any criminal convictions or activities that are deemed incompatible with Turkish citizenship may affect the application.

Financial stability:

Applicants must have sufficient financial means to support themselves and any dependents in Turkey. The specific financial criteria may vary based on the circumstances, such as the applicant's marital status and number of dependents.

Integration:

Applicants are expected to demonstrate integration into Turkish society, culture, and way of life. This can include factors such as participation in community activities, knowledge of Turkish customs and traditions, and assimilation into Turkish society.
Upon meeting the required eligibility criteria, a foreigner with a Turkish residence permit can submit an application for citizenship. It should be noted that the Turkish law for naturalization doesn't provide the right to citizenship, and the decision ultimately lands with the Turkish government for any persons who meet the eligibility criteria.
Birthright citizenship
Turkey immigration laws for birthright citizenship have a relatively broad scope of acceptance. Children born in Turkey or with a Turkish mother or father can claim Turkish citizenship at birth.
Citizenship by marriage
The foreign spouse of a Turkish citizen is eligible for naturalization and a Turkey passport after three years of marriage and three years of residence in Turkey.
Six Ways to Get a Turkish Passport
A minimum investment of $400,000

Being born in Turkey

At least one Turkish parent

Marriage to a Turkish national and at least three years of residence in Turkey

Six years of residence in Turkey, the ability to speak Turkish, financially stable, and proof of integration into Turkish society

For special merits and significant contributions to Turkey
Dual Citizenship in Turkey
Turkey recognizes and permits dual and multiple citizenships, regardless of your current nationality. You are not required to relinquish your original passport or citizenship from your country of origin. This flexibility allows new Turkish passport holders to maintain ties to their native countries while also benefiting from establishing a permanent connection with Turkey. Bear in mind that dual citizenship is contingent on your home country also permitting dual citizenship.
Turkey Passport Costs
Once you've acquired Turkish citizenship, you can apply to get a Turkish passport. A Turkish passport has several validity periods available to citizens. The cost of a Turkish passport as per its validity is as follows: 
Six-month Turkish passport = about $34

One-year Turkish passport = about $50

Two-year Turkish passport = about $80

Three-year Turkish passport = about $115

Four to ten-year Turkish passport = about $162
How to get second citizenship?
Securing citizenship by investment is becoming increasingly popular in today's globalized world. Many countries now provide such schemes, where you are able to gain citizenship by making a minimum investment into a country's economy, thus benefiting the host country and creating better financial and personal freedoms for yourself and your family members.
Global Citizen Solutions is a boutique global citizenship and residence advisory firm providing citizenship and residency solutions to international clients. Contact us today to begin your journey to obtain true global citizenship.
Some of the countries that we currently offer citizenship or residency by investment are the following:
About the Global Passport Index
While mobility is evidently a fundamental aspect of a passport, we believe that to rank passports solely based on this is somewhat one-dimensional.
We wanted to include investment opportunities and quality of life factors into the mix – two aspects that we feel are crucial to uncovering the true strength of a passport and what a modern country has to offer.
To create our Global Passport Index, quantitative data like composite indicators were used to analyze specific criteria that determine the attractiveness of a passport.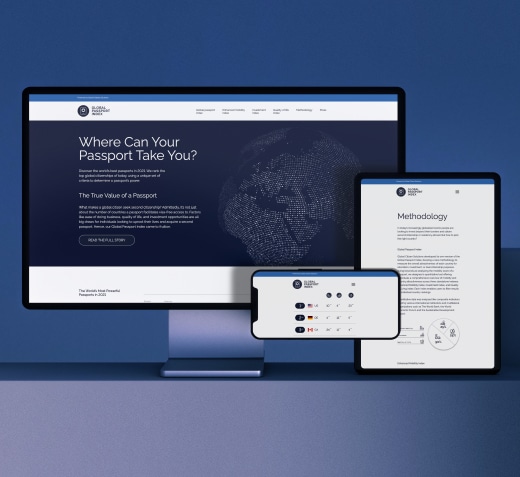 The ranking is based on data from various institutions and multilateral organizations, such as the World Bank, the World Economic Forum, and the Sustainable Development Report, and was put together in collaboration with senior analysts.
Our full methodology can be found here.
Frequently Asked Questions about Turkish Passports
What types of passports does Turkey have?
There are four different types of Turkish passports:
Ordinary passport (Umuma mahsus pasaport): Also referred to as a Maroon Passport (Bordo pasaport), an ordinary passport is issued by Turkish authorities to a Turkish citizen.
Service passport (Hususi pasaport): A Service passport – also known as a Grey passport (Gri pasaport) – is issued to Turkish citizens in service to Turkey and who conduct Turkish missions abroad, but are not eligible for diplomatic passports. Service passport holders include those who travel abroad for government/service purposes, national athletes, and Turkish citizens working for international organizations of which Turkey is a member.
Special passport (Hizmet pasaportu): Commonly referred to as a Turkey Green passport (Yeşil pasaport), a Turkish Special passport provides enhanced commercial travel privileges, such as visa-on-arrival and visa-free access to all EU countries that impose visa requirements for entry on ordinary Turkish passport holders as well as other countries they can enter visa-free.
The passport is issued to specific Turkish citizens with five years of civil service to the state. This includes former members of the National Assembly, academics with at least 15 years of academic or scientific research, and non-metropolitan mayors.
Diplomatic passport (Diplomatik pasaport): With the common name of Black Passport (Siyah pasaport) in Turkey, a Diplomatic passport is issued to Turkey government employees and senior officials. These include the consulate general, members of the National Assembly, diplomats, former presidents, and prime ministers, and provincial governors and metropolitan mayors.
How strong is a Turkish passport?
A Turkish passport is relatively strong but doesn't facilitate visa-free access or visa-on-arrival travel to tier-one passport countries such as the United States, Australia, and the entire European Union. A stronger Turkish passport is the Turkey Special passport, which allows passport holders to travel visa-free to countries in the European Union.
Check out our Global Passport Index to find out the strength of a Turkish passport.
Can I enter Turkey with a passport that expires in six months?
You can enter Turkey with six months left on your passport. In order to get a Turkish entry stamp, your passport validity must be at least 150 days (five months) from the date you arrive, and there should be a full blank page for the entry and exit stamps. Turkey visa regulations mean you may be denied entry if you have less than 150 days remaining on your passport.
In terms of Turkish visa regulations for foreigners, British and US citizens traveling to Turkey can spend 90 days in any 180-day period in Turkey.
How many countries can I visit with a Turkish passport?
Turkish passport holders have visa-on-arrival travel, visa-free, and e-visa (electronic/online visa) access to 148 countries. Turkish passport holders visa-free countries include Caribbean nations, Brazil, El Salvador, Panama, Japan, South Korea, and Singapore. You also won't need Turkish entry and exit stamps.