The sovereign island city-state nation of Singapore is well known as an expat and investment hub. However, when it comes to Singapore passport power, where does the nation rank? And what attracts expats to this Southeast Asian country?
Global Citizen Solutions have developed a new Global Passport Index that takes into account mobility, but also investment opportunities, and quality of life factors to create a multi-dimensional approach to passport rankings. We have incorporated data from the World Bank, World Economic Forum, Sustainable Development Index, amongst others, to create a well-rounded, complete ranking system. In our Global Passport Index, Singapore ranks as having the 13th strongest passport in the world.
Singapore Passport Ranking 2023
Whether it's protecting financial assets, relocating, or unlocking better opportunities for family members, there are several reasons why individuals are increasingly looking for second citizenship options. The Global Passport Index uses a quantitative scoring system to examine the "desirability" of a country's passport based on mobility, investment and business potential, and quality of life.
Considering these three factors, our Global Passport Index covers three indicators. Singapore's rankings for each can be seen below.
1. The Enhanced Mobility Index: carries the most weight (50 percent) and is based on the number of countries that the passport holder has access to, alongside the 'desirability' of the country, in terms of quality of life standards.
Singapore's Ranking: 1st
2. The Investment Index: covers 25 percent of the overall weight and is based on the country's economic strength, based on financial prosperity and ease of doing business.
Singapore's Ranking: 1st
3. The Quality of Life Index: accounts for 25 percent of the overall calculation. Six components related to the quality of life are covered under this index – sustainable development, cost of living, level of happiness, environmental performance, freedom, and migrant acceptance.
Singapore's Ranking: 108th
For more information, see Singapore's country page here.
Singapore Passport Power: Easy Mobility
When it comes to mobility, the Singapore passport is the best in the world. This is probably because the country is very expat-friendly and focused on instigating foreign investment – indeed Singapore ranks top in the Investment Index also, indicating that the two go hand in hand.
Singapore allows visa-free access or visa on arrival to 174 countries, including the USA, the European Union, Canada, South Korea, and the United Arab Emirates. This makes it very easy for either tourist or business travel.
Singapore Passport Power: A Top Investment Hub
Singapore is the strongest passport in the world in terms of investment opportunities and ease of doing business. This is parallel to the fact that Singapore is an extremely welcoming country for expats. Indeed, for entrepreneurs that are looking to expand their business operations to the Asian market, then Singapore is a no-brainer, with the country being a cornerstone for trade.
Singapore has a Gross National Income (GNI) per capita of $102.450 and personal taxation of 22 percent, and ranks highly on each aspect of markets and innovation – innovation capability, financial system, product market, market size, labor market, and business dynamics, making it a 'most favorable' country in which to invest.
Singapore has a very progressive legal system and regulatory framework, and well-developed infrastructure in place, making Singapore an attractive hotspot for entrepreneurs and expats looking to do business in Asia. Alongside this, there are favorable lending options, tax incentives, and attractive real estate options in which to invest.
Singapore also has a stable political system and investors can be granted Singapore citizenship after living in the country for two years as a resident and making a significant investment into the country.
Singapore passport power: Quality of life
The low ranking in the Quality of Life Index is why Singapore only ranks 13th overall in the Global Passport Index. This is largely due to the country's high cost of living, but also because Singapore also ranks as having a low migrant acceptance.
On a more positive note, Singapore has a very high happiness level and boasts a high environmental performance. The level of sustainable development is 'very high" and there is a partially free level of freedom of speech.
The World's most powerful passports:
The most powerful passport in the world is Germany, followed by the USA (2nd), Sweden (3rd), Denmark (4th), Netherlands (5th), Finland (6th), UK (7th), Canada (8th), Norway (9th), and Switzerland (10th).
How to Get a Second Citizenship
Global Citizen Solutions' pioneering Global Passport Index allows viewers to see the most desirable passports. Nowadays, individuals are looking to gain citizenship through non-traditional routes, outside marriage, naturalization, and birth. 
Indeed citizenship-by-investment is a very attractive option to increase financial stability and to open the doorway to the perks of travel, work, and study options in other countries – basically allowing the holder to become a truly global citizen. 
Global Citizen Solutions is a boutique global citizenship and residence advisory firm, providing citizenship and residency solutions to international clients. Contact us today to begin your journey to obtain true global citizenship. 
Some of the countries that we currently offer citizenship or residency by investment are the following:
About the Global Passport Index
Passport rankings in the past have typically focused on the number of countries that allow visa-free access, with those that allow easier mobility and great access ranking highly. However, we believe that this is an oversimplified approach and that there are other important benefits that are fundamental to consider when acquiring a second passport – such as investment opportunities and quality of life.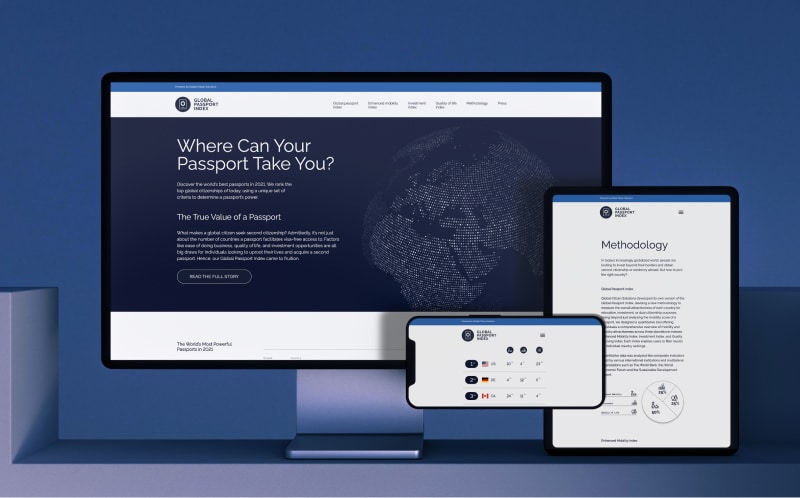 To create our Global Passport Index, quantitative data like composite indicators were used to analyze specific criteria that determine the attractiveness of a passport. The ranking is based on data from various institutions and multilateral organizations, such as the World Bank, the World Economic Forum, and the Sustainable Development Report, and was put together in collaboration with senior analysts.
Our full methodology can be found here.