Making proper financial arrangements for purchasing a property in Portugal is essential. A mortgage should be one of the first things to consider before buying a property in Portugal.
As a foreigner or non-resident, if you are looking to buy property in Portugal and want to use a mortgage to finance the purchase, now is a good time because the banks are lending again thanks to the economic recovery and the solid real estate market.
In this article, we will talk about when to start thinking about mortgage in Portugal, the documentation required and the criteria you need to meet to be able to get financing for a property purchase in Portugal.
Mortgage in Portugal
Portugal has an outstanding reputation for welcoming ex-pats, and the conditions for getting a mortgage are somewhat straightforward.  In general, mortgages are the most common way to finance a property investment in Portugal. Both residents and non-residents can apply for a mortgage from Portuguese banks.
As per the date of this article, variable mortgage rates in Portugal start at 3.3% per year based on a 30% loan-to-value. Such rates may increase if you require more credit, say 60% or 70% loan to value. Alternatively, fixed rates are available at 4.1% for up to 5 years based on loan to value ratios of up to 70%.
Why should I take out a Portuguese loan?
If you already own a property in another country with sufficient equity, you may choose to take out an additional mortgage, or even a new one on that property to finance your purchase in Portugal.
However, conditions in Portugal improved over recent years, and there is increased interest from lenders in assisting foreigners with lending solutions.
Benefits of taking out a mortgage
The key benefit of taking out a Portuguese mortgage is that the lender will carry out legal checks on the property and arrange for a valuation to take place.
Another benefit is that should you decide to let your property in short- or long-term contracts, your rental income in euros may offset or cover the mortgage payments in euros from your Portuguese bank, which naturally hedge any currency risk. Should you decide to use non-euro mortgage facilities abroad, you would be exposed to foreign currency risks.
Some other benefits of getting a mortgage include:
Mortgages have low rates
Foreigners with no residency in Portugal can still get a mortgage from Portuguese banks
Properties purchased on credit can be rented out without restrictions.
Mortgage installments rates are generally low
At what stage should I apply for a mortgage in Portugal?
It is advisable to start the mortgage process as early as possible, even if you are not totally sure of the kind of property you want to buy. Starting the process early helps you to know what you can afford and how much you can access through credit financing. This way you streamline your property search and make quicker decisions on prices with the seller, and it may also help you negotiate the price as it will show you are a serious buyer.
Compare mortgages from different banks
The first thing to do is to compare banks. In Portugal, there are over 15 banks that provide different mortgage loans and credit to buy a house. Some of these banks include BBVA, Santander, Bankinter, Banco Best, Banco CTT and several others.
Each bank in Portugal has different criteria, and you may not necessarily be offered the most suitable loan, or the best deal available. You may also encounter difficulties with language barriers.
Our specialist team at Global Citizen Solutions can introduce you to an English-speaking banker to match your profile which will save you a lot of time, cost and hassle.
What types of mortgages are available in Portugal?
Fixed-rate mortgage
The fixed-rate mortgage basically allows borrowers to pay a constant rate for a certain period. It generally guards you against fluctuations in the European base rate. This rate is usually agreed upon with the financial institution when requesting financing. For some lending institutions, this rate is fixed for the entire life of the loan while for some other financial institution it is usually for a certain period during the life of the loan. If the latter is the case of the rate, then it reverts to a variable rate mortgage. Also, if you decide on early repayment you may be charged a fine on repaid capital.
Variable-rate mortgage
With this type of loan, your monthly payment fluctuates depending on the indexer (the index that is normally used in housing loans is EURIBOR). Over the repayment period, the monthly payments are usually revised every six months based on Euribor rates. Also, if you decide on early repayment you will be charged 0.5% on the repaid capital.
You should also know that the maximum loan-to-value mortgage in Portugal for non-residents is between 60% to 70% of the purchase price.
There's also the option for a construction mortgage. You can usually borrow 50% to 60% of the combined costs of the land and construction, however, these mortgages are complex and specialist advice from a mortgage broker is advisable.
Mortgage in Portugal for retirees
As a retiree in Portugal, you can also get a mortgage in Portugal provided you have a regular pension income. You can also arrange a guarantor, which can be beneficial in terms of inheritance tax if they are also a part-owner of the property.
Mortgage in Portugal for businesses
It is also possible to get financing if the property you intend to buy is for commercial use, such as a restaurant or a shop. The maximum mortgage is usually 50% of the price (or valuation if lower).
How much do I need to deposit?
For a Portuguese mortgage, the minimum deposit is usually at least 30% of the purchase price for non-residents, because financing institutions provide only between 60% to 70% credit of the valuation price.
Mortgage Conditions

Interest rate – the rate used for home loans in Portugal is Euribor after which the bank applies its margins.
Terms of mortgage – most mortgages in Portugal for non-residents are between 25 to 30 years.
Lending criteria – this usually depends on your financial position which is determined by your current income earnings, debts and employment history. Also considered here is the property valuation by the bank.
Insurance – When contracting a mortgage loan, you will have to contract life insurance as well. In some cases, the banks usually require home insurance too.
Costs and fees for mortgages in Portugal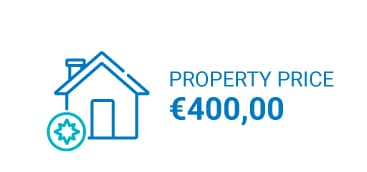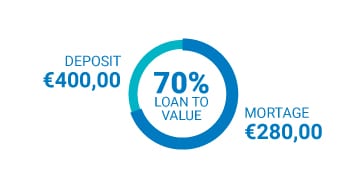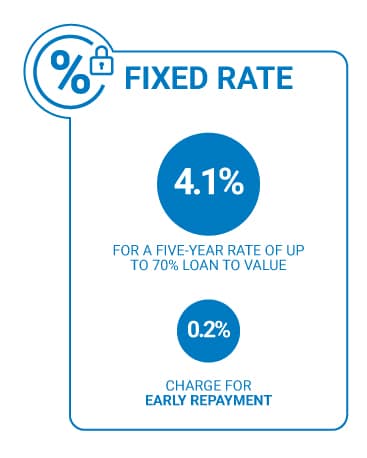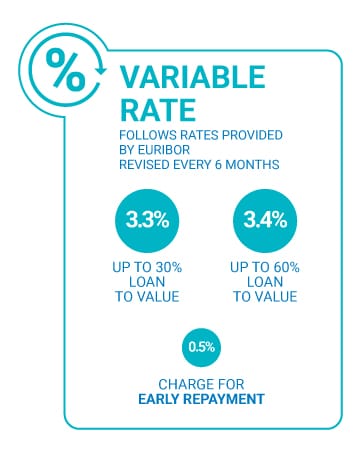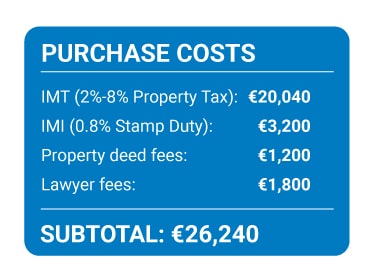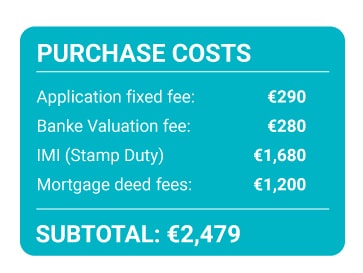 Cost of purchasing a house in Portugal
Property tax (IMT) ranges from 2% to 8%
Stamp Duty Tax (IMI) 0.8% of the price of the property
€1,200 notary, registry, and tax office fees for property deeds
€1,800 estimate of legal fees
Cost of taking out a mortgage in Portugal
€290 Application fixed fee
€280 Bank valuation fixed fee
Stamp Duty Tax (IMI) 0.6% amount of mortgage
€1,200 notary, registry and tax office fees for mortgage deeds
How to apply for a mortgage: step-by-step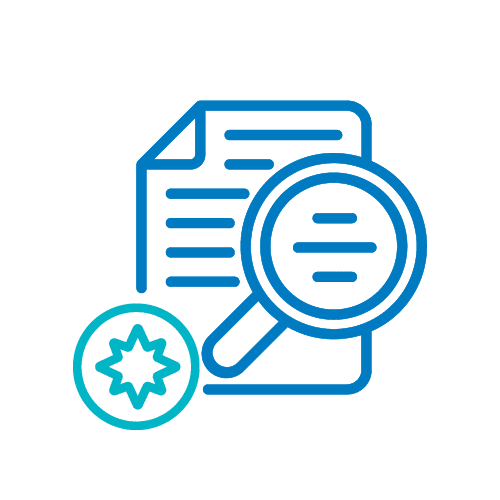 1. INITIAL ASSESSEMENT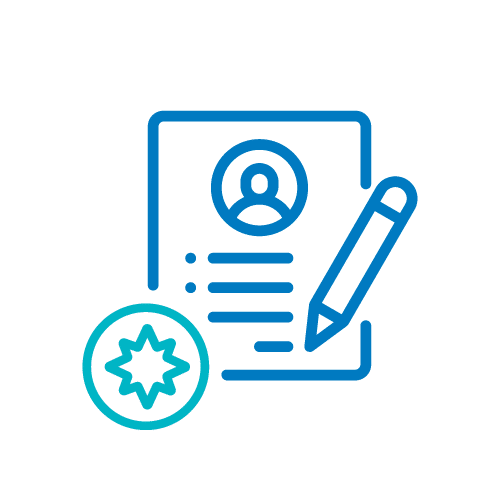 2. SUBMIT APPLICATION FORM AND NECESSARY DOCUMENTS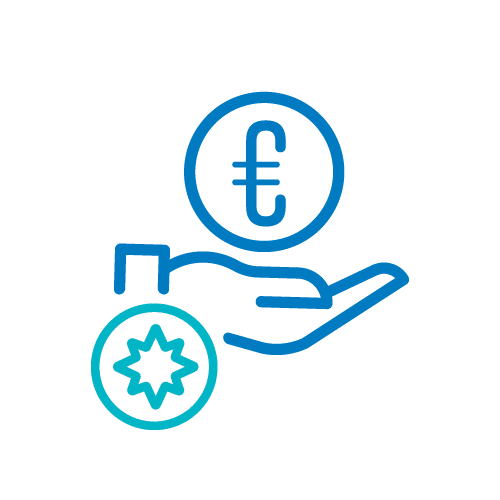 3. FORMAL OFFER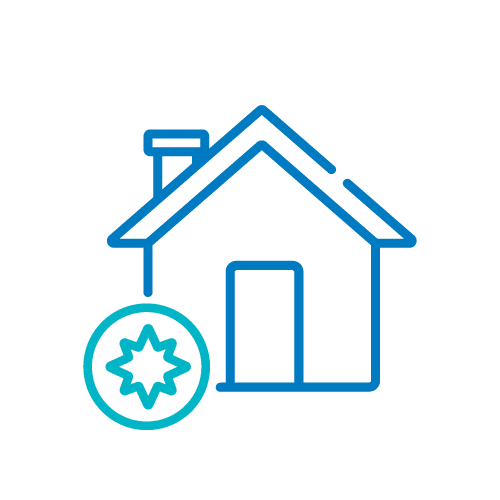 4. VALUATION OF PROPERTY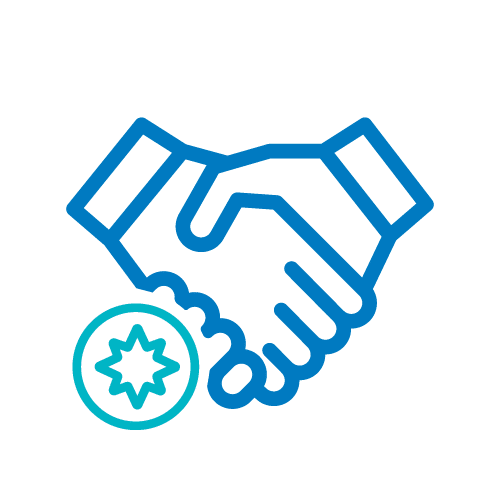 5. ARRANGEMENT OF COMPLETION OF SALE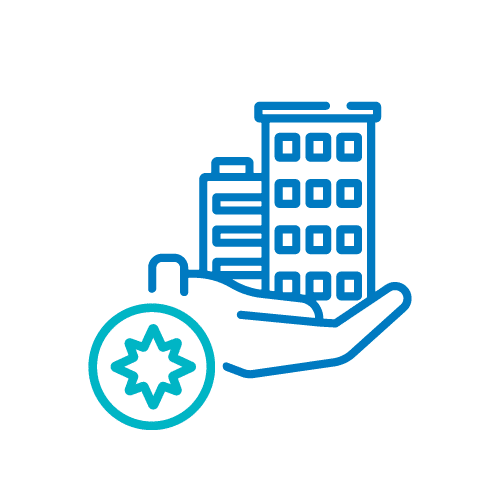 6. COMPLETION OF SALE
The application process begins with an initial approach to the bank or mortgage broker for a no-obligation estimate or preliminary analyses.
Following this initial assessment, the following process usually applies:
1. Mortgage quote: After the initial assessment, if you wish to proceed you will receive a full mortgage quote within 24-48 hours. There is normally a charge to prepare a formal quote.
2. Submit application forms: The next step after receiving a formal quote is to complete the relevant application form and submit the necessary supporting documents.
3. Mortgage offer: If the mortgage is approved, you will receive a formal offer. Your broker will confirm the conditions of the offer and assist with the proceedings.
4. Valuation report: Once you have received a formal mortgage offer the bank will carry out a valuation of the property. If the valuation is at least the agreed purchase price and there are no legal issues relating to the property, the date and details regarding completion of the property purchase will be confirmed.
5. Completion arrangements: The funds for the property purchase must be available and transferred to the appropriate account before the completion date. Once you have proven the
funds are available, the lender will proceed with the mortgage application and a completion date will be arranged.
6. Completion: The Portuguese mortgage lender will arrange payment. Once the property and mortgage deeds are signed in front of the Portuguese Notary and all the associated fees and taxes have been paid you become the official new owner of the property.
It is crucial that you provide all the most up-to-date documents at once to avoid delaying the process.
Talk to a specialist
The process of financing and buying a property in Portugal can seem complicated, which is why talking to a specialist can help. Our team at Global Citizen Solutions is here to help guide you seamlessly through the process.
Documents required to get a mortgage in Portugal
If you are going to apply for a Portuguese mortgage, you may be asked to submit the following documents:
Copy of passport

Tax identification number (NIF) in Portugal

 – you will need to register for a Portuguese tax number, though this doesn't mean you will necessarily be a tax resident in Portugal and liable to pay income tax in the country
Proof of income
Bank statements – last 60 days of incoming and outgoing cash flow
Recent utility bill
Recent mortgage statement
Proof of any savings or investment accounts
Bank reference letter
Property details – purchase commitment or sales contract
These documents vary depending on your employment status i.e. either employed, self-employed or retired.
If employed
Last year tax returns
Last three months' payslips
Reference letter from employer (a simple letter stating how long you have been working with the company and your gross annual salary, bonus, etc).
If self-employed (hold a 20% or more share in a limited company)
Last year's tax return
Last three months of business bank statements
3 years of company profit & loss and balance sheet
Other income
Confirmation of pension income for the last 3 months
Copy of tenancy agreement for rental properties
Last 3 months of statements showing rent received
Copy of investment certificates
Also, depending on the level of risk assessment the bank may request additional documents.
Portuguese mortgage terminologies
When looking through your Portuguese mortgage contract below are some terminologies you should watch out for:
TAEG: This is known as the Effective Annual Rate (EAR) in English. The EAR varies from bank to bank, so you should look at this when comparing the offers.
EURIBOR: This the basic rate of interest used as a reference for setting the interest rate on home loans in Portugal. This is important especially on the variable mortgage, as it is indexed to the EURIBOR (usually in a 6-month period).
MTIC: This represents the total amount that you will have to pay for the credit (it already includes the capital as well as the interest).
Who we are and how can we help
Global Citizen Solutions is a boutique investment migration consultancy firm focused on finding the right residency or citizenship by investment program for individuals wishing to secure their future and become global citizens.
With offices in Portugal, United Kingdom, Hong Kong, and Brazil, our multilingual team guides individuals and families from start to finish, providing expert advice considering freedom, mobility, taxation, and security.
Take the next step towards investing in Portugal and get in touch with our team of specialists today.
Frequently asked questions on mortgages in Portugal
What is the maximum loan to value for Portuguese mortgages?
The maximum loan to value for Portuguese Mortgages for non-residents is between 70% to 80% of the purchase price of the property.
How much can I borrow in Portugal?
Most banks will only offer loans between 65% to 80% of the value of the property to non-residents.
What are the lending criteria for a mortgage in Portugal?
The banks in Portugal usually take into consideration the borrower's financial position and the property's valuation when analyzing mortgage approval.
Should I buy property in Portugal?
Buying property in Portugal is a good investment. You can benefit from low mortgage rates as well as being eligible for Portugal's Golden Visa Program. You can find out more in our guide on buying property in Portugal .
You can also find out more about the Golden Visa in our step-by-step guide for 2022 here.
What are the benefits of a Portugal mortgage for foreigners?
The cost of borrowing for a mortgage in Portugal is normally less than the cost applicable to an equivalent UK mortgage mainly because Euro Interbank Offered Rate is historically lower than the London interbank offered rate.
Can I add the IMT tax due to the total mortgage sum?
No, unfortunately in Portugal you must pay for the IMT separately.
Can you get a mortgage in Portugal as a foreigner?
Yes, you can get a mortgage in Portugal as a foreigner, and in fact it can be easier to get a mortgage in Portugal if you are intending on buying property in the country.
Is it better to get a Portuguese mortgage?
Lending conditions in Portugal currently favor buyers, and there are many options available to foreign investors. Taking out a mortgage in Portugal also means that the bank will carry out legal checks on your property before you buy.
How do I apply for a mortgage in Portugal?
There are a number of necessary documents required for applying for a loan in Portugal, including bank statements, ID, a Portuguese tax number and property details among others. It is best to consult a specialist for specific details.
How much do I need for a deposit on a Portuguese home loan?
For foreigners, the deposit for a Portuguese mortgage is usually 30%.
What is the age limit to take out a mortgage?
Many lenders impose an age cape at 65-70, but the mortgage can roll out into retirement provided that the person has a comfortable pension.
Can retirees take out a mortgage in Portugal?
As a retiree,  you can acquire a mortgage in Portugal provided you have a stable pension income.  Most banks will not offer a mortgage to individuals who are over 70 years old.  However, some banks will extend this limit to 80.
What is the lending criteria for a mortgage in Portugal?
Generally, you need to have all your documents in order including a valid ID, proof of home address,
proof of income (payslips / self-employed accounts or tax returns.
How long does it take to buy a house in Portugal?
It typically takes around six months to land a property including sorting out all the paperwork and signing the promissory contract.
Is it difficult to get a mortgage in Portugal?
Getting a mortgage in Portugal is super straightforward. Portuguese banks offer mortgages to both residents and non-residents. If you plan well and have all your paperwork together, then the whole process is smooth sailing.
---