Did you know Croatia has more than 1,000 islands? Thanks to its proximity to the Adriatic Sea and pleasant Mediterranean climate, Croatia is a popular tourist destination in the Balkans.
This country is also emerging as a go-to destination for digital nomads thanks to its new digital nomad visa program. Read on to learn more about the Croatia digital nomad visa, how to apply, and what to expect when working remotely in the Balkans.
Croatia Digital Nomad Visa Eligibility Criteria
Who is eligible for the Croatian digital nomad visa? First of all, you must have a remote job with a company registered outside of Croatia (i.e., not a Croatian company). You can work remotely for your business as long as you register it in another country.
Some passports make you ineligible for this program. If you're a citizen of an EU or EEA country or have a Swiss passport, you'll have to apply for a temporary residence permit instead. You won't need to apply for a Croatian visa if you have a Croatian passport.
Having a criminal record also makes you ineligible.
Requirements for the Croatia Digital Nomad Visa
The Croatian government wants to see that you're able to support yourself during your stay in Croatia. As of March 2023, you'll need to prove that you have at least €2,539.21 per month, the equivalent of $2,713.
You can prove that you meet the Croatia digital nomad visa income requirements by showing a bank statement with enough money to support yourself during your entire stay, or submitting pay slips for the past six months showing you earn at least $2,713 a month.
You'll also need to prove that you have a valid remote job. You can submit an employment contract or a statement from your foreign employer.
You'll need a travel passport to enter Croatia. The expiration date shouldn't exceed the end of your stay by more than three months.
Croatian immigration officials will also want to see proof of residence, such as a rental agreement with your address in Croatia (note that this can be a temporary address) and proof of insurance from a private insurer.
How To Apply for a Digital Nomad Visa for Croatia
The visa application process is simple. You'll need a valid passport, proof of income, proof of health insurance, a statement describing the purpose of your visit, your criminal record, and proof of residence. Note that you'll need to submit documents in English and Croatian.
As a US citizen, you can enter Croatia without a visa and stay for 90 days to visit the country. Once inside Croatia, you can apply for a Croatia remote work visa in-person at a local police station.
If you want to apply for your Croatia digital nomad visa before entering the country, there are two options available.
Apply for a Croatia digital nomad visa at a Croatian Embassy
Croatia has over 50 embassies, including 11 in the US You can call the closest Croatian Embassy and schedule an appointment.
You can submit your application form in person, submit your supporting documents, and pay the application fee during your appointment.
Apply for a Croatia digital nomad visa online
There is a convenient online platform where you can apply for your Croatia digital nomad visa and upload your supporting documents.
Start this process by filling out the Croatia digital nomad visa apply form with your personal information, country of citizenship, and more. The platform will prompt you for the required documents and the application fee.
Note that if you need a visa to enter Croatia, once you have been told that your temporary stay is granted, you will need to contact the Croatian Embassy or consulate a second time to obtain a visa that allows you to enter the Republic of Croatia or a biometric residence permit. We recommend asking if the option of getting a biometric residence card is possible at the Croatian Consulate or embassy. With either option – biometric residence card or temporary visa – this will act as a visa to enter Croatia.
Benefits of the Croatia Digital Nomad Visa
A Croatia digital nomad visa allows you to live in Croatia while supporting yourself. You can stay up to a year, which gives you plenty of time to familiarize yourself with Croatian culture and experience the country like a local.
Here are a few additional reasons to consider Croatia:
The cost of living is affordable. Remote workers are usually able to live comfortably.

Croatia recently entered the Schengen Area. It means your Croatia

digital nomad visa

is a Schengen Visa that gives you access to other European countries for tourism purposes.

Croatia is

open to the world

. Many people speak English and will engage foreigners in conversation.

There is a reliable public transit system, so you can explore the country.

You can drive a car with a

foreign driver's license

for up to 12 months.

There is a lot to do between the historical landmarks, museums, restaurants, beaches, and more.
How much does the Croatia digital nomad visa cost?
The Croatia digital nomad visa costs around €60 or $64. Applying for a digital nomad visa for Croatia is affordable, but keep in mind that you'll need to purchase private health insurance for a year, which can end up being expensive.
How long does it take to process a Croatia digital nomad visa?
The Croatia digital nomad visa processing time typically lasts eight to 30 days. However, it can last longer if embassies are processing many applications.
The Croatian government recommends applying at least three weeks in advance.
Can I bring my family members?
The answer is yes. Your spouse and minor children can obtain a temporary residence permit through a family reunification visa. Note that you can only bring your spouse and children under 18 – only they are able to gain a residence permit. Other relatives won't qualify.
You must submit a marriage certificate for your spouse and birth certificates for your children. You can also apply if you have been with your partner for several years even though you're not married. You'll have to submit proof of your life in common.
Your family members must pass a background check and show proof of insurance and financial support. Your spouse and children won't be able to work, and you'll be responsible for supporting them by showing that you have an additional €90 or $96 per month per family member.
This official income requirement is low, and you should expect to spend more than $96 monthly on each family member. If your spouse wants to work in Croatia, they can apply for their own digital nomad visa.
The Validity of the Croatia Digital Nomad Visa
Your Croatia digital nomad visa can be valid for six months to a year, depending on your employment situation and ability to support yourself.
Can I renew my Croatia digital nomad visa?
You won't be able to renew your digital nomad visa and will have to leave Croatia when it expires. However, you can apply for a new visa after six months.
Where should I stay in Croatia as a digital nomad?
You'll need proof of residence when applying for your Croatia digital nomad visa. Learning more about different areas and securing your accommodation as early as possible is a good idea. Here are a few options to consider.
Best places for digital nomads in Croatia
Remote workers tend to favor major cities and the coastal area. Living in a city gives you access to public transit and walkable areas. Plus, staying in the coastal region allows you to make the most out of the amazing Mediterranean weather.
Here are some cities to consider:
Zagreb is the country's capital. Areas like Maksimir and Lower Town are affordable, and you'll find plenty of co-working spaces.

If you want to stay on the coast, Pula is a charming Mediterranean town with an ocean promenade and a laid-back atmosphere.

Zadar is another coastal city to consider. It's an ideal destination if you're into Roman ruins and art history.

Rijeka is a popular coastal destination with its market and castle. Plus, you can find boat tours to explore the nearby islands.

Osikej is the main city in the east of the country. There is plenty to do between the zoo, aquarium, and various museums. Life tends to be cheaper in the east compared to the coast.

Slavonski Brod is a small city in the east. It's affordable, and the historical buildings are worth seeing.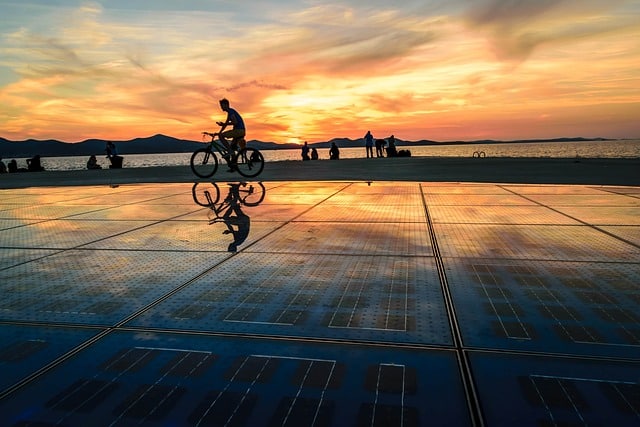 Discover the Digital Nomad Valley in Zadar
The Digital Nomad Valley is a community of remote workers in the Borik neighborhood of Zadar. It's a unique community where people can stay for weeks or months.
The goal is to offer comfortable living spaces and co-working amenities to people visiting the country on a digital nomad visa. The community organizes activities and allows you to connect with other remote workers.
It's a flexible option that can enhance your stay in Croatia and help you connect with people eager to explore Zadar and its surrounding areas with you!
Taxes for Digital Nomads in Croatia
The tax situation in Croatia is one of the reasons why this program is popular. Because it's a temporary visa, you won't pay any taxes in Croatia. However, you'll have to pay income taxes in your country of origin.
You won't pay income taxes in Croatia, but you should know that sales taxes tend to be higher than in the US There is a Value-Added Tax on goods and services ranging from 5 percent for essential items to 25 percent for most non-essential purchases.
Other articles
The following articles may be of interest to you. They include information on countries that offer digital nomad visas and where you can get a digital nomad permit, plus certain Golden Visa programs, where you can secure residency in Europe by making a qualifying investment.