Are you a Canadian, American, or expat looking for the best places to retire in Canada? Whether you're a local resident or considering a cross-border move, this comprehensive guide is designed to help you find the perfect destination to spend your golden years.
Canada offers a wealth of retirement spots that combine natural beauty, vibrant communities, and a high quality of life. From stunning coastlines to bustling urban centers, there is something for everyone.
Join us on a journey to explore the best places to retire in Canada, catering to the needs and preferences of both Canadian residents and those looking to relocate from the United States or abroad. Let's discover the ideal retirement destination that will fulfill your dreams and provide you with a fulfilling and enriching lifestyle in the Great White North.
Quick Overview of the Best Places to Retire in Canada
| | | | | |
| --- | --- | --- | --- | --- |
| | | | | |
| | | | | |
| | | | | |
| | | | | |
| | | | | |
| | | | | |
| | Newfoundland and Labrador | | | |
| | | | | |
| | | | | |
| | | | | |
| | | | | |
| | | | | |
| | | | | |
| | | | | |
| | | | | |
| | | | | |
The Top 15 Retirement Spots in Canada
01. Victoria: The Jewel of Vancouver Island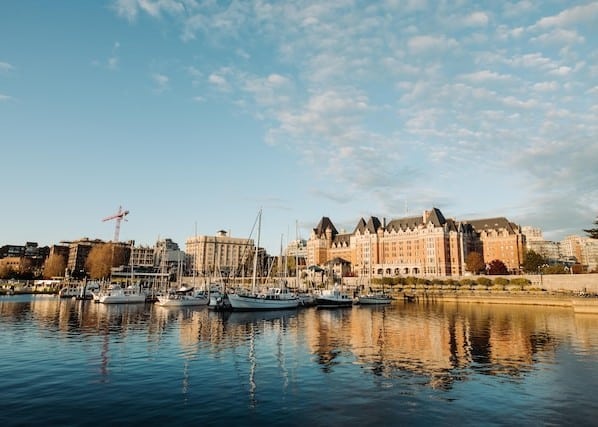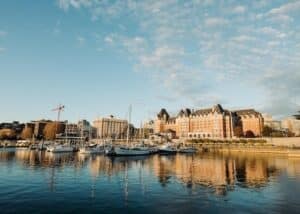 Nestled on the picturesque Vancouver Island, Victoria is often hailed as one of the best retirement destinations in Canada. With its mild weather, active lifestyle, and stunning natural surroundings, it offers a perfect blend of relaxation and adventure.
As the capital of British Columbia, Victoria boasts a thriving arts and cultural scene, top-notch healthcare facilities, and a wide range of recreational activities. Retirees can explore the famous Butchart Gardens, enjoy whale watching tours, or simply bask in the beauty of the Inner Harbour. With its vibrant retirement communities and welcoming atmosphere, Victoria truly captures the essence of a perfect retirement haven.
02. Calgary: Canada's Sunniest City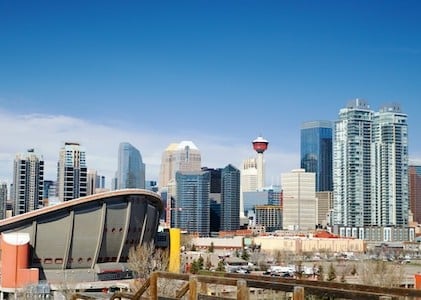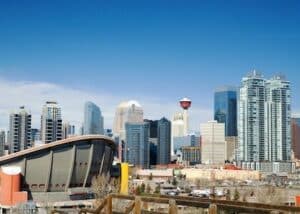 If you are seeking a cosmopolitan lifestyle coupled with abundant sunshine, Calgary should be at the top of your list. Ranked among the most livable cities globally, Calgary offers a vibrant cultural scene, world-class amenities, and stunning views of the Rocky Mountains.
With its low taxes, affordable living costs, and strong economy, this city attracts retirees from all walks of life. Outdoor enthusiasts will relish the opportunities for hiking, skiing, and exploring the nearby national parks. Immerse yourself in the lively atmosphere of the Calgary Stampede or indulge in the city's diverse culinary offerings. Calgary is a city where retirees can truly embrace the good life.
03. West Vancouver: Coastal Charm and Casual Lifestyle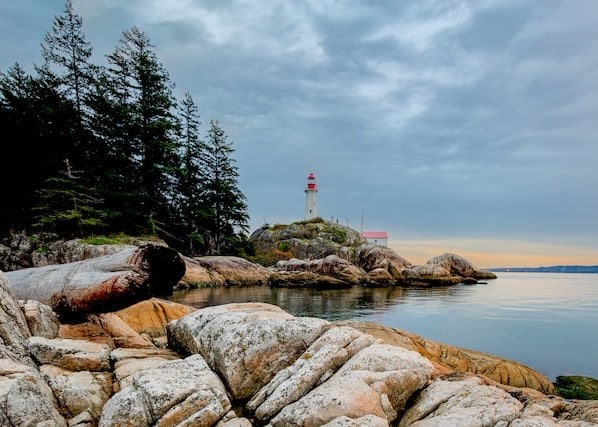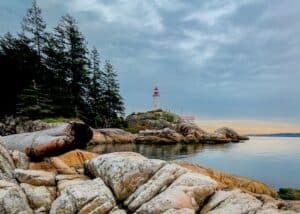 For those who yearn for the perfect balance between urban conveniences and natural beauty, West Vancouver beckons. Situated in the temperate coastal region, this district offers a casual and laid-back lifestyle amidst breathtaking landscapes.
From the stunning hiking trails of Cypress Provincial Park to the vibrant arts scene, West Vancouver has something for every retiree. Enjoy panoramic views of the city skyline, explore the local parks, or simply relax on the sandy beaches. With its low crime rate and high quality of life, West Vancouver is a true gem for retirees seeking tranquility and beauty.
04. Niagara Falls: Nature's Spectacle and Scenic Living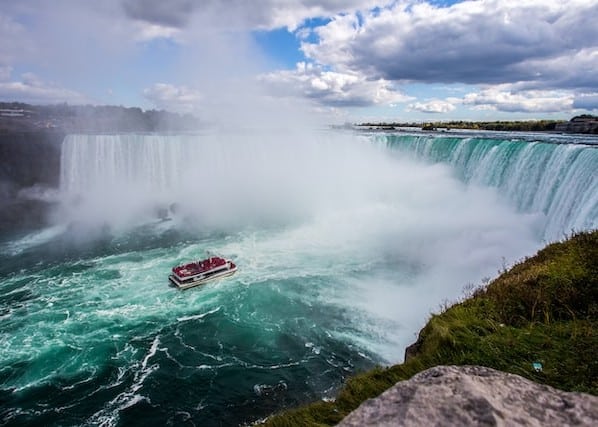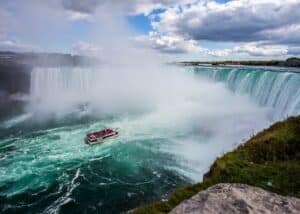 When it comes to iconic natural wonders, few can rival the majestic Niagara Falls. This world-renowned destination offers retirees a unique combination of scenic beauty, thrilling attractions, and a thriving cultural scene.
Nestled along the shores of Lake Ontario, Niagara Falls boasts stunning parklands, exciting casinos, and a host of museums and galleries. Imagine waking up to the sound of rushing water and exploring the Niagara Gorge or embarking on wine tours in the nearby vineyards. With its proximity to Toronto and the charming communities of Niagara-on-the-Lake, retirees can enjoy the best of both worlds in this remarkable retirement destination.
05. Canmore: All-Season Adventure & Mountain Splendor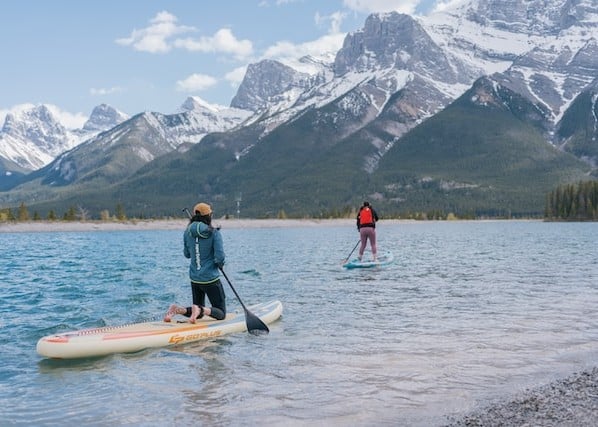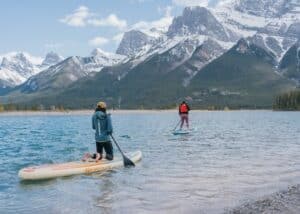 For outdoor enthusiasts and nature lovers, Canmore is a dream come true. Located in the heart of the Canadian Rockies, this vibrant town offers retirees a paradise of adventure and natural beauty.
From hiking and skiing to fishing and golfing, Canmore's recreational opportunities are boundless. Immerse yourself in the awe-inspiring views of the Three Sisters and Ha Ling Peak, or indulge in the local artisan shops and restaurants. Canmore's strong arts scene, robust economy, and friendly community make it an ideal place to retire. Experience the gratitude and joy of living in this mountain haven.
06. St. John's: East Coast Charm and Maritime Delights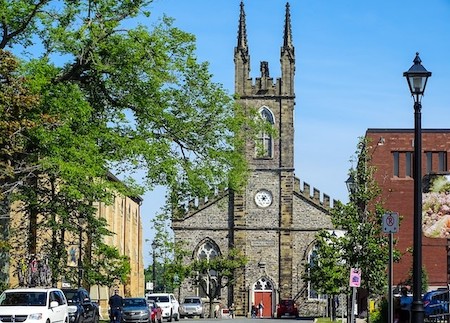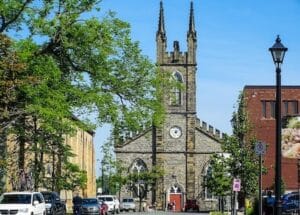 If you crave the charm of the east coast and a slower pace of life, St. John's should be on your radar. As the capital of Newfoundland and Labrador, this vibrant city offers retirees affordable real estate, scenic beauty, and a thriving arts and culture scene.
Explore the colorful row houses of Jellybean Row, attend the annual Newfoundland and Labrador Folk Festival, or simply soak in the breathtaking coastal vistas. With its friendly residents and strong sense of community, St. John's provides a welcoming haven for retirees seeking a relaxed and fulfilling retirement lifestyle.
07. Ottawa: Heart of the Nation's Capital Region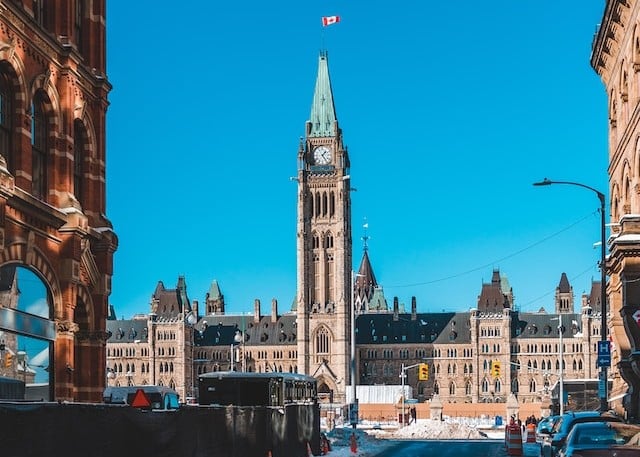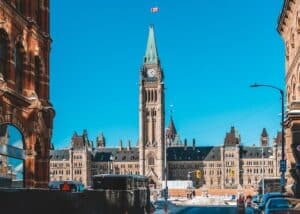 As the capital of Canada, Ottawa offers retirees a unique blend of history, culture, and natural beauty. Explore the stunning Rideau Canal, stroll through the picturesque ByWard Market, or immerse yourself in the world-class museums and galleries.
Ottawa's vibrant festivals, including the Canadian Tulip Festival, showcase the city's rich cultural heritage. With its strong real estate values, excellent healthcare facilities, and abundance of green spaces, Ottawa is a city that caters to the needs of retirees. Discover the vibrant lifestyle and sense of community that make Ottawa an ideal place to retire.
08. Picton: Lakeside Serenity and Gastronomic Delights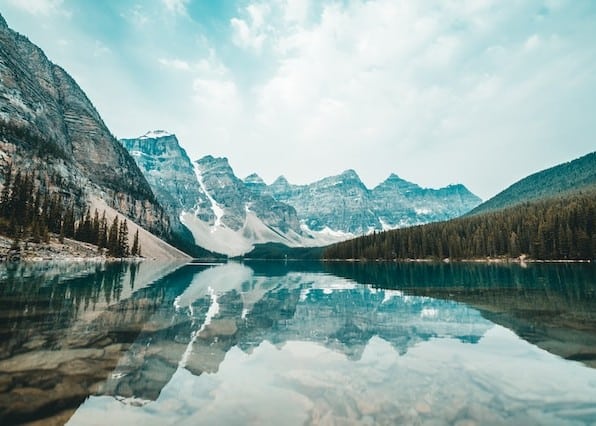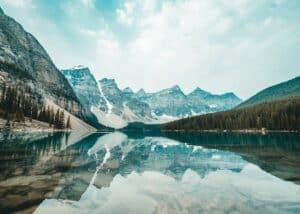 Tucked away in the idyllic Prince Edward County, Picton offers retirees a charming lakeside retreat filled with natural beauty and culinary delights. Surrounded by the Great Lakes, this hidden gem is renowned for its sandy beaches, vineyards, and thriving arts scene.
Indulge in the region's gastronomic offerings, explore the picturesque Sandbanks Provincial Park, or simply enjoy the relaxed pace of life. Picton's welcoming community, scenic landscapes, and small-town charm make it an ideal destination for retirees seeking tranquility and a vibrant cultural scene.
09. Saskatoon: Prairie Paradise and Cultural Richness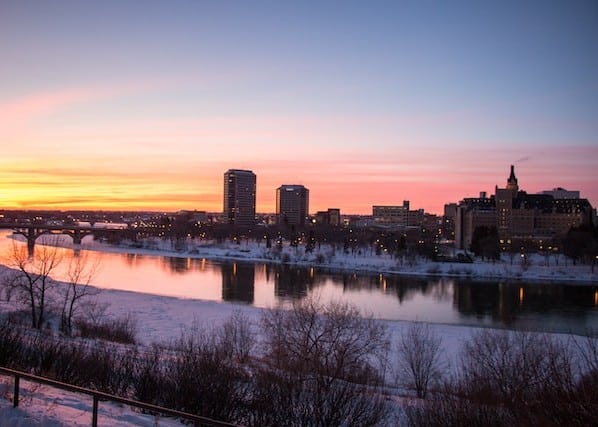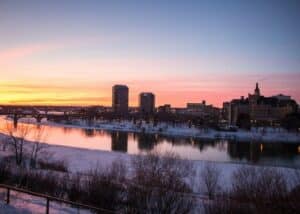 Often referred to as the "Paris of the Prairies," Saskatoon combines natural beauty with a thriving cultural scene. Located on the banks of the South Saskatchewan River, this vibrant city offers retirees a cool and breezy climate, numerous parks, and a rich history.
Explore the Wanuskewin Heritage Park, immerse yourself in the city's arts and music festivals, or simply enjoy the scenic river views. Saskatoon's affordable cost of living, friendly residents, and strong community spirit make it an appealing retirement destination. Experience the prairie charm and cultural richness of Saskatoon.
10. Montreal: A Cultural Melting Pot and Dynamic Retreat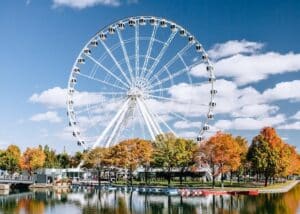 Nestled in the heart of Quebec, Montreal is a captivating city that blends cultural diversity with a vibrant urban lifestyle. Known as a cultural melting pot, this cosmopolitan metropolis offers retirees a rich tapestry of experiences and a dynamic retirement destination.
Immerse yourself in Montreal's thriving arts and music scene, with world-class museums and renowned festivals showcasing talent from around the globe. Explore the historic neighborhoods, such as Old Montreal, with its charming cobblestone streets and iconic architecture. The city's culinary scene is a true delight, featuring diverse cuisines, trendy restaurants, and bustling food markets offering tantalizing flavors and fresh local produce.
Montreal's distinct seasons add to its allure. From vibrant fall foliage to snowy winters, and lively festivals in the warmer months, there's always something happening. The city's strong sense of community and welcoming nature make it an ideal place to establish new connections and engage in social activities. Experience the cultural richness and dynamic spirit of Montreal, where every corner reveals a new adventure and lifelong memories await.
11. Vancouver: A Vibrant Coastal Haven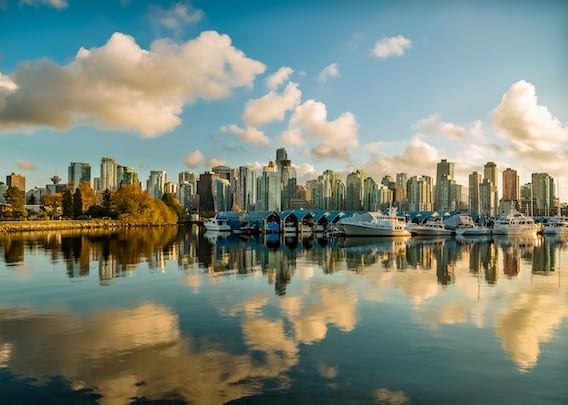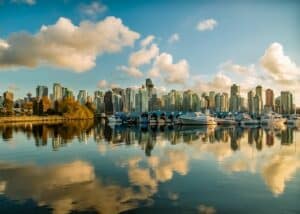 Nestled on the stunning west coast of Canada, Vancouver, BC, is a coveted retirement destination known for its natural beauty, cultural diversity, and vibrant city life. Surrounded by picturesque mountains, sparkling ocean waters, and lush greenery, Vancouver offers a captivating setting for retirees seeking a balanced and active lifestyle.
Nature enthusiasts will revel in the abundance of outdoor activities Vancouver has to offer. From hiking through scenic trails in Stanley Park to skiing on nearby mountains during the winter months, the region provides year-round opportunities to explore and connect with nature. The mild climate adds to the allure, with mild winters and comfortable summers making outdoor pursuits enjoyable throughout the year.
The city itself is a hub of cultural and culinary delights. With a thriving arts scene, world-class museums, and rich multicultural fabric, Vancouver offers a diverse range of experiences. From attending live performances at renowned theaters to sampling international cuisines in vibrant neighborhoods like Gastown and Granville Island, retirees will find endless opportunities to indulge in their passions and broaden their horizons.
12. Halifax: Coastal Charm and Maritime Delights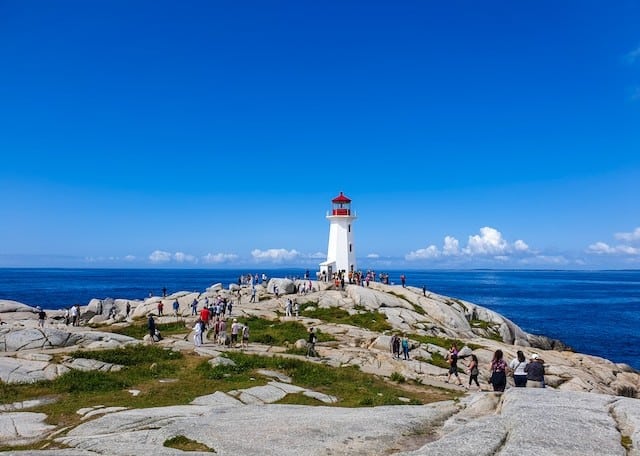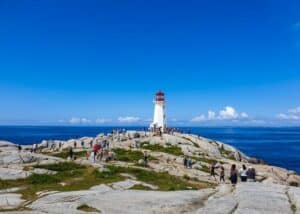 Located on the scenic Atlantic coast, Halifax, NS, is a city steeped in history, charm, and a welcoming maritime spirit. With its stunning waterfront, historic architecture, and a vibrant cultural scene, Halifax offers retirees a unique blend of tranquility and urban amenities.
The city's waterfront is a beloved gathering place, where residents and visitors alike can stroll along the boardwalk, enjoy fresh seafood, and soak in the maritime ambiance. The region's rich history is reflected in its well-preserved heritage buildings, such as the iconic Halifax Citadel National Historic Site and the picturesque Peggy's Cove Lighthouse.
Halifax boasts a thriving arts and music scene, with numerous galleries, theaters, and live music venues. Retirees can explore the local talent, attend festivals, or simply enjoy leisurely walks through the city's charming neighborhoods. Additionally, the vibrant farmers' markets offer a chance to savor locally produced goods, including delicious seafood and artisanal products.
13. Kelowna: A Wine Country Retreat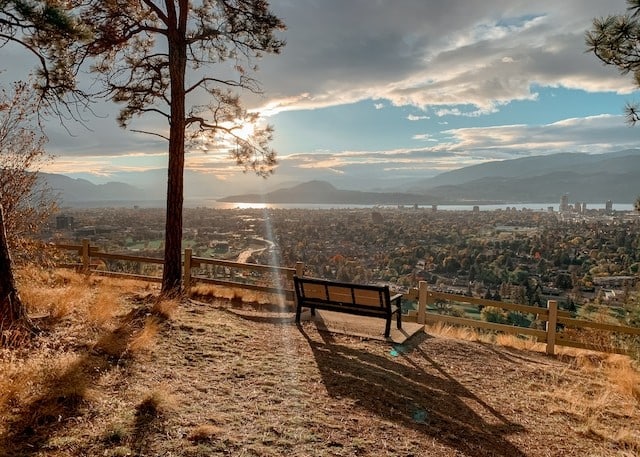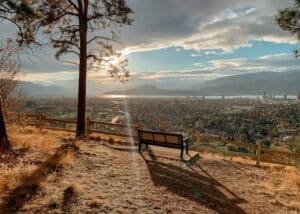 Nestled in the heart of British Columbia's stunning Okanagan Valley, Kelowna is a hidden gem for retirees seeking a relaxed and scenic retirement destination. Known for its picturesque vineyards, orchards, and crystal-clear lakes, Kelowna offers a serene and idyllic setting for those looking to savor the finer things in life.
Retirees in Kelowna can immerse themselves in the region's renowned wine country, exploring the vineyards, participating in wine tastings, and enjoying farm-to-table culinary experiences. The area's mild climate and abundant sunshine provide ideal conditions for growing a variety of fruits and vegetables, making it a haven for farm-to-fork enthusiasts.
Outdoor enthusiasts will find plenty of activities to keep them engaged, from golfing on championship courses to boating and fishing on the nearby Okanagan Lake. The surrounding mountains offer opportunities for hiking, skiing, and enjoying breathtaking panoramic views of the valley.
14. Fredericton: A Charming Riverside Retreat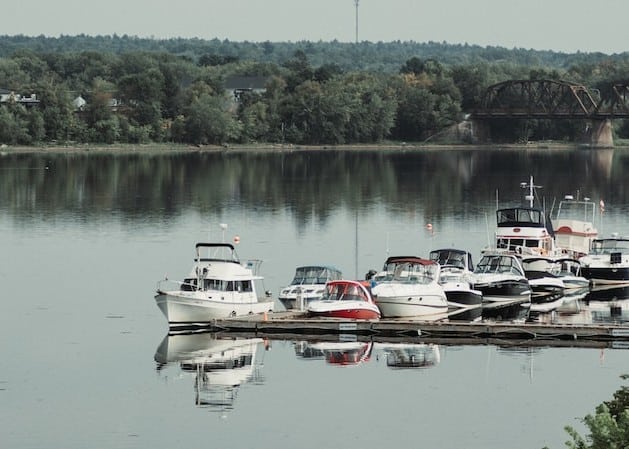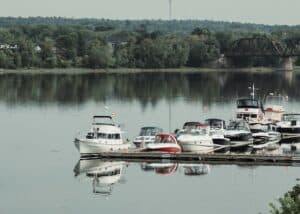 Nestled along the picturesque Saint John River, Fredericton, New Brunswick, offers retirees a charming and peaceful retirement experience. With its rich history, welcoming community, and natural beauty, Fredericton provides an idyllic setting for those seeking a slower-paced and close-knit lifestyle.
Fredericton's downtown core exudes historic charm, featuring well-preserved heritage buildings, local shops, and inviting cafes. The city is known for its vibrant arts scene, with numerous galleries, theaters, and cultural events throughout the year. Retirees can immerse themselves in the local arts community, attend live performances, and engage in workshops or classes to explore their creative interests.
Nature enthusiasts will appreciate Fredericton's abundance of green spaces, walking trails, and the beautiful riverfront. Odell Park, a sprawling urban park, offers peaceful walking paths, picnic areas, and serene forested areas to enjoy the outdoors. The city also boasts beautiful botanical gardens, perfect for leisurely strolls and enjoying the vibrant displays of flora.
For those interested in history, Fredericton offers a glimpse into the past through its historic sites and museums. The Fredericton Region Museum and the Beaverbrook Art Gallery provide opportunities to learn about the region's heritage and artistic contributions. Additionally, the city hosts festivals and cultural events that celebrate its history and local traditions, creating a sense of community and togetherness.
15. Quebec City: A Historic and Cultural Haven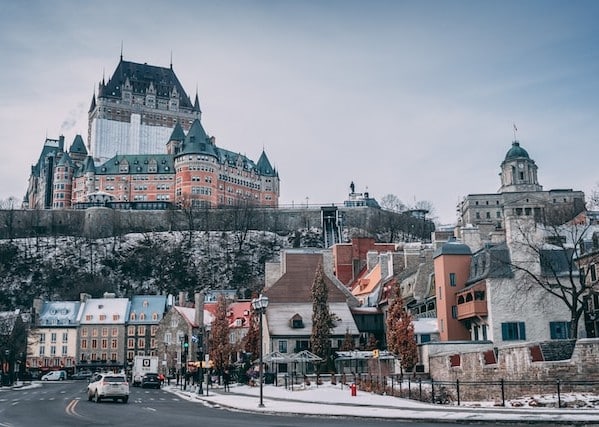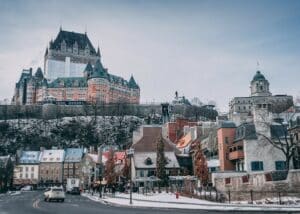 Steeped in history, Quebec City, Quebec, beckons retirees with its old-world charm and vibrant cultural scene. As one of North America's oldest cities, Quebec City offers a unique blend of European elegance and North American charm, creating a captivating retirement destination.
The city's UNESCO World Heritage-designated Old Town is a treasure trove of historic sites, cobblestone streets, and charming architecture. Retirees can wander through the narrow streets, explore boutiques and galleries, and visit iconic landmarks such as the majestic Château Frontenac and the historic Plains of Abraham.
Quebec City is known for its rich cultural heritage, evident in its museums, art galleries, and festivals. The Musée de la civilisation and the Musée national des beaux-arts du Québec showcase the city's cultural contributions and artistic endeavors. Retirees can immerse themselves in the vibrant arts scene, attend theatrical performances, and indulge in the city's culinary delights, which feature French-inspired cuisine and renowned Quebecois specialties.
Nature lovers will appreciate Quebec City's stunning surroundings, including the nearby Montmorency Falls and the breathtaking Parc de la Chute-Montmorency. These natural wonders offer opportunities for outdoor activities such as hiking, picnicking, and sightseeing. In winter, the region transforms into a winter wonderland, attracting visitors with its picturesque landscapes and exhilarating winter sports.
With its blend of history, culture, and natural beauty, Quebec City offers retirees a retirement experience filled with discovery, charm, and a unique French-Canadian ambiance that sets it apart from other destinations in Canada.
Choosing the Perfect Retirement Destination in Canada
Cost of Living: Balancing Affordability and Comfort
When selecting a retirement destination in Canada, it's essential to consider the cost of living. Explore factors such as housing expenses, utilities, groceries, transportation, healthcare, and entertainment. Compare the cost of living in different regions to determine which aligns with your budget and allows you to maintain a comfortable lifestyle throughout retirement.
Housing Options: Finding Your Dream Retirement Home
Housing prices vary across Canada, so carefully assess the available options. Research the average home prices or rental rates in your desired retirement locations. Consider factors like housing types (houses, condos, retirement communities), property sizes, proximity to amenities, and neighborhood safety. Find a housing option that suits your preferences and budget.
Climate and Weather: Embracing Your Ideal Climate
Canada offers diverse climates, ranging from mild coastal regions to colder, snowier areas. Determine your preferred weather conditions and how they align with your lifestyle. Consider factors like temperature range, precipitation levels, sunshine hours, and seasonal activities. Choose a retirement destination that offers a climate that suits your comfort and desired outdoor pursuits.
Lifestyle and Recreation: Pursuing Your Passions
Retirement is the perfect time to explore new hobbies and engage in activities you enjoy. Evaluate the lifestyle and recreational opportunities in different regions of Canada. Consider factors such as access to cultural events, arts and entertainment venues, outdoor activities, parks, trails, sports facilities, and community programs. Find a location that aligns with your interests and provides ample opportunities for an enriching retirement lifestyle.
Healthcare and Wellness: Prioritizing Your Well-being
Access to quality healthcare is crucial during retirement. Research the availability of healthcare facilities, medical specialists, and support services in your chosen locations. Consider factors such as the proximity to hospitals, clinics, and doctors accepting new patients. Evaluate the overall healthcare infrastructure, availability of long-term care facilities, and wellness programs. Prioritize your well-being by choosing a retirement destination that provides comprehensive healthcare services.
Community and Social Life: Building Connections and Friendships
Retirement is an opportunity to forge new friendships and become part of a vibrant community. Investigate the sense of community, social activities, clubs, and volunteer opportunities in different areas. Consider factors such as the presence of community centers, libraries, senior centers, and cultural organizations. Find a location that fosters a welcoming and inclusive environment, allowing you to connect with like-minded individuals and build a fulfilling social life.
Proximity to Family and Friends: Staying Connected
For many retirees, being close to family and friends is essential. Consider the proximity of potential retirement destinations to your loved ones. Assess transportation options, including airports, highways, and public transportation, to ensure easy access for visits. Finding a location that allows you to maintain close connections with your support network can enhance your overall retirement experience.
Safety and Security: Ensuring Peace of Mind
Safety and security are paramount considerations for retirees. Research crime rates, community safety initiatives, and emergency services in different regions. Consider factors like the prevalence of neighborhood watch programs, police presence, and general peace of mind. Choose a retirement destination where you can feel secure and enjoy a worry-free retirement.
By carefully evaluating these key factors, you can make an informed decision and select the perfect retirement destination in Canada that aligns with your lifestyle preferences, financial goals, and overall happiness in this exciting new chapter of your life.
Retiring in Canada: A Haven for Americans Seeking a New Chapter

Canada offers an attractive retirement destination for Americans seeking a fulfilling retirement experience. With its breathtaking landscapes, high standard of living, and welcoming atmosphere, Canada provides numerous benefits for American retirees. Proximity and familiarity make it easily accessible, while quality of life, natural beauty, and cultural richness enhance the retirement experience. Additionally, Canada's affordable healthcare system ensures access to comprehensive medical services.
Retiring in Canada offers American retirees a unique opportunity to embrace a new culture, explore stunning landscapes, and enjoy a high quality of life. With its proximity, quality of life, natural beauty, and affordable healthcare, Canada provides a welcoming environment for Americans seeking a fulfilling retirement chapter.
Canada's proximity to the United States allows for easy travel and visits to family and friends. Shared borders and a strong cultural connection provide a sense of familiarity, making the transition smoother for American retirees.
Retire in Canada: Your Golden Years Awaits
As a retiree in Canada, you have an array of remarkable retirement destinations to choose from. Whether you seek the coastal beauty of British Columbia, the cultural vibrancy of Ontario, or the prairie charm of Saskatchewan, Canada offers something for everyone. Consider your lifestyle preferences, climate preferences, and budgetary considerations when selecting the best place to retire in Canada.
Remember to research local retirement communities, consult with real estate agents, and explore the amenities and services available in each destination. With careful planning and the right mindset, your retirement years can be filled with joy, adventure, and a strong sense of community. So, embrace the opportunity to retire in one of the best places in the world and embark on a new chapter of your life in the great country of Canada. Your golden years await!
Unlock a World of Opportunities with Global Citizen Solutions
Dreaming of retiring in Canada? It's essential to understand the visa process and requirements to make your retirement plans a reality. Whether you're an American looking to relocate or an international retiree seeking a new home, obtaining the appropriate visa is a crucial step towards enjoying the best places to retire in Canada.
What if you could have the security of a second residency or citizenship, granting you the freedom to explore the globe unrestricted? That's where Global Citizen Solutions comes in.
Welcome to Global Citizen Solutions, the boutique investment migration consultancy firm, offering the freedom, mobility, and peace of mind you've been dreaming of. Our team of specialists, leveraging their firsthand experience and international perspective, will guide you seamlessly through each step. Don't wait. Start your journey with Global Citizen Solutions today. Reach out to us, and step into the world of global citizenship.
Stay Ahead with our BeGlobal Newsletter
Want to keep abreast of the latest developments in investment migration, international real estate, and more? Subscribe to our BeGlobal newsletter and stay informed.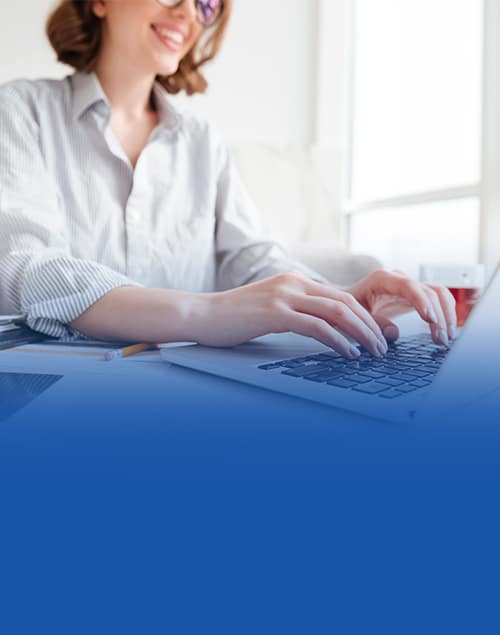 FAQs
Can I retire in Canada as an American citizen?
Yes, Americans can retire in Canada. However, it is important to understand immigration and residency requirements, as well as taxation considerations for cross-border retirees.
Can I access healthcare as a retiree in Canada?
Yes, Canada's universal healthcare system provides access to comprehensive medical services for Canadian citizens and permanent residents. Eligibility and coverage may vary for retirees from other countries.
Can I receive my U.S. Social Security benefits while living in Canada?
Yes, as an American retiree living in Canada, you can still receive your U.S. Social Security benefits. It is important to understand the taxation and reporting requirements for such benefits.
What are the advantages of retiring in Canada compared to other countries?
Canada offers a high standard of living, political stability, excellent healthcare, safety, natural beauty, and a diverse multicultural society. These factors make it an attractive retirement destination.
Are there any affordable retirement destinations in Canada?
Yes, several affordable retirement destinations exist in Canada, such as smaller towns and communities outside major urban centers. These areas often offer a lower cost of living and a high quality of life.
What factors should I consider when choosing the best place to retire in Canada?
Consider factors such as climate, cost of living, healthcare services, recreational opportunities, community amenities, and proximity to family and friends.
How do I determine the best place to retire based on my specific lifestyle preferences?
Consider your preferred climate, urban or rural setting, access to amenities like shopping and cultural attractions, and the availability of recreational activities that align with your interests.
Are there specific provinces known for being retirement-friendly in Canada?
Yes, certain provinces like British Columbia, Ontario, and Nova Scotia are popular for retirees due to their mild climates, scenic landscapes, and retirement communities.
How do I find the best retirement communities in Canada?
Research online resources, consult with real estate agents specializing in retirement properties, and consider visiting potential communities to assess their suitability for your needs and preferences.
What are some popular retirement activities in Canada?
Canada offers various retirement activities, including outdoor pursuits like hiking, skiing, fishing, and golfing. Cultural events, volunteer opportunities, and exploring local attractions are also popular among retirees.