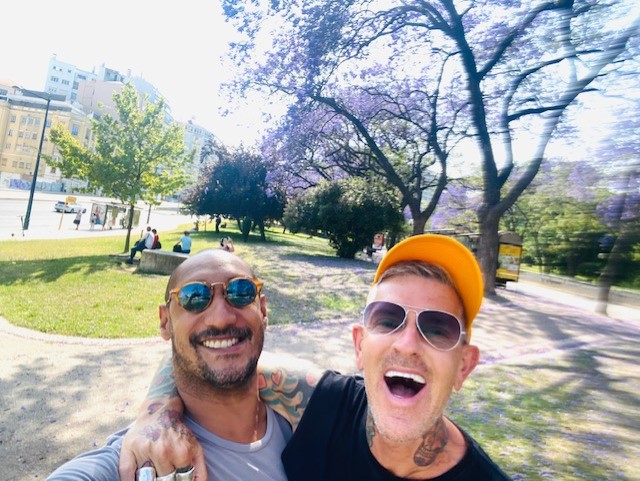 "I was hospitalised with Covid in January 2021 and it was really serious. I came out of hospital being so weak and needed to reevaluate my recovery. As long COVID became a part of my life, I felt it was necessary to have a slower pace of life. Tim and I also wanted somewhere we could have a large garden, lots of sun and be calmer in general. The hustle and bustle of London, which was so exciting in our youth, had changed so much for us.  This is how we landed our eyes on Portugal. There are a few things which stunned us – the food, I mean really, the food, wow. Vinho Verde, no need to expand on that. The countryside is stunning and so varied and full of history. The warmth of the people, everyone says 'Ola' or nods to acknowledge you, it is a beautiful community feeling. And then there are the azulejos everywhere, so, so lovely. We were also introduced to Fado and fell in love with it.  
When we seriously began toying with the idea of moving to Portugal, we started looking through property listings until this house appeared. It was exactly what we wanted. It all fell into place, as though it was meant for us. It really was a magical experience.  We're excited about the longer seasons for starters. And being able to enjoy the weather and take long walks. Not to mention, the beauty of the food, experiencing new and different food where so much love is poured into the cooking. The magic of the produce, I mean real produce, and of course, eventually growing our own food. Setting up my art studio again in a different setting. And of course the peace of a calmer life."
ABOUT PAUL AND TIM
As an accomplished Scribe, Paul has worked for the Crown Office, the British Museum, and fashion labels like Burberry and Chanel. Meanwhile, as a Creative Director, Tim has helped fashion labels like Topshop with their creative visual execution of a Brand. The couple are part of an influx of British nationals ditching their homes for a fresh start in Portugal. Global Citizen Solutions has helped process Tim and Paul's Golden Visa applications, as well as match them to their dream property in Portugal.